GrabCar Driver Arrested By SPAD After Springing Trap Set Up By Taxi Drivers
Auto News A GrabCar driver was arrested outside the Land Public Transport Commission's (SPAD) office today, after a group of approximately 100 taxi drivers who were protesting the continued operations of the private hire vehicle service used the very same service to lure him to the gathering.
Reported by The Malay Mail Online, one of the taxi drivers, Jay Rohezan, used the GrabCar app to hire a car to SPAD's office during the protest, to prove that the drivers are still operating illegally without a Public Service Vehicle (PSV) licence.
When the GrabCar driver turned up in a grey Nissan Almera, over 30 taxi drivers who had turned up for the protest then ambushed him. Only after the police and building security officials managed to contain the crowd did two SPAD officers show up and announced that they would arrest the driver and take necessary action against him. The SPAD officers then drove off in the Almera with the GrabCar driver in the backseat.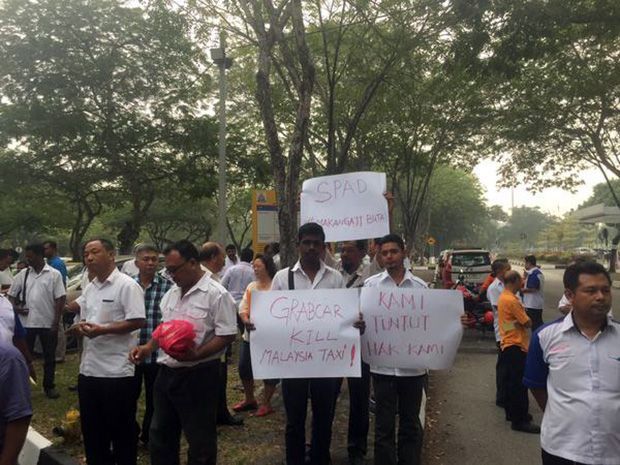 "They told us that they are going to bring him to the depot or main headquarters and process him. Hopefully, they take a stern action," Jay explained to reporters, without offering details on why the GrabCar driver was arrested.
In July, SPAD have stated that the legalisation of private hire vehicle services like GrabCar and Uber won't happen anytime soon, stating that there's nothing wrong with the mobile apps and their "service matching" businesses, but it is the lack of licences by the drivers that is a source of concern.
The group also demanded the suspension of Uber and GrabCar, which they claim affected their livelihood. Other demands include the exclusion of the 6% Goods & Services Tax (GST) on taxi-related products, reducing the price of natural gas, as well as giving individual permits to drivers.
Image(s) sourced from: Kamles Kumar
---
---
---
---
Comments