Hyundai Set To Release Eight New CUVs By 2020
Auto News Hyundai has announced that they will be releasing eight new or re-engineered crossover utility vehicles (CUVs) in North America by 2020. CUV is the name that Hyundai calls its urban-biased SUVs. The range of Hyundai's CUVs will start with the launch of the Kona in March 2018.
The company's range of CUVs will include models from the entry-level A-segment all the way up to an eight-seater midsize CUV. Additionally, Hyundai will be fitting its latest petrol, diesel, hydrogen fuel cell and battery electric technologies in these CUVs.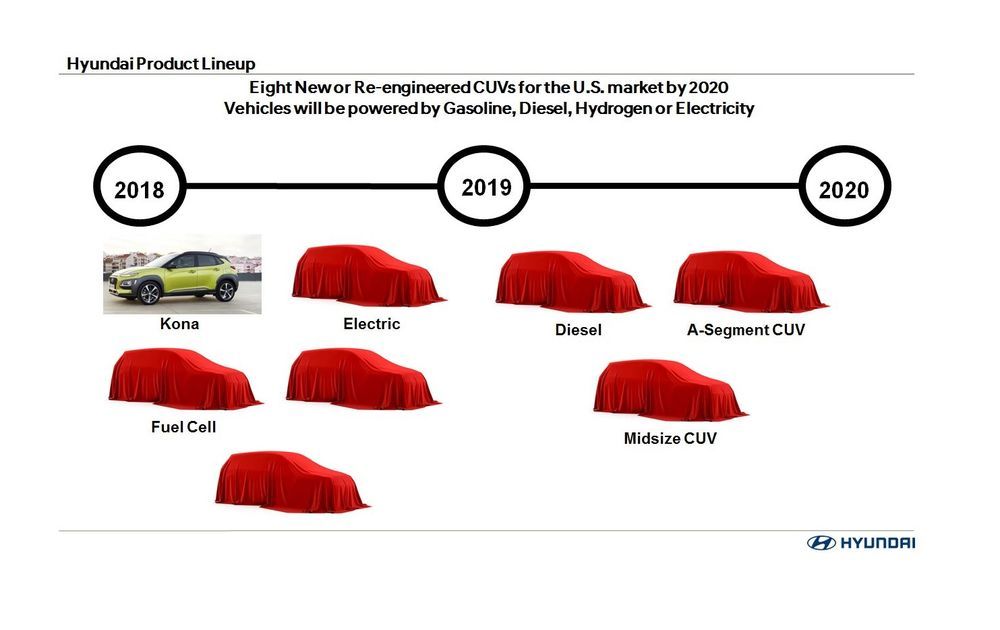 Mike O'Brien, vice president, product, corporate and digital planning, Hyundai Motor America said, "Very soon we are going to have the most diverse CUV powertrain lineup in the industry. These vehicles will show the engineering prowess of the more than 13,000 engineers Hyundai Motor Company has working on current and future models every single day. Our customers are going to have a lot of great CUV choices in our dealerships."
Back in 2013, Hyundai offered the Tucson Fuel Cell Electric Vehicles (FCEV) for leasing in specific parts of California, though the company does not offer similar FCEV leasing programs with the new generation Tucson.
The Hyundai Tucson is the company's second CUV in their North American lineup, with the other being the Santa Fe. Despite Hyundai's two SUV lineup, both these models account for roughly 35% of the company's North American sales figures.
In terms of new models, the all-new Hyundai Kona will be available at US dealerships from Q1 2018, available across four variants. An EV variant of the Hyundai Kona is expected to debut some time next year as well, rumoured to feature a 500 km electric range.
---
---
---
---
Comments