iCarData: The Best Time To Buy/Sell A 2014 Volvo XC60 T5 Drive-E
Insights We analyse the depreciation and value retention of the popular Volvo XC60 SUV.
---
Volvo closed on a stellar year in 2019 - when for the first time in the history of the company, they delivered over 700,000 cars, driven by continued strong growth in volume, especially in SUVs.
In recent years, Volvo has more than turned around its fortunes – from being a relative outsider to the premium market to becoming a mainstream offering in every segment that it contends in.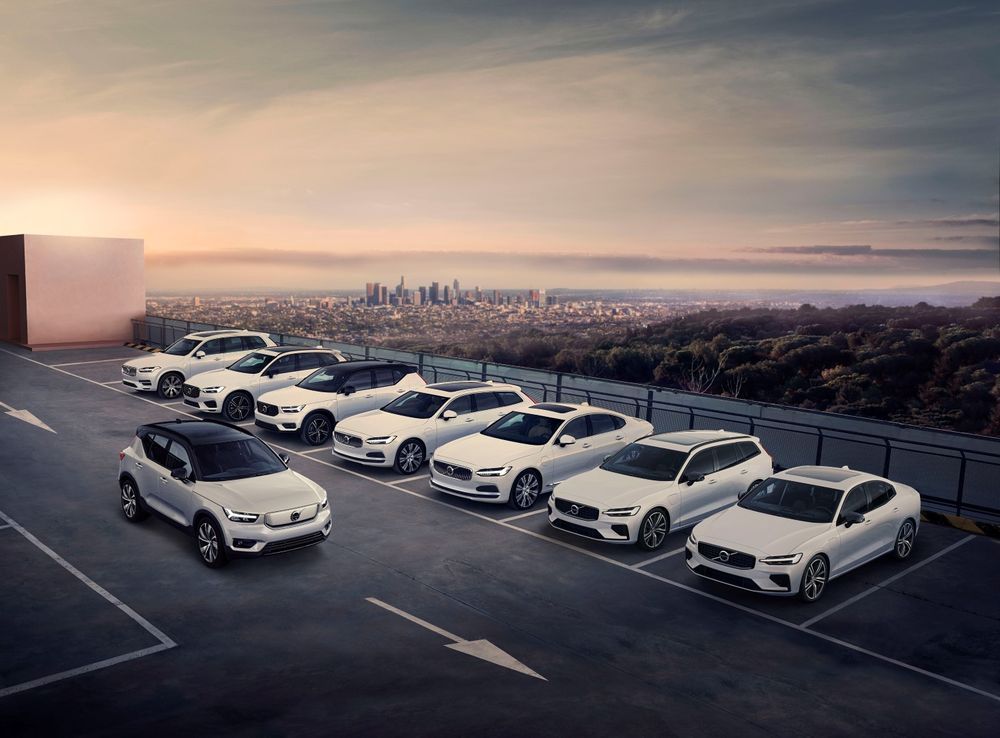 It's worth noting, that third place Audi delivered 1.84 million cars in 2019 (both Mercedes-Benz and BMW delivered in excess of 2.2 million vehicles in 2019) – and if not for the COVID-19 pandemic, Volvo was slated to surpass approximately a million deliveries in 2020.
This puts Volvo on a projection to being a leading global automotive player, and far ahead of other traditional premium manufacturers such as Jaguar and Lexus.
A lot of this is down to their SUV range. Currently, Volvo retails the XC40, XC60, and XC90 SUV, with the latter two nameplates (both in their second generations) having served quite a bit longer.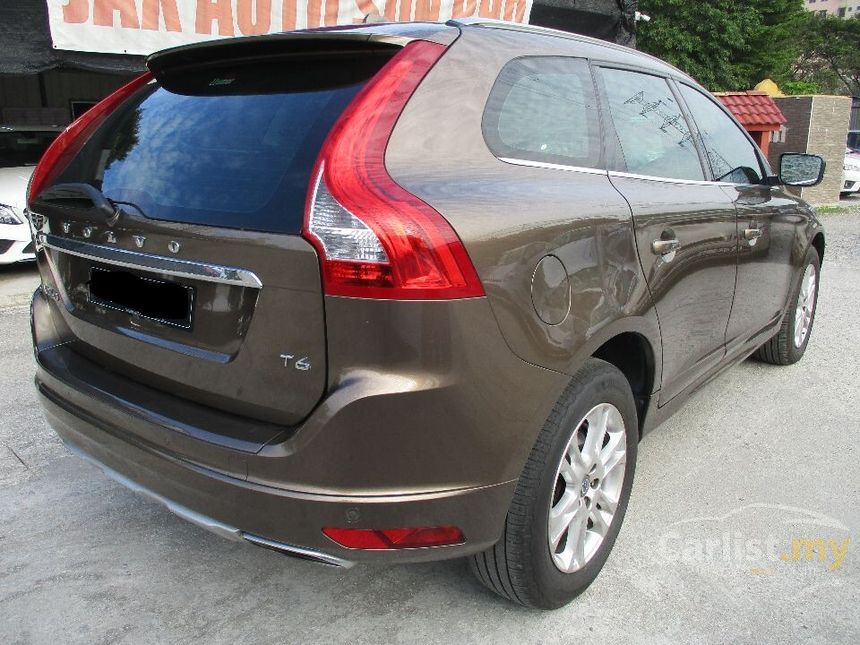 The XC60 has had a presence in Malaysia for well over a decade – offering a sublime blend of design, safety, power and SUV practicality, not to mention, a modicum of exclusivity over the more common BMW X3s.
In this series of features on premium mid-size SUV, we will now take a look at the 2014 facelifted Volvo XC60T5, and examine just how well it has fared in terms of second-hand value over the years.
We do this, with the resources of our in-house developed iCarData, we can collate data from literally thousands of used vehicle deals, vehicle variants, and locations over a period of 5-6 years.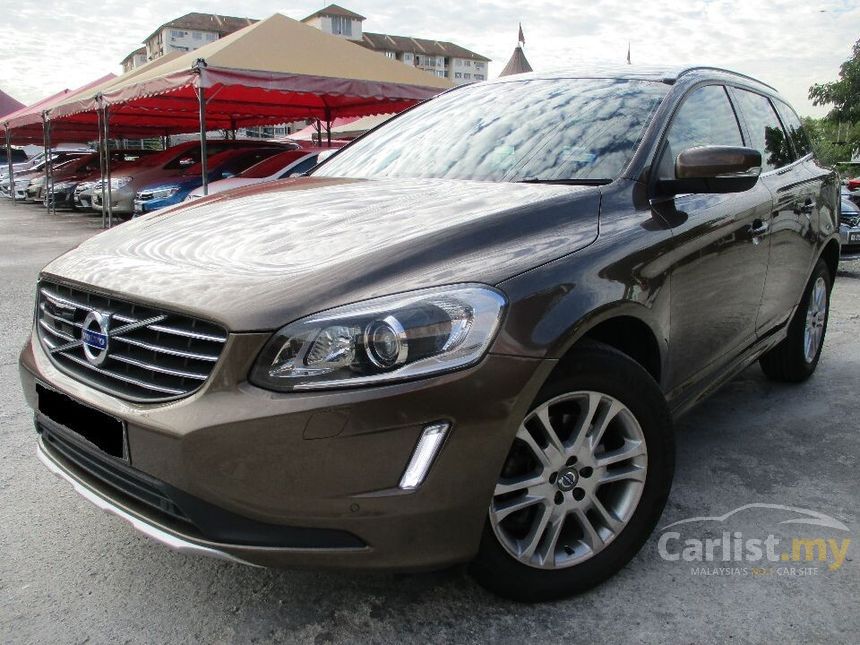 This gives us an unprecedented look at market trends for virtually any car on sale, helping both buyer and seller make prudent financial decisions.
Overview
The first-generation Volvo XC60 entered the Malaysian market at the tail-end of 2009, initially made available in the 2.0-litre turbo 'T5' and turbocharged 3.0-litre inline-6 transverse-mounted 'T6' variants.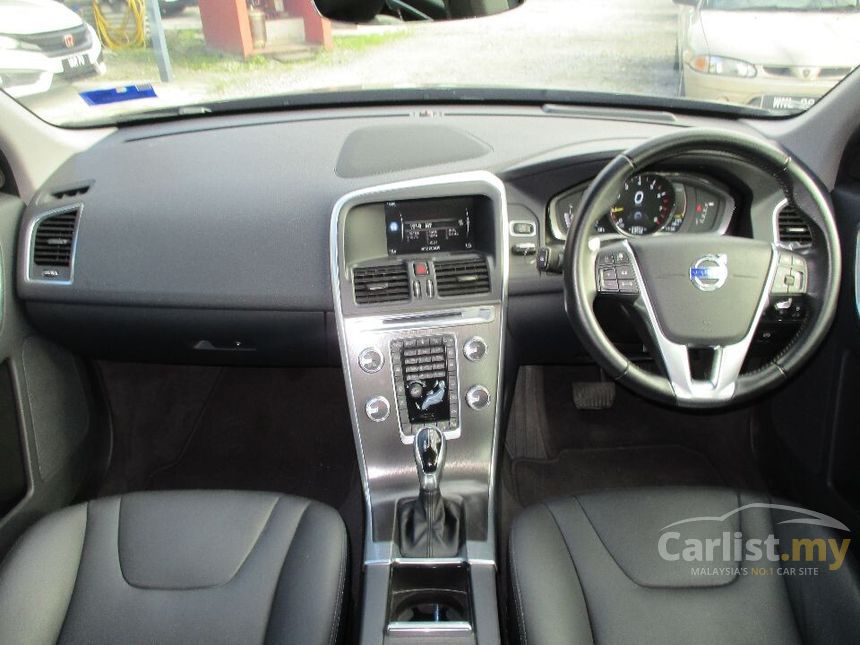 In addition to being one of Volvo's most successful models – the first-generation XC60 garnered multiple international accolades for being an amazingly practical family SUV, the safest car in its class, yet still offering stellar performance in a bold yet curvaceous design.
And unlike the BM X3 and Audi Q5 – its biggest rivals – the XC60's design did not tire, so easily, this is exemplified by the car selling in decent numbers until the introduction of the second-generation model in 2018. Some 9 years later.
In the years that followed its introduction, the XC60 gained additional updates in the form of new trim lines, additional active safety systems such as Volvo's Pedestrian Detection system, and upgraded infotainment features.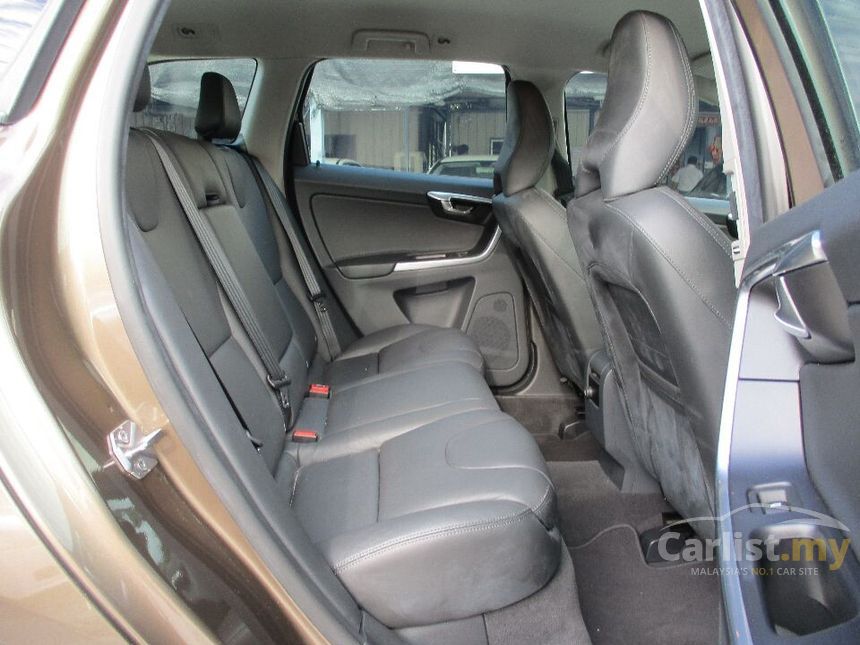 In 2013 (launched here in 2014), the XC60 got its most comprehensive mid-life update – which featured a stylistic and crucial drivetrain update in the form of Volvo's new Drive-E engine family.
The biggest visual indication of the XC60's design updates is the single-piece headlights – replacing the pre-facelift's units two-piece assembly, along with a much cleaner front fascia design.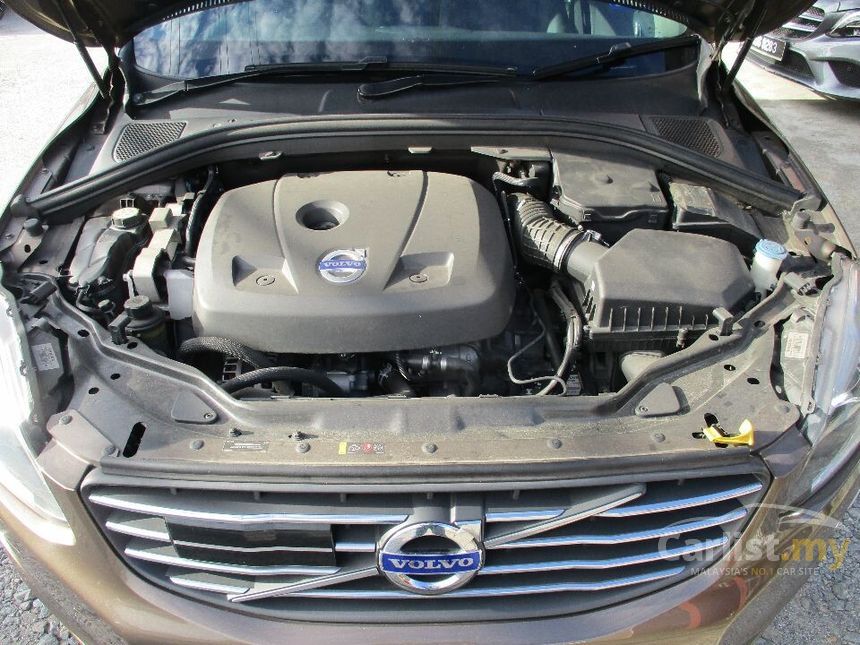 The T5 model Drive-E engine was now downsized to a four-cylinder turbocharged unit that produced 245 hp and 350 Nm at 1,500 rpm. The engine was mated to an Aisin 8-speed automatic, replacing the older 6-speed unit, sending power exclusively to the front wheels.
Other highlights include the Corner Traction Control system which is a torque vectoring system that brakes the front wheels individually to enhance turn-in grip and corner exit stability.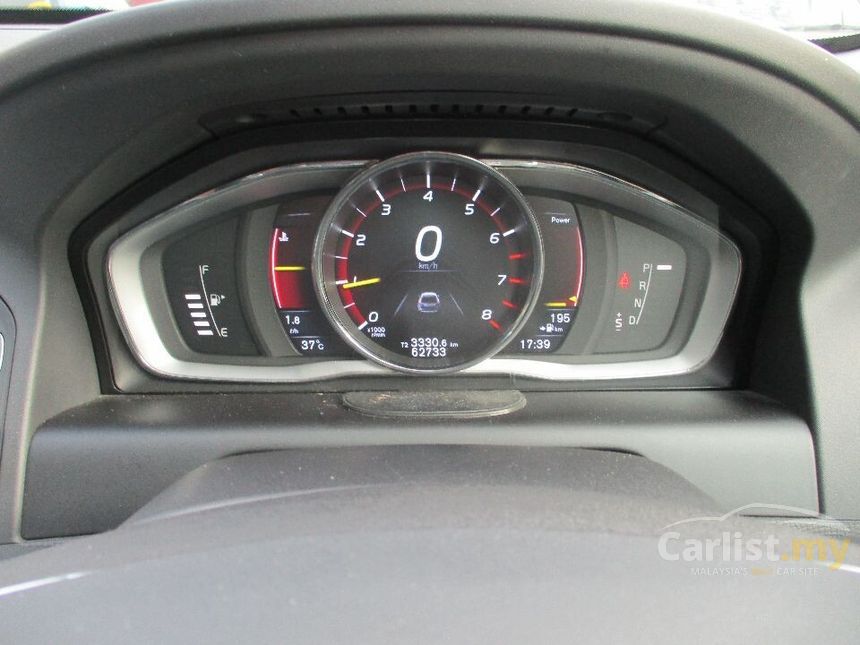 On the safety front, the 2014 XC60 received an enhanced version of Volvo's City Safety system, which allowed autonomous emergency braking up to speeds of 50 km/h. Volvo's trademark 'BLIS' blindspot detection system – gained a radar detection system which can detect approaching vehicles up to 70 metres away.
Technical specification of the 2014 Volvo XC60 T5 Drive-E:
Engine: 2.0-litre turbocharged, inline-four, petrol
Power: 245 hp @ 5,500 rpm
Torque: 350 Nm @ 1,500-4,800 rpm
Transmission: 8-speed automatic, all-wheel drive
Safety: Six airbags, ABS with EBD, Brake Assist, Fading Brake Support (FDS), Dynamic Stability Control (DSTC), Autonomous Braking (City Safety), Blindspot Detection (BLIS), Cross-Traffic Alert (CTA), Active Bending Lights (ABS)
Origin: Locally assembled in Shah Alam, Selangor
Price: RM288,888 – June 2014 launch (OTR without insurance)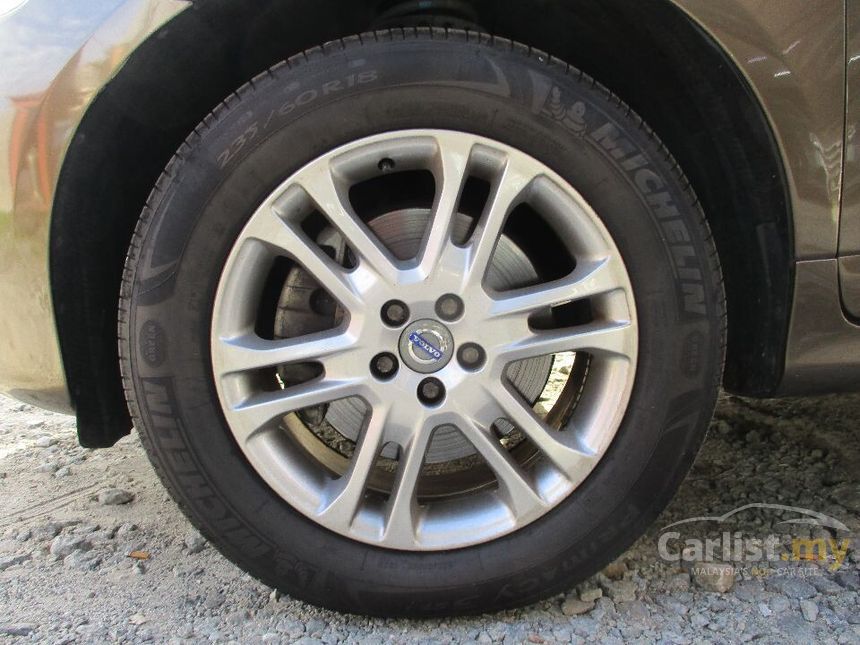 We have taken into account the following to keep our numbers accurate and representative.
Vehicle variant: 2014 (1st Generation) Volvo XC60 T5 Drive-E, delivered between June and Dec 2014.
Depreciation is calculated using the original list price.
Depreciation percentage does not take into account special/ seasonal offers or rebates on the original selling price.
Depreciation for other variants may differ, in particular, units with additional customisation packages which retail for up to RM25k more than list price.
Based on ICarData, here's the summarized data for depreciation:

And the graphical analysis below: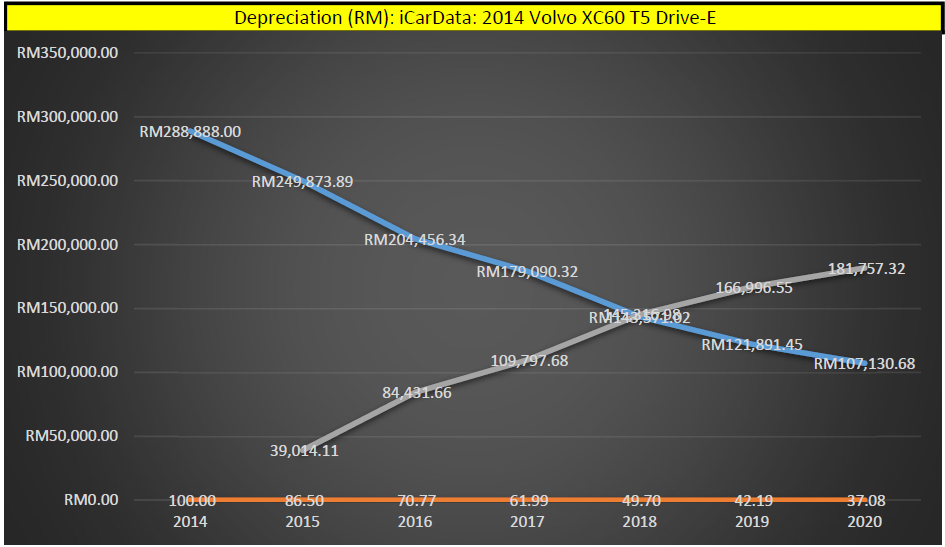 Blue line: Average selling price (RM) by year
Grey line: Cumulative depreciation (RM) by year
Orange line: Retained value percentage by year
Conclusion
Our examination of the XC60 dispels some theories (or notions) that some people may have, that Volvos have bad resale value. In actual fact, judging from the rate of depreciation, the XC60 depreciation rates and retained value sums are not unlike those of its competitors, the BMW X3 and Audi Q5.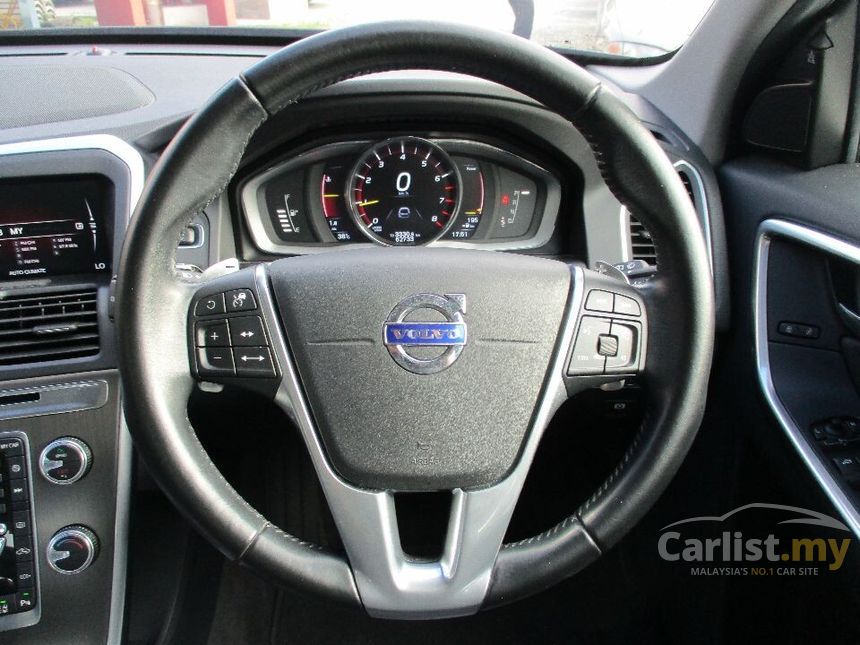 Granted the Mercedes-Benz GLC retains value the best, but keep in mind it also starts at a much higher price tag than the Volvo XC60.
We find the biggest drops in the first three years. We can discount the first year drop of circa 13 percent, as this is true of any vehicle - the first-year depreciation is always within the 12-15 percent bracket, despite more optimistic estimates putting that figure at 10-12 percent.
Note, however, the second and second-year drops are substantial as well, but this could be caused by a combination of new product launches, especially from BMW and Mercedes-Benz in those years, and also given that by this time, the XC60 was already about 5-6 years old.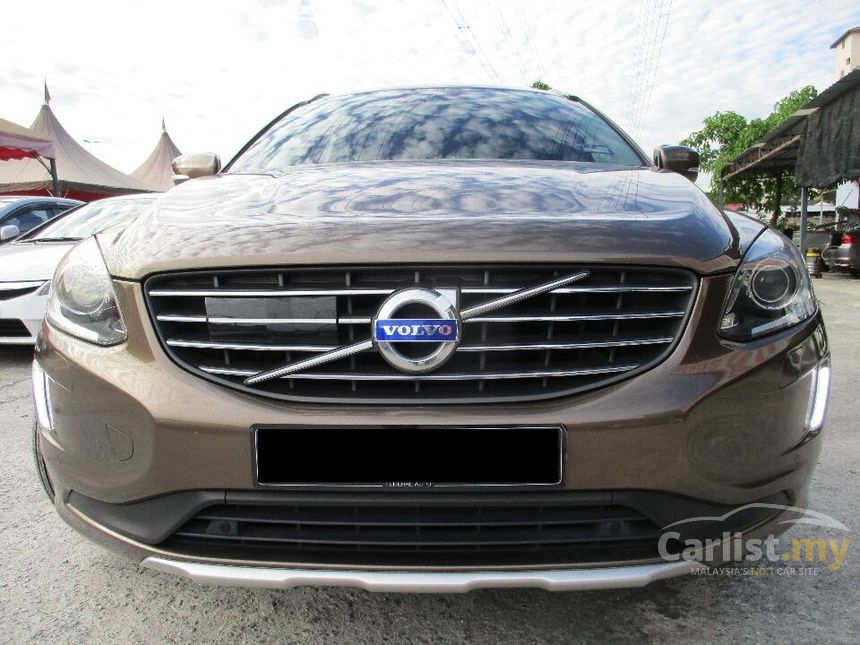 The second-largest drop comes in 2018, amounting to approximately 12 percent - this could be caused by the introduction of the all-new XC60 model, which would have had people looking away from the outgoing models.
From the data, the threshold between retained value and cumulative depreciation intersect in the fourth year of ownership, meaning the XC60 is already at half the price of what it was new. This is an excellent time for used car buyers, who are getting a half-priced deal, with a year of warranty left on the vehicle for added peace of mind.
Inversely, current owners looking to sell their XC60 can do so just as their vehicle crosses this threshold - between 4.5 years to 5 years - to take advantage of most of their warranty period, and yet have some duration of it left for the used buyer to calm any buyers anxiety.
As prices plateau during this period, sellers would have a longer time frame to take advantage of steadier market prices.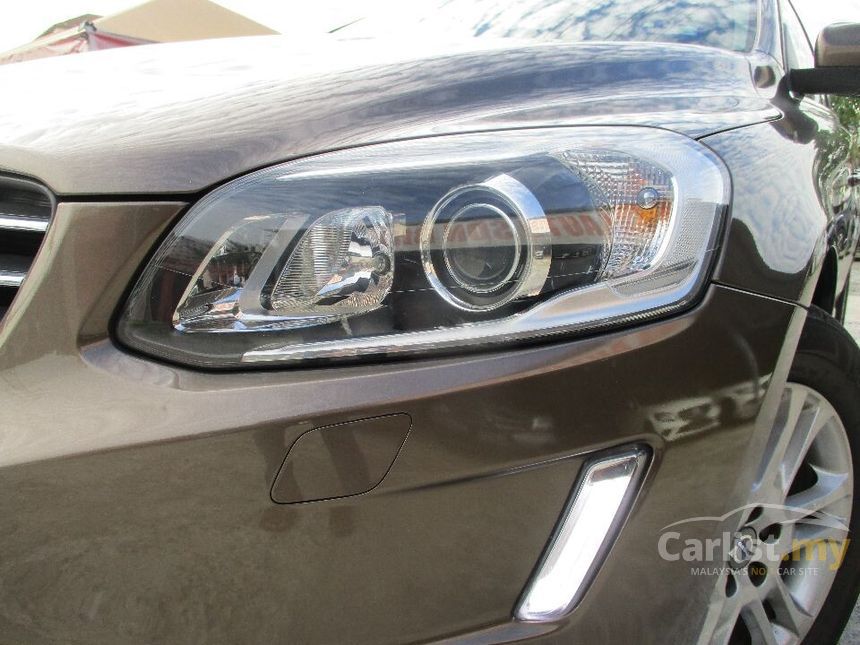 For some great deals on the Volvo XC60, click here.
If you're looking to sell your Volvo XC60, we have two solutions for you too. List in on carlist.my or better still use Carlist Bid where we remove all the hassle of selling your car for you as you get searching for your next upgrade.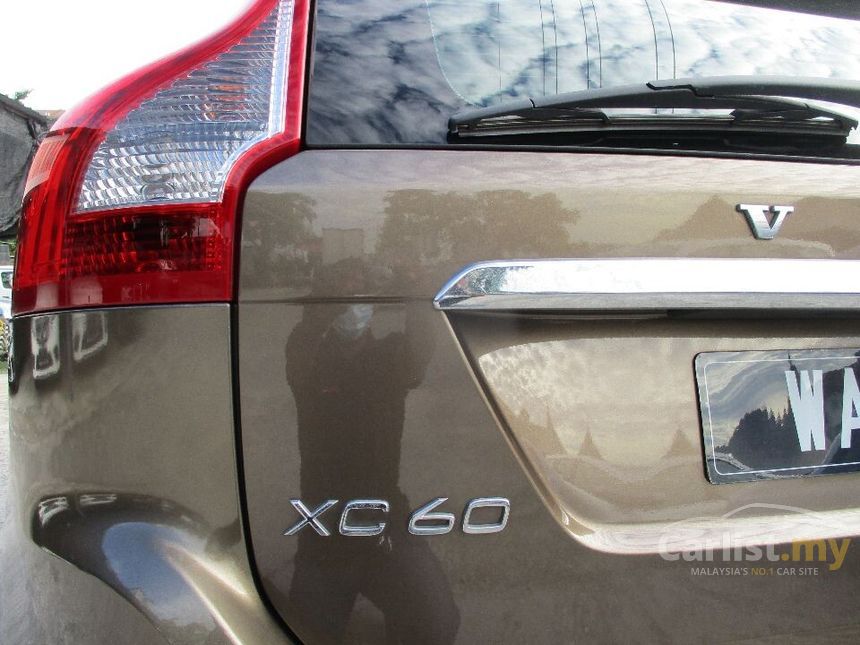 Which make/ model would you like us to research next? Let us know in the comments.
---
---
---
---
Comments