Jeremy, Richard & James Confirmed For New TV Show, Debuts In 2016
Auto News Good news! It seems like the trio that used to host the infamous Top Gear show have found themselves a new TV show to host. Jeremy Clarkson, James May and Richard Hammond have penned a deal with Amazon Prime, to produce a yet-to-be-named TV show.
Presumably, it'll be about cars, resuming life for many avid followers of the trio to normal function. When? Nothing more than sometime in 2016 has been lipped.
Since the announcement, Jeremy, James and Richard have all taken to social media to share their relief over finding new jobs, rather hilariously.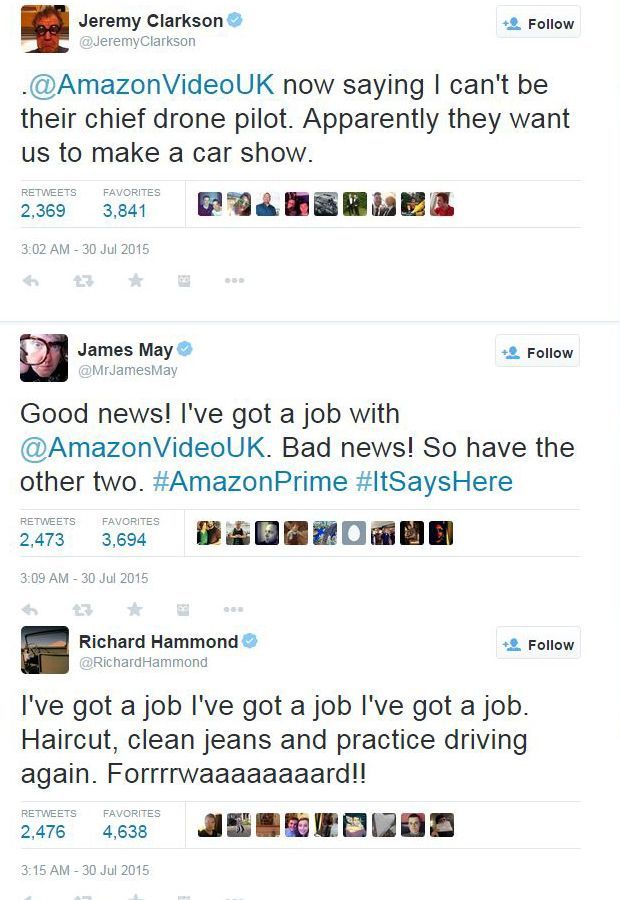 After the countless rumours of where the old Top Gear gang could be heading post-life at TG, it looks to all be settled now.
Back at Top Gear, radio show host and comedian Chris Evans appears to be the only one confirmed to star at the show, effectively replacing Clarkson. Others have been rumoured to join him, with the most recent being McLaren-Honda Formula 1driver Jenson Button, with the former World Champ possibly on his way out of a drive come 2016.
Question is, could new Top Gear still be as good as the old one? Better still, would it matter at all now that Jeremy, James and Richard are back?
Here's a look at one of our favourite episodes of TG. Which one's yours?
---
---
---
---
Comments