JPJ Rules Out Fake Car Auction Happening Tomorrow: Be Mindful Of What You Share
Auto News The Road Transport Department (JPJ) has released a statement saying that there will be no such cheap public auction of vehicles held by the organisation this Wednesday (29th July), as circulated by various social media and chat messages.
The falsified message entitled "Lelongan Kereta Awam" (auction of public vehicles) has been circulated heavily, advertising several brand-new foreign-brand vehicles retailing at very low prices, all of which is said to have been seized at the ports for whatever reasons.
Up to 51 vehicles have been listed by the falsified message, and to further tempt buyers, it is also stated that all vehicles here, including brand new Honda, Volkswagen, Audi and Volvo models, would be priced below RM50,000.
JPJ also reiterated that their actual auction includes only 26 motorcycles and 11 cars, as advertised in several local newspapers recently. Coincidentally, the actual event will also take place on the same day, at the JPJ Perak branch.
It's all another reminder to be careful of what you receive, believe and share on social media, folks.
This is the full release provided by the Road Transport Department: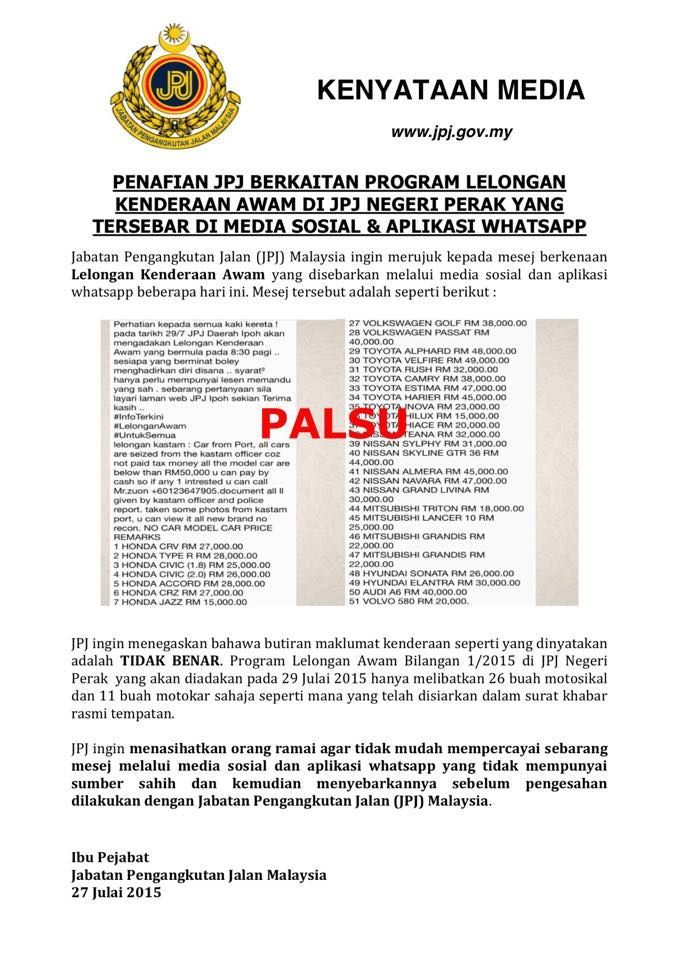 ---
---
---
---
Comments