JSPT is offering 50% discount on summonses - from January 10-12
Auto News If you have a lot of 'samans' from Polis Diraja Malaysia (PDRM), next week will be your best chance to get rid of them, as PDRM is offering a 50% discount on selected traffic summonses from January 10 to 12.
---
The Kuala Lumpur Traffic Investigation and Enforcement Department (JSPT) in a statement, said that the discount is only given to individuals who make physical payments at Balai Polis, Jalan Tun H S Lee, from 8.30 am to 4.30 pm.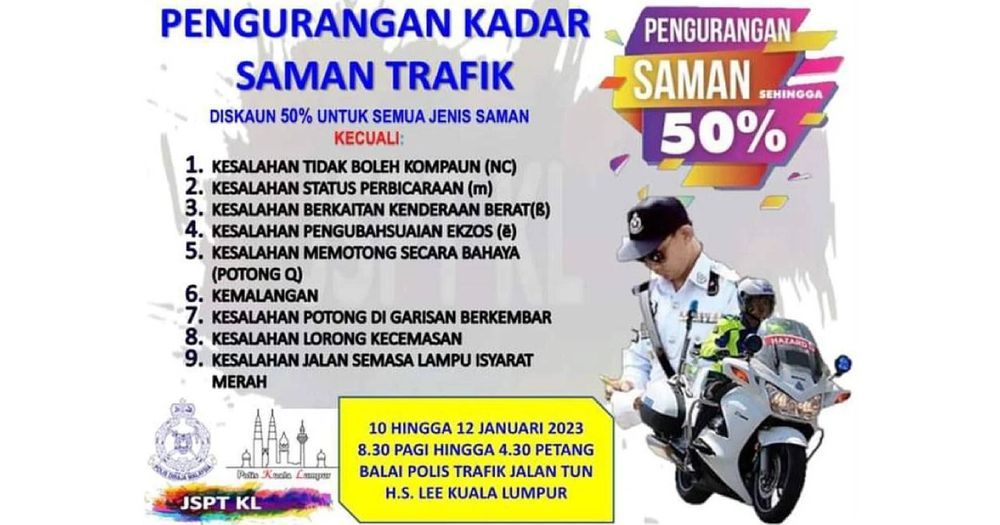 However, looking at the poster, discounts will not be given for offences involving those who have pending court cases,non-compound(NC), heavy vehicle/lorries related, exhaust modification, queue cutting, accidents, overtaking on double lines, emergency lane and red light offences.
"Payment can be made in cash or debit/credit card, however cash payment is encouraged to avoid problems (debit/credit terminal) during payment," according to their statement.
JSPT Kuala Lumpur informed that the discount is only given on summons issued nationwide by the Royal Malaysian Police (PDRM) and does not involve summons from other enforcement agencies.
---
---
---
---
Comments