LEAKED: Is This The New Mercedes-Benz A 45 AMG? With 400PS?!
Auto News We've just stumbled upon what appears to be a leaked image of the new 2016 Mercedes-Benz A 45 AMG. This facelift's changes appear subtle on the outside, but according to the leaked material, this baby AMG is packing a lot more heat.
Exterior updates are subtle as far as we can see, but the front-end of the vehicle does appear to have a few more aerodynamic updates, while the air vents on the front bumper also feature two new horizontal slats we haven't seen before on the A-Class.
We understand that the facelifted A-Class range will most likely be previewed at the coming Frankfurt Motor Show, where it will preview minor exterior and interior updates. But, it hasn't been confirmed yet if the A 45 AMG would tag along, although, from the readiness this leaked image presents, we wouldn't be so surprised if it did.
The most interesting bit about this is, however, that the 2.0-litre four-cylinder AMG turbo engine here is believed to pack even more power than the current model, offering from base a 381PS output, against the 360PS the current version has.
Doing one better (and likely preparing for the arrival of a more powerful Golf R: the R 400), the copy on the image here also depicts a 400PS version of the car, said to be called the A 45 AMG S – an alphabet AMG has been slapping on to its hotter version of their already hot cars.
Currently, the A 45 AMG pushes 360PS and 450Nm of torque from its 2.0-litre AMG four-pot turbo. That's enough to warrant it the title of the most powerful 2.0-litre engine in series production. Other manufacturers have dabbled with similar ideas (Volvo: triple turbo 2.0 concept / Volkswagen Golf R 400 concept) but haven't yet put them into the market yet.
It seems now that AMG wants to make sure that's a claim they hang on to for a while longer.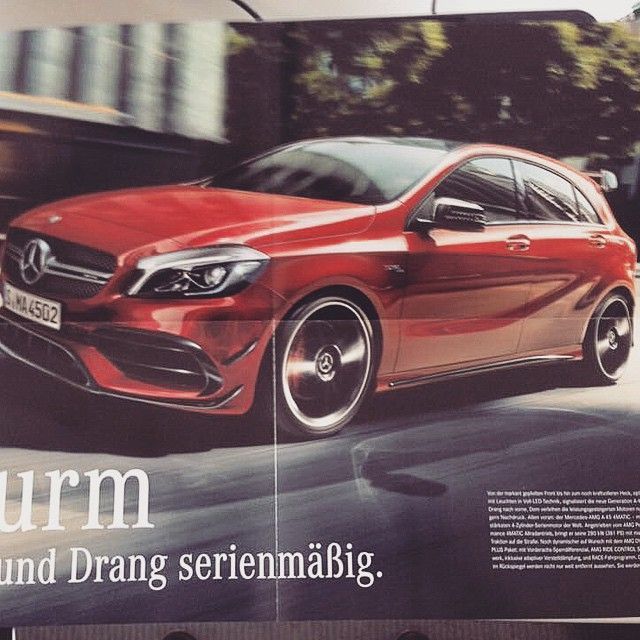 ---
---
---
---
Comments