Live From Italy: All New 2015/2016 Audi A4 (B9) Malaysian Review And Test Drive
Insights Remember the term 'Premium Sports Sedan' or 'Premium Sports Compact' that began surfacing in the 90's? I believe this actually came as a direct result of BMW challenging Mercedes-Benz in the art of luxury car making, in that the strive to build the biggest and plushest teutonic limousine ended up in an arms race of growing proportions, quickly pushing both the 7-Series and S-Class higher up the luxury car real estate with each successive generation.
As both flagships move up in size, the 5-Series and E-Class that followed suit created a vacuum lower down the food chain which could attract car buyers into the brand at a much younger age. This results in the creation of the 190E, which challenges the second generation 3-Series even though the first 3-Series wasn't meant to be a premium car in anyway. Soon, the 'segment' was created as Audi joined in with the first generation Audi A4 in year 1994.

But you know what, the term 'Sports' in the 'Premium Sports Sedan' terminology were arguable back then when the BMW 318s of the 90's were basically static obstacles in the face of fast Honda Civics or Subaru Imprezas. The Audi A4's 'formidable' 1.8 Turbo? That only makes a puny 150hp. A far cry from the 2-litre Turbos the Japanese everyday sedans were making during that era. The Premium Sports Sedans were premium, but they can hardly be associated with speed or performance. Hence the word 'Sports' was more like an excuse for a trunk that lacked space, rear seats with virtually no leg room, and suspensions that crash and burn when presented with highway expansion joints.
The word 'Sport' was to infuse a sense of awakening for those who've fallen into the age groups where mid-life crisis should kick in, yet with bank balances that couldn't quite agree with their financial demographics. The word 'Sport' is also used to remind the group that could've settled for a 3.0 V6 Nissan Cefiro, that they should give up those comfortable leather seats, the plushy ride, the powerful note of that award winning engine; just to make way for the Ultimate Driving Machine that completes the century sprint in more than 11 seconds while the B13 Nissan Sentra (Genting Sentras) does it in 9.9 seconds.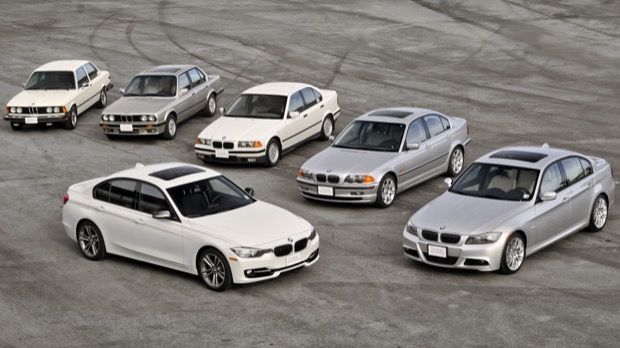 Yes, this segment started off as a bit of a luxury con job, albeit a very successful one in promoting what Alfa Romeo coined 'Cuore Sportivo' or 'Sporting Heart' in Viking language. The creation of this segment nevertheless struck a chord in the hearts of millions of impressionable young banking and insurance agents all the way from Wall Street to Jalan Maarof. And these are the young men who once firmly believed that working hard meant that they could own a Mercedes-Benz by the time they retire. Now imagine only to suddenly realise that banks will happily bankroll them an Audi A4 or a BMW 3-Series off their monthly paychecks right after their probation periods. Yes, these cars are literally flying off the production lines.
Within a short span, this segment not only became the bread and butter of these companies, it also serves as a platform to secure future brand loyalists. For example, if you are Mercedes-Benz, you are better off taking care of that C-Class customer who will potentially buy many more cars from you again than to pissed off the S63 AMG buyer, who will in all likelihood, be looking at the prospects of a Bentley soon. The figures really speak for themselves, BMW recently celebrated the roll-out of the 14 millionth 3-Series, and Audi also celebrated the 12 millionth Audi A4 / Audi 80, and counting. What this means, is that over the past 20 years, 26 milliion customers buy into these two brands.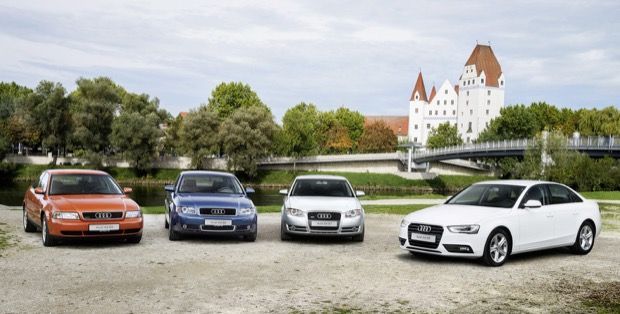 While Audi's 1.8T wasn't the most powerful or most glorious of turbocharged engines back then, it's versatility (Audi tuned it to 175hp later while fanboys squeezed more than 200hp easily out of them) established the fact that Audi was 20 years ahead in downsizing their engines. This was during an era where the premium sector regards 6-cylinder engines as the proper entry point towards luxury motoring. Hence it's not hard to imagine the A4 with a 1.8T that which happily keeps up with an inline 6 cylinder 2.5 engine to achieve a somewhat cult status amongst the modification scene. Realising the benefits of downsizing way early, Audi also never saw the need to play musical chairs of car numbering 'push-up-bras' with their lineups, where BMW names a 2-litre as a 330i and a 3-litre as the 340i. Mercedes-Benz is even funnier by naming both their 6.2-liter and a 4-liter V8s as a '63'.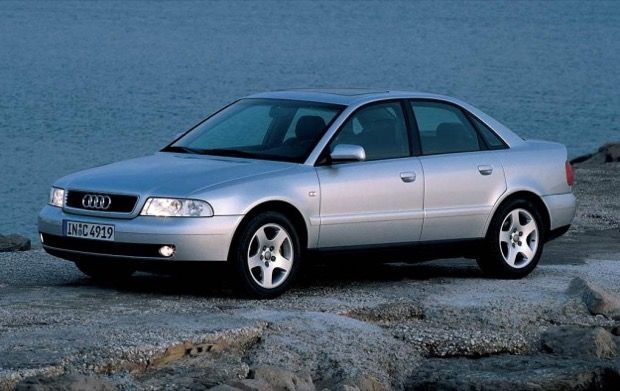 And yours truly, is one such owner of the Audi A4 1.8T. Aside from that notorious transmission which I later swapped to manual, I remember my Audi A4 as an extremely well built car, the buttons were solid when pressed, the entire dashboard was soft touch, the wood panel inserts were made of the real stuff, the door hinge mechanism allows for a 90º wide opening for easier ingress and egress, while every bit of plastic inside is of extremely high quality. The roof lining was covered in a soft and plush wool-cotton like material that could've been a soft bath robe, compartments were either padded or rubberised. Everything is rock solid, the car was quiet, and I remembered very well during heavy rain, the roof of a W204 Merceds that I was test driving was playing hydro percussions of some sort over my head, while my 1997 Audi A4's sound proofed roof soaked up the heavy rain droplets nicely.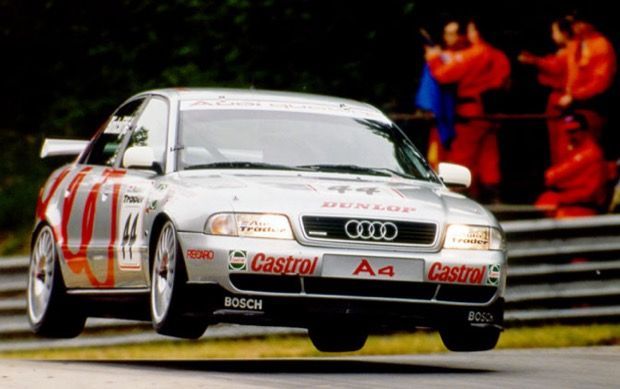 The first generation A4 B5 not only made a name for Audi as having extremely good build quality, but at the same time the A4 which entered the British Touring Car Championship was winning so many races that the racing series just decided to ban Audi from participating amidst complains from all other racing teams. Now of course, we're here to talk about the brand new Audi A4 B9, which we've flown all the way from Malaysia to Frankfurt, and then to Venice, Italy to give you the first thorough impression of this brand new 2015 / 2016 Audi A4 (B9).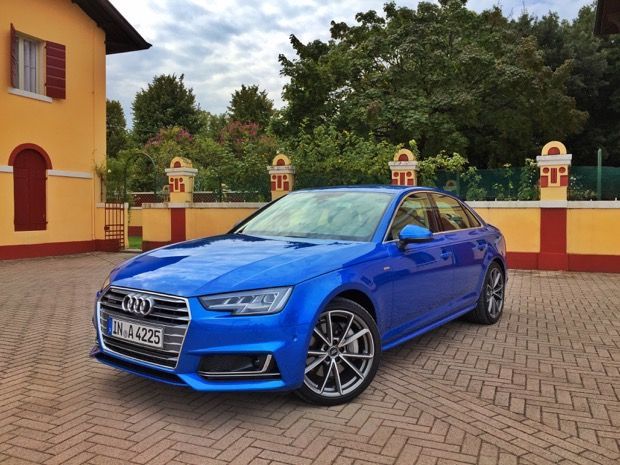 I was rather disappointed when I first saw it earlier this year. It looks boring. But as one begin looking back at Audi's design evolution, they've always been subtle if it wasn't for 2006's heavy update of the B6 platform into calling it a B7 with the industry changing trapezoidal grilles. And of course in 2008 when the B8 arrived, those LED daytime running lights sent Mercedes-Benz and Lexus scrambling to place one strip of LED light here, another one there just to keep up. The truth of the matter is, from the first of 13 million Audi A4s produced till now, Audi has only ever introduced two new design elements. So it is safe to not expect anything new to come to the table that soon. Or is it?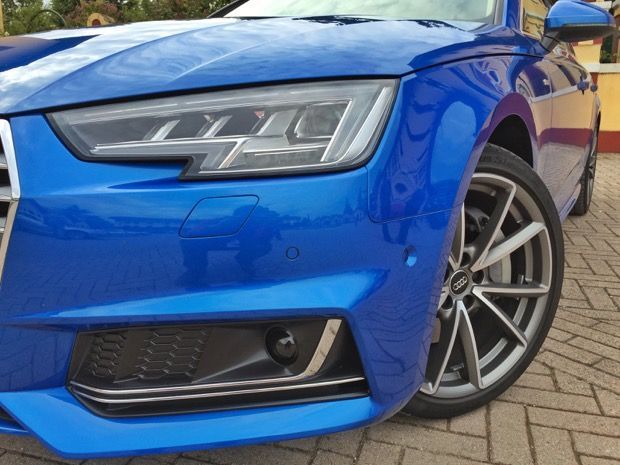 There's one thing that's very fundamental about Audi cars if you notice. Audi hates unnecessary lines running across its cars. While BMW and Mercedes-Benz goes all flame in and out with their multi-concave, fluidic-surfacing business, Audi just wants to keep it clean. Hence the most prevalent and astonishing design on the new A4 is a smooth unbroken character line that is integrated with the bonnet shut line and runs across the body, effectively making it look like a concept car where it seems like there are no bonnet openings, and an industry first to achieve it. Another great relief, is that Audi also engineered their way out of cutting a line across the front bonnet from across both headlights, which can be seen in the BMW 3-Series and the Mercedes-Benz C-Class just to get an easy pass on EuroNcap's pedestrian crash test results.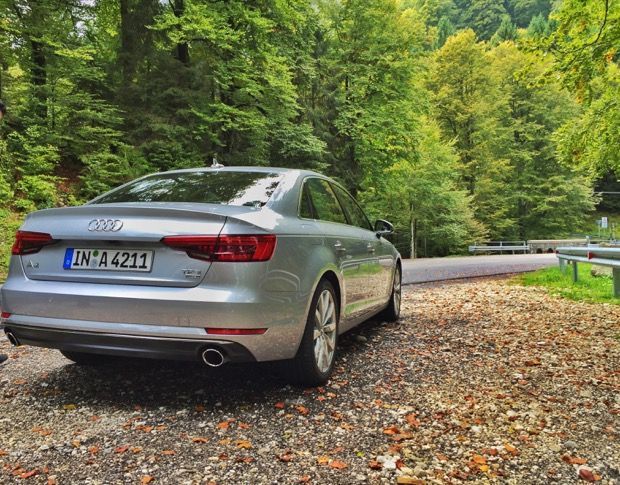 Another Audi hallmark design that can be seen in the new A4, which was carried over since Audi started it anyway, is the hiding of an entire recessed panel is used to house the number plate, using the shut lines of the boot running along the outer edges of the rear lamps. What's new this round, is that the side mirrors has been reduced slightly in size and mounted on the doors, giving a fantastic view of the roads with the wing mirror housings on the A-pillars no longer getting in the way.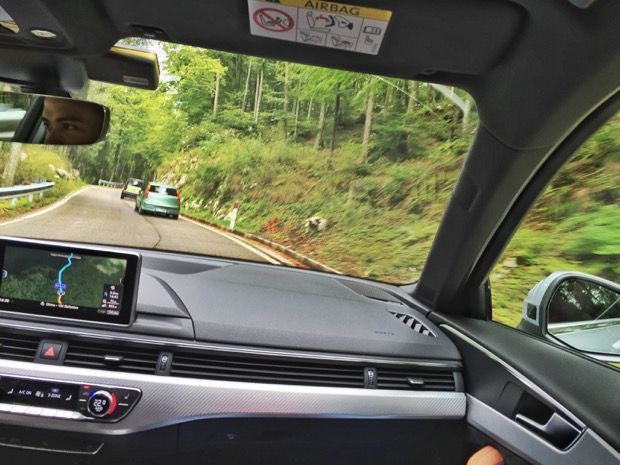 See the interior? Audi is still king in interior build, masters of its craft. You can never find Audi cocking up its interior as it's such a hallmark of Ingolstadt since the first A4. And in terms of ergonomics, none of the premium car boys can hold a candle to Audi when it comes to interior storage planning and ergonomics. Case in point, all four doors of the Audi A4 B8 can hold 1.5-litre large bottles, and has a long, padded door panel that's very useful when it comes to storage. What's even better, towards the end, there's a gentle slope that goes upwards so that you can slide that inevitable coin upwards into your hands, instead of having it lodged at the very edge of the door panels.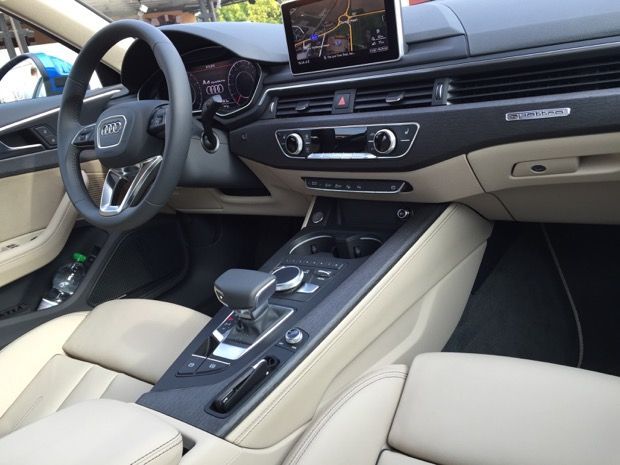 Coming to the centre console, Audi's cupholders will always be conjoined in the middle, creating a highly usable compartment for the driver to chuck anything in it. Compared to BMW's strict "A cupholder is a cupholder" approach, Audi's solution is way more user friendly. Another noteworthy point is that Audi never sees the need to 'click-lock' the center armrest compartment lid, as in having a button-operated spring-loaded covers that fling open. Instead they designed a hinge mechanism that's heavy and tightly loaded so that it stops wherever you let it be, and it also doubles as an adjustable armrest. To close, just lightly lift it and the soft close mechanism will slowly glide the lid down unobstructed. And since it's not a click-lock type of compartment lid, there's no need to close shut, thus allowing easy access of wires to move around the cabin as our phone stays plugged into the USB ports within.
In the new A4, they took the concept further by retaining a small opening that can be used to either retrieve objects, or as a handle to open the lid. And if you slide the lid, it doubles down as an additional compartment.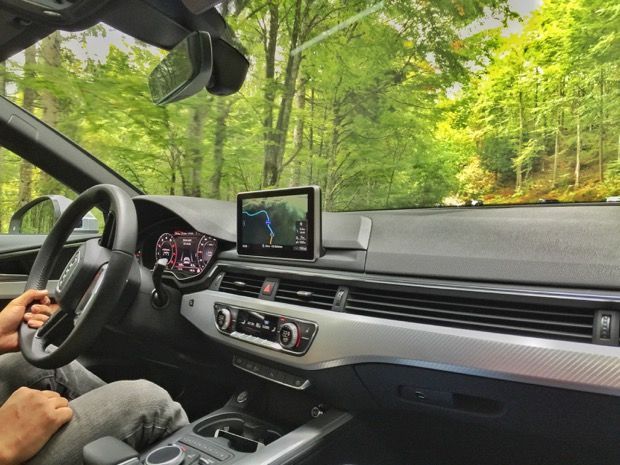 If you hadn't already noticed, the rear view mirror is frameless, it is a thing of beauty that seamlessly reflects the trees that we are blasting by as seen here. Notice the huge vent between the center vents and the passenger vent? That is a diffuser. What? Ok, how often have you been face blasted by the air conditioning system during a hot day? Yes, this allows the same volume of air conditioning pumped through the cabin, but in a diffused air flow that's more relaxing. First in class? Not just.
The ergonomics has been improved as well, and it's good that Audi addressed one of my biggest gripes towards the interior of A4s of old. In the outgoing A4 the door panel arm rest curves upwards and houses all the window switches towards the front, which I do find this as an ideal and ergonomic spot to rest your hands and flick the switches. But the act of winding up or down the window is actually a very rare thing we do nowadays, whereas I've always hoped for the buttons to be placed further back, and the arm rest reprofiled flat and moulded with a hand grip so that I have a place for me to slot my palms in during long drives. In the new A4, they've addressed this exactly to my liking.
With the option to specify the new A4 with the touch input capable MMI Touch rotary controller, Audi has done a drastic rethink of the interior layout. Instead of positioning the gear lever in front of the MMI controller, they have swapped its position, with the gear lever (for the automatic variants) can be doubled up as a palm rest for drivers to control the MMI and scribbling on top of the MMI knob for quick search.
The automatic gear lever works in almost the same way as BMW's,as that it is fixed in place and to select a gear you just nudge it in the right direction and press the lever-mounted button when you want to leave it in 'Park'. Though not as beautifully sculpted as that of BMW's, the gear lever is a far more practical application in terms of operating it. The button placements are more intuitive as well. But, that's to the driver's own personal preference.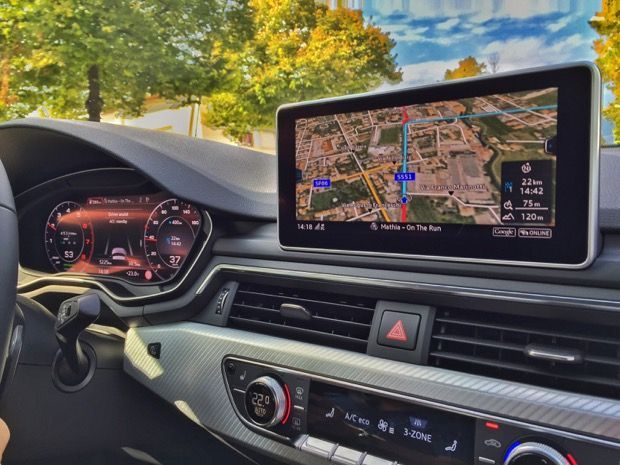 With Mercedes-Benz and BMW debuting full LCD panels for their flagships, Audi raised the middle finger and placed it in their entry level cars. Going full LCD with the Audi TT first, and now the A4 as an optional extra, which one-ups the TT's Virtual Cockpit in terms of usability, as it does not only integrate every single function into its 12.3-inch screen. Audi also retained the centre mounted 8.8" inch LCD screen for the ease of the passenger accessing controls.
Short of having infrared night vision, the new A4 B9 has pretty much everything the 7-Series has. It has a heads-up display, lane departure warning system, adaptive cruise control (ACC), and a blind spot warning system that goes the extra mile in remaining active for up to 3 minutes after you've parked your car, just in case there's an approaching bicycle or something that might endanger the driver or passenger; which is actually a very common occurrence in Europe where bicycles are everywhere.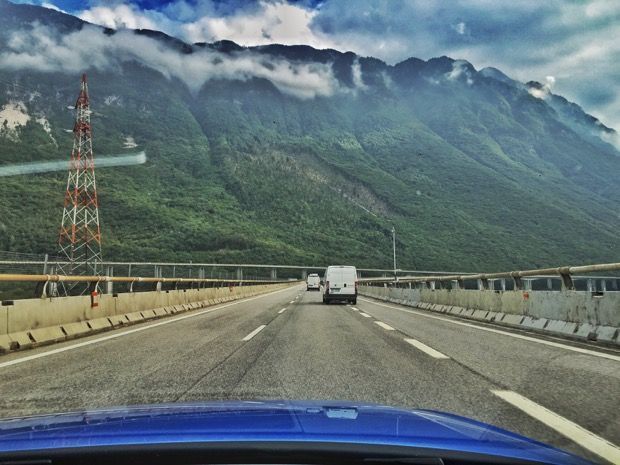 Speaking about the ACC, upon activating the lane departure assist and dynamic cruise control there are two renditions with which the system differentiates according to speed. At speeds of 65km/h and below, the system will be able to steer the car for you, and maintain the distance with the car in front. When the system detects that there are no cars in front of you, and upon approaching a bend based on GPS data, the car will automatically slow itself down. The Matrix LED headlamps is said to swivrel in the right direction just as you're about to reach a turn by using GPS data.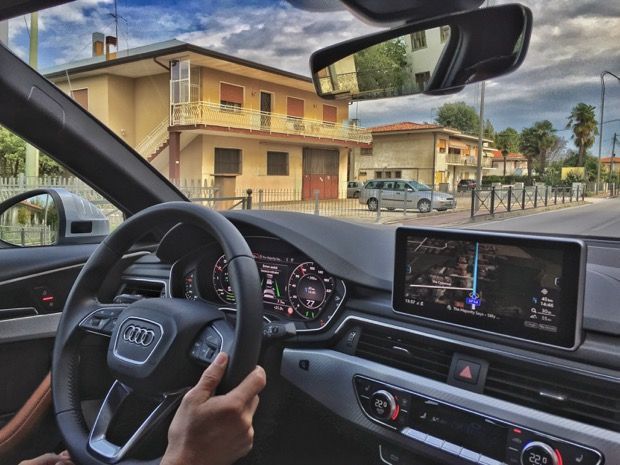 As European laws mandate that no vehicle must be able to steer itself without intermittent intervention from the driver, the system cannot fully operate without the driver touching the steering every 15 seconds. Failing to do so, after repeated warning, the system will go into deceleration until full halt while the car steers itself within lanes, if the driver is traveling below 65km/h. If above 65km/h, the system won't go into a full halt as it will pose a hazard for other motorists traveling on the highway. Just imagine an RS6 approaching from behind at 300km/h, and you get the idea why Audi engineers decided it should only be used at speeds of below 65km/h.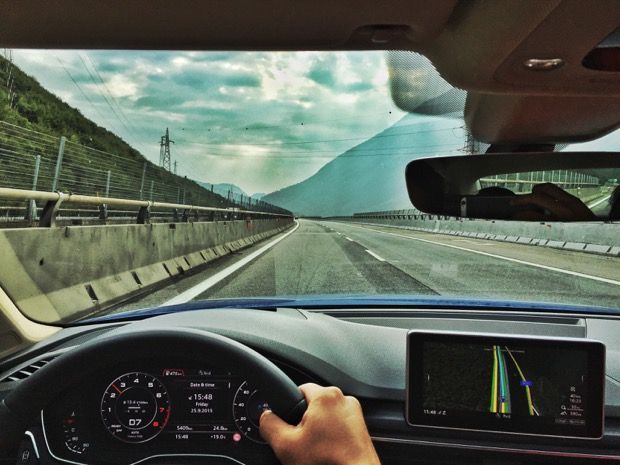 Aside from class leading features and equipments, another hallmark of recent Audis has always been class leading interior room, and the new A4 has done it again with a boot that's only 10 litres smaller than that of a Rolls Royce Phantom's, and an interior room that matches that of the current Mercedes-Benz E-Class. It may not seem like it at first from pictures, but once I sat in, especially coming from a current owner of the B8 S4, the new B9 definitely has more room within. On paper it shows headroom has been increased by 24mm, and legroom by 23mm, but in reality it feels more than that, because these two figures are correlative in the sense that if you sit more upright by reducing your headroom, you'll get more legroom, vice versa. Nevermind the space, I'll cut it short, it's larger than both 3-Series and the C-Class, so we can move on to how it drives.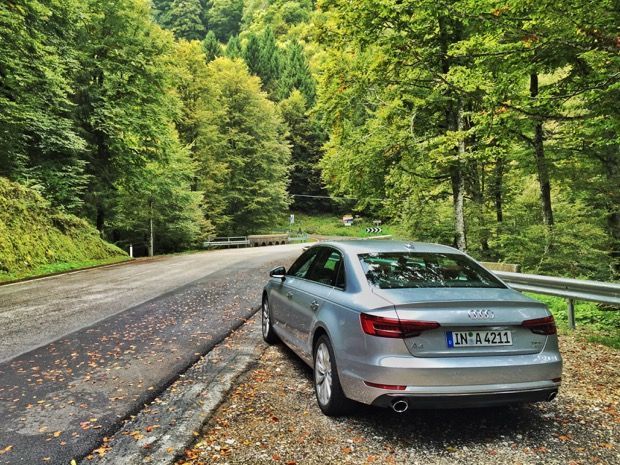 From the get go, there's a few things one can notice, first off, the engine Start/Stop has improved tremendously in the sense that it's operation is imperceptible. And immediately on the move you will notice, just how quiet the car is. And it's not the "Oh it's a brand new car" kind of quiet, it is extremely quiet for this segment. Audi claims it is akin to A8 levels of quietness, and to be brave enough to benchmark it against their flagship, you bet that they weren't joking about it. The entire car uses acoustic glasses, and there's substantial sound proofing materials used throughout. The dropping of the wing mirrors to the doors also reduces significant amounts of turbulence and wind noise, and lastly its slippery new body must've have contributed to its quiet demeanour as well.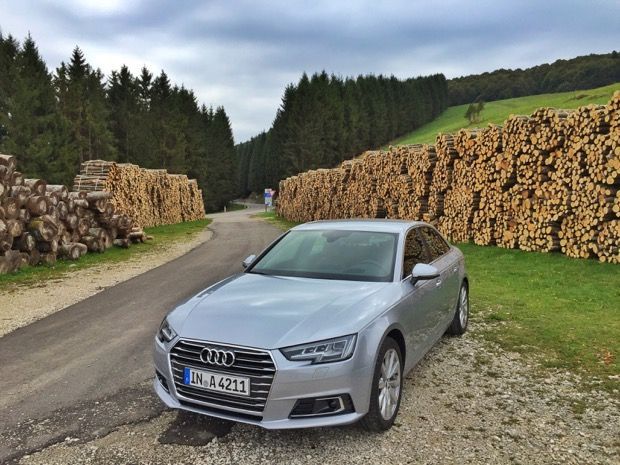 But the biggest contributing factor towards its high level of comfort, is the brand new five-link suspension Audi designed for the new A4. And this, has got to be the biggest game changer for this car. It rides beautifully. There's a serious amount of thought being put into fine tuning the new A4's suspension, and it tells as it feels as though there are multiple levels of shock absorption happening and working altogether. If you're used to reading car reviews about Ford's exceptional talent in suspension tuning, well sorry Ford, Audi must've snatch your top talents away and got them to deliver something that is a few notches better.
There is no costly air suspension trickery happening beneath, just exceptionally a beautiful suspension setup that soaks up everything the road will throw your way, while letting you know what's happening underneath when it comes to the business of throwing the car around a corner. It's lovely, and it's comfortable, very very comfortable. The weight reduction of the car, (the manual 1.4 only weighs 1,320kg, and the 2.0 TFSI only weighs 1,430kg), the superb sound proofing, the new mechanical bits underneath, everything works in perfect harmony to deliver such a compeling drive and ride.
At a glance, the new A4's appearance might be evolutionary compared to its predecessor, but don't be mistaken, the improvements done to the new A4 are massive, and it's not just incremental bits across all aspects we're talking about either. It's the inclusion of segment busting features, being introduced into a category that used to woo new customers into the brand. Audi is hell bent in wanting to create a class leading product, crammed with more technology, boasting more space, more efficiency,faster and being way more comfortable than before. And the new A4 has every box ticked, as though the engineers asked a focus group to sit down and list everything they wanted in the car, and then delivering them accordingly.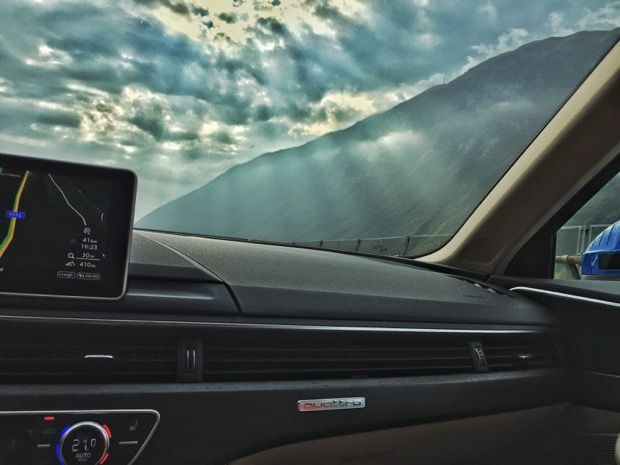 But in the midst of all this calculated approach to appeal and to achieve in every single aspect, has Audi produce yet another clinical, focus group, excel sheet derived vehicle that aims to bust on numbers but ultimately lacking in character and emotion? Perhaps.
And I'm very sure for those who used to love Audis just because they were left-field, and got attracted to them just because Audi wasn't the obvious or predictable choice, (me for example) would've headed elsewhere in search of esoteric choices. Maybe the new Alfa Romeo Giulia, the new Volvo S90, or the Jaguar XE might suffice given how popular Audis are now - or put simply mainstream.
In my opinion, Audi shouldn't miss them one bit, because apart from being a challenger to the segment leader, the new Audi A4, short of focusing on having key features such as the Lexus IS's funky speedo, or the Q50's detached power steering as major marketing punchlines, the A4 retains what made it good, and focuses on making it great. And through this, earned what is now rightfully its place as the segment's benchmark, poised to take over the spot from the BMW 3-Series proudly, unequivocally.

**All pictures - Diambil dengan iPhone 6**
---
---
---
---
Comments