Mitsubishi To Focus on Sub 3-litre Engines, As Poor Fuel Quality Limits Their Options
Insights It appears that the current generation of 3.0-litre-and-above diesel engines for pick-up trucks will be the last of their kinds, as strict environmental regulations around the world are forcing manufacturers to abandon high-capacity diesel engines.
When the all-new Mitsubishi Triton made its global debut in Thailand late last year, it was launched to the world market with an all-new aluminum block 2.4-litre 4N15 MIVEC common rail intercooled variable geometry turbo diesel engine.
Running with a low-ish (for a diesel engine) 15.5:1 compression ratio, the engine is said to be one of the quietest and smoothest engines in its class, with very impressive power and torque figures too - 181 PS at 3,500 rpm and 430 Nm at just 2,500 rpm, whil keep fuel consumption to just 7.6-litre/100 km (4x4 Double Cab Automatic, Australian specifications).
Globally, the previous model's 3.2-litre engine is notably missing from the engine options list.
As you can tell from our launch story, the highly innovative 4N15 MIVEC engine is not available for our local-market Triton, which is imported from the same plant in Thailand that makes the 4N15-powered Triton for Thailand and other markets around the world.
Instead, we have the familiar (but heavily updated) DI-D engine in three different states of tune - from 110 PS to 178 PS.
The reason behind the exclusion of the new 4N15 engine is the unavailability of the necessary Euro-5 or higher clean diesel fuel, which is required by the new generation of sophisticated, clean diesel engines.
Although Euro-5 diesel is already available in some parts of Peninsular Malaysia, pick-up trucks are predominantly sold in East Malaysia and the nature of their usage also means that they will need to be fueled up in rural locations, where fuel quality might deviate even further from the usual Euro-2M standard diesel found city centres.
No More 3.2-litre Engine Option In The Near Future
The previous generation Mitsubishi Triton was at one time offered with a 3.2-litre engine option, before it was discontinued mid-life cycle, and the engine is unlikely to make a return again.
"At this moment we don't have plans for a 3.2-litre engine for the all-new Triton," said Won-Chui Yang, CEO of Mitsubishi Motors Malaysia.
In the near- to mid-term, Mitsubishi Motor's global powertrain development's focus is to meet the increasingly strict exhaust emission and fuel consumption regulations, with reduced emphasis on achieving high power output. This is quite consistent with the industry's powertrain trend.
Market leader Toyota for example, has also abandoned 3.0-litre engines, in favour of a smaller capacity 2.4-litre and 2.8-litre engine for its upcoming all-new Toyota Hilux.
Despite offering just one engine option for Malaysia, Mitsubishi Motors has done a very impressive job of improving the DI-D engine to achieve a level of performance that (on paper at least) is comparable to a Ford Ranger 3.2-litre, thanks to its 400 Nm torque and low kerb weight.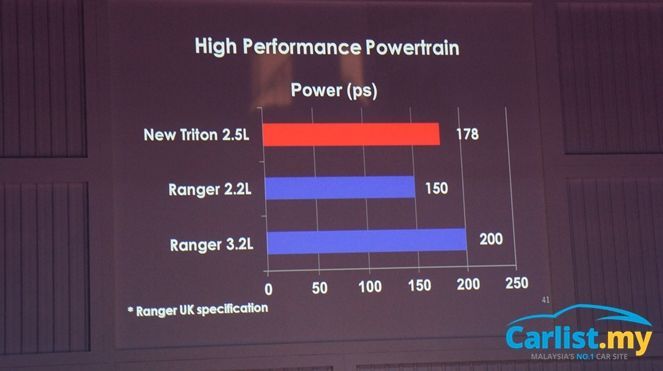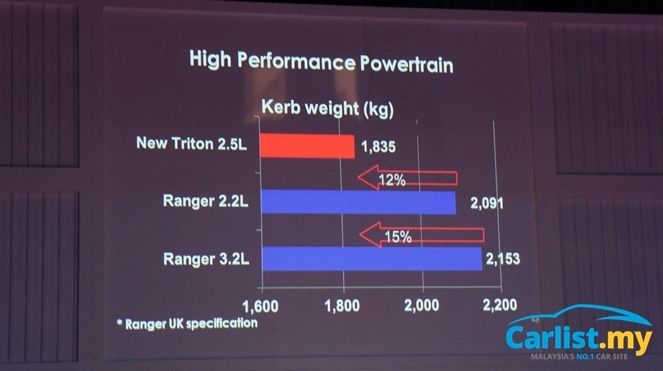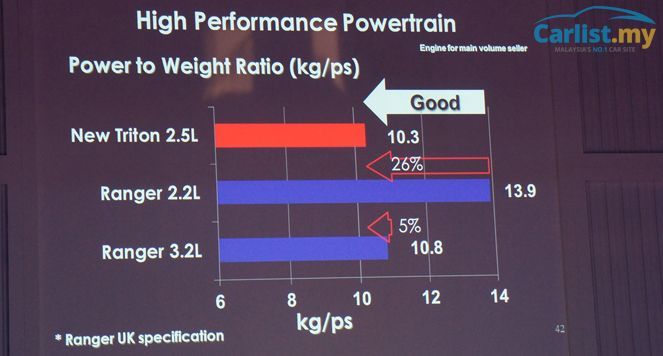 Initial response to the all-new Triton has been encouraging, with over 2,200 bookings collected since 1-April 2015. Mitsubishi Motors Malaysia targets to sell 900 units of the all-new Triton per month, translating to a 20 percent market share of the pick-up truck segment.
---
---
---
---
Comments