New Toyota Regional Campaign To Increase Seatbelt Awareness
Auto News It's surprising that despite seatbelts being around since the 1950s, there is still a great percentage of road users that don't make use of them- at least within our region. Toyota's survey revealed that on average, only 25% of road users in our region makes use of seatbelts- and Malaysia stands below that average at 22%. Looking at the rationale for the road users who don't, Toyota says that the top 5 excuses are "existing presence of airbags in vehicles, confidence in one's own driving skills, short journeys, discomfort, and causing clothes to be wrinkled". Airbags are about 15 times less effective without the use of a seatbelt, while the risk of fatal injury increases by 100% and 300% for front and rear passengers respectively if they do not buckle up.
When their regional safety campaign began in 2014, the aim was to get road users to acknowledge the use of seatbelts and to create a call-to-action amidst rapid motorization in the Asian region. Toyota looked at taking seatbelt enforcement out of the hands of law enforcement and to improve awareness among road users to make them more proactive. The following year saw more advocation of seatbelts and more information to empower road users and to help them lead others in that regard.
This year sees the campaign continuing, but with more emphasis on social media, applications, and more proactive behaviour. The campaign consists of a combination of animated pieces, emotional pieces aimed to strike a chord with families, and applications such as the Toyota Seat Selfie App and the "Go Go Buckle Up" Game. The message is "Belt On For Every Journey", targetting and eliminating the excuses most road users employ to avoid wearing a seatbelt. The campaign will be extended to all ASEAN countries, including India, Pakistan, and four new Southwest Asian countries of Bhutan, Bangladesh, Sri Lanka, and Nepal.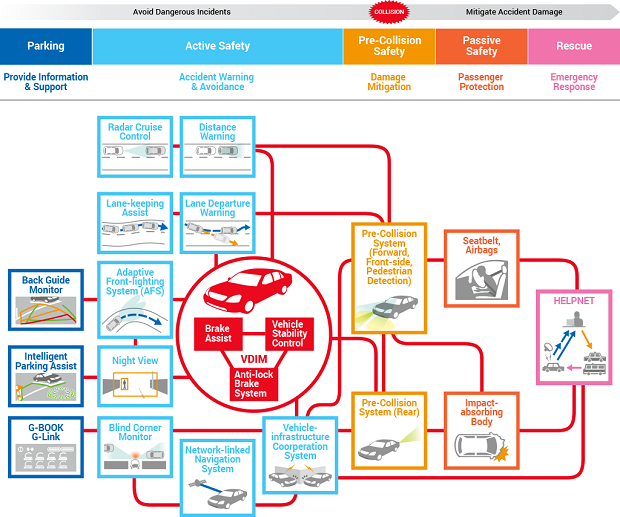 Beyond this, Toyota has also been steadily improving their active safety technology and testing over the years. They now have features such as the 'Pre-Collision System' and 'Lane Departure Alert', which are more commonly found on higher end products but are slowly being implemented in Toyota's model range. The systems are designed to work together as a way to prevent collisions altogether, as shown by this rather complex web of components. But beyond this, Toyota is also looking at reducing the injury during eventual accidents as well.
More importantly, the simulations they use have become more complex as well, with the THUMS (Toyota Human Model For Safety) now modeling the various internal components of the human body. It can simulate the effect on bones, muscles, ligaments, tendnos, and internal organs- key to understanding impact forces on the body and what may be a potential risk. Just this year, the system has also included models to represent children aged ten, six, and three for injury analysis. The ultimate goal for the company is to mitigate traffic injuries and eliminate traffic casualties in their entirety.
---
---
---
---
Comments