PLUS To Offer 20 Percent Rebate For Electronic Payment Users On Selected Highways
Auto News PLUS has announced that starting 9th September 2015, motorists who pay at tolls electronically will receive a 20 percent rebate on selected highways.
This is an effort to further urge the public to abandon their cash-only toll habits before the eventual all-electronic shift takes place at all, if not the majority, of Malaysian tolls.
The tolls in question that will pass on the rebate to motorists using Touch n' Go, PLUSMiles card, and SmarTAG include: Penang Bridge Toll Plaza, Jitra, Bukit Kayu Hitam, Kubang Semang, and Lunas.
Managing Director of PLUS, Dato' Noorizah Hj Abd Hamid said, "The introduction of the electronic payment system not only facilitates smoother toll transactions at the toll plazas, but at the same time offers the public the chance to enjoy 20% toll rebate per month beginning 1 September until end of this year."
Of note, however, is that Penang Bridge users who are currently using their residents-only 20 percent toll discount will not be eligible for a further a toll rebate.
"In addition, the public can also purchase SmartTAGs at a promotional rate of RM96.00 (inclusive of 6% GST) at Customer Service Centres at the Penang Bridge Toll Plaza, Jitra and Kubang Semang (while stock lasts). The Customer Service Centres operate from 7:00 am to 10:00 pm every day," added Norizah
Motorists can also choose to purchase preloaded RM5 PLUSMiles Touch 'n Go card at a promotional rate of RM5 (card is free) at the toll lanes at Penang Bridge Toll Plaza, Jitra, Bukit Kayu Hitam, Kubang Semang and Lunas.
Based on calculations factoring in monthly usage of 30 days, this rebate will yield savings for electronically-paying motorists of more than RM42.00 per month. Detailed information on the savings are below:
Firstly, for the Penang bridge toll: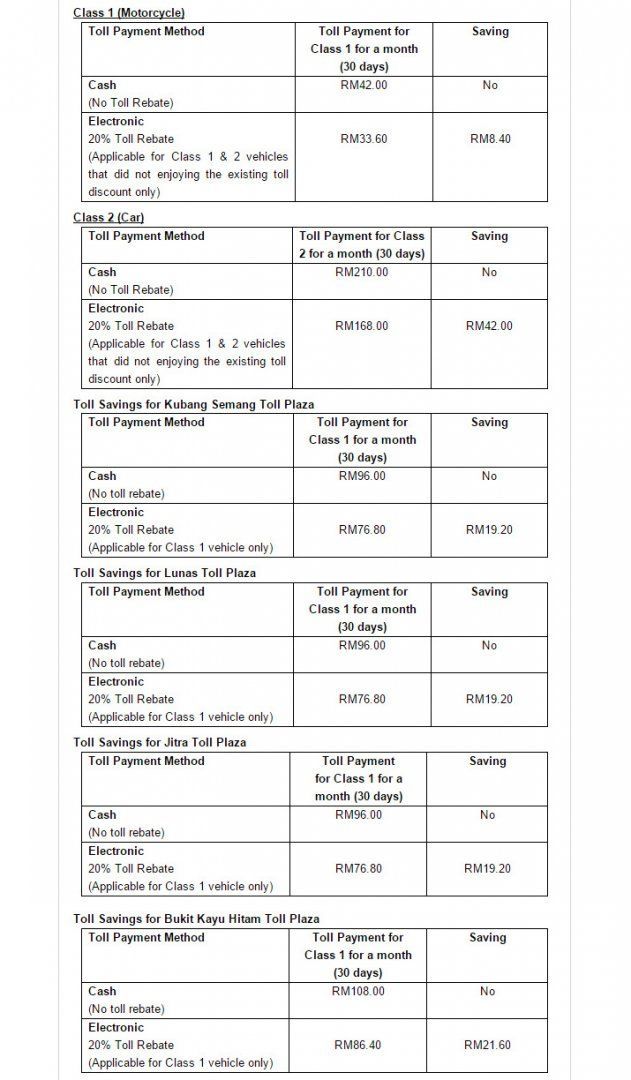 ---
---
---
---
Comments