Proton To Develop Alto-Based Axia Fighter Or B-segment SUV? MoU Signed With Suzuki
Auto News We're reporting live to you from the Proton Centre of Excellence In Shah Alam, where in attendance sits its chairman, Tun Dr Mahathir, Datuk Mohamed Radzaif, DRB-Hicom's COO, and Suzuki Motor Corp's president, Osamu Suzuki – all here for a Memorandum of Understanding & License Agreement between them.
Will it be for a new Proton model?
Yes, quite likely. But we cannot say for sure yet just what will come of the proposed agreement. But our guesstimates and what has been spoken here today leaves us with a few ideas.
On top of the technology sharing between the two companies, it is understood that they will be working together towards the production and development of a "small Proton compact car" that will enter the Malaysian market in 2016.
It was also mentioned that this model will be unlike anything Proton has in its range right now, which leaves us to think that this could be a vehicle slated for fight head-on with the Perodua Axia – could it be something based on Suzuki's exisiting Alto compact car?
Further supporting this notion is the fact that Proton said it has approached Suzuki for its "depth of knowledge and experience with compact vehicles".
However, Tun Dr Mahathir has said that this all-new model is to fill a niche in the market. Then, it could also mean that he may be referring instead to the Proton Iriz Activ concept: a compact SUV based on the new Proton Iriz, perhaps? That would be equally fitting of a niche market model in Malaysia, with only the Great Wall M4 filling that price and size segment in Malaysia, since the Perodua Kembara of old. And, Proton has repeated in the past that it has many roles for its all-new compact platform to fill.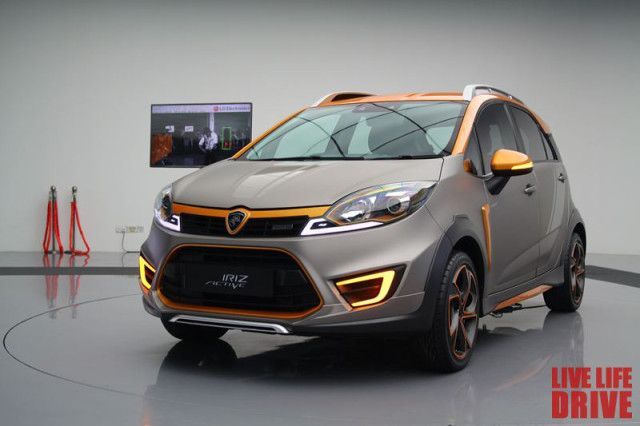 *Proton Iriz Activ Concept: An Iriz-based SUV concept.
While other Memorandum of Understandings in the past may not have come through, Tun Dr Mahathir has mentioned that, "Because I am in charge, I will be seeing this through."
Proton has long since looked for the backing of a Japanese manufacturer, with Tun Dr Mahathir recently making a speech that essentially boils down to Proton never being able to compete with Perodua, because of their Japanese influences and backing (see video below) – he is believed to be talking about Daihatsu Motor Company's significant ownership stake in Perodua, and Perodua's adopting of Daihatsu's methods.
With Daihatsu's backing, Perodua is also able to utilise architectures and powertrains designed by the Japanese manufacturer for its vehicles such as the Perodua Myvi and Axia. Perodua's coming sedan model will also be underpinned by a Daihatsu platform, which Perodua will be responsible for everything else from the ground up.
---
---
---
Comments