Review: 2015 Hyundai Tucson TL – Moving Up the Value Chain
Reviews A decade is a relatively short period in the context of automotive history, but within the confines of this timeframe, Hyundai has been able to cycle its Tucson SUV through three model generations.
Whilst the first-generation Tucson made little impact beyond offering itself as a value-driven alternative to the CR-V, the second-generation LM model turned the market on its head with its ground-breaking Fluidic Sculpture styling that was concurrently introduced with the Sonata YF.
Indeed, Hyundai's big styling gamble paid off in giving the marque a quantum leap in brand perception among consumers. Slowly, Hyundai is shedding its image of being the poor man's choice in whatever segments it competes in.
As the Fluidic Sculpture generation of models enter the end of their respective cycles, Hyundai finds itself in transition between model eras. The latest Tucson aims to embody a more matured reinterpretation of Hyundai's distinctive styling language.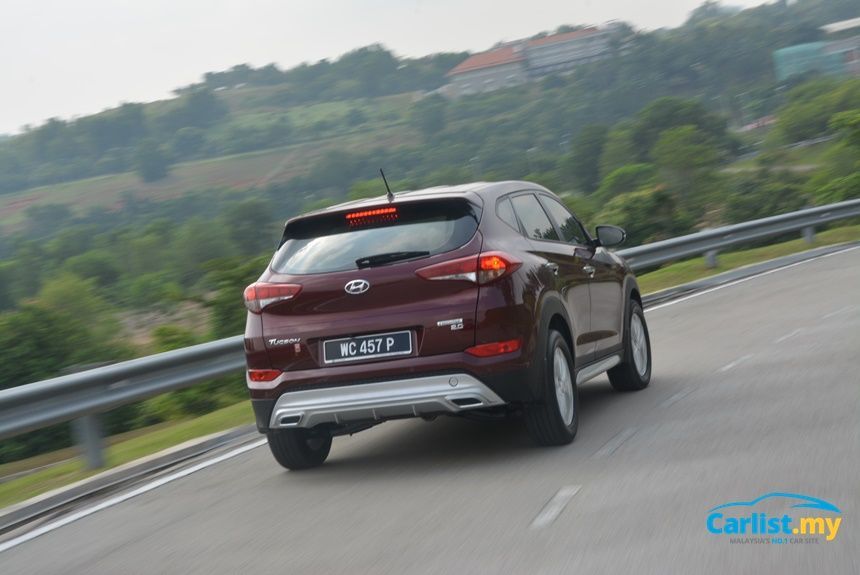 Specifications:
Variant Tested: Executive
Price: RM146,888, on-the-road with insurance
Engine: 2.0-litre, inline-4 transverse, DOHC
Power: 155PS @ 6,200rpm
Torque: 192Nm @ 4,000rpm
Transmission: 6-speed torque converter automatic, FWD
Safety: 6 airbags, ABS, ESC, ISOFIX (rear), hill start assist, downhill brake control, brake assist
Origin: Locally-assembled at Kulim, Kedah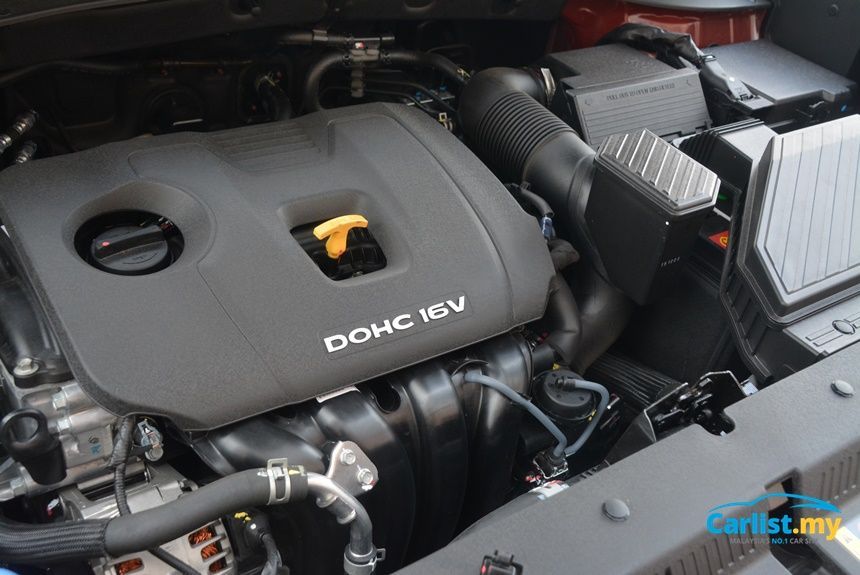 Overview?
Mechanically, the Tucson is standardized to offer a 2.0-litre petrol engine driving its front wheels through Hyundai's in-house 6-speed automatic transmission. The all-aluminium Nu series four-cylinder powertrain was first introduced when the previous model was facelifted and is carried over here with minimal changes.
Hyundai offers the Tucson with a selection of two grades, starting from Elegance trim at RM133,888 with insurance. At this level, standard equipment includes dual frontal airbags, electronic stability control, halogen projector headlamps, rear fog lights, leather upholstery, steering-mounted controls, touchscreen, USB/Bluetooth, and reverse camera.
Our test vehicle for this review is the higher grade Executive trim which, for an additional outlay of RM13k, throws in side and curtain airbags, emergency video recorder, driver-side electric seat adjustment, smart keyless entry, auto cruise, and satellite navigation. Interestingly, the upper variant also gets a differently-configured centre console that features an electronic parking brake and rear air-con vents.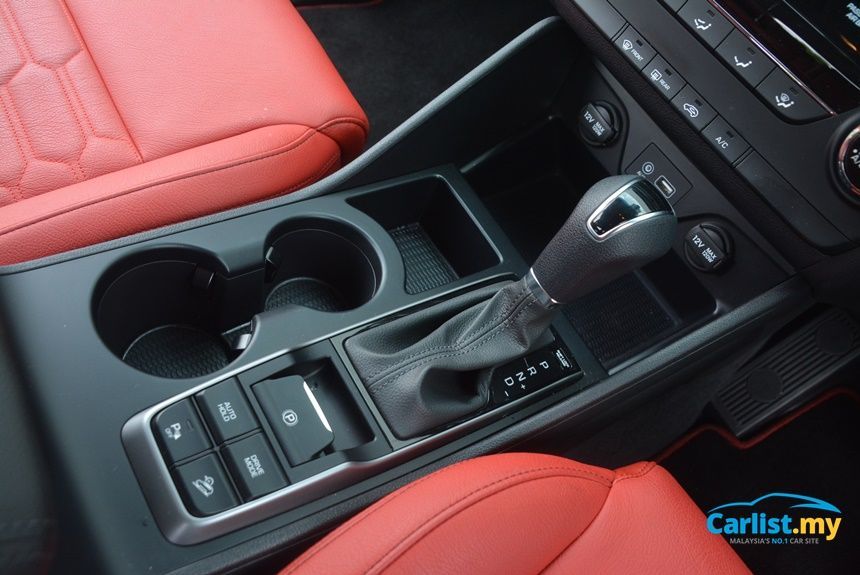 Unlike in days gone by, Hyundai no longer competes on keen pricing these days. For starters, it sees the CR-V almost at eye level. As tested, the Tucson in Executive spec asks for RM4,000 more than the entry-level CR-V 2.0 FWD without offering a significant advantage in equipment. The Mazda CX-5, which incidentally rolls out from the same Inokom plant in Kulim, is available from below RM130k in its base 2.0 2WD GL spec, rising to about RM144k for the better-appointed 2.0 2WD High variant.
If you're still living by the thinking that Hyundai sells cars to people who can't afford to go Japanese, it's time to recalibrate that impression.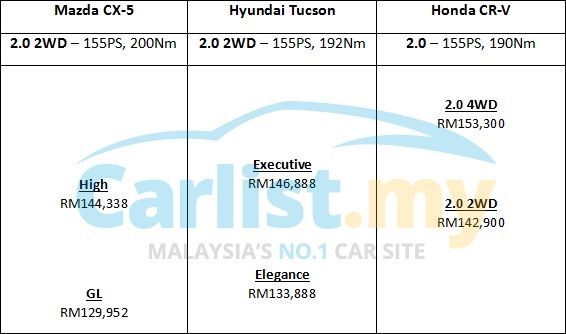 Exterior
Compared to the shock and awe delivered by the Tucson LM in 2010, the new Tucson TL adopts relatively restrained styling cues. Nevertheless, there are enough creases and curves on its metalwork to ensure that this is not a design you would accuse as being conservative. Bucking the trend toward bigger rims, we like that the Tucson's wheels are sensibly sized at 17 inches regardless of trim.
Also standard regardless of trim are halogen projector headlamps, although LED daytime running lights are added to the Executive variant. At night, the setup provides adequate illumination, but the halogen bulb's yellow hue knocks down the vehicle's perceived value especially when contrasted with the bright white glow of xenon or LED headlamps found in many rivals.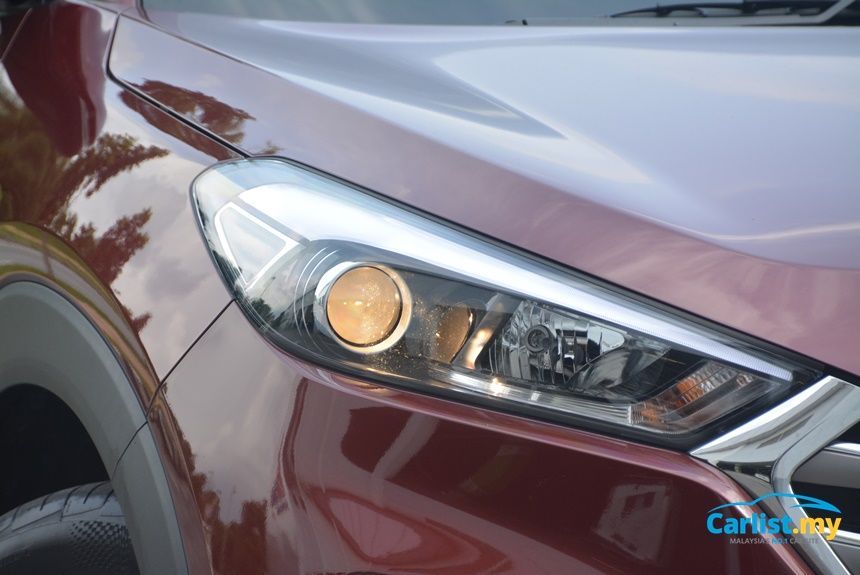 Interior
Contrasting its curvaceous sheet metal, the Tucson's cabin is a place which flair is not lavished in abundance. Instead, Hyundai has opted to provide an environment that is well-built, functional, and easy to live with. The striking red leather of our test vehicle is perhaps the only noteworthy factor of the cabin, but we acknowledge that it may not be to everyone's taste; customers can alternatively specify their interiors in black or white trims.
Ergonomics of the cabin are well sorted with controls and instruments laid out in a clear, easy-to-understand configuration. Oddment storage is well provided for and build quality is solid, but Hyundai's selection of materials are somewhat puzzling, lining up fine soft touch plastics at distant panels whilst finishing prominent touch points with coarser grade materials. This little oddity aside, the Tucson's cabin is a place in which the basics are well taken care of, albeit without much of an artistic touch.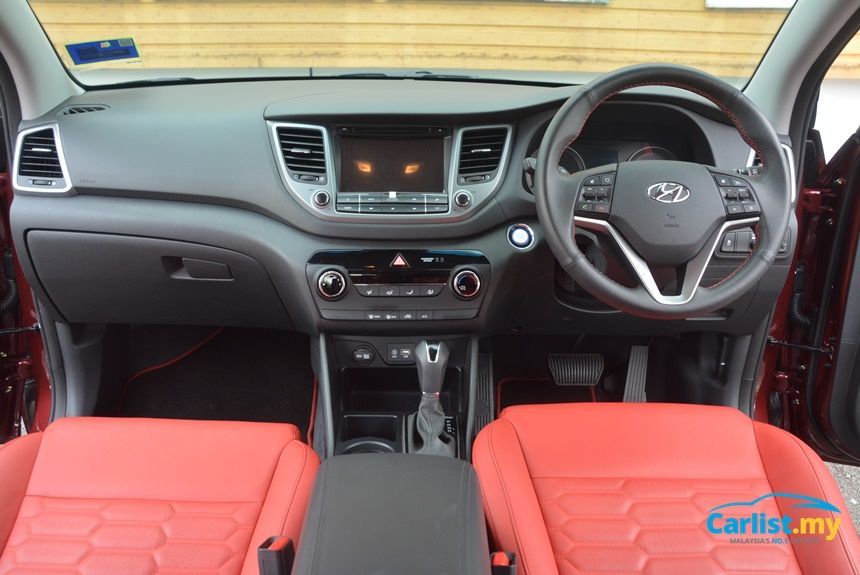 Luggage space is decently sized at 488 litres and a tonneau cover is provided, which can be fastened on two mounting slots to allow for reclining of the rear seats. In the event the tonneau cover is not needed, a third mounting slot is provided at boot floor level to stow it away securely.
As with most SUVs, the rear seats come with 60:40 split folding that allow expansion of the cargo hold to a more sizable 1,478 litres. However, because the seat's lower section is fixed, it's not a perfectly flat loading floor, although it's a seamless one. A major oversight is the lack of a latch to release the seat backs from the rear, meaning seat folding can only be facilitated through the vehicle's side - not exactly convenient when you're loading things in a hurry.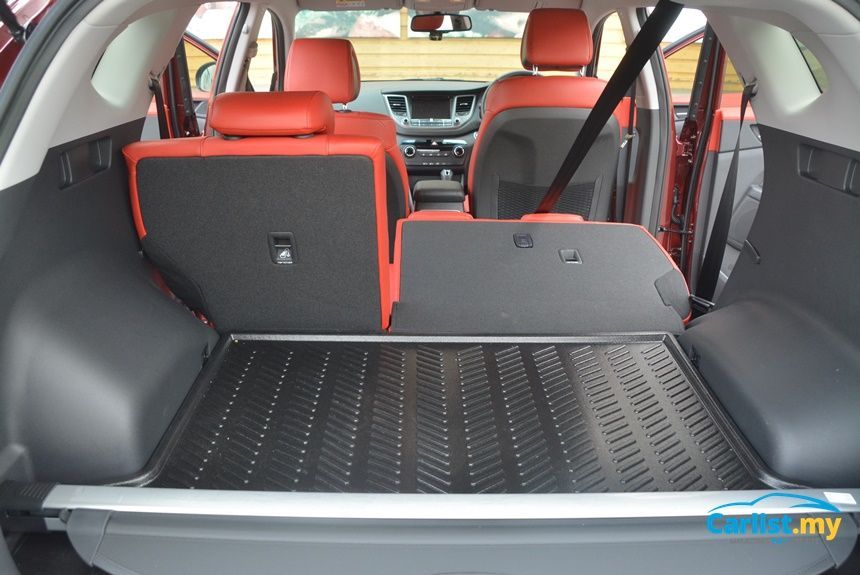 How does it drive?
Hyundai vehicles are not often known for their enthusiast appeal, and the Tucson does not have a go at challenging that pre-conception. It covers the basics well enough to meet the needs of typical buyers in this segment, but ultimately does little beyond firmly establishing itself as a strong mid-table contender.
Against the competition, Hyundai's sole configuration of having an atmo-breathing 2.0-litre engine powering the front wheels just about meets the segment's entry requirements. Performance, as you would expect, is far from sparkling, but it's largely adequate, and the four-cylinder petrol mill endears itself with a peppy willingness to rev. It is well-matched to Hyundai's proven and smooth-shifting 6-speed auto.
Around corners, the Tucson is also not found wanting for grip by the lack of all-wheel traction. The suspension does a fine job in keeping body roll manageable and the steering complements that well with finely-judged accuracy and responsiveness. Overall tuning of the chassis gives the Tucson safe and predictable dynamics well-suited for a wide range of conditions, albeit lacking in intimacy and communicativeness. Drivers coming from a Honda CR-V are not likely to feel downgraded.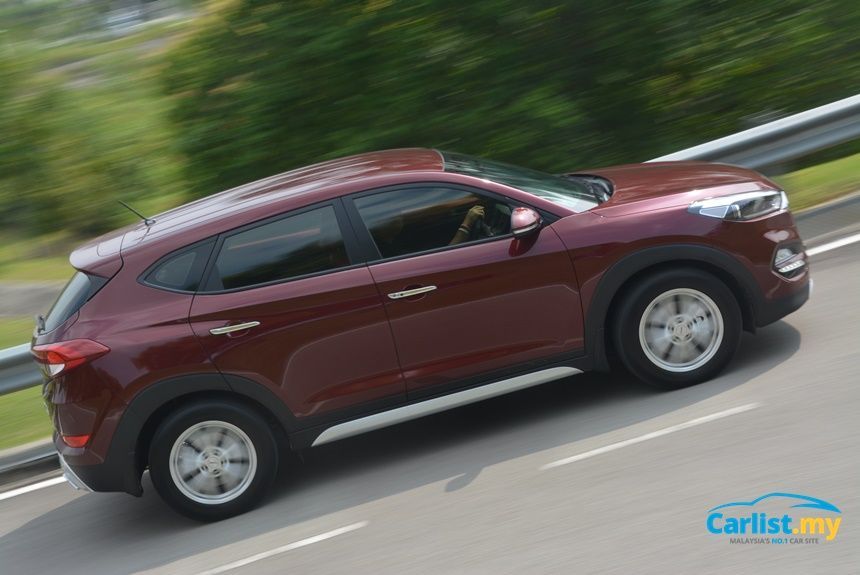 How comfortable is it?
Complementing its half-decent dynamics, the Tucson also offers good ride comfort. Isolation of most undulations and disturbances are commendably effective, and the chassis exhibits good composure over a variety of surfaces. The suspension setup, as a whole, feels calibrated with good sense.
Refinement feels well-honed too, with evident care shown in the deployment of sound deadening material to help cancel out external sources of noise. A part throttle cruising, the Tucson's cabin is as quiet an environment as they come.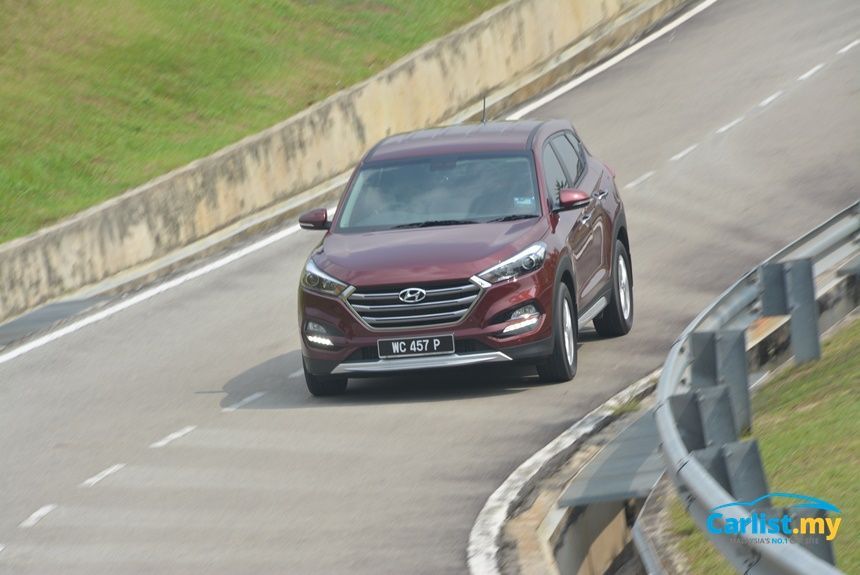 How economical is it?
Hyundai did not provide any claimed fuel consumption numbers for Tucson although, for the record, our test car averaged a recorded 11.2 litres/100km over a 300km test route of mixed urban and highway driving – far from impressive especially after considering that the BMW X1, a significantly more powerful vehicle, and the Mitsubishi ASX, which had the added burden of all-wheel drive, both returned 10.5 litres/100km in similar conditions.
So it's a little thirsty, but Hyundai does return some savings to you at the service centre. Your first six services, which occurs at 6-month/10,000km intervals after the first 1,000km check, are on the house. Customers can optionally top in an extra RM104.72 to upgrade from semi- to fully-synthetic lubrication. Beyond that, the following charges apply:
36 months / 60,000km – RM765.39
42 months / 70,000km – RM237.49
48 months / 80,000km – RM552.29
54 months / 90,000km – RM520.19
60 months / 100,000km – RM373.49
* Includes use of semi-synthetic engine oil only. Additional RM104.72 for fully-synthetic. Further charges apply for non-regular maintenance items.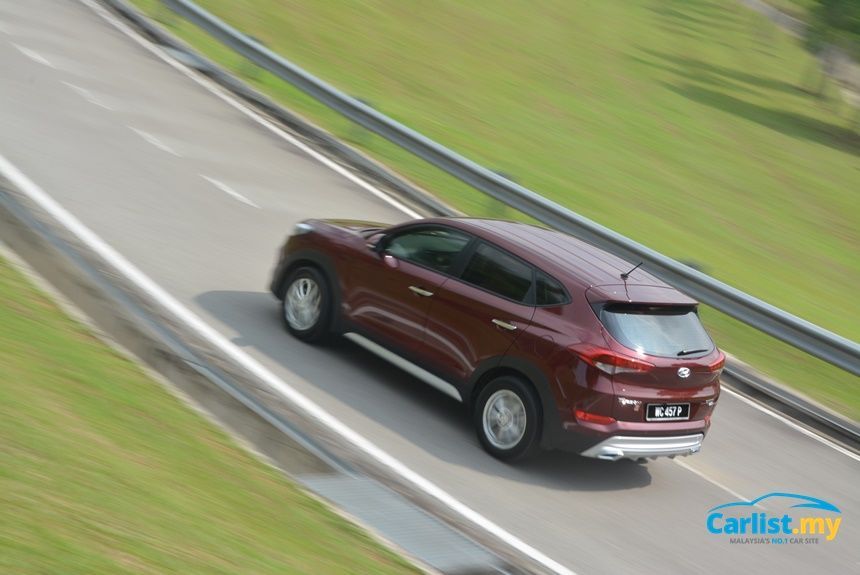 Conclusion
Hyundai are fast learners. Only in its third model generation, the Tucson already looks and feels like a matured and well-developed product that is backed by decades of experience. It is no longer a bargain basement product like its predecessors, but a contender playing in a competitive field based on merit.
It is a quietly competent performer that covers all the relevant basics very well whilst erring in very few areas, but what the Tucson lacks is a stand-out feature. It does not have a unique selling point that answers the question on why should one buy it over a CR-V. There is no justification to actively discourage you from buying one, but there isn't an active reason that says you definitely should either.
---
---
---
---
Comments