Review: 2016 (F30) BMW 330e – Forty Years In The Making, The Best 3 Series To Date
Reviews The year was 1972. Preparations for the Munich Olympic were well underway. Construction for the exterior portion of BMW's new headquarters, the iconic 'Zweizylinder' (Four-Cylinder) Tower strategically located next to Munich's Olympia Park has just been completed. The 22-storey tower's is a statement of intent by the then Chairman Eberhard von Kuenheim, the man credited for making BMW into what it is today, that BMW will be the centre of world-class engineering and design.
That's a bold statement when you remember that back in the '70s, BMWs were considered inferior to Opel, and the benchmark driver's car was an Alfa Romeo Alfetta. The BMW 3 Series hadn't even come into existence yet.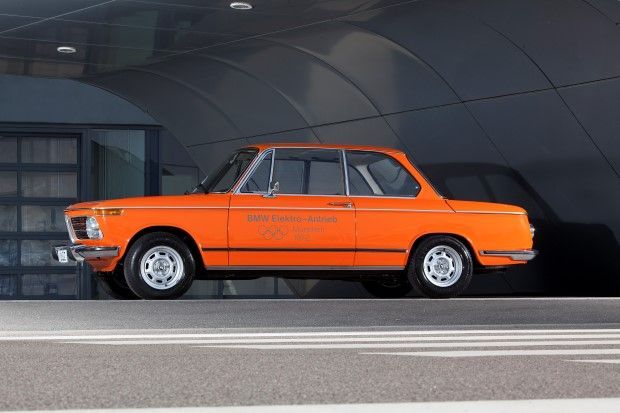 In the build up to Munchen 1972, BMW built two prototype electric-powered BMW 1602. The donor 1602 cars were part of the '02 family of sedans that set the template for our present day BMW 3 Series. The pair of Elektro-Antreib (Electric-Drive) 1602s were used as support vehicles for the marathon event, and it was probably the first time an electric vehicle was used a support car for any international sporting event.
But there was no #ElectricDrivingPleasure to be found in these electric drive 1602s. Laden with 350 kg worth of Varta lead-acid batteries and taking 8 seconds just to reach 50 km/h, these prototype 1602s were hardly the Ultimate Driving Machines. Don't bother asking about the century sprint, because 100 km/h is its top speed.
The fault wasn't with BMW, but with 1970s battery technology. With every succeeding decade, BMW's electric drive prototypes got incrementally better as battery technology improved. Superseding the 1602s was a little known BMW LS Electric, followed by the more familiar E30 325iX, the E1 and E2, the E36 325 Electric and most recently the limited production 1 Series-based ActiveE and MINI-E.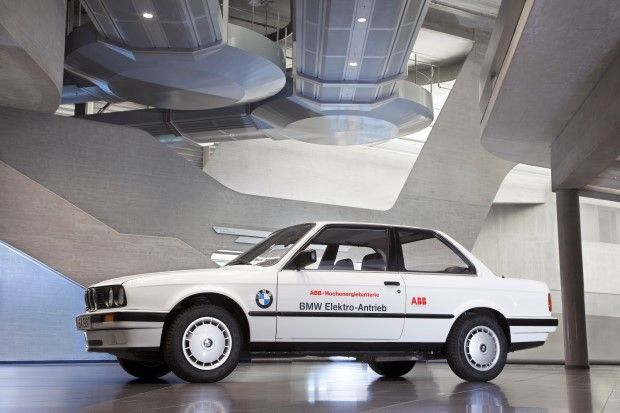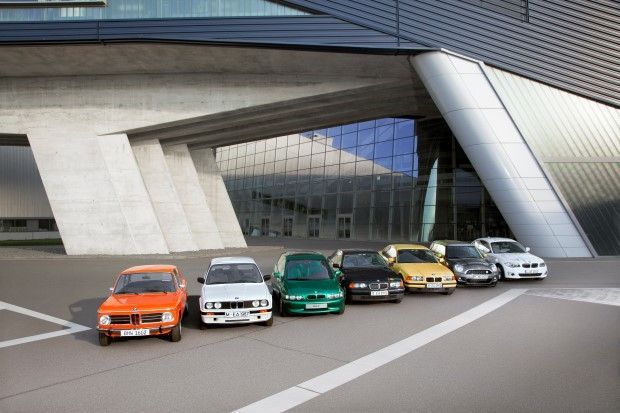 Fast forward to today, we now have the plug-in hybrid BMW i8 and full-electric/range-extended electric BMW i3.
Sitting a couple of ranks below the flagship i8 is this 330e. Just when you thought that BMW's insistence with performance oriented diesels have allowed Toyota to gain an upper hand when it comes to electrified powertrains, BMW's range of plug-in hybrid i Performance models have re-asserted the Bavarian marque as the benchmark while Lexus only has regular hybrid-only models to offer. Despite Toyota/Lexus' early lead in hybrid technology, the only plug-in hybrid model in Toyota/Lexus's range is the Prius Prime, which is not available here.
Specifications for F30 BMW 330e
Engine: B48 2.0-litre turbocharged four cylinder
Motor: 88hp/250 Nm synchronous electric motor
Traction battery: 5.7 kWh (net), lithium-ion
Total system output: 252 hp, 420 Nm
Transmission: 8-speed automatic
Safety: Six airbags, ABS, ESC, TC, ISOFIX, BMW Connected Drive with Intelligent Emergency Call
Price: RM248,000 excluding insurance
Origin: Locally-assembled in Kulim, Kedah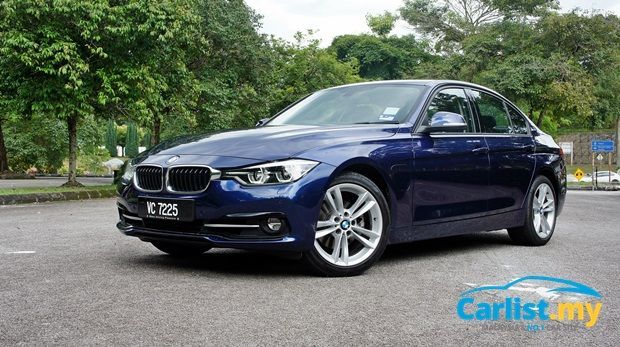 Overview
The locally-assembled 330e is slotted between a 320i Sport and a 330i M Sport. It uses the same B48 2.0-litre four-cylinder engine from the 320i, with the exact state of tune - 184 hp and 290 Nm - but boosted by an 88 hp electric motor nestled within the transmission to deliver 252 hp and 420 Nm, enough to match the 330i M Sport.
In case you are asking why the output numbers don't sum up, that's because the petrol engine and electric motor deliver their peak output at different engine/motor speed.
As a plug-in hybrid, the 330e can be driven by petrol-power alone but for optimum performance (and also long term reliability), it is recommended that you regularly plug the car in to be charged. Depending on the load capacity of the power socket, and whether you are using a regular domestic power socket or a fast charger, charging time ranges between 2 to 3 hours plus.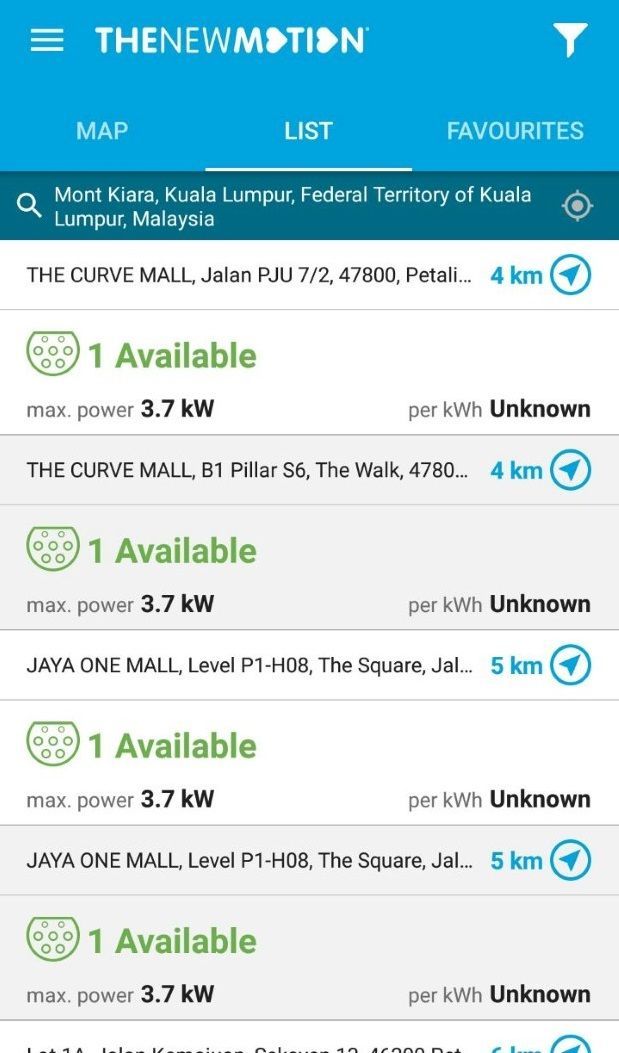 If you are away from your home, you can locate any available public charging stations by simply downloading The New Motion app on your mobile. At the moment, all public charging stations are available for use for free, so long as you have a ChargeNow card provided by BMW Group Malaysia (in partnership with GreenTech Malaysia).
Exterior
At a glance, there isn't much cues for an average person to tell a 330e apart from a 320i, as both models wear the Sport trim. Other than the 330e badge on the boot lid and eDrive badges on the C-pillars, you will have to look harder to spot additional clues like the charging port's flap on the left front fender, the larger 18-inch wheels, and a high gloss black strip running the width of the rear bumper.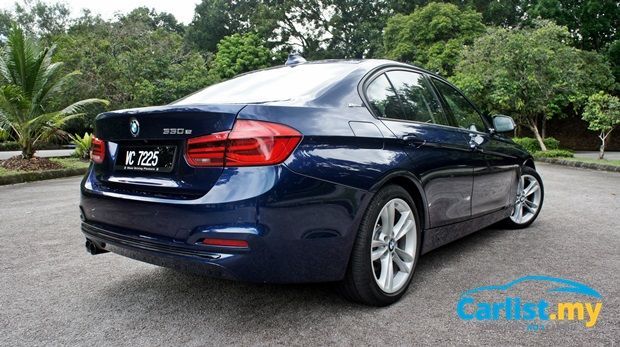 The F30 generation 3 Series has been on the market for quite some time already, but it hasn't aged one bit. This facelifted LCI model features new light patterns for the headlamps and tail lamps; small touches which add up to give the F30 a substantially younger look.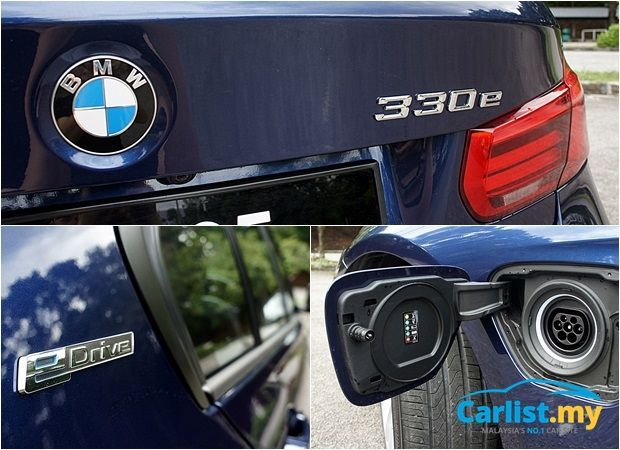 People say design is subjective, but park the 3 Series next to its peers, notably the W205 Mercedes-Benz C-Class and B9 Audi A4, it is clear that the BMW, despite being the oldest of the trio, has the strongest identity. The Mercedes-Benz and the Audi are becoming too diluted with other models, to the point that it's difficult to tell a C-Class from the latest E-Class, or an A4 from an A3.
Interior
Compared to the C-Class or A4, the touch and feel of cabin materials isn't BMW's strongest traits, but at least the 330e does away with the 330i M Sport's tacky looking stickers that line the passenger-side of the dashboard and centre console.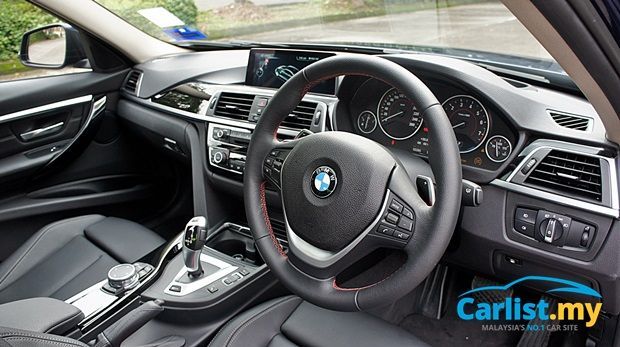 Judged in isolation, the 330e feels premium enough, but not after you put it in context with the W205-generation Mercedes-Benz C-Class or the B9 generation Audi A4.
On the upside, ergonomics is still the F30's strength. Its controls are easiest to use and most intuitive.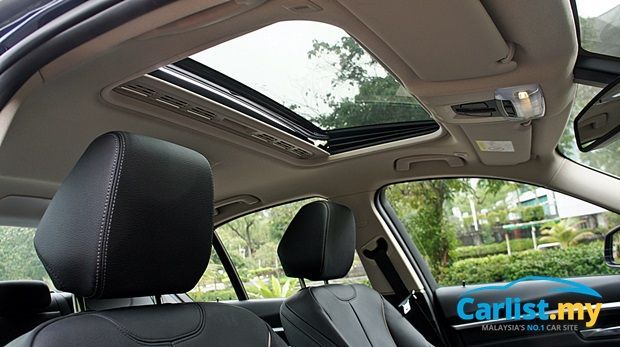 Like many rear-wheel drive sedans, the 330e doesn't have a lot of utility space. If you are coming from a Honda Civic, or even CR-V, you will definitely wonder where did all the space went. You can free up a bit more space by removing the cup holders behind the gear shift lever. The centre console box is only enough for one person's sunglass, wallet and that's about it.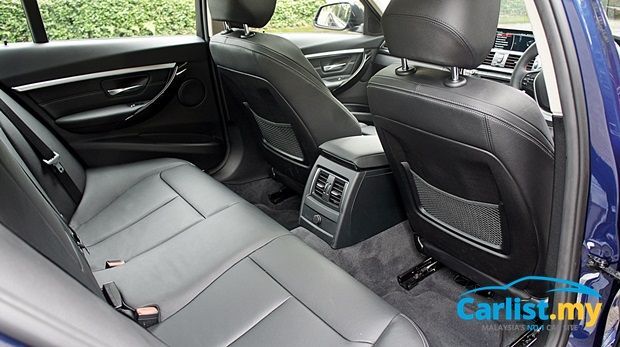 There's enough space in the rear for 2 adults to travel in comfort but three will be pushing it.
Compared to a standard 3 Series, the 330e's boot floor has been raised slightly higher to accommodate the lithium-ion traction, so boot space is slightly less than other 3 Series sedans.
If interior space is high on your priority, more than driving performance, then the Audi A4, or even the BMW 3 Series GT might be a better option.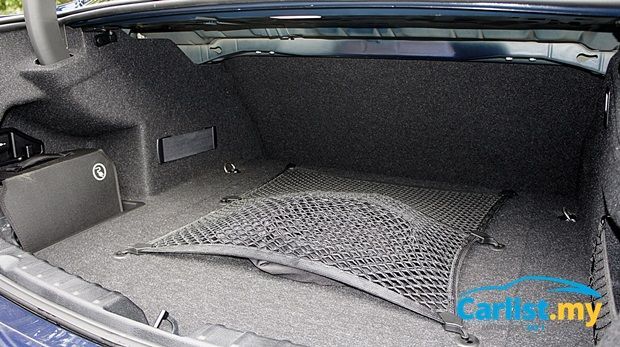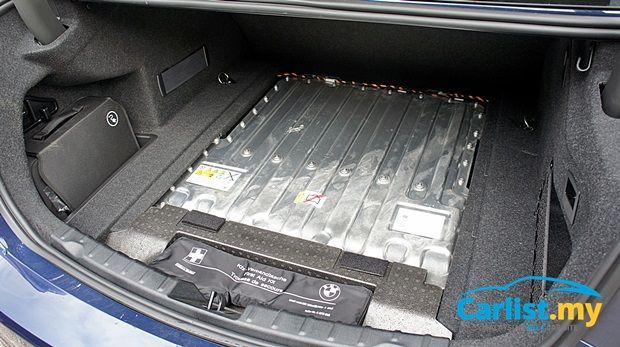 The 330e's interior also has slightly different instrument panel, with eDrive specific readouts and an additional eDrive button next to the gear lever, allowing you to cycle through three driving eDrive modes – Auto, Max, and Save.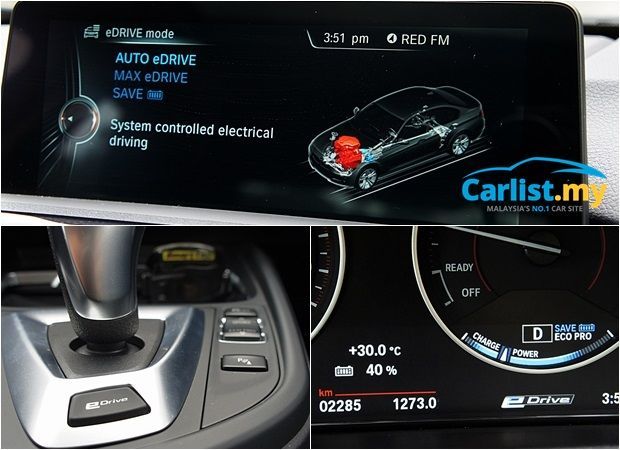 Driving Experience
When we had the 330i M Sport, which offers more or less the same level of performance as the 330e Sport, there were noticeable turbo lag from its highly boosted engine. It's not serious, but it's enough to make you add a mental note and to time your accelerations/overtakings slightly earlier.
There was no such issue with the 330e and that's what makes the 330e a much better car to drive. There is a deep well of torque for you to tap on-demand, and because the electric motor's power delivery is so much more linear, it's also easier to drive it in any road/traffic conditions.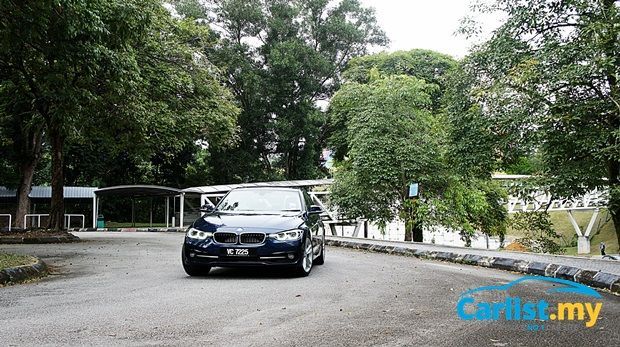 In case you're wondering if this is still the case when the 330e's traction battery is depleted, the answer is yes. Even with the battery charge level at just 5 percent, kept at that level by using the engine as a generator and energy recovered from regenerative braking, the 330e saw little difference in driving performance, at least as far as short bursts of acceleration is concerned.
However, unlike most hybrids, the 330e's battery management software is programmed to run the car on electric power as much as possible, even if it's set on Auto eDrive mode.
In a regular hybrid, the limits to electric drive are quite low so the petrol engine kicks in quite early and the traction battery's charge is sustained/recharged quite fast. In the 330e, the electric drive system is powerful enough to drive the car until around 90 km/h (depending on A/C setting and road conditions), and so most of your urban commute will be done in electric power.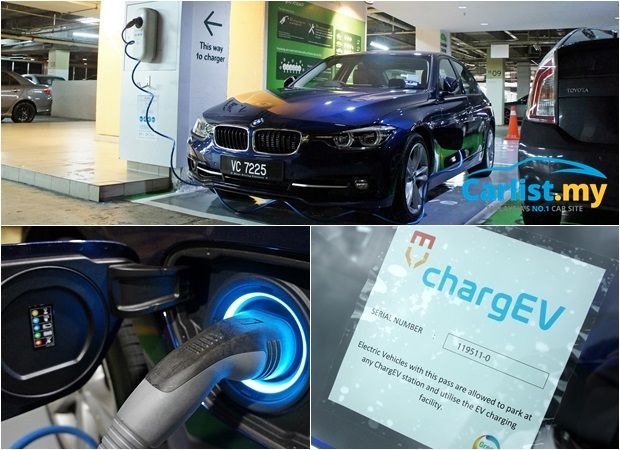 As the plug-in hybrid's battery capacity is larger than a regular hybrid, it takes a longer time to recharge and without plugging in, the engine and regenerative braking alone won't be able to fully charge the battery.
Personally, I prefer to manually control the eDrive modes, switching between Auto eDrive (to use electric drive) in stop-go traffic and Save (to run the petrol engine more) once speed picks up. That way, I am able to keep the battery charge for later use when I encounter stop-go traffic later in my journey, conditions where an electric motor offers a more efficient, smoother and more comfortable driving experience than a petrol engine.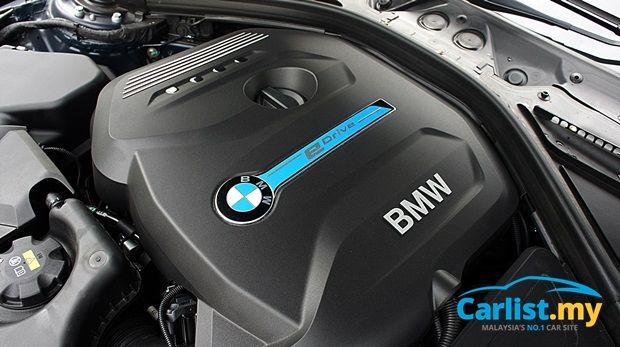 When the roads snake their way into challenging twisty sections, the 330e still behaves with the same level of agility as you would expect from a BMW, despite the added 190 kg over a 330i due to the plug-in hybrid components.
On the highways, there's a bit more wind noise and tyre road compared to an Audi or a Mercedes-Benz, but not by much.
Ride Comfort
The stereotype that BMWs are less comfortable than an equivalent Mercedes-Benz no longer holds true. Just take a ride in an A-Class or CLA-Class. It's almost as if the current generation of Mercedes-Benz chassis engineers are no longer able to tune a comfortable ride without resorting to expensive adaptive suspension.
Putting aside the 330i M Sport which has a stiffer M Sport suspension, all other F30 generation 3 Series are generally more comfortable than the equivalent Mercedes-Benz C-Class variant. The 3 Series does all that while still maintaining BMW's benchmark agility and handling.
The 330e is no different. In fact, the 330e makes more sense as a daily driver than the slightly harsher riding 330i M Sport.
Potholes and rough, poorly mended tarmac didn't trouble the 330e, which glided over the rough surfaces with minimal drama inside the cabin.
How Economical Is It?
I live in a high rise building, so I don't have access to a power socket to charge the 330e overnight. Over the 350 km-plus urban and highway distance covered, the 330e had a total of 3 hours' worth of charging time from two separate occasions.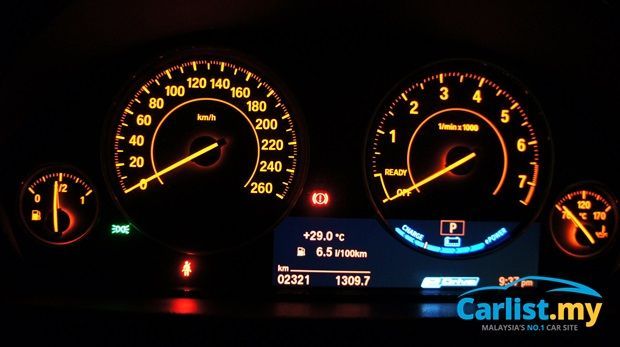 Despite the limited charging time, the 330e averaged just below 6.5-litres/100 km, with the car operating mostly under Eco Pro and Comfort mode.
Maintenance cost is also kept low thanks to BMW's 5-year/unlimited mileage warranty with free scheduled service. That's better than what's offered by BMW's rivals.
Conclusion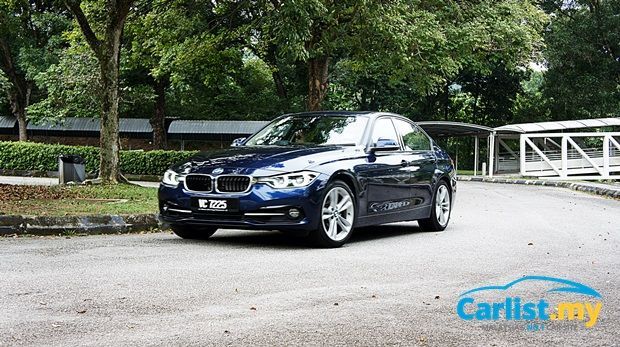 There's no doubt that the 330e is the pick of the of 3 Series range. The lightweight entry model 318i (RM202,800) with its three-cylinder engine is nimble and a joy to drive, but equipment levels are basic, lacking even keyless entry and reverse camera. The mid-range 320i (RM231,800) is a better buy but once you've experienced either the 330i or 330e, you can't quite go back to the mid-range 320i, especially with its smaller 6.5-inch infotainment screen. The 330e offers comparable performance and equipment levels to the 330i, but with better ride comfort, and is RM50,000 cheaper. Update: The 330i M Sport has been discontinued as of January 2017.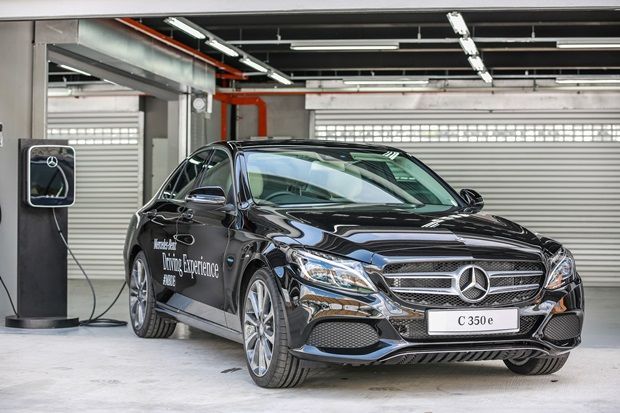 Deliveries for the C350e (RM289,888) have just started and we have yet to sample it on public roads, but it does come with adaptive suspension suspension so it should be more comfortable than a regular C-Class and there is no doubt that the C-Class offers a far more luxurious interior than the 3 Series. It is however, also a lot more expensive than the 330e.
The Audi A4 (RM248,900) is fully imported and thus will forever be put at a disadvantage in terms of price, but it offers more interior space and its front-wheel drive/quattro layout makes for a less fidgety steering during long distance high speed jaunts on straight stretches of the highway.
---
---
---
---
Comments