Review: 2016 Ford Focus EcoBoost – Premium Performance at Mainstream Pricing
Reviews Whilst the original Ford Focus and its immediate successor were highly lauded vehicles in Europe for their unrivalled dynamics within the segment, it wasn't until the third generation model's arrival in 2012 that Ford's C-segment nameplate finally gained traction among Malaysians.
Unlike its predecessors, the third-generation Focus brought handsome looks and premium technology to the table, whilst retaining much of the driving sparkle which the nameplate was known for.
The mid-life update of the third-generation Focus comes four years from its launch, and beyond the anticipated revision in looks and updating of equipment, Ford also took the initiative to power on with the introduction of a new engine to further enhance the appeal of what is at one time claimed to be the world's best-selling car.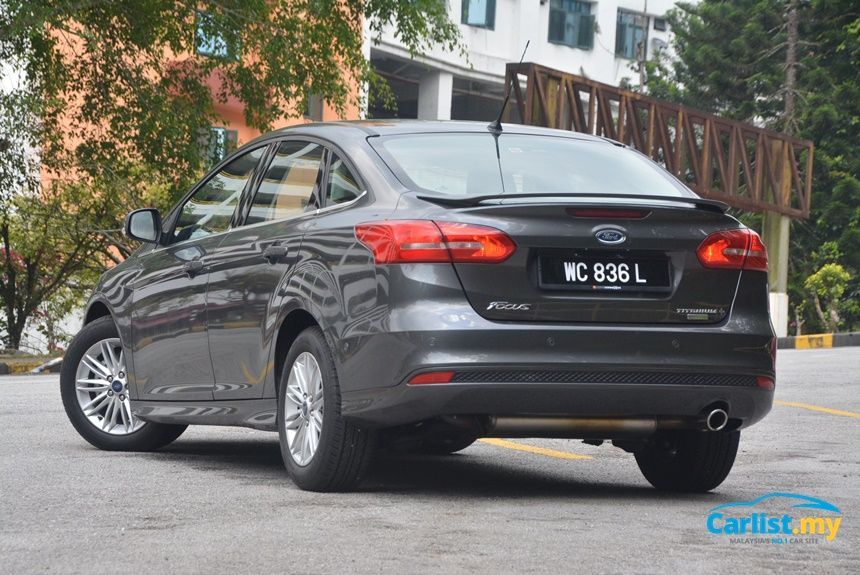 Specifications:
Variants Reviewed:
Trend Hatchback: RM122,446.35
Titanium+ Sedan: RM144,025.11
Sport+ Hatchback: RM144,025.11 (on-the-road with insurance)
Engine: 1.5-litre, inline-4 transverse, turbocharged petrol direct injection
Power: 180PS @ 6,000rpm
Torque: 240Nm @ 1,600 – 5,000rpm
Transmission: 6-speed torque converter automatic with paddle shifters, FWD
Safety: 6 airbags, ABS, ESP, hill launch assist, autonomous emergency braking, blind spot warning, cross-traffic alert.
Origin: Fully imported from Thailand
Overview
Replacing the outgoing model's 2.0-litre naturally-aspirated mill, Ford now offers the Focus with the joys of EcoBoost power as standard; with 180PS and 240Nm on tap, you're looking performance that leads the entire C-segment by clear margins, surpassing even the upcoming Honda Civic VTEC Turbo. Viewed in that light then, the RM15k hike in price from the previous model does not sound unreasonable.
If budget is a concern, however, set your sights at the significantly more affordable Trend hatchback variant, which makes do with only dual airbags and very basic levels of equipment to provide you with savings of RM22k. If you can live with its overall austerity, the Focus Trend offers class-leading performance for the price of a mid-spec Toyota Corolla Altis 1.8G.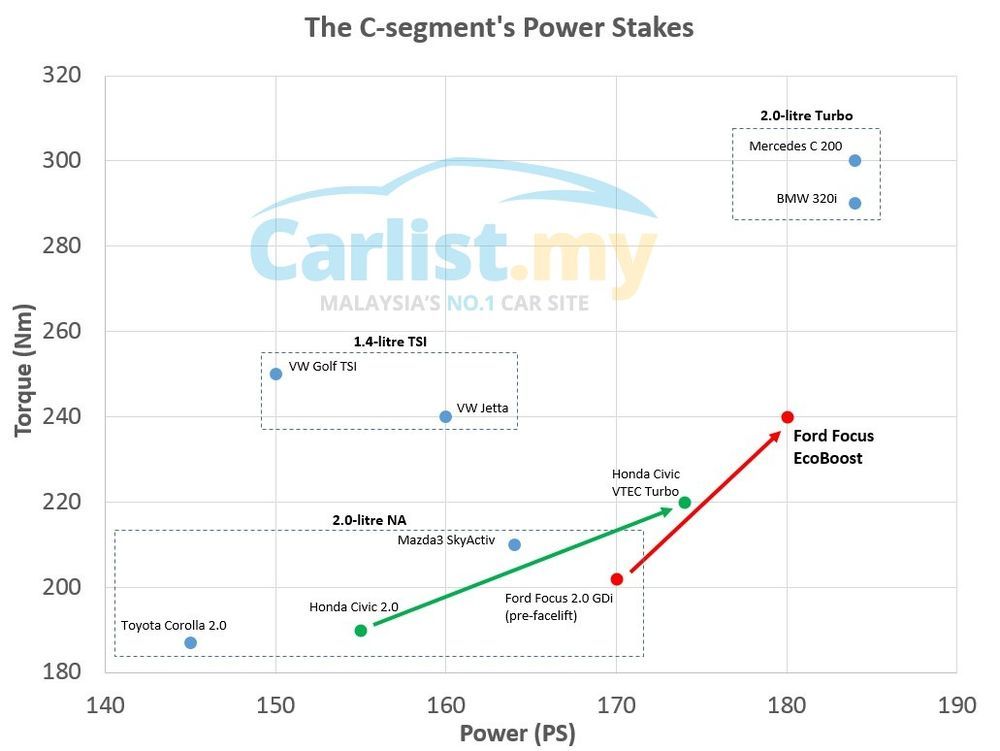 The pre-facelift Focus was also notable for being the only vehicle in its price range to offer advanced driving aids such as autonomous braking (City Stop), blind spot warning (BLIS), and Active Park Assist. That distinction is maintained in the new model, although fitment is understandably restricted to the upper grades.
As an update, the park assist feature is now able to reverse into perpendicular spots besides maintaining its ability to help you enter tight parallel bays. Assisted exit for the latter has been incorporated as well. In our tries of the system, we found it to be as accurate as can be reasonably expected. The system bases its judgment solely on the position of surrounding vehicles, however, and can be affected if the neighbouring car did not align itself properly within its bay. Over time, we reckon most owners will lose the feature's novelty, but as a gimmick for showing off, it is unrivalled. If you have a few minutes to spare, do check out our demo video of the feature included below:
Exterior
Although most of its body panels are retained from the 2012 model, the new 2016 Focus gets much of its stylistic details revised to appropriately reflect the many fundamental changes implemented inside. Most notably, the front end has been grafted with Ford's current corporate nose to engender a more dynamic look, but the overall silhouette remains reassuringly familiar.
Unlike the pre-facelift model, all variants of the 2016 Focus make to with basic halogen reflector headlamps; the Sport+ and Titanium+ additionally benefiting from automatic activation and the integration of LED daytime running lights. Rim sizes are differentiated according to bodystyle rather than trim level – the 4-door Titanium+ get 16-inch wheels, whilst the 5-door Trend and Titanium+ models go one size up to 17 inches.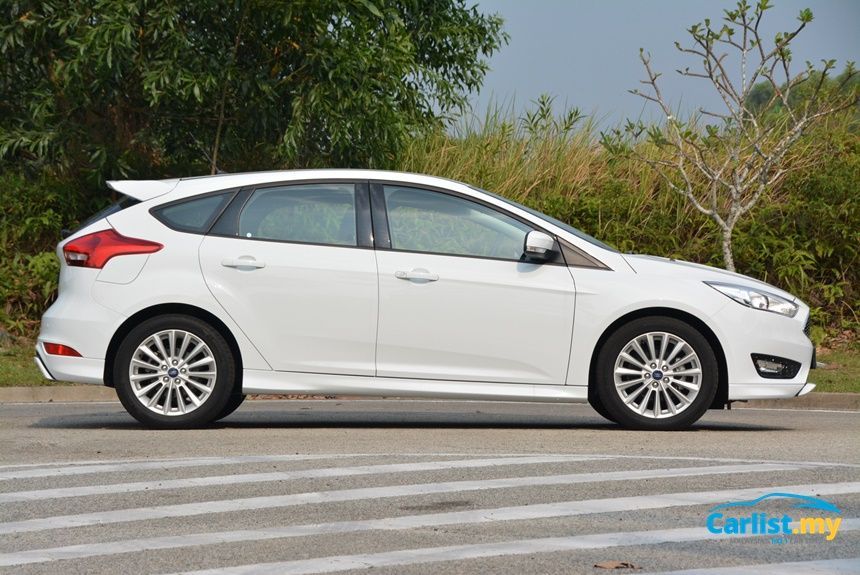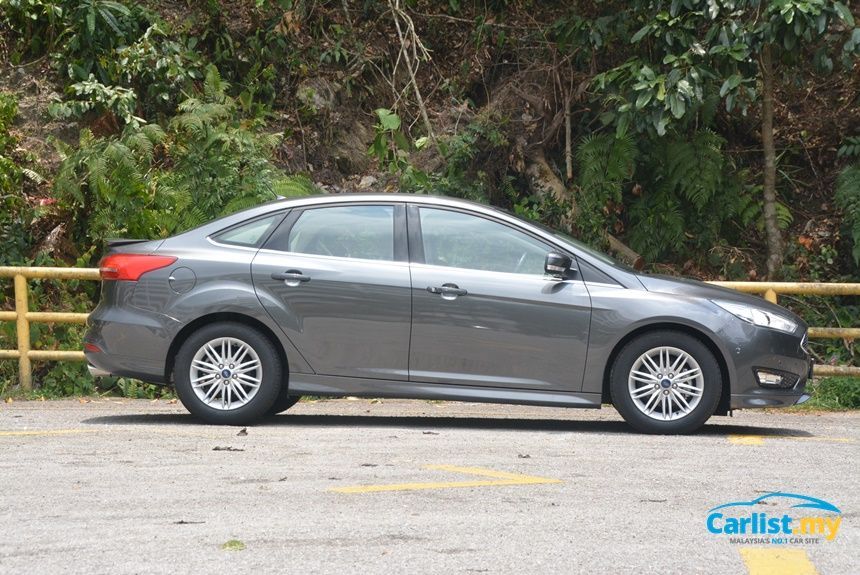 Interior
Whilst it was rich with features and built to excellent quality, the third generation Focus' cabin was also let down by its ergonomics and packaging. In this facelift, Ford worked to retain what was good and did their best to dispense with what was not. Fundamental changes were not affected, but the previously cluttered centre stack receives a revamped layout that is significantly easier and more intuitive to use.
For your small items, Ford provides deep pockets at the doors and a glove compartment decent in both shape and size for starters. The rearranged centre tunnel provides a small slot ahead of the gear lever just big enough for a Smart Tag, and the lidded centre console box incorporates a removable tray for two-layer storage. Most useful is the infinitely configurable lidded cubby hole, which you can rearrange in a multitude of configurations to hold your cups, bottles, or devices.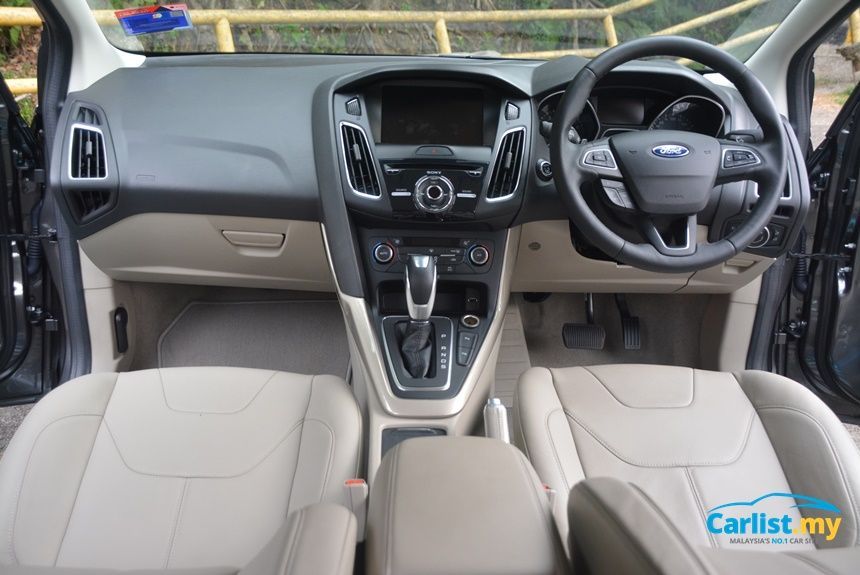 Rear-seated passengers will perhaps be less impressed with what the Focus has to offer. Accommodations are tight by segment standards, although our resident Papa Bear returned from the one-day preview drive on its launch day with no complaints. The Focus also misses out on rear air-con vents – surprising omission for a C-segment vehicle this day and age, particularly one that sits at the pointed end of the pricing spectrum.
Overall impression of the cabin, however, is one that is built to very high standards of quality with generally excellent selection of materials throughout. Colour scheme-wise, we prefer the darker shade trims used in the hatchback variants.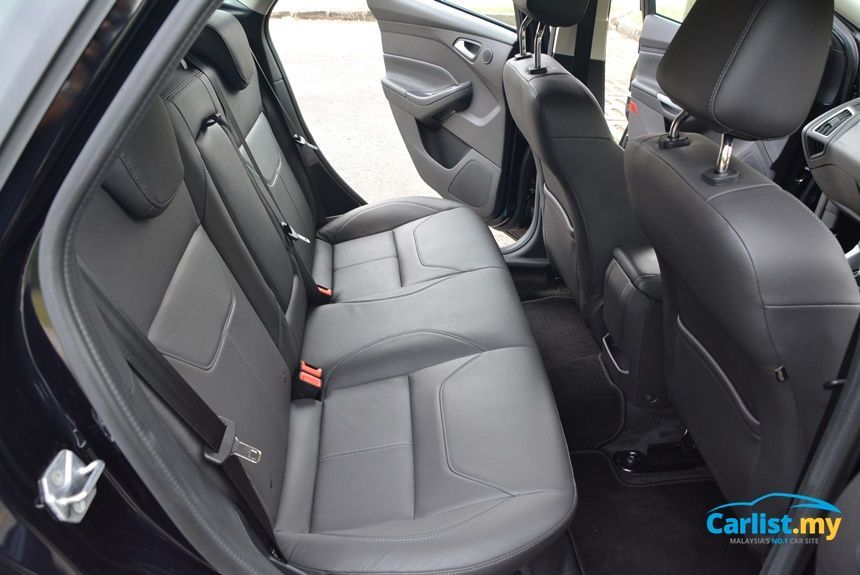 How does it drive?
The pre-facelift Focus, with its naturally-aspirated 2.0-litre petrol direct injection engine, was a pretty strong performer on its own right, but the EcoBoost engine's added grunt elevates the driving experience to another level altogether. The savage brunt which acceleration is served when the flexing the throttle leaves one in no doubt of this vehicle's performance aspirations.
Impressive is the effective mitigation of turbo lag achieved by relatively quick spooling of the blower as well as smart programming of the new 6-speed automatic transmission. Whilst not as quick-shifting as the predecessor's snapping dual clutch transmission, we feel the slushbox's added smoothness makes for a more than worthwhile trade-off, particularly in stop-go traffic.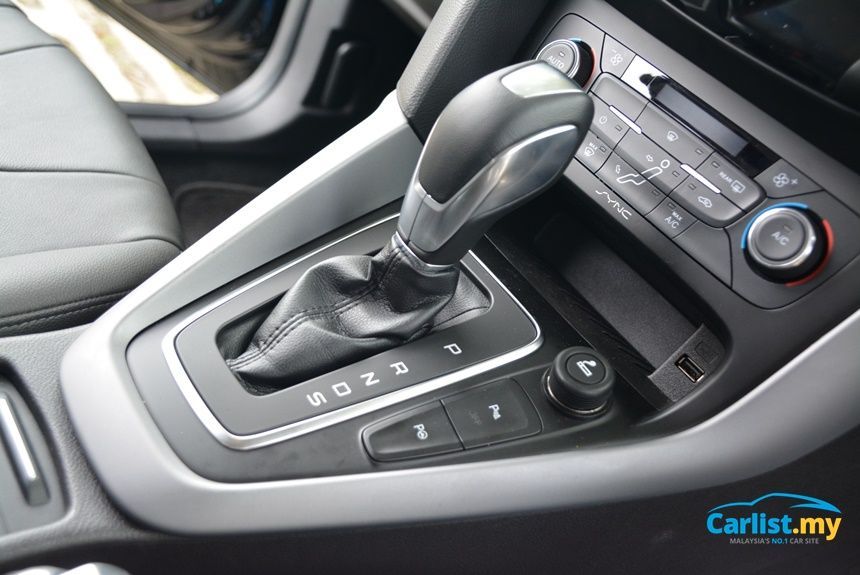 Not in a rush? Slow-moving traffic suits the Focus just fine too. Development of peak torque from 1,600rpm combined with inherent smoothness of the new automatic transmission allows the Focus to amble along at pedestrian speed in relaxed refinement.
Complementing the engine's sterling performance is handling that is composed, secure, and inspiring – a time-honoured characteristic of all cars carrying the Focus nameplate since the original. Brakes are excellent too; stopping the vehicle with authority, whilst at the same time being linear and progressive in its bite, allowing easy modulation.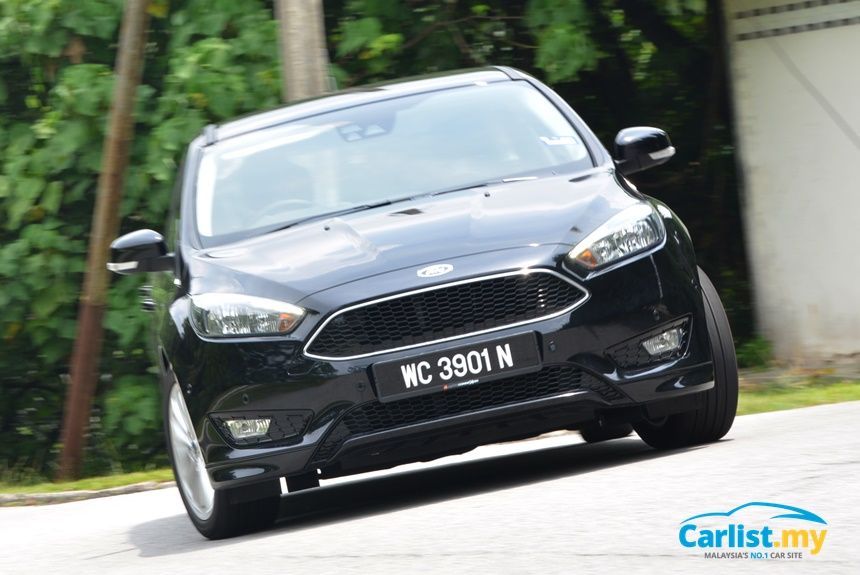 Somewhat surprisingly, especially in the context of the brand and nameplate in question, the steering emerges as the biggest weak link of the package. Although its accuracy and agility are both excellent, the same cannot be said of its communicativeness. Whilst the electric-assisted rack transmits information of surface texture with good clarity, it is less clear in its feedback with regards to tyre adhesion levels.
As a result, estimation of grip reserves around corners is reduced to guesswork; meaning you are never fully emboldened to explore the limits of this highly-talented chassis. Coming from the typically high standards of Ford steering setups, this is equivalent to dropping the ball.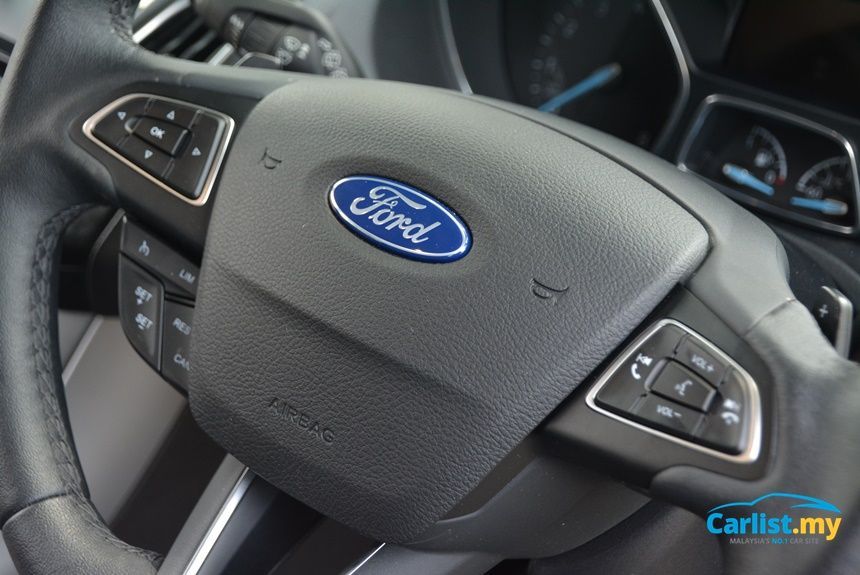 How comfortable is it?
More so than its uprated performance, the standout characteristic of the Focus is perhaps its first rate damping over poor surfaces, which puts many a luxury car to shame. The authority which the springs and shocks batter away ruts and pot holes with barely any disruption of cabin harmony needs experiencing to be believed. This is, simply put, a masterclass suspension setup.
Owing to its smaller rims and higher profile tyres, the Titanium+ variant exhibits noticeably superior ride comfort over the Trend and Sport+ models, although we found the hatchback's steering to load up more naturally when powering through corners.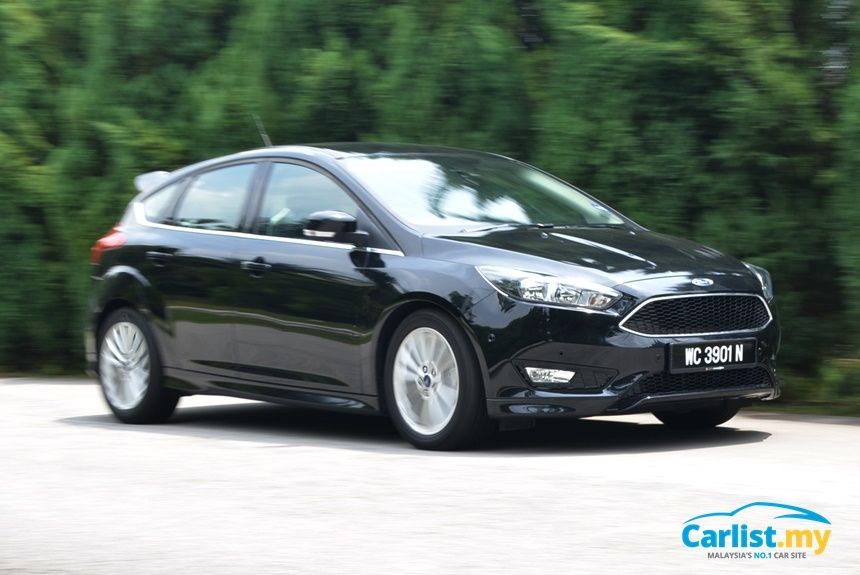 How economical is it?
In our experience testing various cars, Ford EcoBoost engines have never shone for their parsimony with fuel, so it was a pleasant surprise to see our Titanium+ test vehicle (WC 836 L) return a decently healthy 9.5 litres/100km over a 450km test route of mixed conditions that included a brisk hill climb.
Separately, a less run-in Trend spec test car (WC 8162 R), in which we covered 280km of primarily urban driving, recorded an average of 10.5 litres/100km. Our Sport+ test car (WC 3901 N)was even thirstier at 14.5 litres/100km, although it has to be revealed that this specific unit spent a lot of time idling whilst shooting our Active Park Assist demo video.
We expect the average user to better our figures in real life, meaning figures in the region 9.0 litres/100km is not beyond realistic reach; although cars that serve primarily urban duties should brace for numbers entering the teens.
As with other members of the Ford range, the Focus follows a 6-month/10,000km maintenance interval. First three years of maintenance is on the house; under Ford's Extended Service Programme, the first six services are fully covered for labour and parts that include items such as lubricants, brake pads, shock absorbers, spark plugs, belts, and even wiper blades.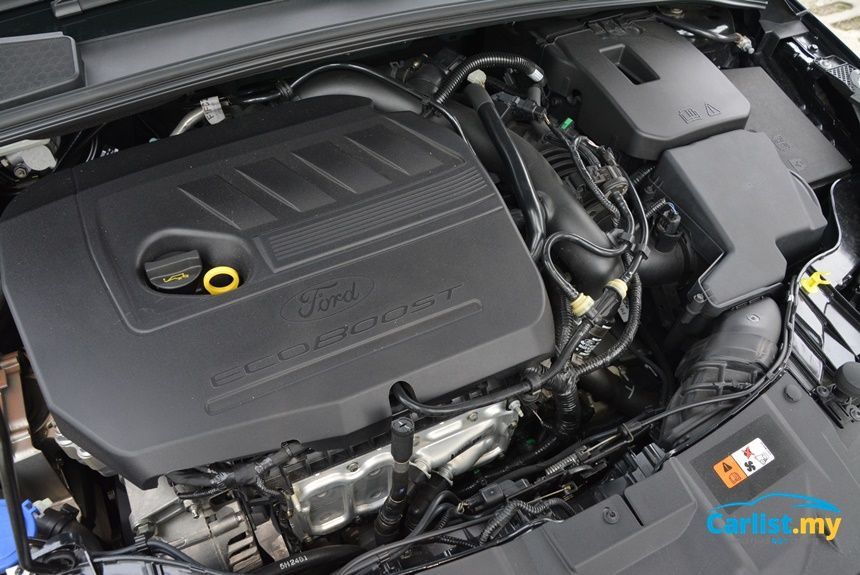 Conclusion
As our resident Papa Bear summarized in his earlier-published quick review, the new Focus is miles ahead not only against its competitors, but compared to its pre-facelift self as well. After an extended number of kilometres, we are not presented with any reason to revise his conclusions.
From many aspects, it is evident that Ford expended a great deal of effort and resources to make the new Focus a better car than it already was. In outright performance as well as equipment levels, this is a segment-leading product. The comprehensive rearrangement of the centre stack to create a more intuitive to operate layout is also deserving of praise.
The performance potency and chassis talent of this car is far above average. Make no mistake that this is a properly rapid car both on a straight line as well as around curved roads. It is mildly unfortunate then, that the steering is found so lacking on chatter, a trait that is very unbecoming of a car wearing the Focus nameplate. The buying public will probably not see this as a problem, but for the enthusiasts, this little shortfall keeps the Focus one tantalizingly close step away from greatness.
---
---
---
Comments