Review: 2016 Porsche Macan – A Better All-Rounder Than You Might Imagine
Reviews "Sacrilege!!"
"You're diluting the Porsche brand!"
So cried the critics and enthusiasts in 2002 when Porsche had the audacity to launch the Cayenne. The brand that built its name on purebred sports cars was going to make an SUV – a two-tonne-plus utility vehicle to line-up alongside the Boxster, Cayman, and 911.
A decade and a half on and well into its second model generation, the Cayenne has proved to be an extremely successful formula for Porsche. So much so that the idea of a smaller-sized SUV to slot beneath is not only no longer met with the same scorn; it has become a decidedly logical venture. In fact, question has become, what took Porsche so long to come up with the Macan?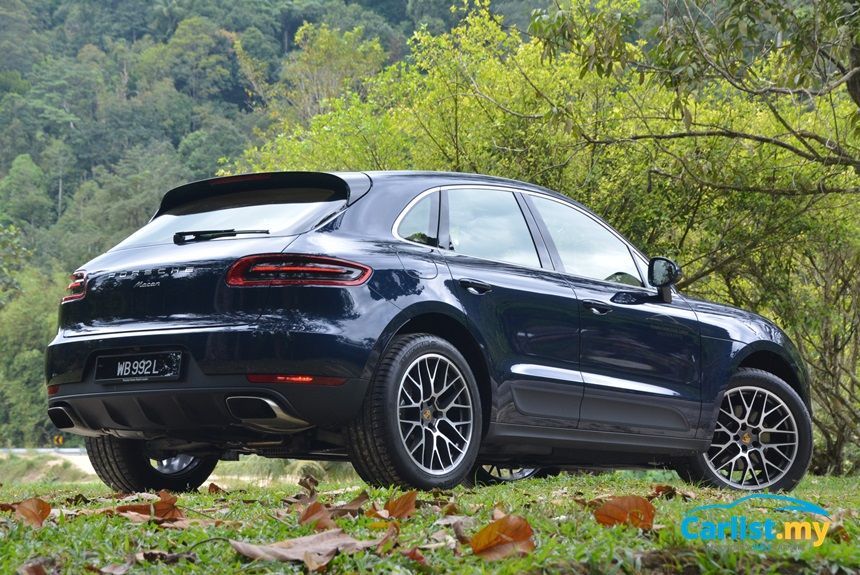 Specifications:
Price: RM425,000, nett selling price excluding options
Engine: 2.0-litre, Inline-4 Longitudinal, Turbocharged, Petrol
Power: 252hp @ 5,000 – 6,800rpm
Torque: 370Nm @ 1,600 – 4,500rpm
Transmission: 7-speed dual clutch automatic, paddle shifters, AWD
Safety: 6 airbags, ABS, EBD, ISOFIX, Electronic Stability Control, Lane Departure Warning, Front & Rear Parking Sensors, Reverse Camera, Tyre Pressure Monitor
Origin: Fully imported from Leipzig, Germany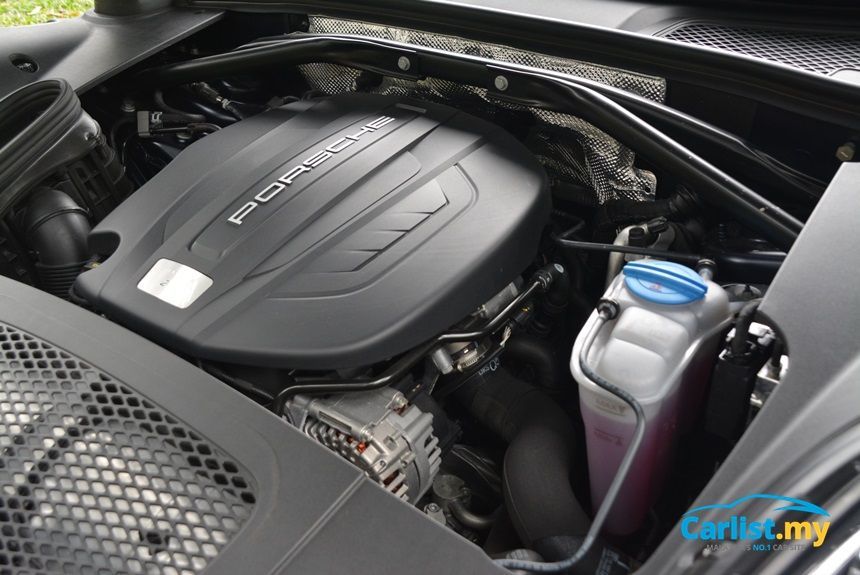 Overview?
No fewer than seven powertrain options are available with the Macan. Despite there being officially-christened Macan Turbo variant, all engines are actually turbocharged anyway, as is keeping with the times.
On test for this review is the base 2.0-litre petrol model with 252hp at its disposal. In accordance to Porsche naming practice, this variant is called simply 'the Macan' with no official variant designations suffixed to the name.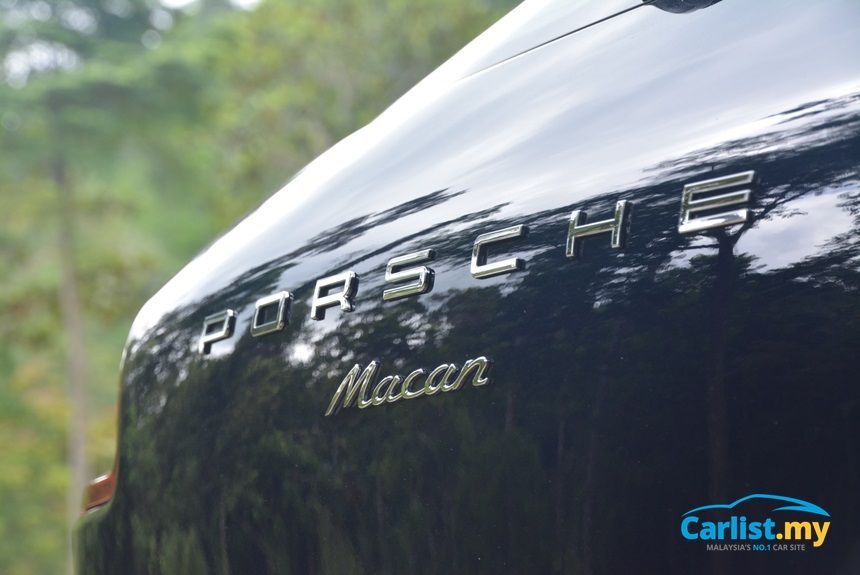 At a fundamental level, this Macan is built on shared underpinnings with the previous-generation Audi Q5, but barely a third of their components are common. They share identical wheelbases and hard points, but this is no rebadge job – it's far more extensive than even, say, Audi turning the Volkswagen Tiguan into the Q3. Even the engine, despite being the familiar 2.0-litre EA888 motor, receives an exclusive mapping configuration not used by other brands of the VW Group.
A nett selling price of RM425,000 before on-road costs leaves the base Macan a substantial distance from the variants above. The next cheapest variant, the Macan S Diesel, is RM165,000 away whilst the petrol-powered Macan S is a further RM20,000 up. As we will elaborate shortly, that gap is very easily filled up even without jumping up to the next model.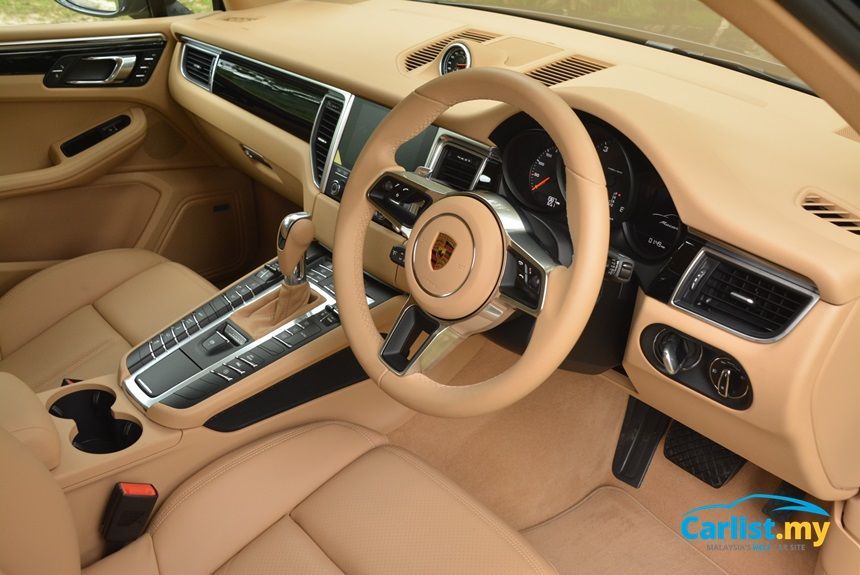 Our test car for this review came with over RM70,000's worth of options; the more noteworthy ones being:
Metallic paint – RM4,069.45 (are you kidding me?)
Self-leveling air suspension – RM11,986.02
Reverse camera – RM2,230.12
Dynamic LED headlights – RM12,147.72
20-inch RS Spyder Design alloy wheels – RM13,016.85
Sport Chrono package – RM4,884.69
Bose Surround Sound – RM5369.79
Whilst the Macan was originally launched in 2014, it received a round of minor updates in 2016 that included changes such as uprated engine outputs, an enhanced Porsche Communication Management (PCM) infotainment system with 7-inch touchscreen, and a distinctive "hovering 4-point" LED daytime running light signature.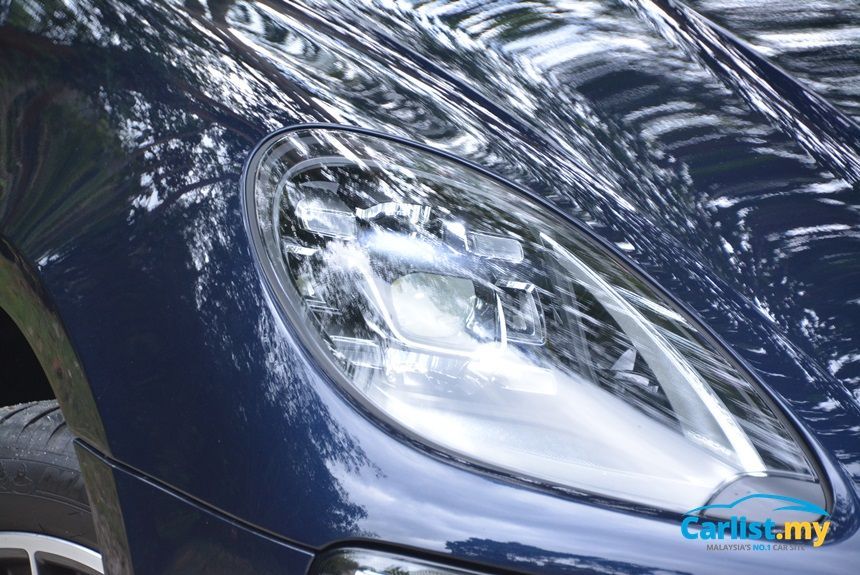 Driving Experience
For the purpose of this review, we were given a day out in the Macan test car pictured here, although we also draw upon experience from last year's Porsche Adventure Drive in Cambodia in evaluating the Macan's off-road capabilities as well as track time in Sepang during the Porsche Media Academy.
Not that most owners are likely to bother, but Porsche has engineered the Macan with sufficient substance that its junior SUV is not going to be unduly troubled by a deep rut or roads not paved by tarmac. This is thanks to a good blend of robustness and generous travel from the standard suspension. Of course, as you move up the performance spectrum, expect a corresponding shift in its spread of abilities away from mud and soil toward tarmac and track.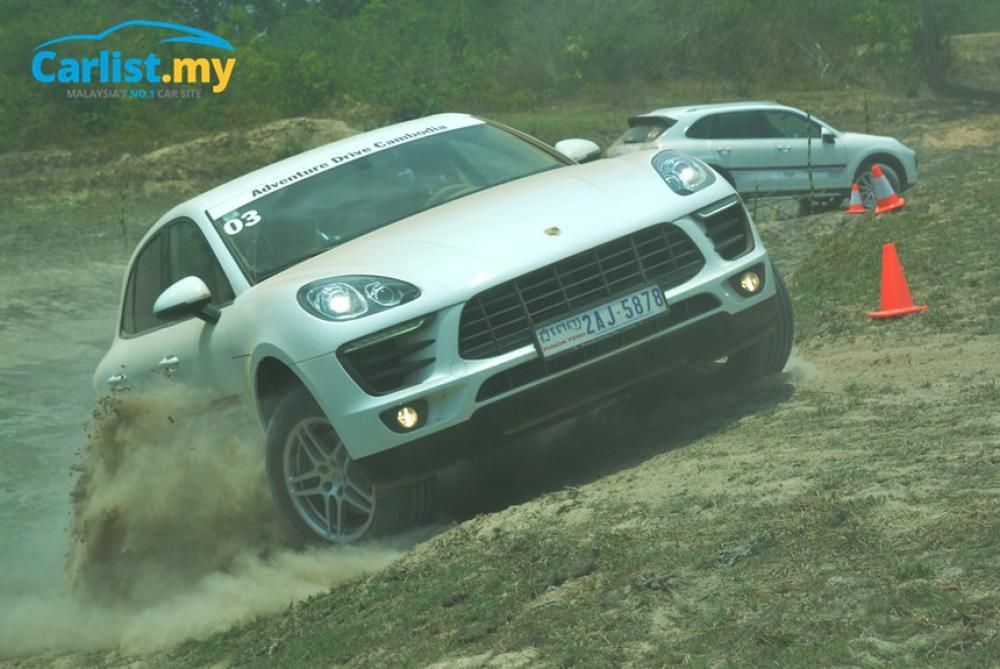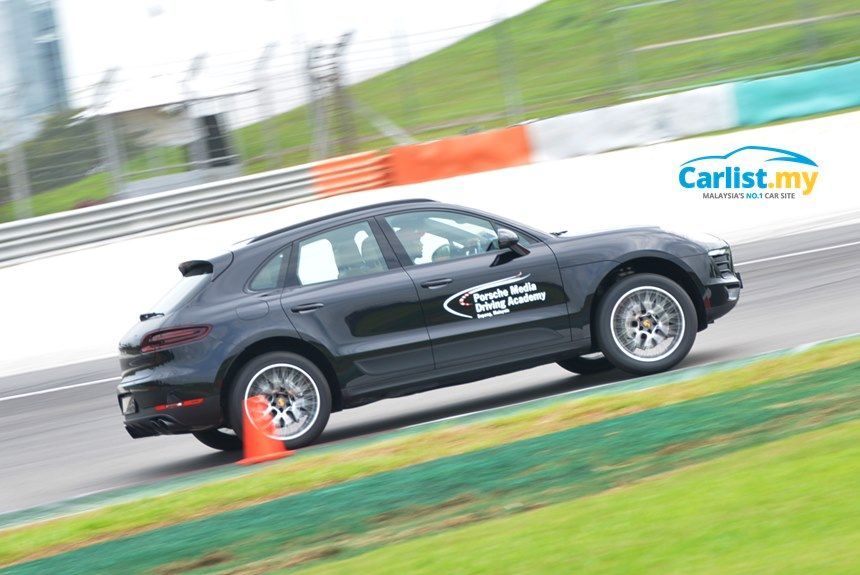 Taking its relative comfort off the beaten path in context, the Macan's dynamic breadth of talents is spread very wide indeed. Here is a high-riding near-two-tonne SUV that you could conceivably navigate through an estate unharmed and will just as easily keep up with performance cars on a run through Ulu Yam's back roads.
You may not think that a 252hp four-cylinder motor has any right to call a Porsche home let alone deliver the kind of performance you'd expect of the badge when propelling a two-tonne AWD SUV in the process. Well, you'd be quite surprised – with a clever bit of throttle and gearbox mapping, Porsche is able to make even the base Macan feel alive when driven enthusiastically. Aided by the fast-shifting PDK, the engine makes each of its 252 horse count when the accelerator is depressed, launching the Macan forward with admirable conviction.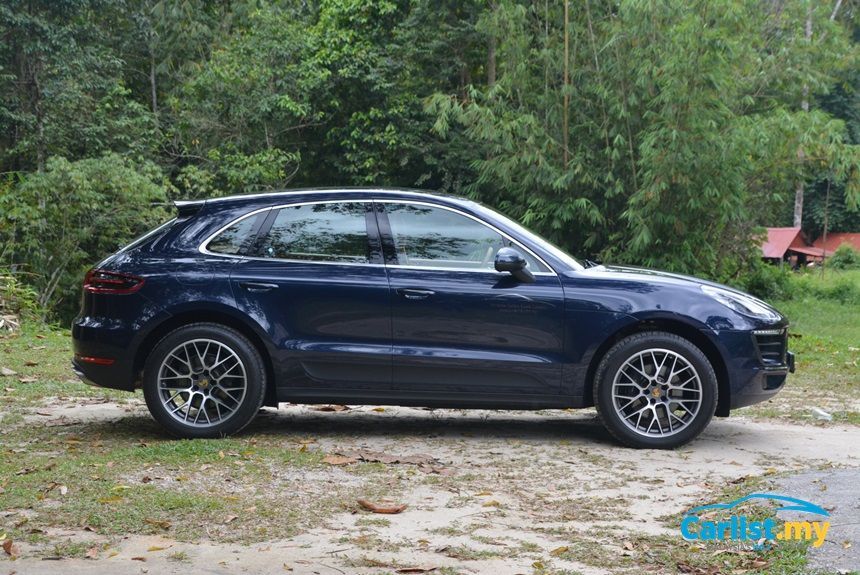 More impressive is the calm poise which the chassis handles itself when flung with vigour. The suspension copes well with transfer of its considerable weight, allowing fair management of body roll. Steering is quick and precise, enabling the car to respond to changes in direction with both agility and accuracy.
As we discovered earlier on the track, it is only against something that sits much lower, such as a Cayman, and driven considerable gusto, that the limitations of the Macan's handling comes in any danger of being exposed.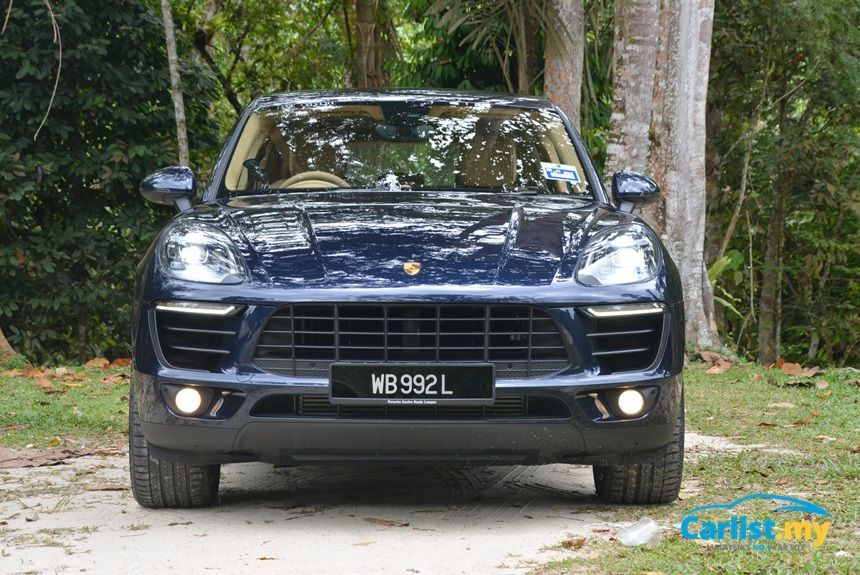 Comfort & Refinement
Considering the sheer breadth of talents which the Macan has displayed in this review thus far, we might have been persuaded to grant it a few concessions in the comfort stakes. This is a 1.8-tonne SUV with the handling vivacity to menace a sports car – something's certainly got to give. Right?
Well, whatever dynamic compromises the Porsche engineers negotiated from the chassis, they are not evident. Whilst we won't be surprised that the sportier grades sacrifice a greater degree of ride comfort, the Macan as tested in its most basic guise here offers very usable levels of chassis pliancy.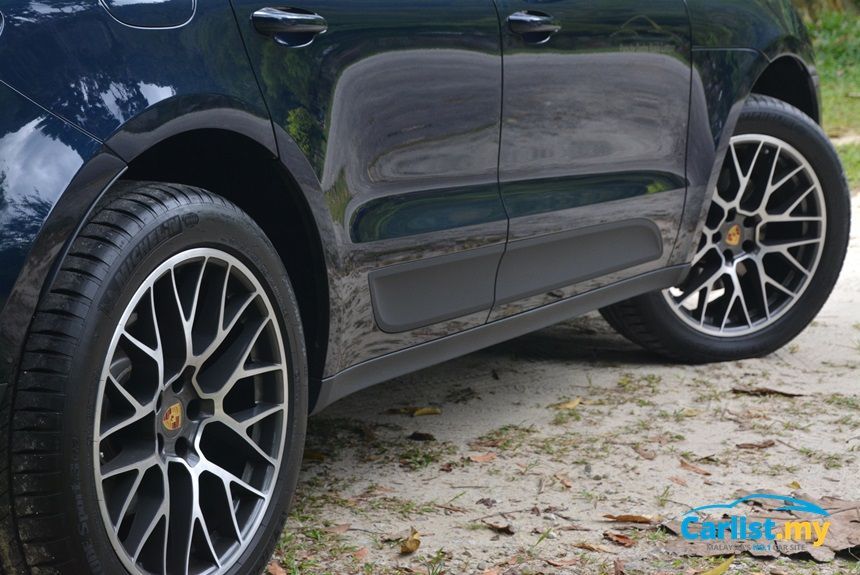 Conclusion
In its most basic configuration, the Macan is an exceedingly capable vehicle – one that excels in a variety of roads and also off it. Where its dynamic behaviour is concerned, it manages to both entertainingly sporty and reassuringly usable. Its road manners are fine-tuned well enough for daily urban use – this is a car you can live with on a day-to-day basis and still have a blast with over the weekend.
So complete is the Macan's package, we can find virtually no holes to poke in its argument - except charging four thousand bucks for metallic paint? Seriously?
---
---
---
---
Comments