Review: 2017 Mazda 2 - Jinba Ittai Goodness
Reviews Let's be honest. To some people, a car is nothing more than just mechanical and electrical parts assembled in a factory somewhere. The car, to them, is just an appliance, with neither soul nor passion concerned.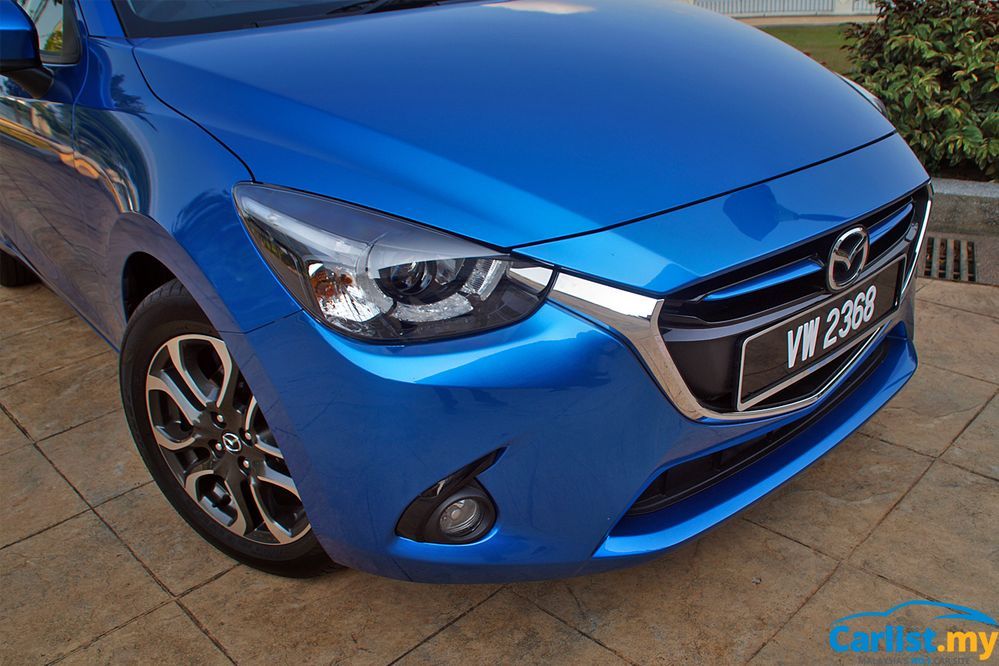 For the rest of us, however, a car is more than just a mode of transport, it is an extension of ourselves; an expression of our personalities. We take pride in our car knowing that our cars are more than just an appliance.
We love our cars knowing how special it makes us feel behind the wheel, making each and every trip feel special. As enthusiasts, we like to feel a deep connection with our vehicles. Mazda, notably, understands that relationship and calls it Jinba Ittai.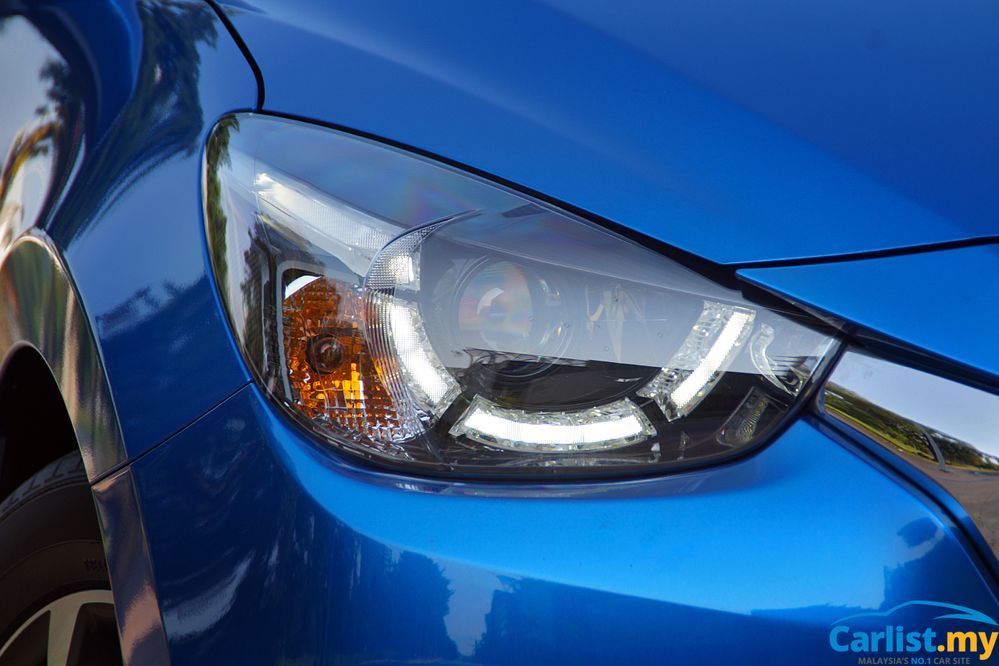 Although most may associate Jinba-Ittai with the popular MX-5 roadster, the essence of it is injected across Mazda's entire range of vehicles, including the humble little Mazda 2, a car that is Mazda's entry-level model, designed and engineered to compete against other budget-conscious B-segment models.
Specifications:
Price: RM92,886 (OTR without Insurance)
Engine: 1.5-litre, Inline-4 Transverse, Naturally-aspirated
Power: 114 hp @ 6,000 rpm
Torque: 148 Nm @ 4,000 rpm
Transmission: Six-Speed Automatic, FWD
Safety: 2 airbags, ABS, DSC, TCS, ISOFIX

Origin: Fully-imported from Thailand
Overview
This is the entry point into Mazda's lineup. Prices for the Mazda 2 starts from RM87k, for which you are getting 16-inch dual-tone alloy wheels, smart keyless entry with push start button, Mazda Connect system with a 7-inch display, manual-type headlight leveling control and a heads-up display.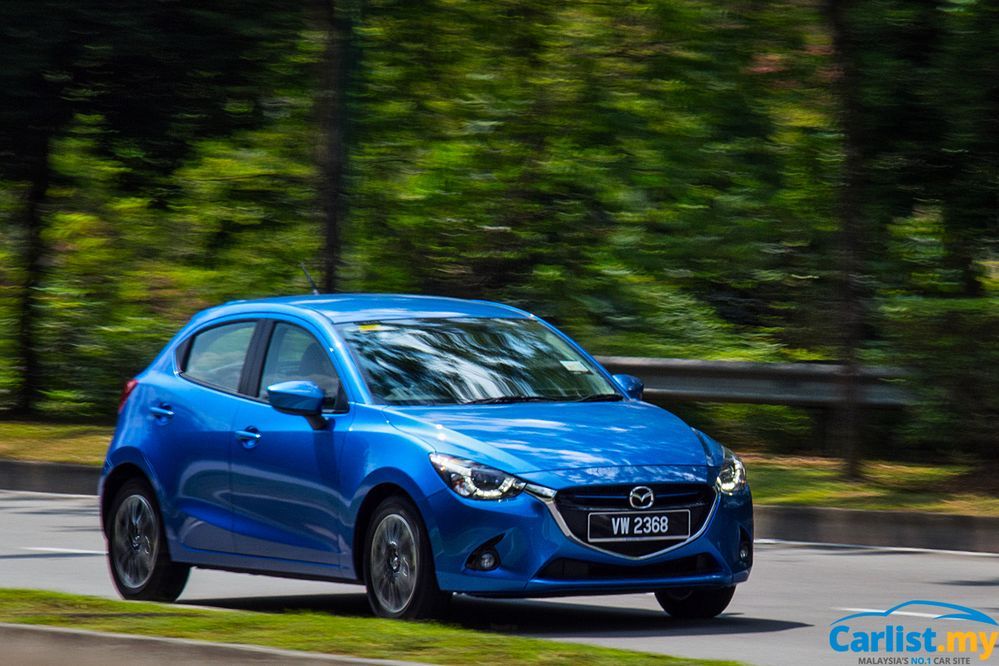 Like those LED headlights? They add RM6k to your final price. Additionally, variants equipped with the lovely LED headlights come with Auto Leveling Control.
With this current generation Mazda 2, Mazda has stopped relying on Ford's platform; instead, the car is now based on the company's own SkyActiv platform. Petrol and diesel engines from Mazda's SkyActiv powertrain family are available globally, but Malaysia is currently offered exclusively with the 1.5-litre four-cylinder petrol with outputs of 114 hp and 148 Nm.

Exterior
Right off the bat, you'll notice that the Mazda 2 we have here is not finished in the company's signature Soul Red, but rather in a shade of blue Mazda calls Dynamic Blue Mica. While Soul Red may be the hero colour for the new Mazda 2, we reckon that Dynamic Blue Mica allows the Mazda 2 to stand out in a crowd.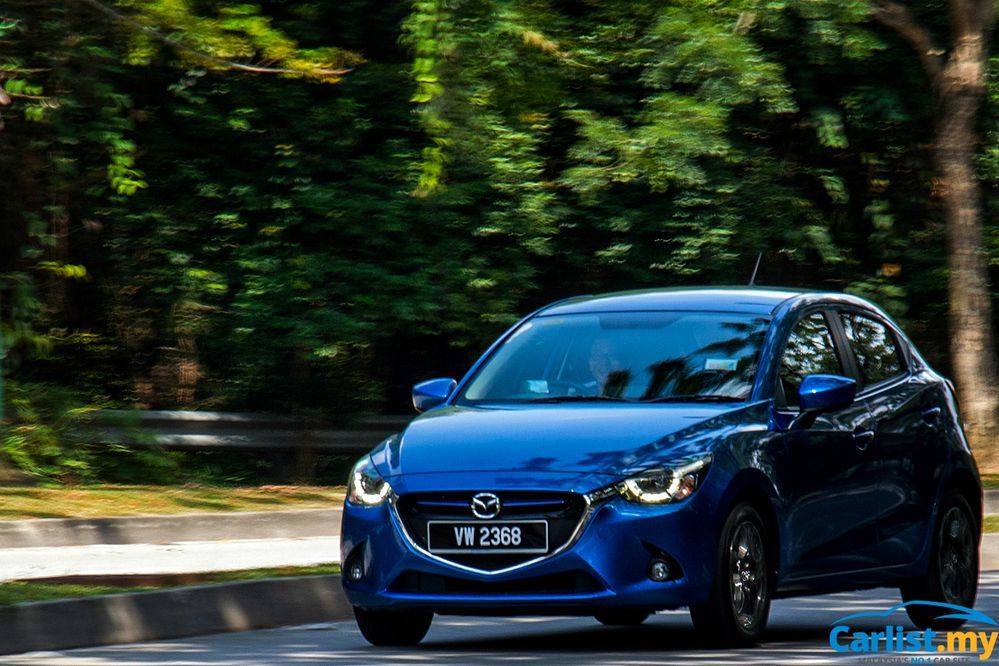 Currently, the Mazda 2 is available in just one trim, High. This includes 16-inch dual-tone alloy wheels, daytime running lights, bulb-type rear lights and side mirrors with LED turn signals. Exterior equipment is identical for both the sedan and hatchback.

Interior
While Mazda may not have the financial capabilities like Honda or Toyota, the smaller company manages to outshine the competition when it comes to the interior of the 2.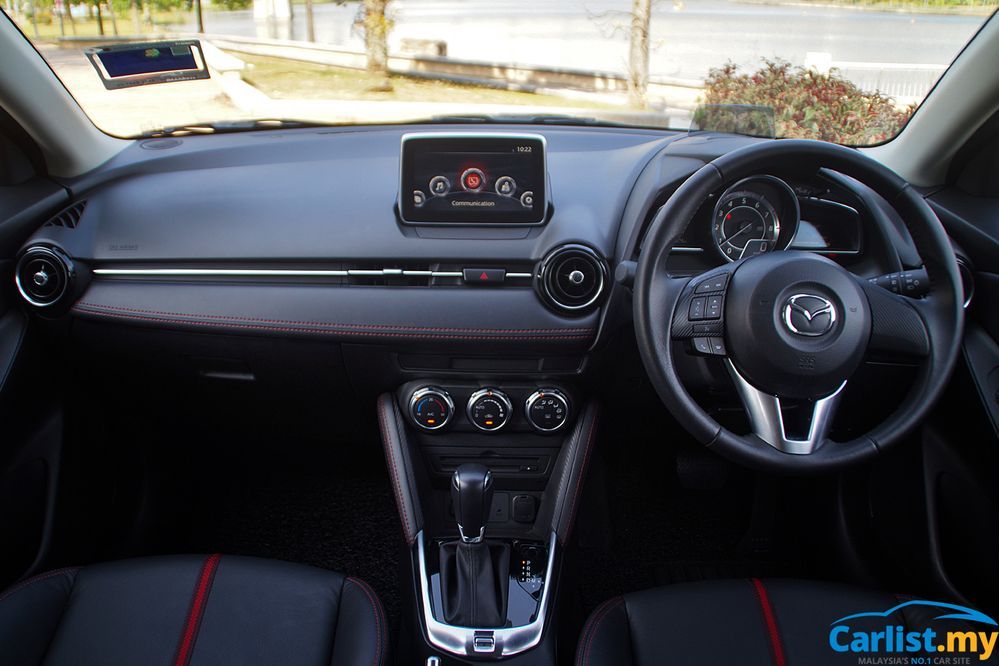 The interior has been carefully designed and engineered to the extent that in a blind test, one would be hard pressed trying to differentiate the Mazda 2 from a premium saloon, thanks to the company's extensive usage of high quality materials.
Soft touch materials can be found throughout the cabin, including a padded centre console that amplifies the premium feel of the cabin, a feature not found on the more expensive Mazda CX-5. Similar materials can also be found on the door trim.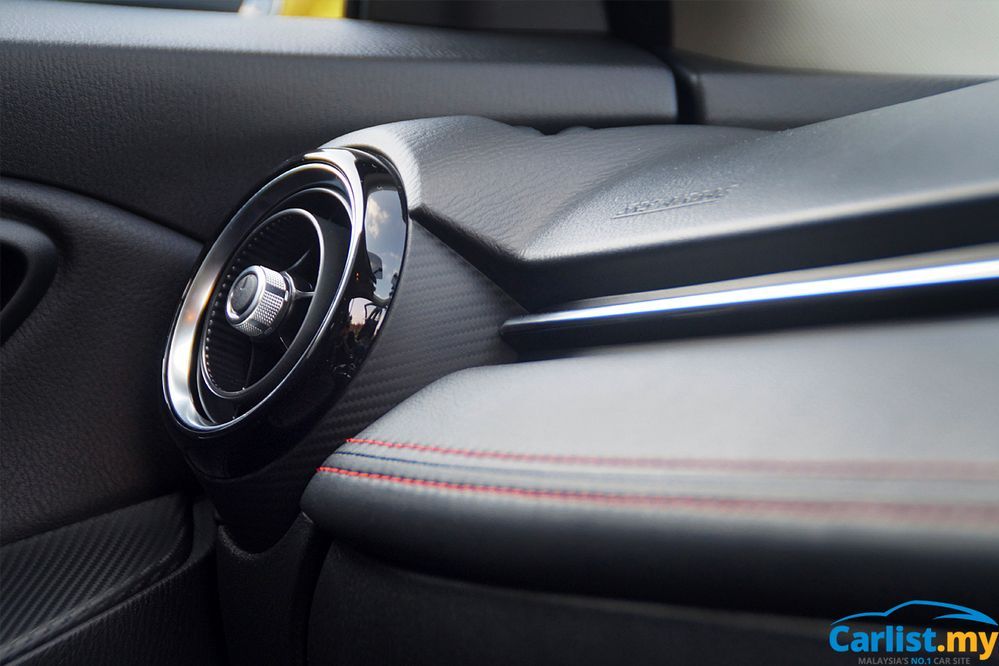 Elsewhere, the Mazda 2 comes standard with a seven-inch infotainment system with MZD Connect. Coupled with the rotary selector, navigation through menus are a breeze. The system also did not stutter or suffer any issues, though the lack of Android Auto and Apple CarPlay could be a deal-breaker for some.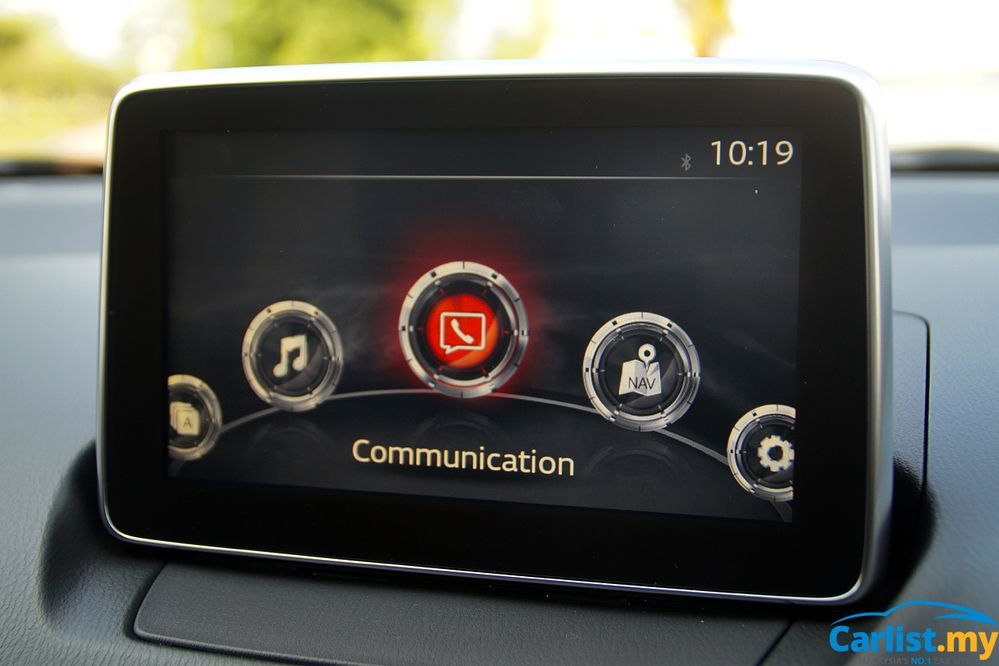 High quality materials aside, the 2 does lack storage space inside. Boot space is decent enough, but the rear seats does not seat flush with the boot floor, with a visible hump. Last but not least, the Mazda 2 is the only sub-RM100k new car to offer a heads-up display as a standard fitment. Good stuff.
Driving Experience
Behind the wheel, the Mazda 2 really shines. It is almost as if the 2 comes alive once the engine is started, as the entire car just encompasses around the driver, Jinna Ittai style. Its little 1.5-litre SkyActiv-G powerplant is eager to rev to its 6,500 rpm redline.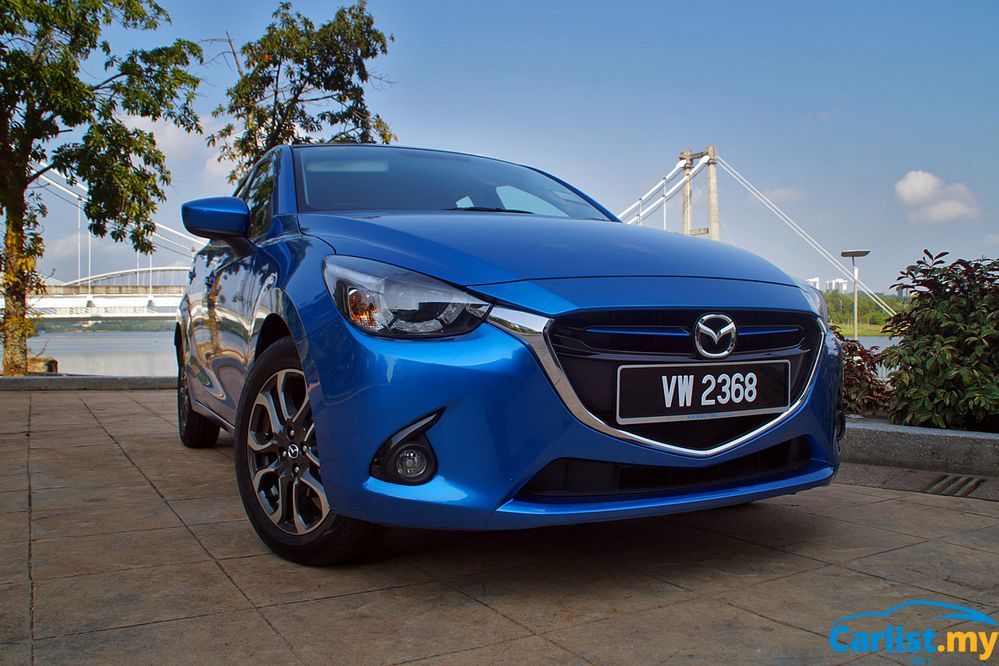 Coupled with a smooth shifting six-speed automatic transmission, the Mazda 2 is a really joy to drive. When the need arises to drive hard, the Mazda 2 continues to hold its own very well. The earlier-mentioned six-speed automatic is intelligent enough to hold gear until the driver eases off the organ-style pedal.
Once we got used to the little Mazda 2, we found ourselves constantly hitting the redline as the engine note and pull is really impressive for a small little engine.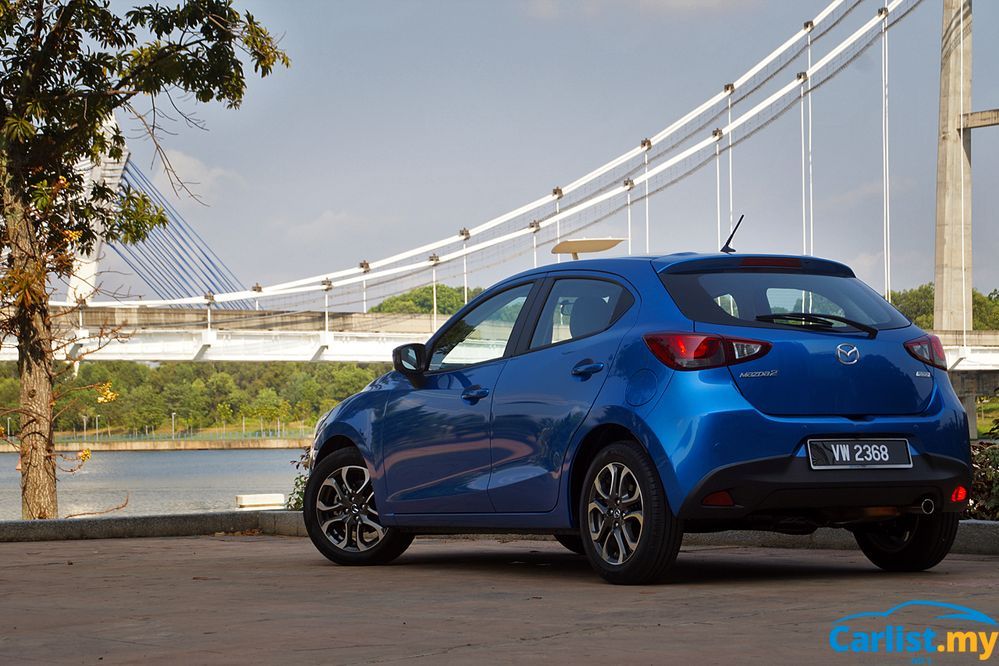 Then there's the handling. While the Mazda 2 may not be as agile as a Ford Fiesta around corners, the little Japanese hatchback certainly holds its own pretty well. The 2 remained planted no matter how we chucked it into corners.
The electric power steering may not offer oodles of road feedback of a hydraulic system, but in the case of the Mazda 2, we reckon that it serves its purpose well enough. For us, the steering was good enough that we did not have to second guess ourselves where the wheels were pointing. Weightage was also spot on.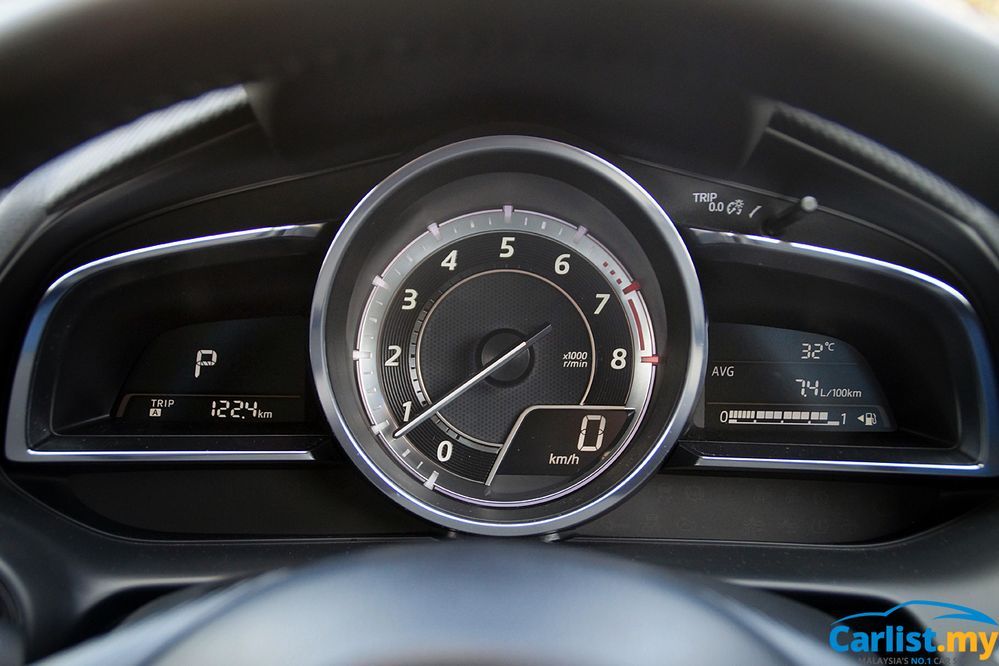 Even in terms of high speed stability, the Mazda 2 continues to impress. We brought the car up to speeds that would land us a speeding ticket, yet the 2 remained surefooted. Impressive indeed.
Conclusion
Safety kit can be considered as the Mazda 2's shortcoming, as it only comes with 2 airbags up front, unlike some of its rivals, which can be had with up to six airbags.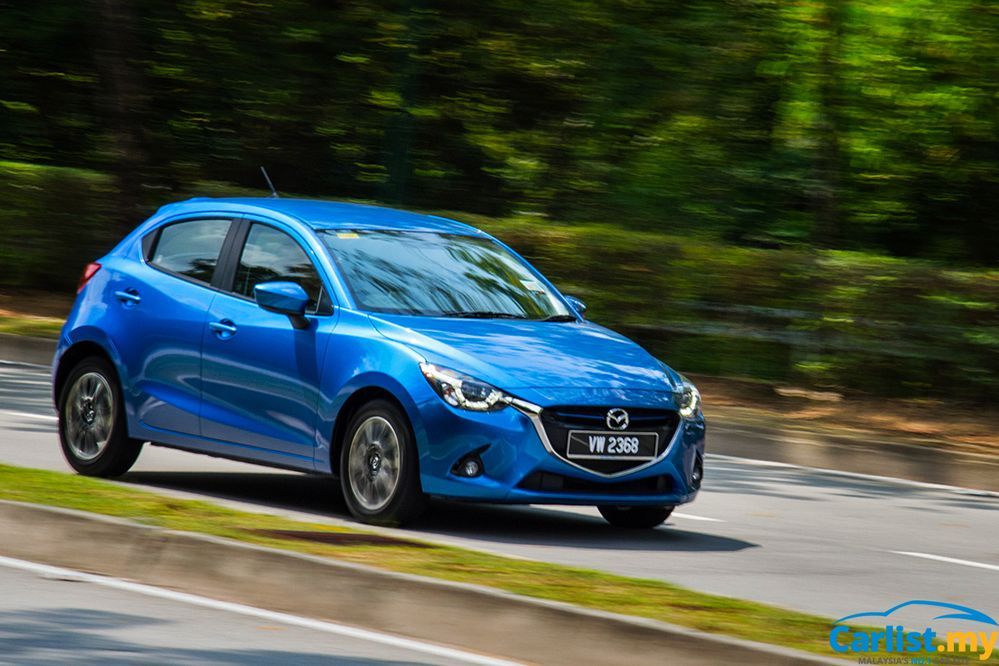 Airbag count aside, the faux carbon fibre trim is not the most eye pleasing trim out there, though we believe the upcoming Mazda 2 facelift will solve that.
While the Mazda 2 may not offer abundance of safety kit like the Honda Jazz or handling prowess of the Ford Fiesta, there is something remarkably different once you get behind the wheel of the car. More than just a soul this Mazda 2 has. It becomes an extension of the driver, allowing the driver to fully enjoy each and every journey behind the wheel.
---
---
---
Comments