Review: 2020 Hyundai Santa Fe 2.4 Executive - Holding Back The Finer Things
Reviews The Santa Fe has been with us since the dawn of the new millennium and marked then-new ground for the South Korean automaker, who were still seeking to expand its influence. The two decades that follow has been a period of rapid growth for the marque and its line-up, and its larger SUV has also remained popular throughout its four-generations, evolving into an accomplished 7-seater.
---
Alongside its smaller stablemate, the Tucson, Hyundai's SUV range was clearly taking aim at the North American market. The company knew that their Japanese competitors had a considerable head start to cement a loyal customer base, but the persistent South Koreans were willing to play the long game, slowly chipping away any advantage.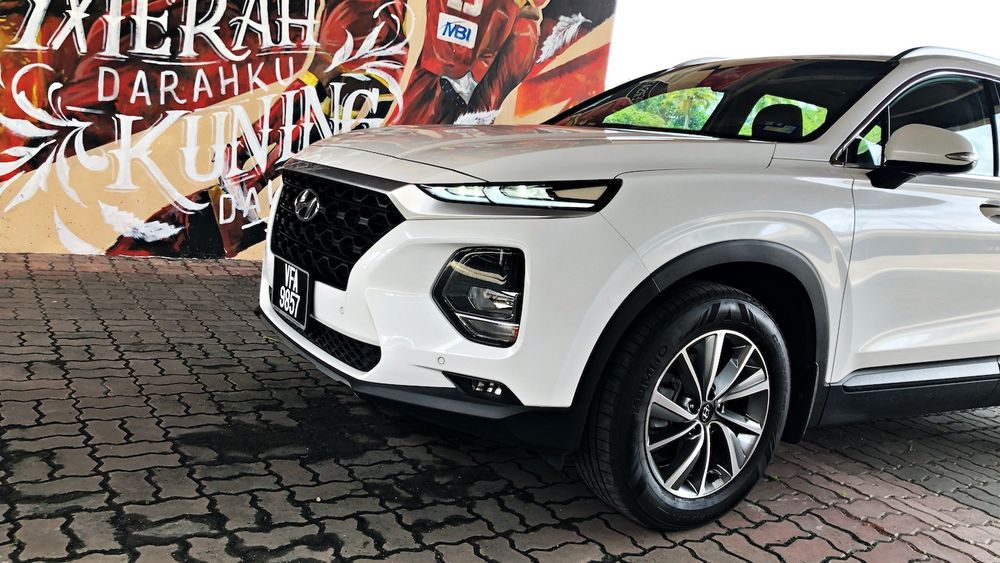 Usually, it was price, but now the Santa Fe plays in the same league. In fact, Hyundai reckons their cars are a cut above some of their contemporaries, straddling that line between mass-market and premium. On the face of things, that sounds good for us Malaysian buyers, who are apparently getting a Santa Fe that's a step up over its predecessor in terms of prestige and luxury. Even from the start, however, it's apparent that the lower-tier Executive has been denied the kind of features and luxury touches it needs in order to have ensure the more expensive Premium variant shines brighter.
Introduced into the market in mid-2019 following an initial preview in November 2018 at the Kuala Lumpur International Motor Show, prices started out at RM189k for this base Executive variant with a 2.4-litre naturally aspirated engine, although the recent (and temporary) 2020 sales tax exemption has reduced the barrier of entry to RM166,974. Still, that's a decent chunk of change for a 7-seater SUV, especially if, despite its local assembly, doesn't provide as much raw value as the more expensive Premium variant.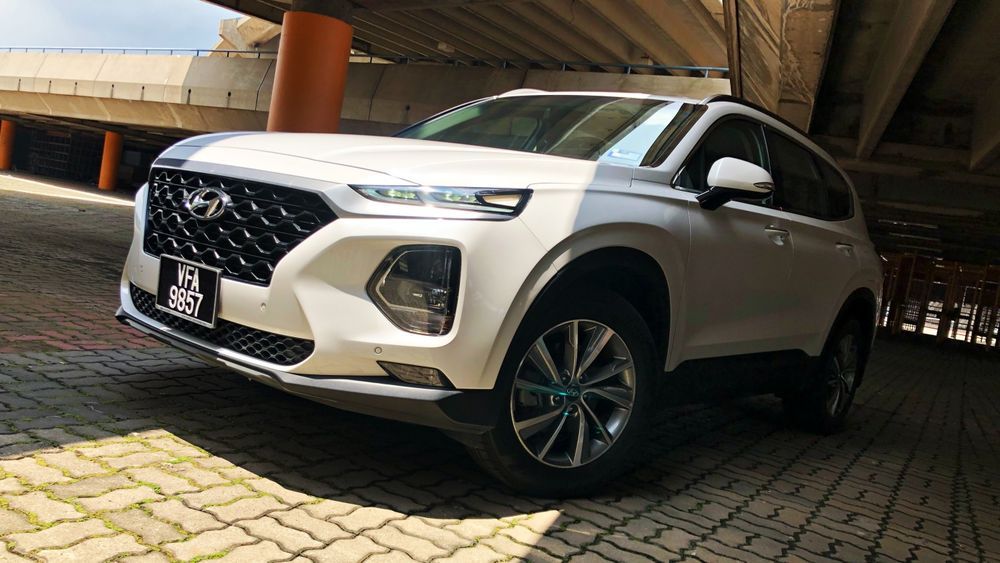 Design: 2020 Hyundai Santa Fe 2.4 Executive
Here's where Hyundai has put their best foot forward. But instead of having a unified design language across all their models, the automaker seems to be shifting between multiple philosophies depending on vehicle category, each with their own aesthetic personality.
Thankfully, it doesn't get any more confusing than that, and all we need to know here is how the Santa Fe's own exterior works (or doesn't). With a silhouette that embraces the two-box 'wagon' shape that we've become accustomed to, this is pretty identifiable as an SUV. Hyundai has also spruced it up with a bevy of character lines that swoop in given the right angle of light to bounce off of, but otherwise isn't too distracting.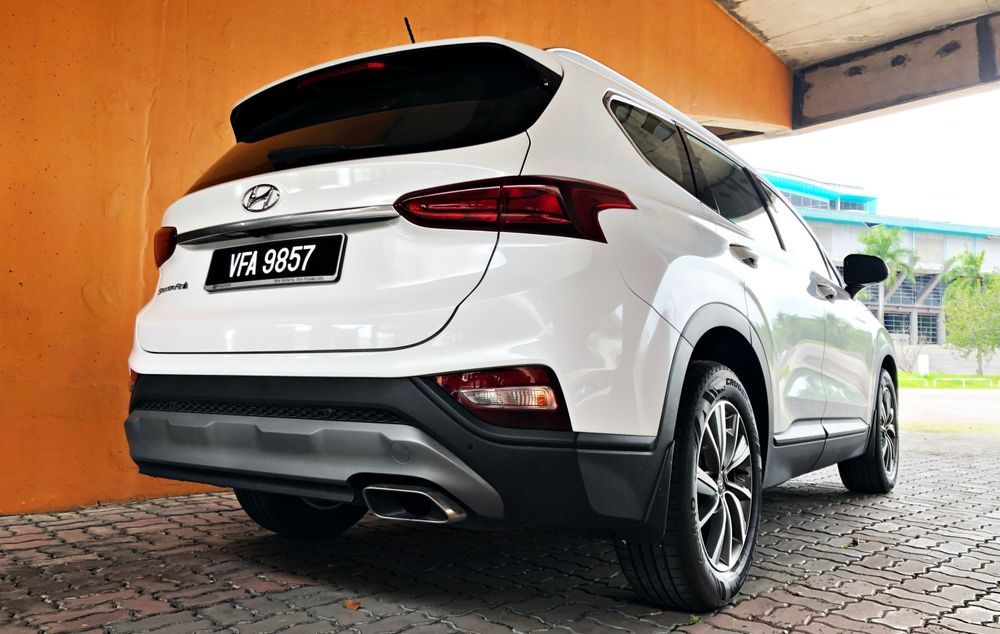 It's a handsome thing, even in this lower-spec Executive graced with the smaller 18-inch wheels, and definitely more imposing in-person than the previous generation Santa Fe. At the front we get an unconventional split illumination array with the upper lights being the LED daytime running lights. Below that, the side 'gills' house the more standard grouping of signal lamps, high beam, and headlights, which are halogen projectors here.
Powertrain: 2020 Hyundai Santa Fe 2.4 Executive
Despite all their bluster about design, improved dynamism, even increased levels of luxury in their newer cars, Hyundai maintains a rather ageing catalogue of engines. Both the 2.4-litre Theta II and 2.2-litre CRDi motors have served under the company banner for about a decade now, or more. That said, they have been updated over the years to include newer technologies.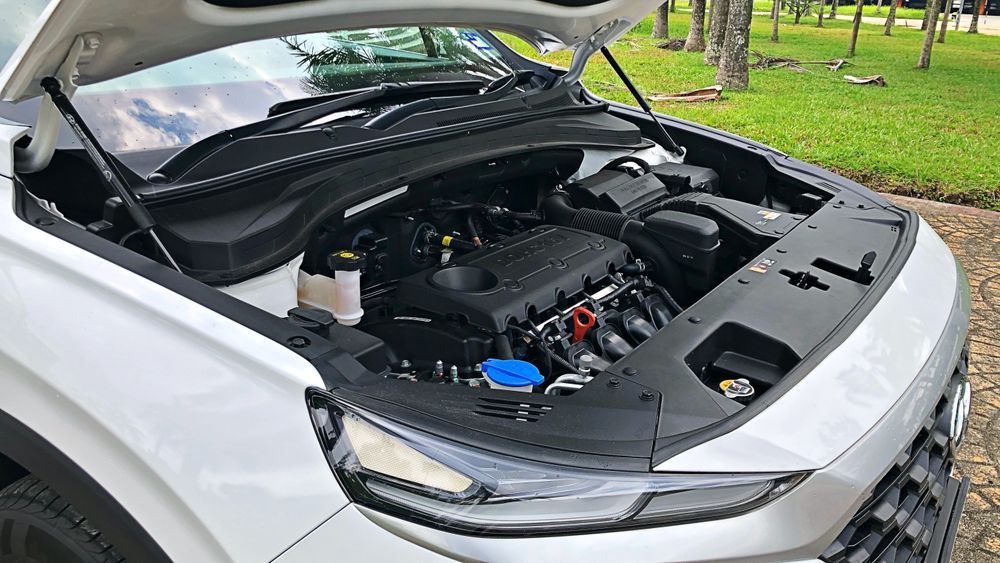 In the entry-level Santa Fe, the 2.4-litre aluminium unit here is a naturally aspirated and uses Multi-Point Fuel Injection, even proudly displaying 'DOHC 16V' on the engine cover - welcome to 2002. Its larger displacement across four-cylinders allow it to produce a respectable 172PS and 225Nm at their respective peaks. In fact, its figures place eerily similar to the 2.4-litre Theta II in the second-generation Santa Fe back from 2005, and there's something to be said about how quaint this engine feels in 2020.
To be sure, it gets the job done, and is even capable of a shoveling up a decent amount of grunt from low RPMs, but there's absolutely nothing stirring or particularly impressive about this engine, especially in the face of turbocharged alternatives. It's a proven workhorse, however, and I suspect that's how its been able to stay relevant in Hyundai's cars up until now.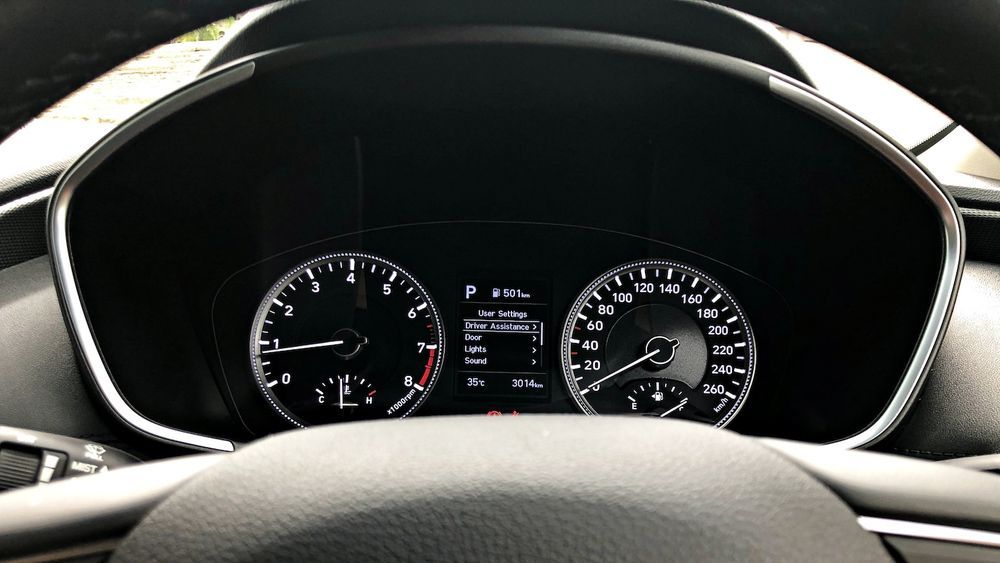 Mated to a 6-speed torque converter automatic that sends drive exclusively to the front wheels, fuel economy was surprisingly good even with city driving, as was engine refinement at higher speeds. Stabbing the accelerator did yield more noise, but the ratio at which speed was accumulated left me wishing every Santa Fe had the 2.2-litre turbodiesel fitted.
Interior: 2020 Hyundai Santa Fe 2.4 Executive
Hyundai has perhaps placed even more attention to the Santa Fe's cabin than the exterior. There are little flourishes that give away just how much emphasis the team had placed on elevating the experience inside such as the two-tier dashboard, the layered instrument binnacle; even the speaker grilles on the door panels have a 3D geometric pattern to them.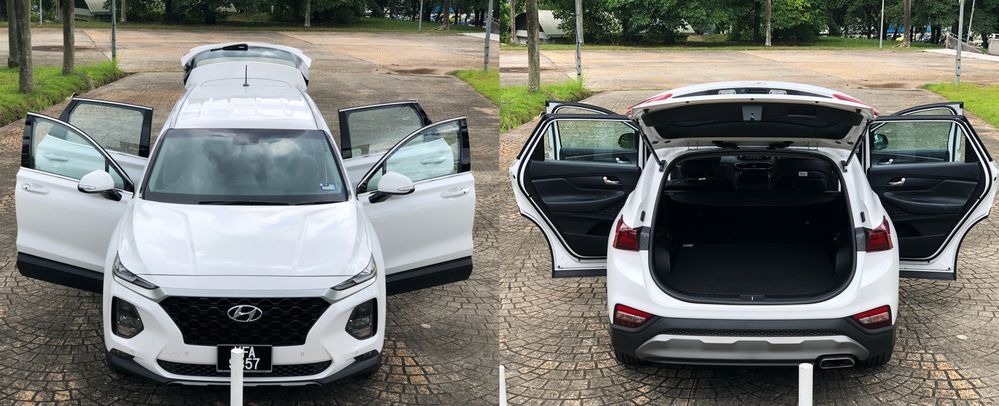 Obviously, it's the higher-end Premium variant where the more luxurious materials and features are found, but the lower-grade Executive does retain leather seats. The black upholstery does bring the ambiance down a notch but at least there are some white contrast stitching to enjoy.
The seats themselves are comfortable, even in the third row, though only the driver receives electric adjustment. Second row occupants will no doubt appreciate the reclining split folding seats there too. There's also acres of space (figuratively) in the new Santa Fe, to the point of it needing a little more sound insulation to avoid a slight echo within the cabin.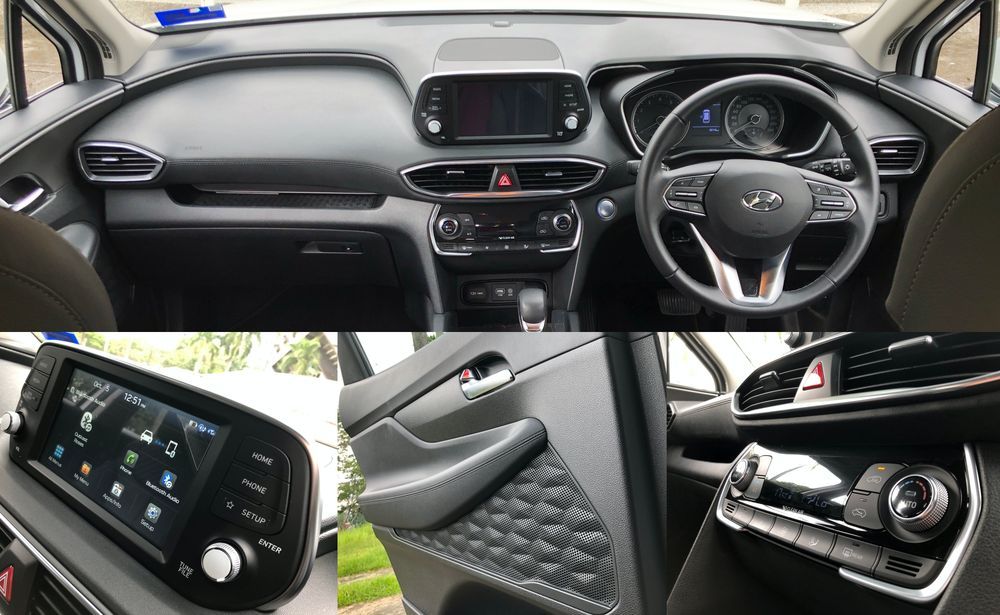 Material selection is fair, though nothing particularly stands out among the partitioning of soft plastics closer to the usual upper touch points and harder plastics lower down. Hyundai might have semi-premium aspirations akin to Mazda, but simply cannot match the fit and finish offered by their Japanese rival.
One area where the Executive isn't lacking behind the Premium variant is the infotainment system. Both use the same 'floating-type' 7-inch touchscreen that's perched atop the centre stack. While the display's diagonal real estate isn't too impressive, the panel is sharp and quite bright.
The side shortcut buttons might look busy but add a welcome level of convenience when traversing the various functions, which does include support for Apple CarPlay and Android Auto, aided by the snappy interface and intuitive layout. Auxiliary input is also available alongside your typical Bluetooth audio, and there are at least four USB charging ports so you'll need never be caught with a dead smartphone.
Behind The Wheel: 2020 Hyundai Santa Fe 2.4 Executive
With a vehicle that looks so much like the archetypal SUV, we weren't prepared to face any last minute surprises about how the Santa Fe drove, which can be described as 'fine'. That truly isn't a knock against the Hyundai, as there are many sub-par 7-seaters that it puts to shame.
However, the Santa Fe doesn't exactly have anything special about how it drives to latch onto either - there's a theme forming here. The steering, though accurate and light, feels very 'electrically assisted' and muted. Meanwhile, body roll and front end response is kept in check but was far from confidence inspiring. Then again, this is an SUV.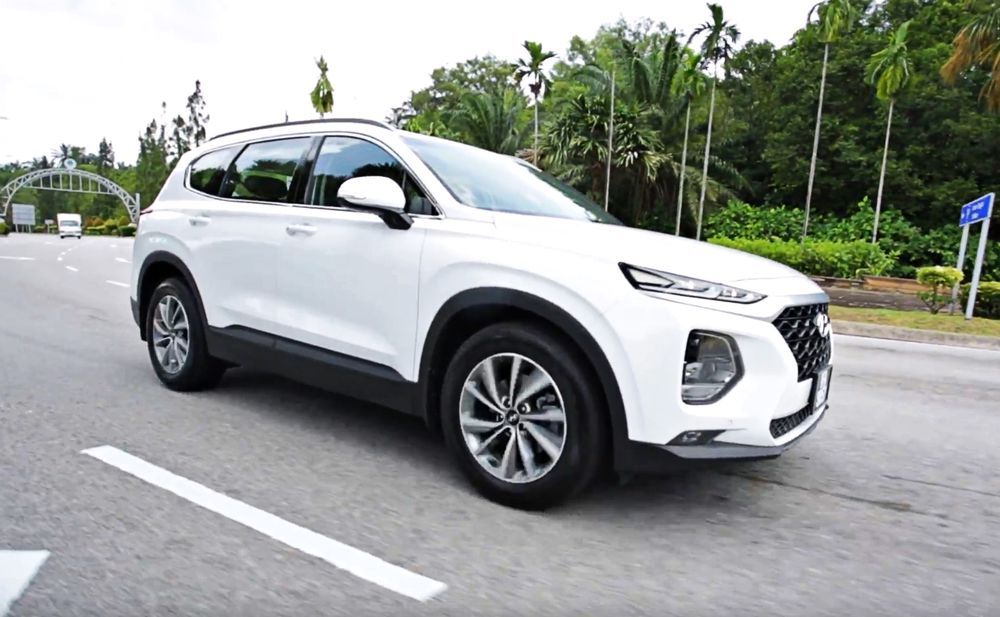 The engine and transmission combination also held more sway over how I chose to drive the Santa Fe. Knowing the limitations of its power delivery made me even more hesitant to hurry it along the road, even if I wanted to.
That said, the Santa Fe is among the easier 7-seaters I have driven when it comes to threading through traffic. It feels much smaller than the dimensions suggest and that light steering only helped me to buy into this illusion of having near city car-like agility. Even parking was relatively painless and only got easier over time.
Six airbags are equipped as standard, which also applies to the Premium variant, as well as the standard fare of Electronic Stability Control, Anti-Lock Brakes, Traction Control, and Hill-start Assist.
Unfortunately, the Santa Fe does miss out on the kind of active safety features that are quickly propagating even in cars occupying lower price brackets. The most noticeable omission here is Autonomous Emergency Braking, which is absent across the range. However, the Premium variant does add Rear Cross Traffic Collision Avoidance Assist, Blind Spot Collision Warning, and Rear Occupant Alert. For the less expensive Executive, though, you're out of luck.


Wrapping Up
This 4th-generation Santa Fe is probably the best version of itself to date, but where previous versions may have had a price advantage, the Hyundai of today has to compete on a more level playing field where nothing can be overlooked.
It does have some very compelling plus points and its capacity to carry 7 occupants, driver included, has never been in question, but its price tag and the South Korean automaker's own position as a front-running mass-market brand has set expectations considerably higher.
It's under these criteria where the Santa Fe now seems to find itself struggling, at least in this base 2.4 Executive guise. Clearly, Hyundai has laid the groundwork for the SUV to have much more upmarket ambitions, but that can only be experienced with the higher-grade Premium variant. And if you're spending the extra cash, do yourself a favour and opt for the 2.2-litre turbodiesel.
---
---
---
---
Comments