Review: BMW 330i M Sport (F30) – The Best Raises its Game
Reviews It may seem at a glance that you are looking at a regular mid-life update of the BMW 3 Series, but actual changes implemented by Munich's engineers on their compact sedan are far beyond skin deep; with competition heating up from the W205 Mercedes-Benz C-Class and soon-to-come B9 Audi A4, Munich's most important model needs, more than ever, to be at the top of its game.
Technical alterations in this Life Cycle Impulse (facelift in BMW parlance) of the F30 3 Series are considerable. Knowing that both Mercedes-Benz and Audi have the edge over them in cabin ambiance, BMW has resolved to further tighten the 3 Series' already-ironclad grip on the segment's dynamic throne. A complete overhaul of the rear suspension architecture to a new five-link configuration is demonstration of Munich's considerable resolve in maintaining its dominance in this area.
The entire F30 LCI model range is spanned by an all-new family of engines, and whilst it's regrettable Malaysian buyers are no longer offered the option of a six-cylinder engine this side of the M3, the available palette adequately spans the required performance spectrum. The range starts at 136hp for the entry-level 318i rising all the way to 252hp in the 330i as tested here.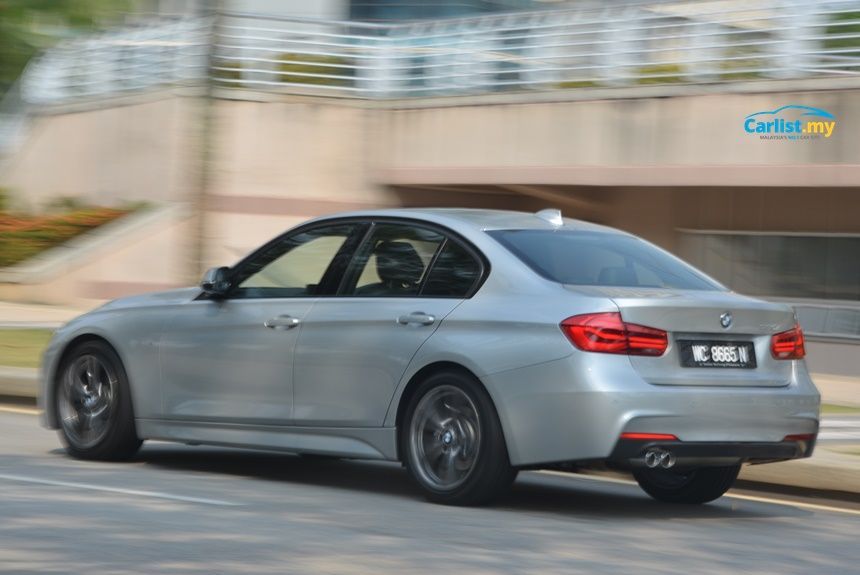 Specifications:
Price: RM297,800
Engine: 2.0-litre, longitudinal inline-4, turbocharged, petrol direct injection
Power: 252hp @ 5,200 – 6,500rpm
Torque: 350Nm @ 1,450 – 4,800rpm
Transmission: 8-speed torque converter automatic with paddle shifters, RWD
Safety: 6 airbags, ISOFIX (rear), ABS, Cornering Brake Control, Electronic Stability Control, Traction Control
Origin: Locally-assembled at Kulim, Kedah
Overview
The 330i directly replaces the outgoing pre-LCI 328i. Once upon a time, a '30i' badge on a BMW would have translated to painful annual road tax bills in excess of RM2k. Today, thanks to turbocharging and direct injection, the F30 330i produces roughly the same power and 50Nm more torque than the E90 equivalent which ran a thirstier but admittedly sweeter-revving 3.0-litre naturally-aspirated inline-6.
If your performance requirements are more modest, the same 2.0-litre B48 engine is detuned to 184hp and 290Nm in the 320i. That 68-horse sacrifice helps you save a not inconsiderable sum of RM66k. Further south comes the entry-level 318i, a model that marks Munich's first ever use of a three-cylinder engine in the 3 Series. Diesel power is not currently on the menu; the 320d is for the moment discontinued in our market.
As reported earlier, the entire 3 Series range now qualifies for EEV incentives from the Government, meaning even in our test car's range-topping 330i M Sport trim, you get back change from RM300k excluding insurance. In this form, it goes head on against the newly-launched Mercedes-Benz C 300, which prices itself RM10k further north but offering an additional 20Nm of twist. We await news from the Audi camp on their upcoming all-new A4.
The gap that currently separates the 320i and 330i is curiously huge, big enough for Mercedes to squeeze three variants of the C-Class in between. It is a void that BMW may potentially want to fill in the future; perhaps a higher trim grade for the 320i, or a new 220hp-thereabouts derivative of the same B48 modular engine. The space is certainly there to accommodate such an addition. Curiously, a 320i M Sport variant which BMW introduced during the F30 LCI launch has been axed from the line-up.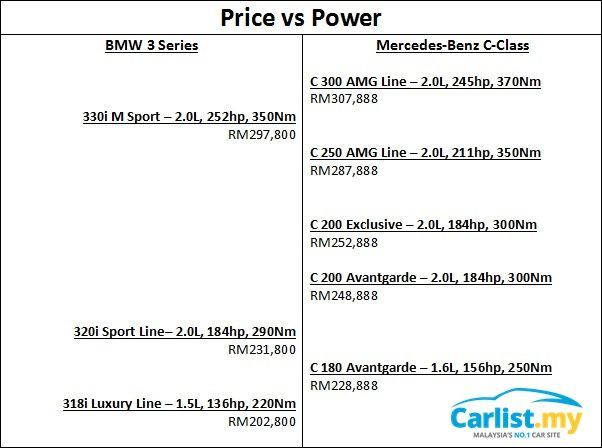 Exterior
BMW facelift exercises are typically subtle, with stylistic changes that are easy to miss even by trained eyes. Yet, once your mind is keyed in on the alterations, they have the distinct and uncanny ability to make the pre-facelift model look decidedly out of date.
The F30 follows that time-honoured template. You get re-profiled bumpers with light clusters that whilst restyled, still fit into identically-shaped slots. From the front, the clearest tell-tale that you're looking at an updated F30 is the new double-C illumination signature of its LED daytime running lights.
At the rear, redesigned lighting elements of the LED tail lamps follow a more intricate pattern that decidedly defies BMW's usual flavour of straight-faced understated tail lights.
Consistent with typical M Sport setups, the 330i wears staggered tyre sizes; 225/45 rubber up front complements wider 255/40 items fitted at the rear, both shod on 18-inch diameter rims.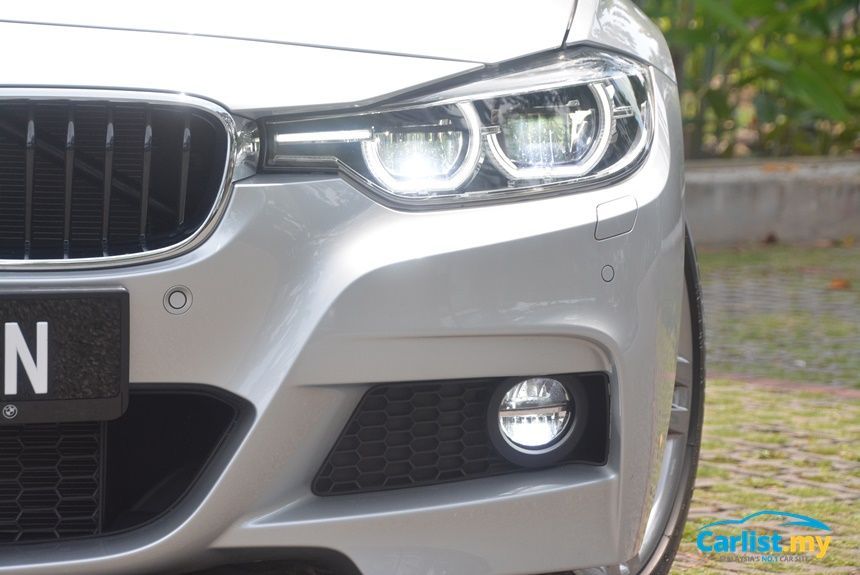 Interior
One of the most noteworthy aspects of the F30's chief rival, the Mercedes-Benz C-Class, is its cabin that seems to be built to extraordinarily high standards of luxury. Sitting inside, one can't help but marvel at Mercedes' immaculate selection of materials and impressively meticulous attention to detail. It seems like an expensive cabin to assemble, but from the plaudits, it's hard to argue that it wasn't a worthwhile investment. Certainly, it made the F30's cabin feel second-rate in comparison.
Whilst stung by the C-Class' superlative excellence, BMW wasn't panicked into making wholesale interior changes. The existing layout from the pre-facelift model is carried over with minimal changes, but gains in material quality are noticeable. Surfaces display improved texture and overall assembly feels more solid than before. It still lacks the C-Class' glam and posh, but the gap in perceived quality is narrowed to avoid outright embarrassment.
Some may question BMW's seemingly lack of effort in this area, but Munich's reluctance to drastically overhaul the F30's cabin is understandable. Ergonomically, it is a configuration that works – there is a functional clarity to its instruments and controls that make for intuitive operation. The learning curve to familiarize with its control scheme is considerably less steep than it is in the Mercedes.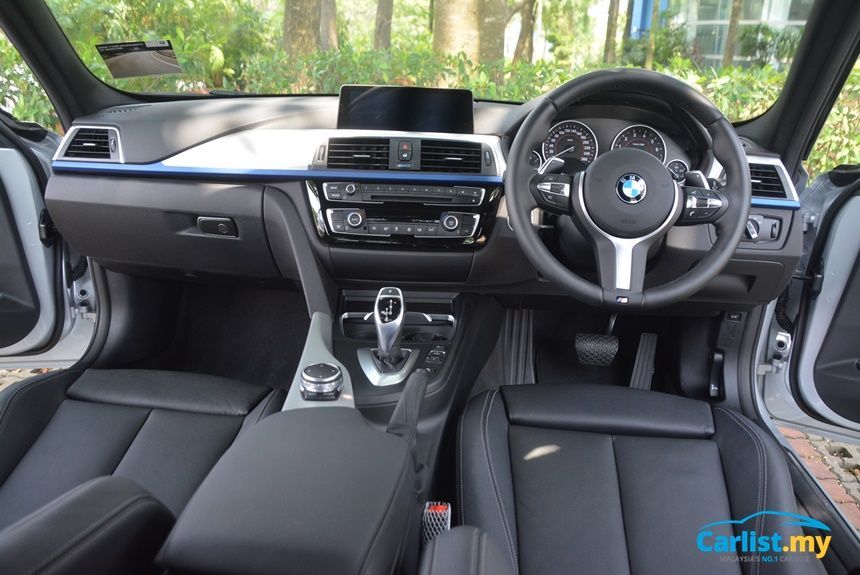 Typical of BMW cabins, space for small items is at a premium. You get a decently-sized glovebox at the passenger side plus a smaller lidded box at the driver side to stowaway your Smart Tag, but along the centre console, all you get is a pair of cup holders and a shallow tray forward of the gear lever. Further aft of the tunnel, the lidded centre console box that is designed to be a phone docking station, is too shallow to swallow anything much bigger than your wallet and plus a bunch of keys. Door pockets are deeper, thankfully.
For your outstation trips, BMW provides 480 litres of boot space. There is no folding facility of the rear seats, but the aperture is shaped smartly enough with sides usefully compartmentalized to hold smaller items.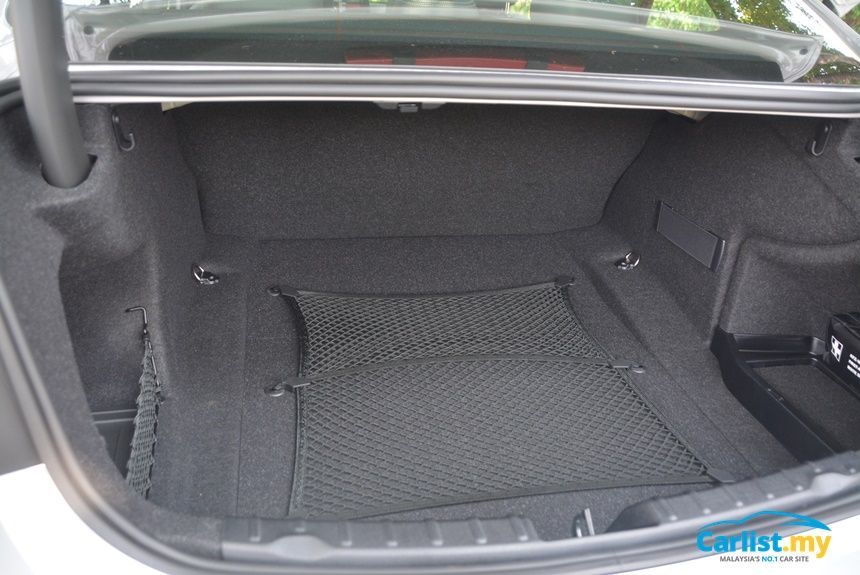 How does it drive?
Whilst displacement is unchanged and on-paper gains appear to be minor compared to the 328i, the 330i's engine from BMW's new B-series modular engine family is an all-new development from ground up, completely unrelated to the outgoing model's N20 mill. Here it mates with the familiar 8HP 8-speed automatic transmission from ZF that continues to impress as one of the best calibrated slushboxes in the business.
It works like a good automatic should – imperceptible, decisive, and barely requiring any manual intervention. BMW provided shift paddles, but the only decision you really need to make with this transmission is whether to use 'D' or 'S' driving modes – the actual business of selecting ratios are best left to the computer and it does a darned fine job of it too. It's not often we take test cars on a spirited drive up and down Genting Highlands without once having to tell the transmission what to do; it's that intelligent.
Together, the engine and transmission forms a partnership with a suitably wide range of talents. Availability of maximum torque from 1,450rpm means that you can cover long distances at a decent clip without needing to touch 2,000rpm on the tachometer. Give the throttle a wider opening, and the accumulation of speed becomes accordingly more urgent and accompanied by a pleasantly deep-sounding note. Delivery of power itself is seamless, perhaps too seamless if you are looking for some excitement, but make no mistake, this is a rapidly quick car.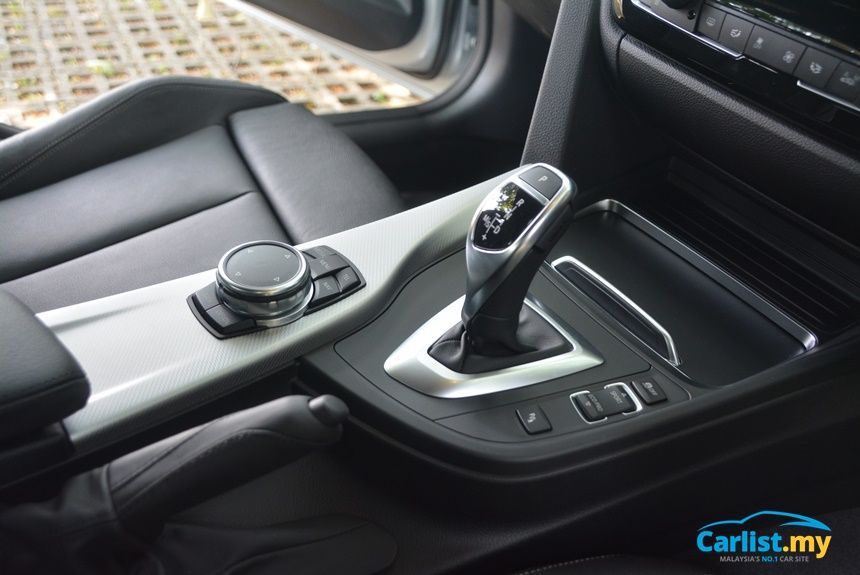 Unavoidable due to its aggressive boost profile, there is a slight lag before the turbochargers kick in and sweep you forward with its torrent of torque. The delay is fleetingly brief but noticeable enough that it needs to be factored in when planning your overtaking. Remember that when you boost a 2.0-litre engine to deliver 3.0-litre outputs, something has to give. Gun the throttle a fraction of a second before making your move, if possible.
Whilst BMW claims to have engineered substantial changes in the F30 LCI right down to the chassis level, we did not detect any significant enhancements of the vehicle dynamics from its pre-LCI predecessor. Then again, the most important news perhaps is that there's no regression to report either. The 330i drives exactly like how one expects of a 3 Series, which is to say it is sharp at the helm, alert in its responses, and confidence-inspiring in most situations. Steering is perhaps not as feelsome as you would find previous-generation BMWs, but it's nevertheless accurate and predictable in its responses. We should note, however, that the 330i's rack has variable ratios and comes fitted with Servotronic, a specification that is not replicated in the lower models.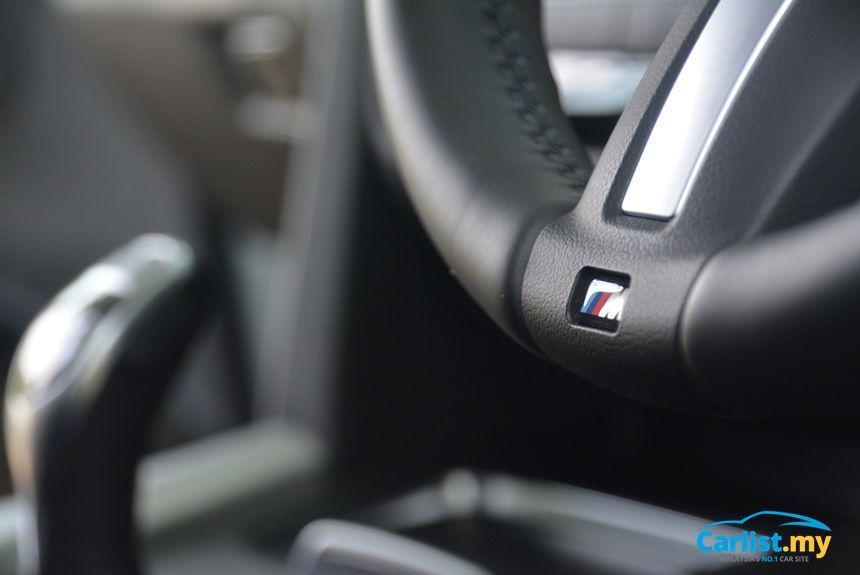 How comfortable is it?
For a car that is geared toward sporty driving, the 330i has very commendable sound insulation. Indeed, on a lazy highway cruise, road and wind noises are notable for being extremely well subdued.
Ride comfort feels less settled than in pre-LCI non-M Sport F30s, though this is perhaps attributable to our test car's M Sport setup which features the combination of stiffened suspension and lower profile 18-inch tyres, runflats no less. It's far from jarring and still generally well-composed, but topography of poor surfaces can be felt quite acutely.
Dialling the adaptive M Sport dampers to Sport helped minimize rebound somewhat to provide even tighter body control, but we feel that the option of a more comfort-oriented setting in the Eco Pro and Comfort modes would have made the 330i M Sport a truly well-rounded car. As it stands, our intuition tell us that the lesser non-M Sport models are better balanced for day-to-day use.
All being said, our resident eco-warrior Hans Cheong testifies that this car rides more pliantly than his Toyota Prius.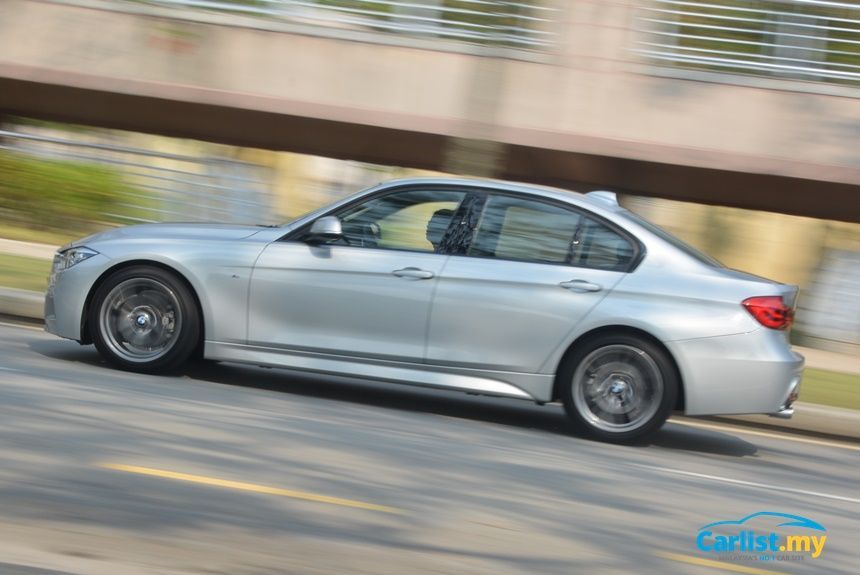 How economical is it?
'Banyak Makan Wang' – It is a famous adage used by Malaysians to describe BMWs as being costly to maintain. It is a perception that the people at BMW Group Malaysia are doing hard to overturn. For starters, your purchase price of the vehicle now covers periodic maintenance for the first five years and with BMW's Tyre Warranty Programme, you don't have to worry about paying for damaged tyres in the first two years.
Further enhancing the ownership experience is BMW's one-of-a-kind Concierge Service, a facility introduced in all new BMWs launched from the F48 X1 onwards. Part of the bigger BMW ConnectedDrive umbrella, the Concierge Service hooks you up to a centralized call centre (without needing a phone) that will attend to your various needs such as locating specific hotels, F&B outlets, or other facilities. If needed, the trained operator will even call ahead and make a reservation for you at the venue.
Official consumption of the 330i in the European combined cycle is claimed to be 6.1 litres/100km. Such figures are always going to be ambitious, but our average 9.9 litres/100km recorded on the on-board trip computer over a 470km test route with mixed urban, highway, and uphill driving is extremely commendable for a car with 252 horses at its disposal. Interestingly, the front-wheel drive X1 with this same engine in a lower state of tune and mounted transversely proved thirstier in similar conditions, hitting 10.5 litres/100km. We expect the 318i and 320i to be even more frugal.
Thanks to its 2.0-litre displacement, annual road tax for private registration in Peninsular Malaysia of the 330i adds up to just RM379, compared to RM2,077.50 and RM2,120.00 respectively coughed out yearly by the small band of E46 and E90 330i owners.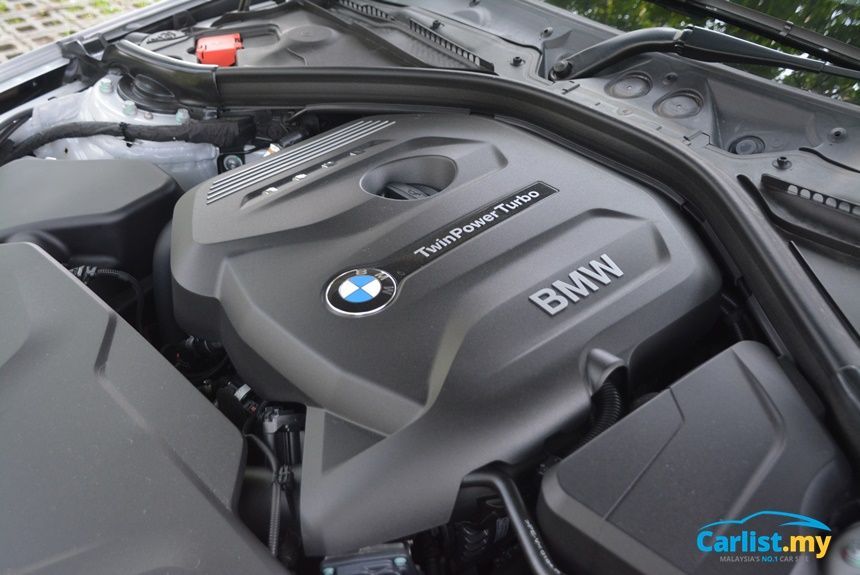 Conclusion
The sheer excellence of Mercedes' W205 C-Class, the imminent arrival of Audi's new B9 A4, and Jaguar's entry into the equation with the XE; the 3 Series' long-held crown as the definitive premium compact saloon is under threat like never before. Faced with such unrelenting pressure, BMW went back to basics and did what they do best; make the 3 Series even better to drive, albeit by minor increments here and there. Qualities which we've come to define the 3 Series nameplate, and indeed the BMW brand in general, remain present in abundance.
Tweaks on the inside have partly helped address a major criticism of the 3 Series; a cabin which, whilst impeccable in its ergonomics, lacks the sense of occasion which you would expect for the money. Sitting in the newer car, improvements in material selection is immediately noticeable, although it still does not significantly elevate the cabin ambiance to a new level of perceived luxury. Simply put, if you want an interior to impress your peers, address your cheque to the Mercedes dealership.
Backed with the experience of leading the segment for 40 years, BMW is evidently and justifiably confident in knowing what it takes to make a good premium compact saloon. We await the opportunity to try the lower-spec 318i and 320i variants before delivering on a definitive verdict, but based on evidence from the 330i, the message from BMW is clear – Munich's biggest seller will fight tooth-and-nail to retain its segment leadership.
---
---
---
---
Comments