Review: C205 Mercedes-AMG C43 4Matic Coupe – It's Not The Fastest But It's The Best AMG
Reviews It might sport an AMG badge behind, but don't for a moment equate this sexy looking Mercedes-AMG C43 Coupe with its louder siblings - the V8-powered 63 series, V12-powered 65 series, and 4-cylinder 45 series cars.
These core AMG models go head to head with the best from BMW M GmbH and Audi Sport GmbH. That's not the purpose of AMG 43 series cars. Instead, the AMG 43 is analogous to BMW's M40i and Audi's S series models – a mid-way, easier to live with daily use alternative to the hardcore 45/63 series AMG cars, and as you'll soon find out, is exactly why we prefer the C43 Coupe over a faster C63 Coupe.
Unlike the aforementioned core AMG series models, the 43 series cars don't benefit from AMG's famed 'One Man One Engine' handcrafted engines. Core AMG models like the 45 series' 4-cylinder engines are hand-assembled at Kolleda (by Daimler's subsidiary MDC Power GmbH) while the 63 series' V8 and 65 series' V12 are put together by hand at the famed Affalterbach and Mannhiem facility respectively.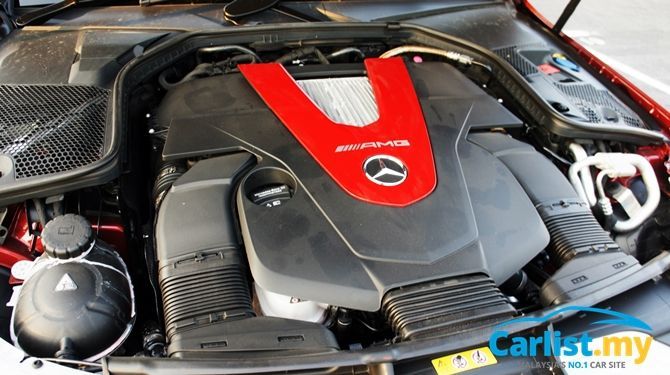 In contrast, the 43 series cars have V6 engines manufactured on regular production lines. Instead of a name plaque and AMG's characteristic 'hot vee' V8 layout, the 43's V6 have a 'red vee' engine cover.
In many ways these 43 series cars are a better option for a most people. Having a V8 rumbling under the bonnet is nice but if you are just driving to work, or driving for hours to a far off destination, the once characterful note of the 63 series' feisty V8 can quickly become too irritating for comfort. Then there's also the cost factor. Maintaining a 3.0-litre V6 is a whole lot cheaper than a 4.0-litre V8.
Compared to the shorter wheelbase 45 series MFA-platform cars like the A45 and CLA 45, the 43 rides a lot more comfortably, and benefit from having two more cylinders.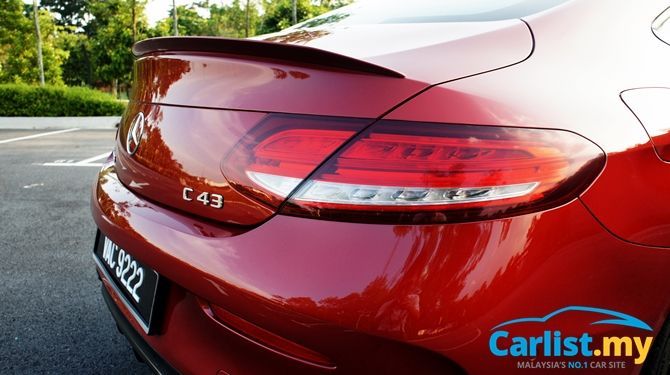 However, at RM548,888 sans insurance, no thanks to our punitive taxes, the imported C43 Coupe is more of a hedonistic indulgence than a car. Alternatively, you can opt for the less sexy C43 Sedan, which sells for a slightly more palatable RM499,888 sans insurance, but you didn't work so hard to shortchange yourself but buying something that looks just like a plebian C-Class Sedan didn't you?
So what is the driving experience like? Is it twice as pleasurable as the nearly just as sexy C200 Coupe (RM308,888)?
Specifications for Mercedes-AMG C43 4MATIC Coupe
Engine: 3.0-litre twin turbo V6, longitudinal
Transmission: 9-speed torque converter automatic, permanent all-wheel drive
Power: 362 hp at 5,500 – 6,000 rpm
Torque: 520 Nm at 2,000 – 4,200 rpm
Price: RM548,888 excluding insurance
Origin: Fully imported from Bremen, Germany (East London, South Africa for C43 Sedan)
Overview
The C43 Coupe sits in the middle of the C-Class Coupe family, between the regular 2.0-litre turbocharged four-cylinder C200 and C250 Coupe, and the range topping 4.0-litre twin turbo V8-powered C63 and C63S.
Against its fellow rivals from the German Big-3, the C43's closest rival is the BMW M440i and Audi S5 Coupe but neither are officially sold in Malaysia. You can however, compare it to the Lexus RC 350. It comes with 3.5-litre V6 that pushes out 312 hp and 378 Nm. Prices starts from RM528,900.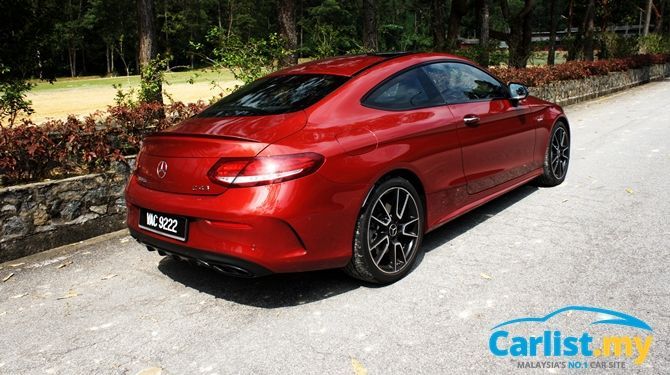 Exterior
At a glance, the C43 Coupe has enough passing resemblance to a familiar C-Class sedan but has enough unique cues that even a casual observer is able tell that this is not their neighbour's C-Class sedan.
While the BMW 4 Series still looks very much like a 3 Series sedan without the rear doors, Mercedes-Benz has invested a bit more effort to differentiate the C-Class Coupe from the sedan. The rear-end design for example, is unique only to the coupe.
Despite the unique identity, the C-Class Coupe shares the same footprint as its sedan twin, with the only difference being the coupe's 37 mm lower roof line. This is quite a departure from the norm, as both the A5 and 4 Series are wider and longer than their donor sedan model.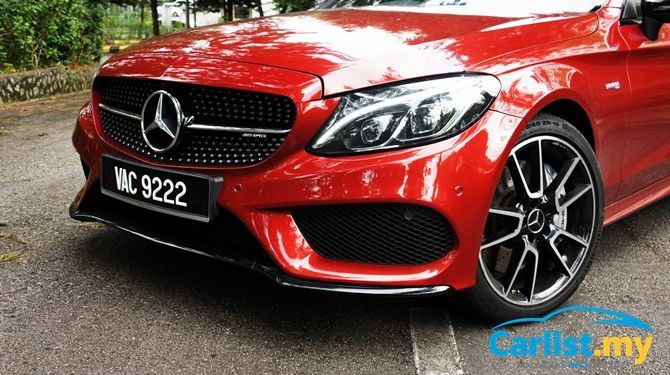 The C43 is equipped with Night Package, so it adds gloss black front lower lip, window surrounds, side mirrors, rear diffuser and tail pipe trim.
Interior
Like any coupe, you have to be mindful of the longer doors. Inside, the C43 is as what you would expect from a C-Class, both good and bad. Like most Mercedes-Benz, material selection in the C43's cabin is the best in its class. However ergonomics and user interface of the COMAND infotainment system are one step poorer than a BMW.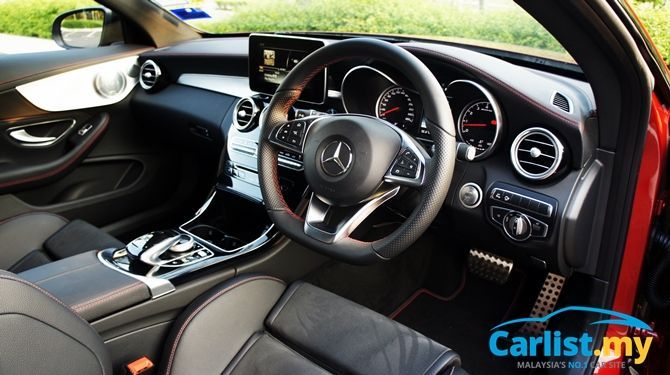 Ignore the manual adjusting sports bucket seats that you see here on our test car, as this is particular unit is imported by Mercedes-Benz Malaysia specifically for its internal use. The cars that are sold to the public come equipped with plusher power-operated semi-leather comfort seats, trimmed in a mix of Artico synthetic leather and Dinamica microfibere fabric.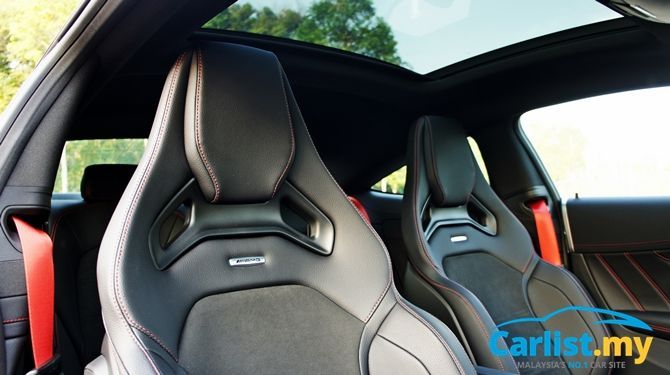 As this is a 2+2 seater coupe you still get rear seats, and they are practical enough to sit adults too, at least for short distance drives. However much of the ample legroom is due to the thinner bucket sports seats that our test car is specified with. The standard comfort seats are much thicker. There's also air-conditioning vents at the rear.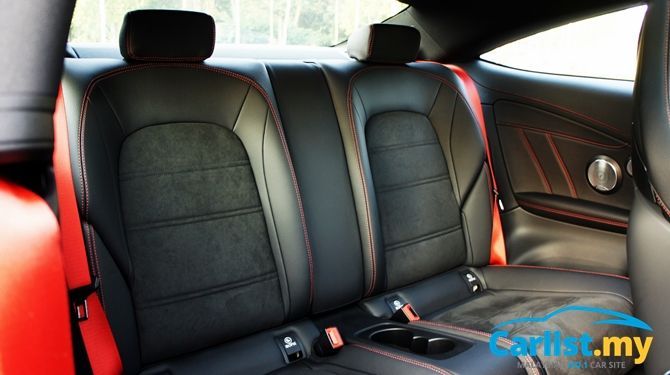 The rest of the cabin is similar to any higher range AMG Line interior-equipped C-Class sedan. There's a Burmester Surround Sound system, 360-degree camera, illuminated AMG side sills, high gloss piano black trims on the centre console and high quality aluminum inlays throughout.
Sprucing up the mood in this more athletic C-Class Coupe are the red double-stitched leather wrapped dashboard and steering wheel, as well as the designo red seat belts.
The only criticism we have for the car's interior are the AMG analogue gauges in the instrument cluster. Like many AMG models, the gauges' checkered pattern stickers have a rather tacky appearance that's in contrast with the car's overall premium appearance.
Driving Experience
On the move, the C43 is spot on in every aspect. Dynamically, there is not a single shortcoming that is to be found with the C43. The middle ground between sporty handling and comfort is often vague and difficult to aim for, especially when judged against our inconsistent road quality. It's far easier to make a track-focused C63S than a middle-ground C43.
While we love to be let loose on AMG's core 45 and 63 series cars, we aren't too keen to drive one daily. These cars have an unnecessary ride and the characterful exhaust farts and pops create too much drama when all you want is a quiet but engaging drive.
Living with the C43 is like meeting the girl whom dating scale charts say shouldn't exist – the area below level 4 crazy but above level 8 hot. Very few cars are able to maintain this fine balance between performance, comfort, luxury and style. The Lexus RC comes close, but it lacks the C43's agility.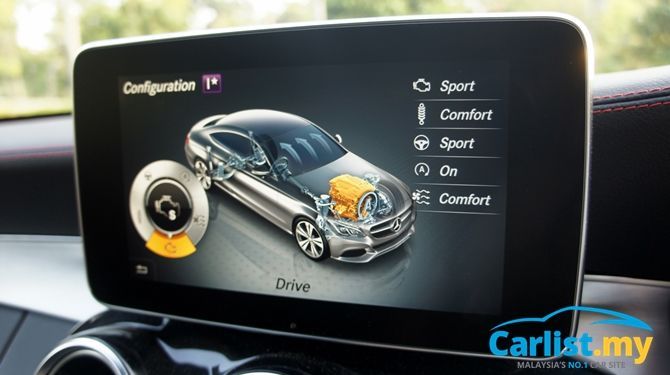 The C43's adaptive AMG Ride Control Suspension has three modes – Comfort, Sport and Sport+. A similar multi-mode option, including an Eco mode is also mirrored for the air-conditioning, engine and steering. Personally, the ideal setup for the majority of urban roads in Malaysia to set the Drive mode to Individual, with the suspension and air-conditioning in Comfort, Engine and Steering in Sport.
Even with the dampers dialed to Comfort, the C43 retained sufficient composure to string together a sequence of switchback corners at a comfortably brisk pace.
At its highest Sport+ setting, the steering and dampers stiffens up while the sharper throttle response is now matched by a more vocal roar from the engine. This is where the C43 drops her elegant evening gown for kickboxing sportswear.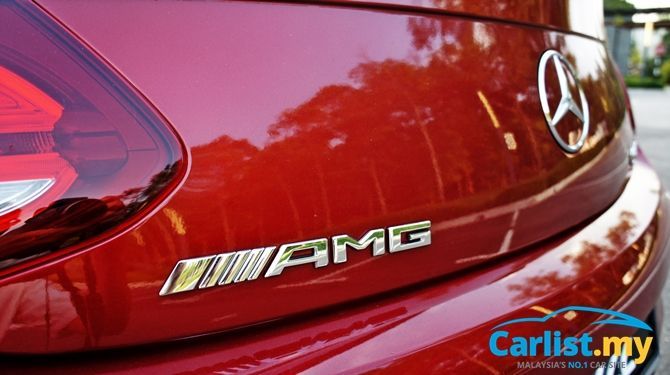 Push it hard enough, the exhaust will pop and crackle just enough to remind that you that this is a legitimate child of AMG, even if it's not born in Affalterbach (neither were the four cylinders in 45 series cars anyway). Going over rough patches of tarmac mid-corner however, the stiff dampers is likely to hop off your intended line so you have to be quick to catch the dancing rear.
For most of our local backroads, the mid-way Sport mode is the best as it retains sufficient compliance to cope with inconsistent tarmac quality while still keeping all four wheels planted.
With 4MATIC all-wheel drive, it corners as hard as you would expect, but thankfully, Mercedes-Benz doesn't believe in equal opportunities as far driving axles are concerned. Torque split is permanently fixed at 31:69 front and rear to give the C43 a rear-wheel drive-like character. Even when the electronic stability control does intervene, it's not too intrusive to the point of upsetting your driving rhythm.
The steering is not the most communicative considering the car's sporting intentions but that's what you naturally expect from a Mercedes-Benz anyway. On the plus side, what it lacks in analogue feel it makes up with its precise, sharp and well-weighted operations.
Ride Comfort
AMGs are not synonymous with comfort but the C43's ride is plush enough to legitimately wear the Mercedes-Benz badge. The distinction is important because the same cannot be said for all cars bearing the three-point star badge, especially the MFA-platform models like the A-, CLA and GLA-Class cars.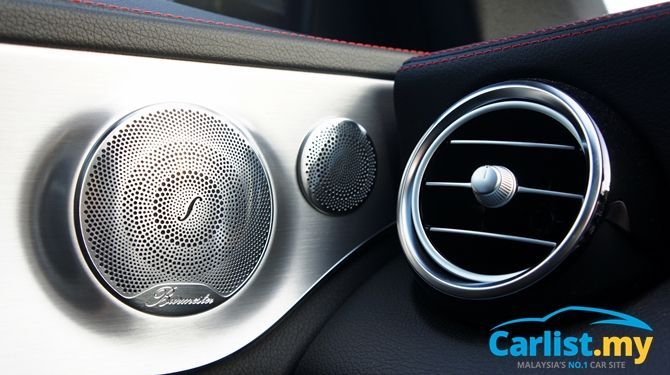 What we love about the C43 is that unlike the 45 and 63 series AMG models, the 43 series cars don't demand any sacrifice in comfort before accessing its deep pockets of dynamic talents.
Fuel Economy
Nobody plonks half a million Ringgit on a car and then wonders about its fuel economy but if you have to know, the trip computer recorded an average of 14-litre/100 km across a distance of 350 km, covering a good mix of urban and highway traffic.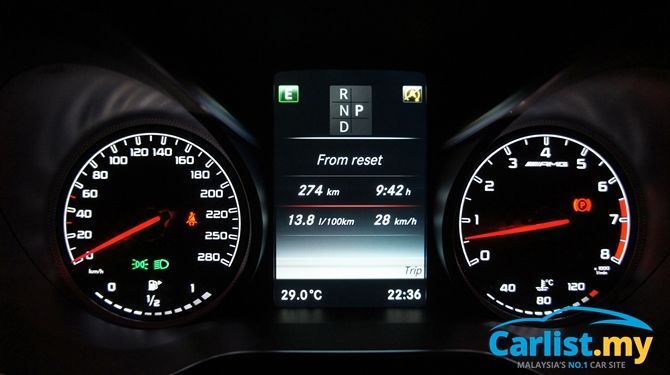 Conclusion
As a performance-oriented coupe, the C43 is peerless. None in its class can match its combination of style, luxuriously trimmed interior, accessible all-weather performance and comfort.
The only problem for the C43 is of course its more than half a million Ringgit asking price, which due to our loop-sided tax structure that favours locally-assembled vehicles, is almost as expensive as the RM598,888 S400h. Try justifying against that. Further complicating the argument for the C43 is the more spacious but less driver-focused E300 Coupe AMG Line (from RM499,888). However, you will be surprised to learn that the E300 Coupe, despite being based on an E-Class sedan, doesn't ride as comfortably as the C43. But of course, in terms of visual drama, the E300 Coupe is the clear winner.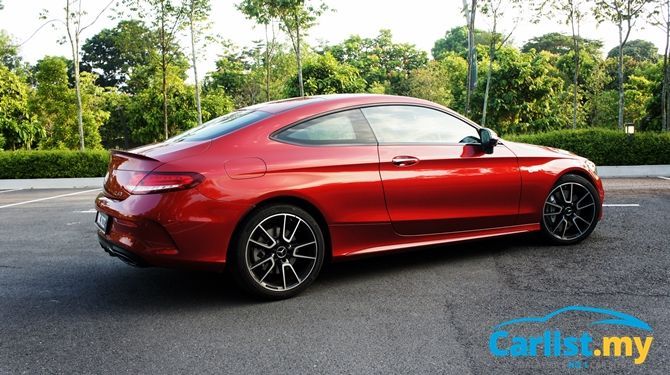 For the select few that see the value of putting their money on a more driver-focused daily use coupe, one with a V6 that sings and a chassis that dances to the road's rhythm, the C43 Coupe is one of those rare unicorn of a car that only comes along once every decade or two. The ones who chose E300 Coupe or the S400h won't understand but that's OK.
---
---
---
Comments