Review: Kia Picanto 1.25L EX (AT) – Small Car Hits The Big League
Reviews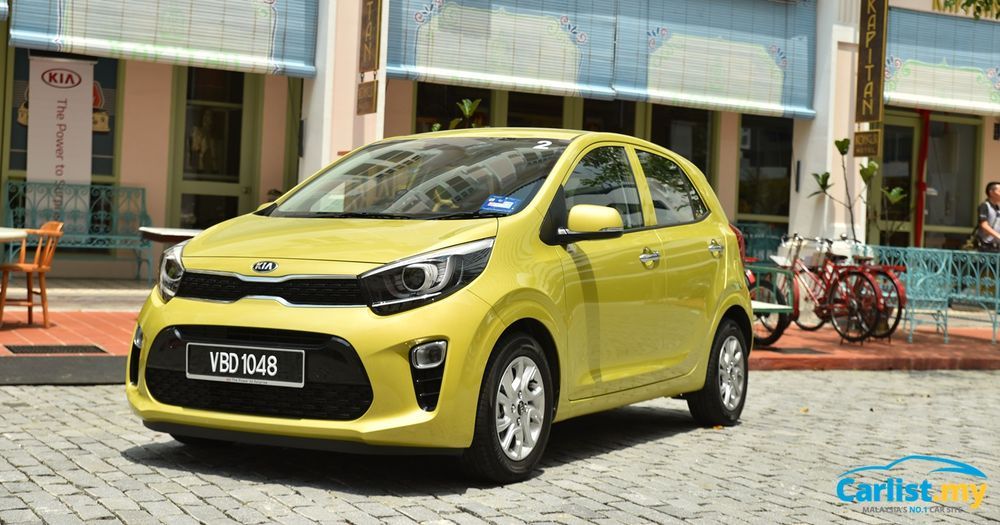 First, full disclosure. I have been an owner of the second-generation Kia Picanto (TA) for little under three years now, and have had nothing short of a wonderful ownership experience. My little Picanto has been faultless, a massive joy to drive near and far, and most importantly, it's cheap to run. Add to that, an aftersales experience that has been largely efficient thus far (Kia even gives it a good wash after every service).
So, being unbiased for this review will be tough, admittedly. But, while it's been a superb car to own and drive – it isn't perfect, which makes me a perfect candidate to illustrate how the subtle but substantial changes have turned the third-generation Kia Picanto into a serious contender in Malaysia's big league of little cars.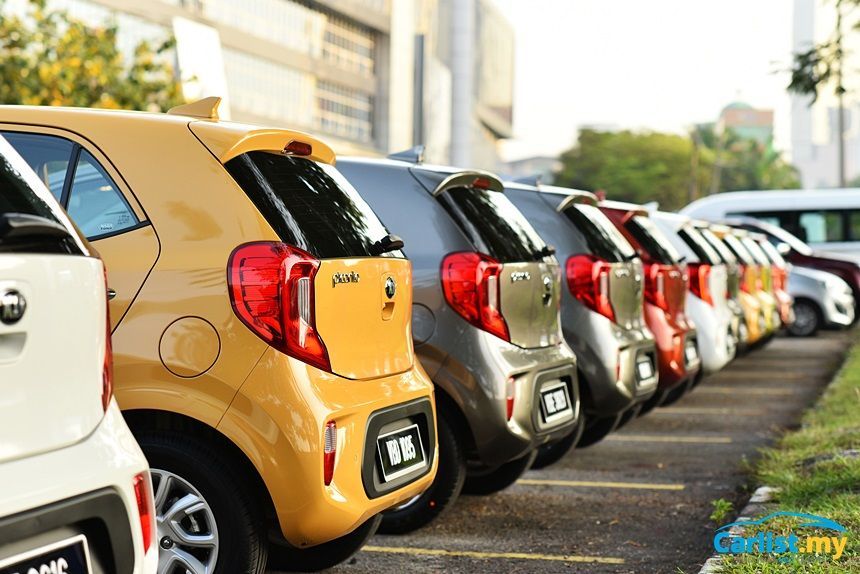 Overview
The third-generation Kia Picanto (JA) was unveiled at the 2017 Geneva International Motor Show – boasting a more youthful design, better build quality and most importantly, improved practicality.
Launched locally in January this year, the new locally-assembled Kia Picanto EX (AT) is also for the first time, competitively priced, starting at RM49,888.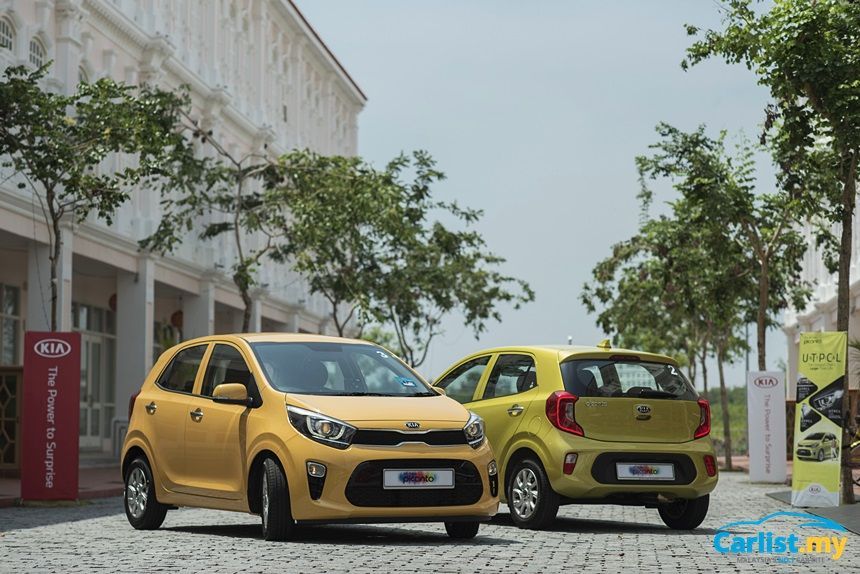 This puts the Picanto on par with the Perodua Myvi 1.3L Premium X (AT) and Proton Iriz 1.3L Executive (AT) priced at RM48,300 and RM49,204 respectively. The 1.5L Myvi H (AT) is priced higher, starting at RM51,800.
Based on a new platform – the Picanto now sits on a 15mm longer wheelbase, measuring in at 2,400 mm. The front wheels have been pushed further out to the corners of the car for a 25 mm shorter front overhang and better overall stance. Essentially, more space has been freed up for the cabin and boot, without making the new car any bigger than its predecessor – measuring in at an identical 3,595 mm length, and 1,595 mm width respectively.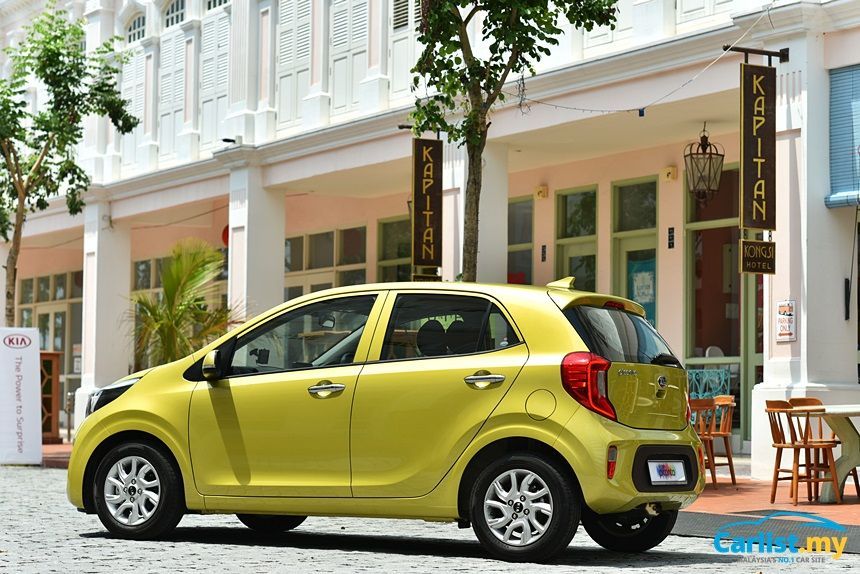 Kia has introduced subtle changes to create a better cabin space - a lower step height makes for easier ingress and egress, while the base of the dashboard has been moved upwards by 15 mm for greater knee room at the front. In the rear, the angle of the backrest is more reclined – from 25 to 27 degrees – for a more relaxed posture for occupants.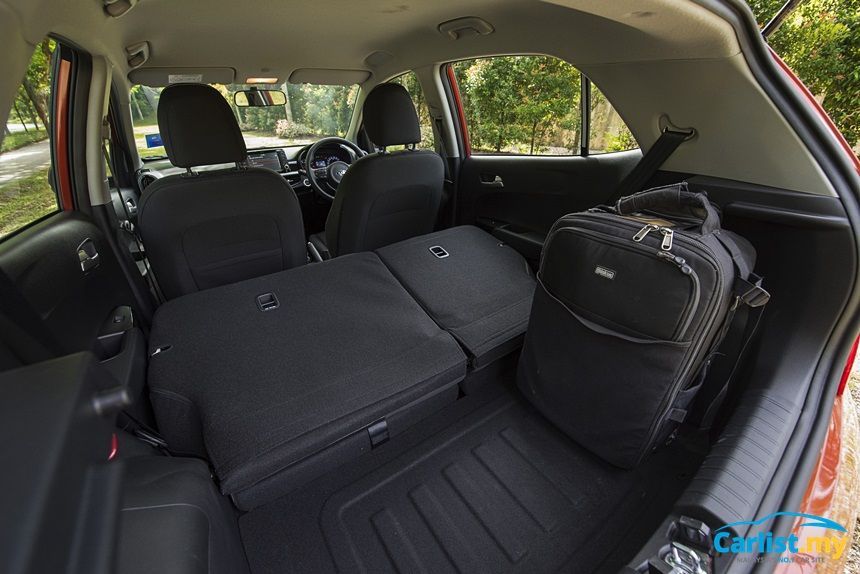 The Malaysian market misses out on the new 1.0-litre (100 PS/ 172 Nm) turbocharged and direct-injected four-cylinder engine, which is offered to selected European markets.
The Malaysian market instead receives the 1.25-litre naturally-aspirated four-cylinder, which produces 84 PS, and 122 Nm of torque, carried over from the previous generation. Kia has optimized the engine's Dual CVVT (continuously-variable valve timing) system and added a new cooling system with a shut-off valve for improved cold-start performance.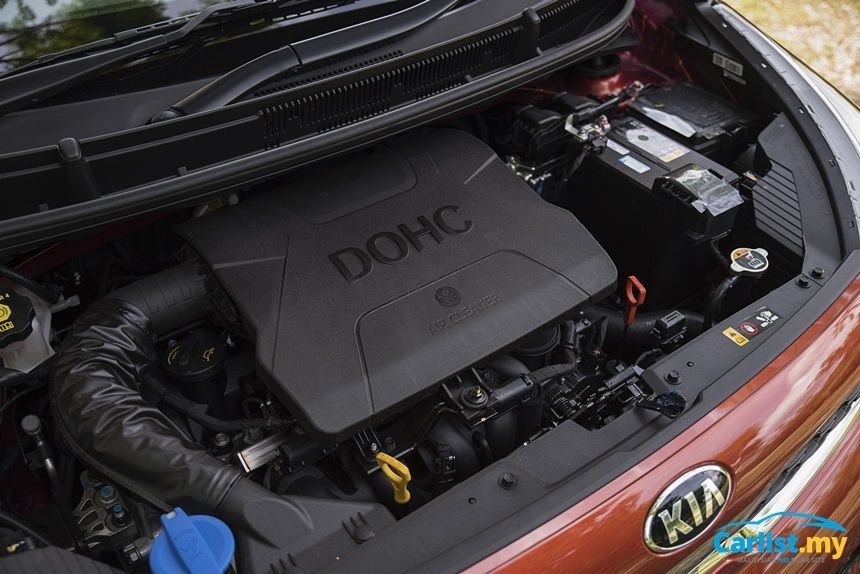 The engine is mated exclusively to a four-speed automatic, as Kia Malaysia has dropped the manual five-speed variant this time around.
In the ride and handling department - the Picanto's anti-roll bars are 2% stiffer and mounted slightly lower at the front, and 5% stiffer and slightly higher at the rear.
In addition, the longer wheelbase has allowed the pitch centre of the car to be moved further towards the rear of the car, helping to reduce 'nose dive' under braking without firming up the suspension. A reshaped rear torsion-beam, with redesigned trailing arms, reduces 1.8 kg of sprung weight at the rear. Elsewhere, the steering ratio has been quickened by 13% over the outgoing model – lock-to-lock is now at 2.8 turns, down from 3.4.
Specifications
Engine: 1.25-litre, transverse 4-cylinder, Dual-CVVT
Power: 84 PS @ 6,000 rpm
Torque: 122 Nm @ 4,000 rpm
Transmission: Four-speed automatic, front-wheel drive
Safety: 6 airbags, Hill Start Assist, ABS, Brake Assist, ESC, Traction Control
Price: From RM49,800
Origin: Locally-assembled at NAZA Automotive Manufacturing, Kedah.
Exterior
Penned in Namyang Korea, with input from Kia's design studio in Germany, the emphasis on the third-generation model has been largely centered on maximising its stance and improving practicality, within its rather small footprint.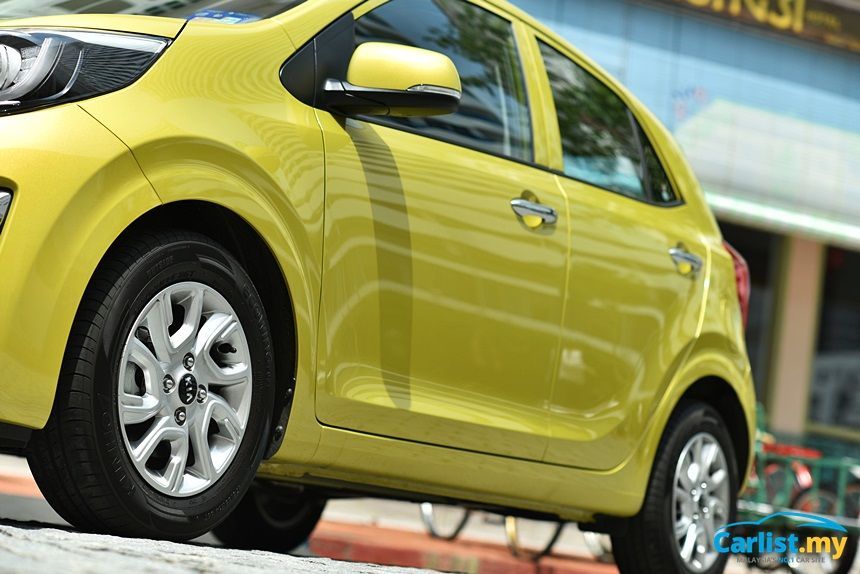 Subtle changes such as the new profile of its C-pillar, which stands more upright than the predecessor, to create a larger door aperture, and better overall body proportions.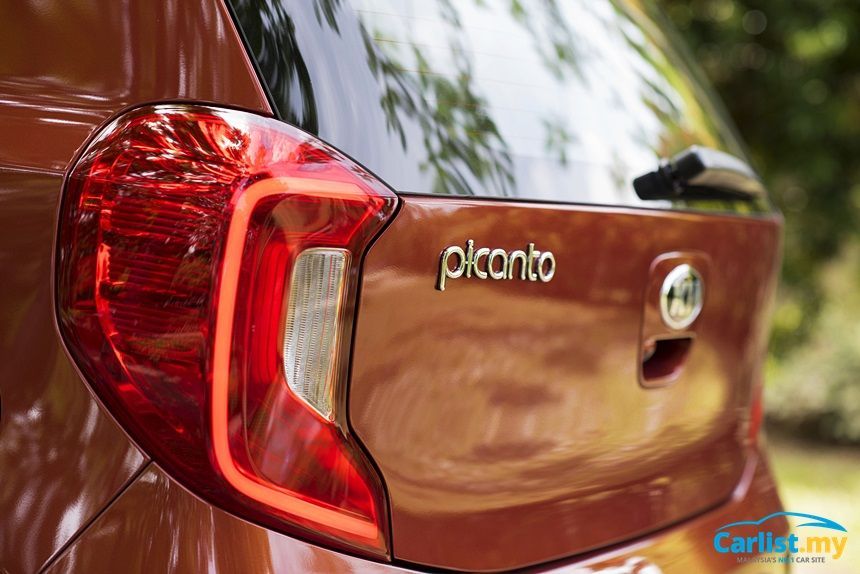 It's also worthy to note, that the Picanto is the only car in the segment to offer LED daytime running lights (DRL) – the U-shaped graphics themselves look detailed and stylish. The latest-generation Myvi does not offer DRLs; the Iriz, on the other hand, is equipped with DRLs only in the 1.6-litre Premium variant.
Interior
It is perhaps on the inside, where the new Picanto shines the brightest. The dashboard layout is now more centrally aligned, with a 7.0-inch floating-type infotainment screen equipped with Android Auto and Apple CarPlay integration and a reverse camera.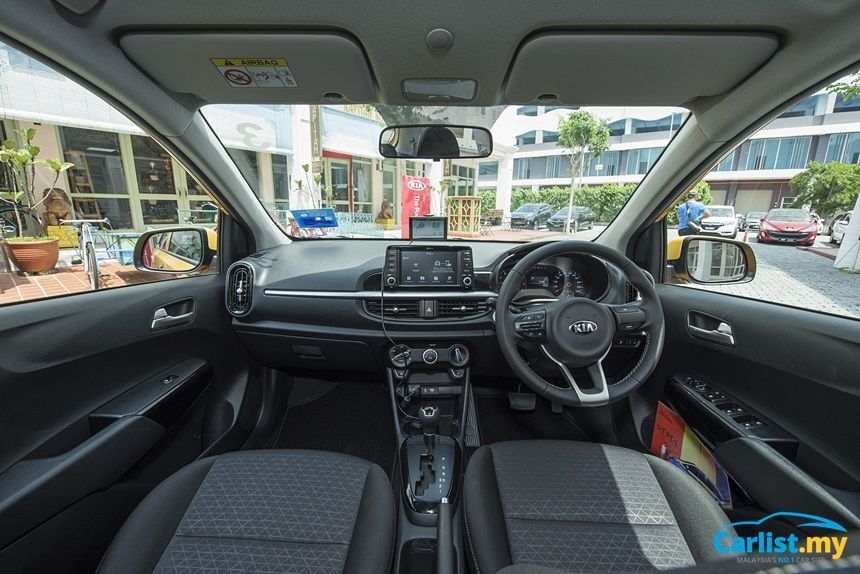 Despite the commonplace hard plastics on the door cards and dashboard – there's a sense of tactility in its execution, especially in the functionality of the switchgear and overall build quality. The three-spoke steering wheel is a joy to hold and the meter cluster's crisp backlit graphics are miles better than the previous generation model.
And, the aforementioned (horizontally) slimmer dashboard proportions means there's noticeably more room in the passenger footwell. After a near four-hour stint of driving, the seats remained comfortable, noticeably better than the hard padding in the previous generation car.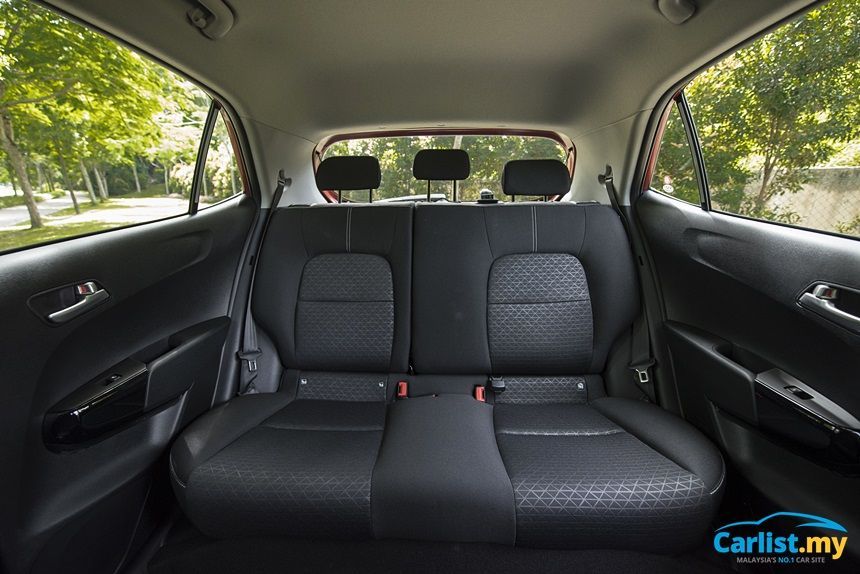 There's no denying the Myvi and Iriz are larger and more spacious at the back than the Picanto, given those two cars actually conform to larger B-segment dimensions, but now there's far better accessibility and rear legroom than the previous generation.
Comparing it to my own car, there's less of a need to shuffle the front seats forward to accommodate rear passengers. And in terms of practicality (such as cubby holes and storage space), it's as well equipped as the other two.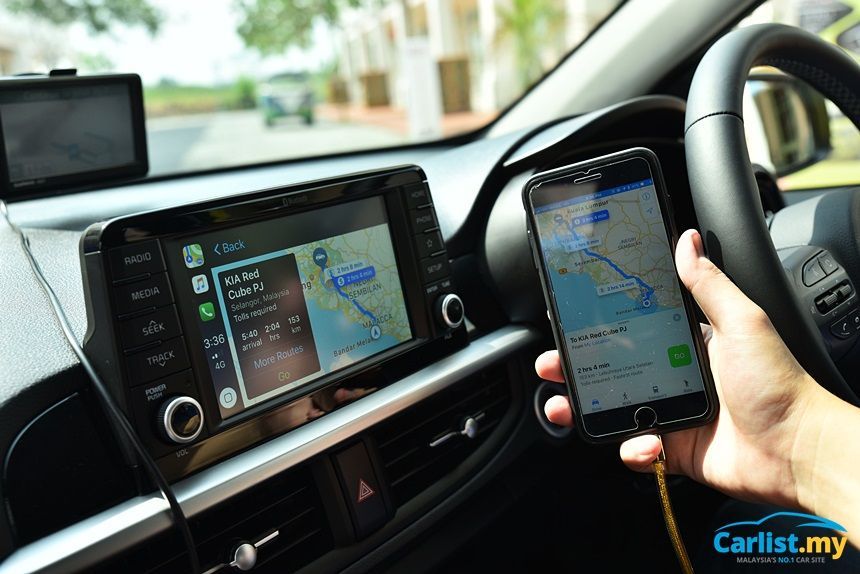 Courtesy of a deeper boot floor (than the predecessor) this time around – bootspace is up to 255-litres, 40-litres more than the Iriz, and 22-litres shy of the mighty Myvi. With the 60:40 split-fold rear seats down, cargo capacity is boosted to 1,010 litres.
Driving Experience
Our test route would take through the busy city streets of PJ, to rustic Malacca. En route, we headed through equally dense highway routes, before we detoured onto quiet backroads for a true test of the new car's ability.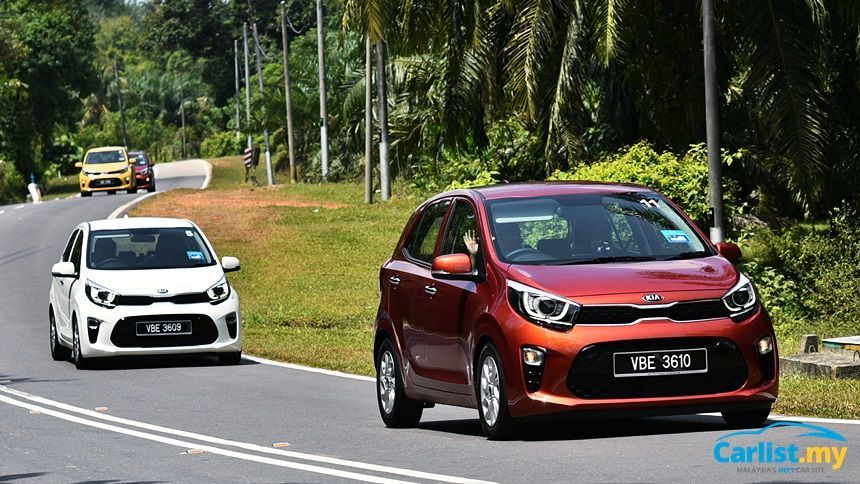 Straight off the bat – I could instantly appreciate the Picanto's refinement levels. The engine and gearbox are pleasantly quiet and hum away without having too much vibration, and noise transmitted into the cabin.
Pound-for-pound, the Picanto and Iriz are closely matched in terms of refinement and overall comfort levels. Which is to say that I would prefer it over the Myvi, which can be a tad stiff and nervous on bumpy roads and at high speeds.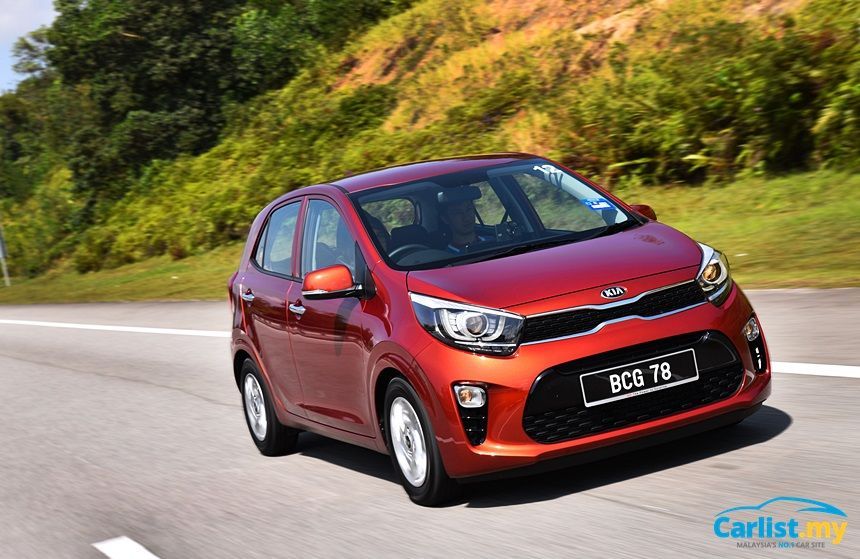 Most bumps and ruts in the road do not unsettle the Picanto, which endows it with this wonderful duality of being a city car and an able highway cruiser at the same time. For the most part, the suspension is so well sorted that it manages to feel like a bigger car. Maybe I'm pitching this a bit too far, but it captures some of the essence and ability of my favourite B-segment car, the Mazda 2.
On tighter B-roads, the surefootedness and overall poise of the Picanto become even more apparent. When pushed hard, the suspension starts to load up nicely and claw into the road. Given the car's sharp front end and good body control, it rarely stepped out of a chosen line and proved to be unassumingly quick on a tight backroad.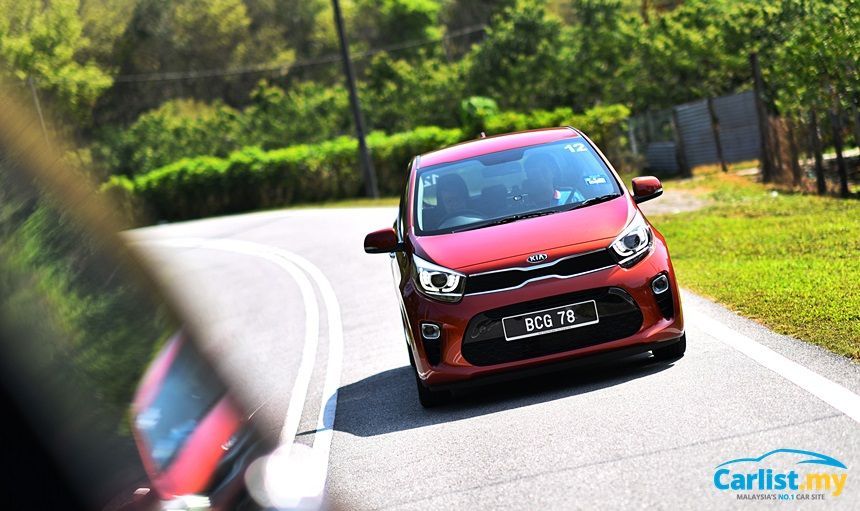 Also, given its petite 983 kg kerb weight (Myvi: 985 kg, Iriz: 1,185 kg), it's a blast to drive enthusiastically, and handles quick direction changes with aplomb, and tracks true at high speeds.
A crucial contributor of this is the body's improved rigidity (44 percent high strength steel) and quick steering – just 2.8 turns lock-to-lock, which allows to one to carve out turns rather precisely, and with little steering effort, while still being responsive enough to minute steering inputs on straight sections of road. Again, mimicking another attribute that makes the Mazda 2 so great to drive.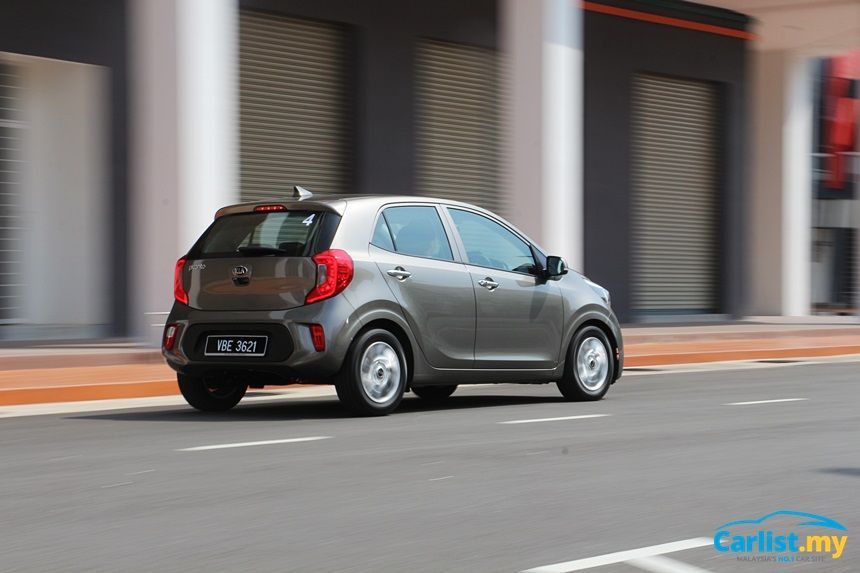 Power is adequate – 84 PS might not sound like much, but the little 1.25-litre engine is eager and loves to be revved out. And, despite its smaller displacement, it actually produces more torque (122 Nm) than the Myvi (121 Nm), and Iriz (120 Nm), which gives it punchy mid-range response.
The four-speed gearbox is adequately quick in its changes and rather perceptive to the driver's inputs. Depress the throttle with some authority, and the gearbox will swiftly hunt for a lower gear ratio, which makes it quite a breeze during overtaking and uphill climbs.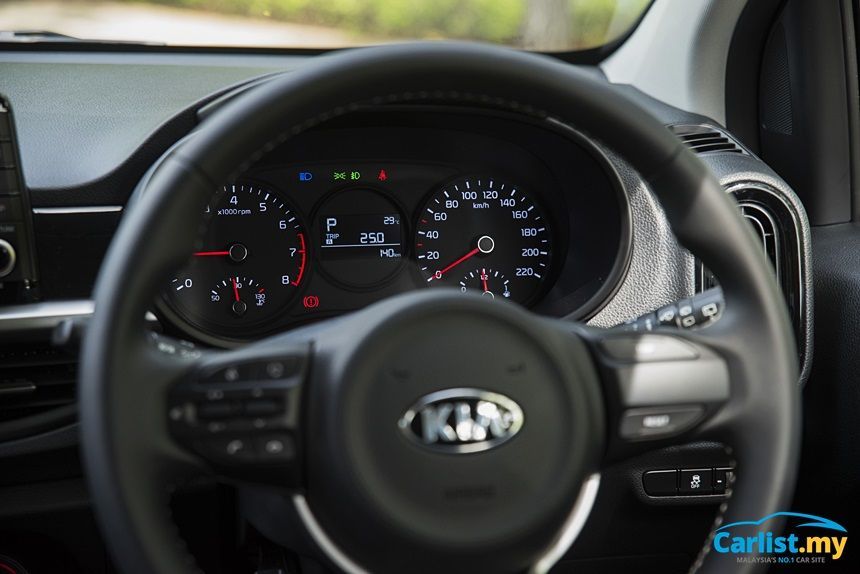 My personal car has a five-speed manual gearbox, which of course is substantially more involving and fun to drive, but for the most part, the automatic gearbox is talented enough to suit most driving styles, and will even appease more enthusiastic drivers.
Conclusion
I remember reading the press release during the world debut of the new Picanto, and thinking to myself that Kia's efforts had possibly addressed almost every shortcoming I believed were deeply apparent on the outgoing model.
Better legroom at the rear, softer padding for the seats, a longer, more stable wheelbase, less dive during braking and cornering, and especially quicker steering – all boxes I would've personally ticked to make my car much better to drive, and easier to live with.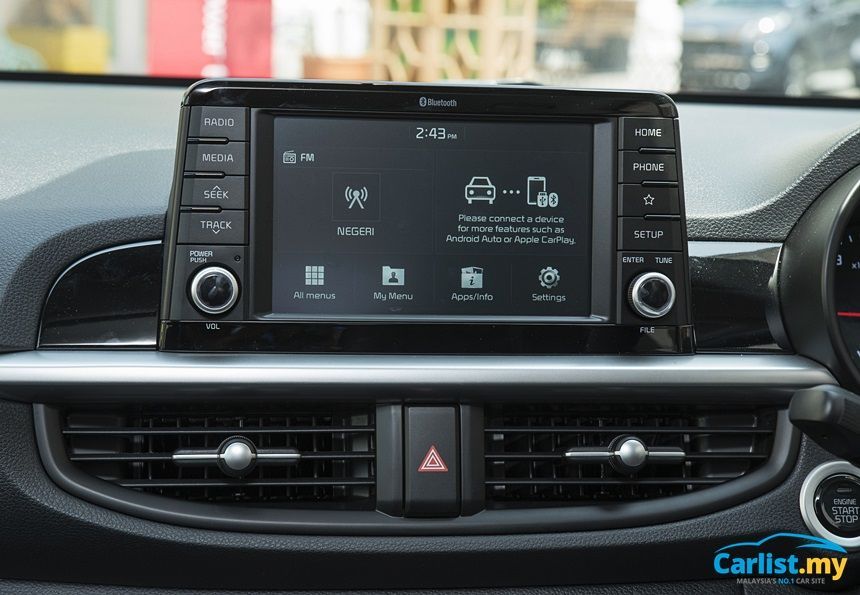 This evolutionary process of development has made a great product, and a globally successful model for Kia, even better.
This is the only non-national car in this most competitive of segments, so I still believe Kia Malaysia has a steep uphill climb ahead of them, but, they finally have a superbly executed and well-rounded product to genuinely take the fight to the Myvi and Iriz.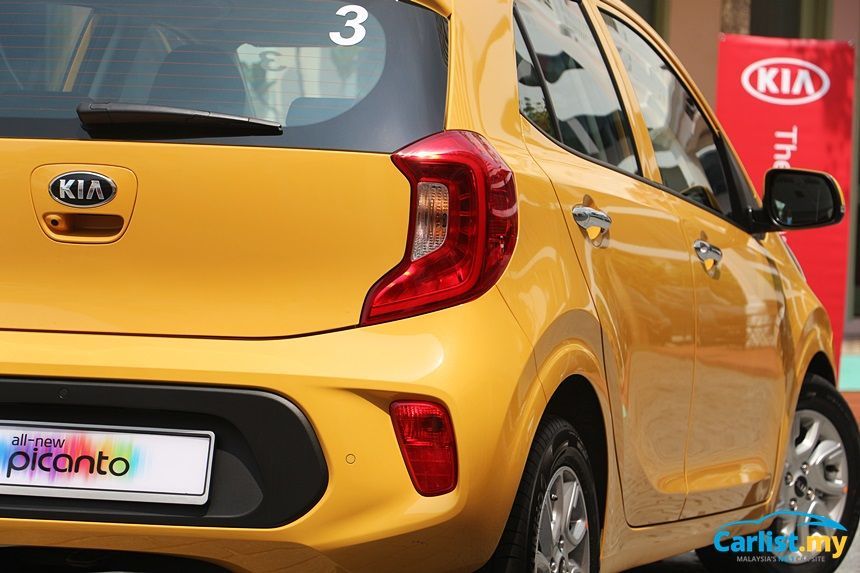 The Myvi and Iriz still remain the obvious choice if you're looking for better overall space – the Picanto counters that with a snazzy exterior design, a superbly designed interior, great refinement levels, the best safety equipment in its class and a well-sorted drivetrain that makes the Picanto both comfortable and fun to drive.
And those are some pretty big reasons to consider this little car.
---
---
---
---
Comments