Review: Perodua Aruz 1.5L AV – Big Bang For Small Bucks
Reviews For the past few days, I have been using a friend's spare car while my own car undergoes some repairs. It is a bog-standard (AE92) Toyota Corolla with nearly 200k km on the odometer, and bucket loads of charm.
I am absolutely in love with it – it's comfortable, reasonably spacious for four occupants, has decent boot space, the air-conditioning is as cool as a meat-packing facility and delivers enough performance from its reliable little 1.6-litre engine to keep up with modern traffic.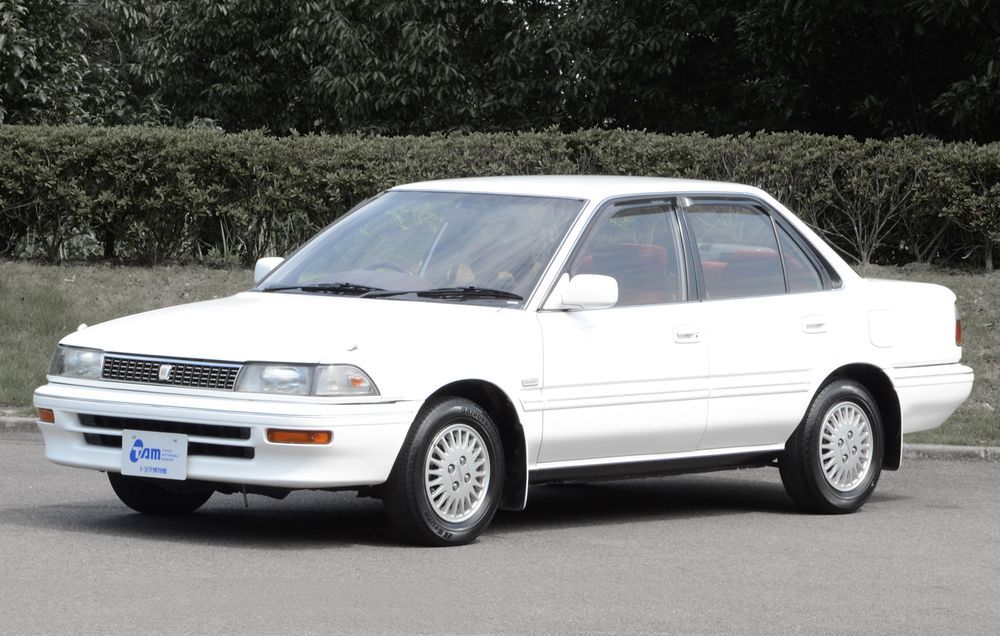 Cars like these mobilised entire generations of families and I'm sure most 80s children, such as myself, will relate and remember being packed in cars such as the Proton Saga, Nissan Sunny, or Toyota Corolla on those long balik kampung trips.
Times, however, have changed drastically, roads have gotten better, cars have gotten bigger, safer and more economical… and SUVs and MPVs are the new norm for growing families.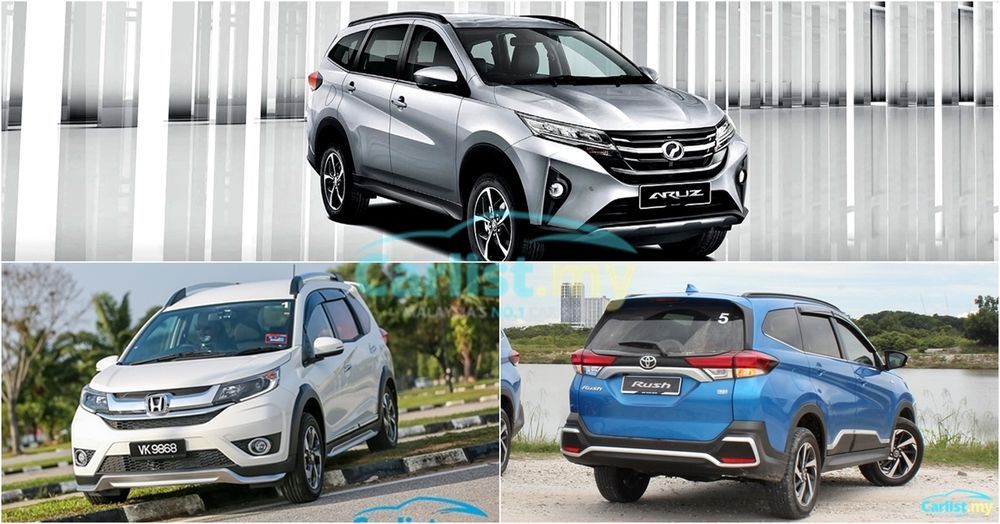 Which has given rise to budget SUVs like the Honda BR-V, Toyota Rush, and the Perodua Aruz featured here. They all seat seven, cost around the same as a B-segment sedan, and ride high-enough to pass off as SUVs – which are all the craze now. But are they more endearing than that little Toyota Corolla?
Overview
The Aruz is Perodua's third SUV model, after the Kembara and the short-lived Nautica. It is the localized version of Indonesia's Daihatsu Terios. Both the Aruz and Rush are assembled at Perodua's plant in Rawang. The Aruz is also closely related to the Indonesia-made Toyota Avanza, which share the same powertrain.
The Aruz is powered by the 2NR-VE Dual VVT-i 1.5-litre naturally-aspirated four-cylinder which is also found on the Toyota Rush. However, the Aruz makes 3 PS and 3 Nm less than the Rush - 102 PS at 6,000 rpm and a maximum torque of 133 Nm at 4,200 rpm. The engine is paired with a 4-speed automatic transmission, which distributes power to the rear wheels.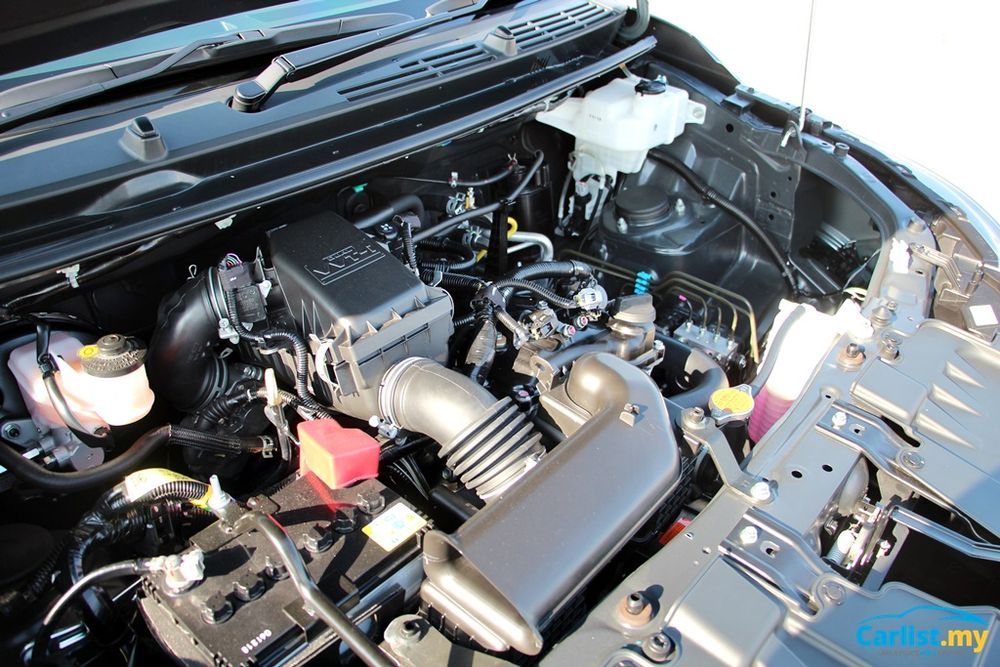 There are two variants on offer, the Aruz X and AV which retail for RM72,900 and 77,900 respectively. Its Toyota Rush 1.5G and 1.5S counterparts are priced at RM93,000 and RM97,000 respectively. Besides the slight increase in power, the top-spec Rush "S" also comes with additional safety features such as the Blind Spot Monitor (BSM), Rear Cross Traffic Alert (RCTA), and 360-degree camera.
The Honda BR-V, on the other hand, comes in three variants: E, V, and SE, which are priced at RM80,649, RM87,361, and RM90,360, hence there's no shortage of variants to choose from.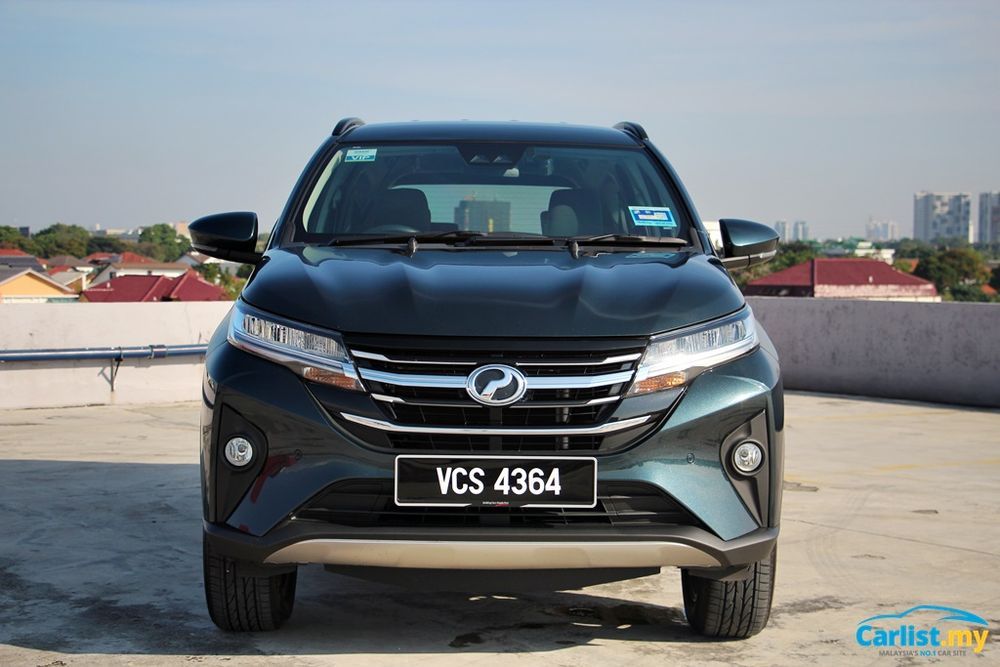 Specifications of the Perodua Aruz 1.5L AV:
Engine: 1.5-litre four-cylinder, naturally aspirated
Power: 101 hp at 6,000 rpm
Torque: 133 Nm at 4,200 rpm
Transmission: 4-speed torque converter automatic
Safety: 6 airbags, ABS with EBD, Stability Control, Forward Collision Warning with Pedestrian Detection, Autonomous Emergency Braking (4-80km/h)
Origin: Locally-assembled in Rawang, Selangor.
Price: RM77,900 OTR excluding insurance
Exterior
Full disclosure, I'm not paid to say this, but I truly believe the Aruz is the best looking SUV in its class. Next to the Aruz, the BR-V looks somewhat sedate – almost like an MPV with some plastic cladding – and the Rush (though essentially the same shell) overly gaudy thanks to the over-the-top plastic cladding on the lower regions of the body.
It's this careful balance of proportions and restrained styling that gives the Aruz its premium, grown-up looks without looking pretentious. Elsewhere, the front and rear bumpers, which are different from the Rush, adds elegance and sportiness in equal amounts.
Front fog lamps, roof rails, and silver painted rear diffuser highlight the top-spec AV variant. Here again, subtle highlights that make a substantial difference visually. I also especially like the sleek LED headlamp signature – which looks even better at night.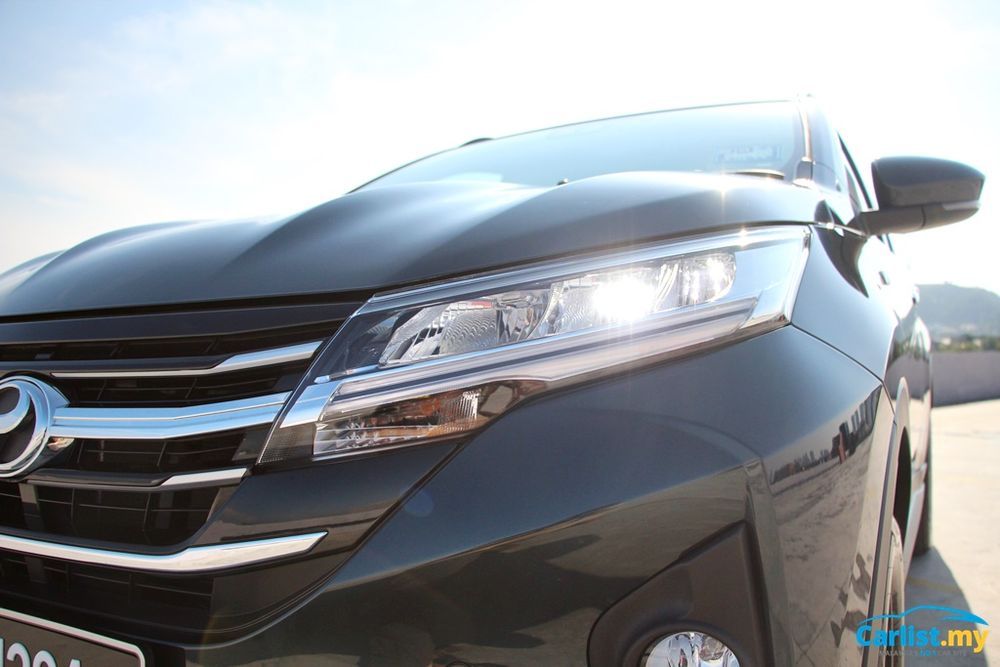 Interior
There are few other cars that make more intelligent use of the space between four wheel corners than the Aruz. From the moment you step in, you are greeted by a vast volume of headroom, a superb view of your surroundings courtesy of a huge greenhouse, and commanding seating position which is every part as SUV as the Aruz claims to be.
Space in the first and second rows are comparable to that of D-Segment cars; the seats themselves feel well hemmed, and like they would stand the test of time.
The second-row of seats fold and tumble forward to allow access to the third-row of seats with a single pull of the lever; with the second-row folding far forward, it opens up a decently wide aperture to get through, but it takes some getting used to because of the height of the vehicle floor. Hence, the third row is best reserved for younger, more nimble occupants. With that said, legroom and headroom are adequate for smaller occupants in the last row.
Elsewhere, the tactile leather steering wheel fits right into your hand and helps make light work of pointing this relatively large vehicle down a tight KL street. Another notable highlight is the rear air-conditioning vents, which are powerful enough to circulate a vast amount of air towards the second and third row.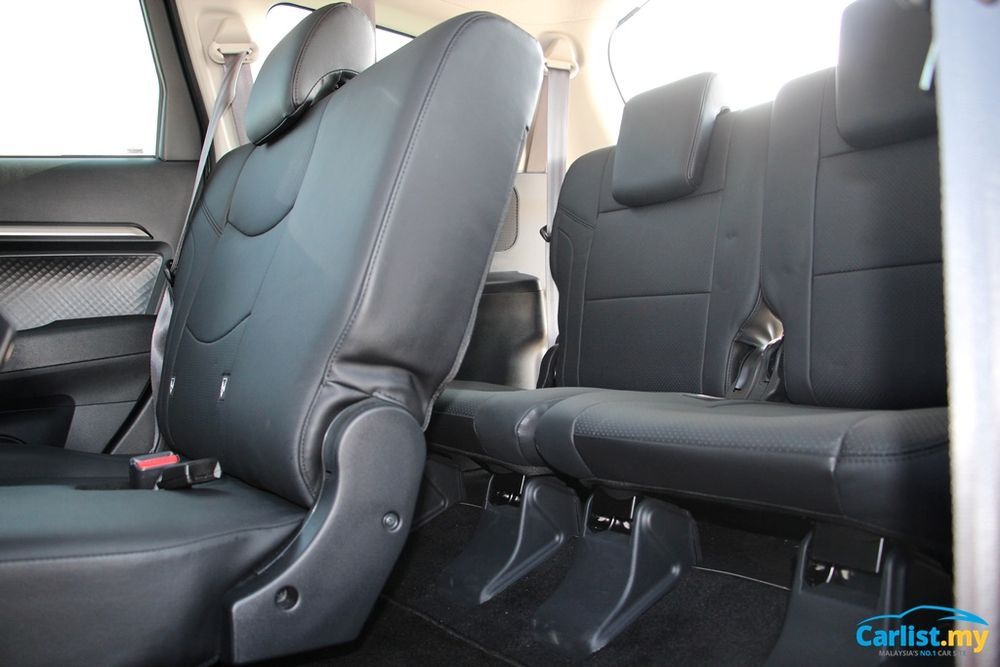 Driving Experience
Though it's a champion of packaging and space, the Aruz is not without its drawbacks, and most of them reside in this section of the report. I know that the Aruz is not a performance vehicle of any sort, hence I posit my findings solely on the fact that the Aruz is meant as a family carrier and as such, falls just short of expectations in two crucial areas.
The first is its stability at speed. While the Aruz manages low and mid speeds extremely well, the steering starts to wander at speeds above 100 km/h. The major suspect, in my opinion, is the tall tyre sidewalls, which start to flex under load (and speed), making the Aruz very susceptible to crosswind and camber changes in the road.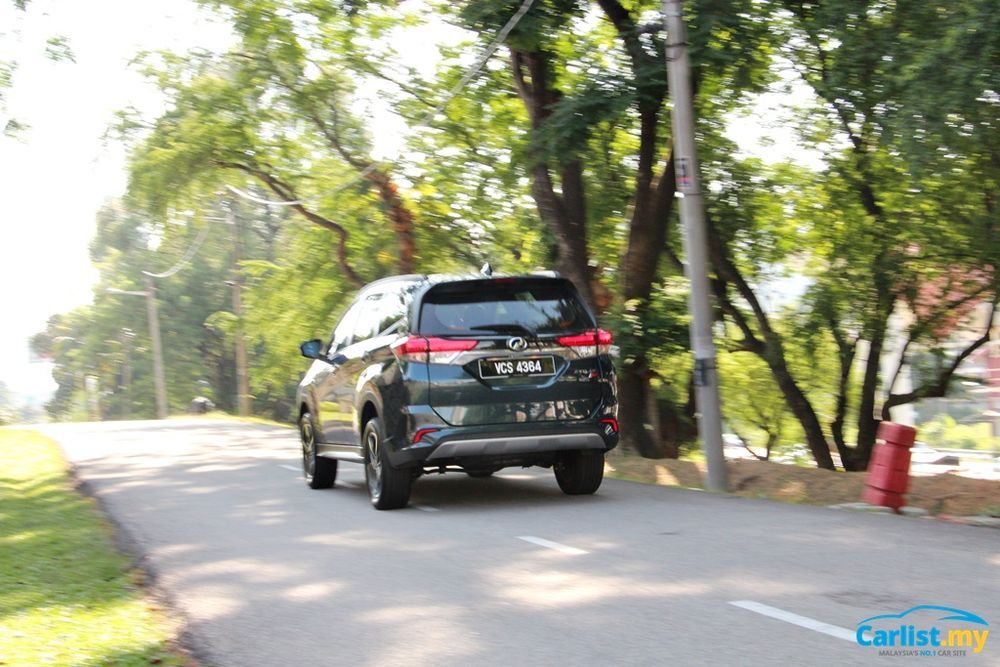 So between the speeds of 90-100 km/h, which are, generally what most of these SUVs are going to travel at during long journeys on the highway, it can seem rather unnerving to drive, as it was to me. It's not so much the suspension setup, rather the steering that feels vague and not precise enough for smaller corrections at speed, so you're left with the steering pointing where you want, but the car wandering about within the lane. The car's taller ride height given its body-on-frame construction is another natural contributor.
Its no fault of the suspension, in my opinion, because I have little complaint about the ride quality and its ability to absorb bumps on even the worst of roads, in this aspect, the Aruz is rather impressive. In addition, I never had more than four people in the Aruz at any one time, so I will also give it the benefit of the doubt, and say that things might be better with more people in the car.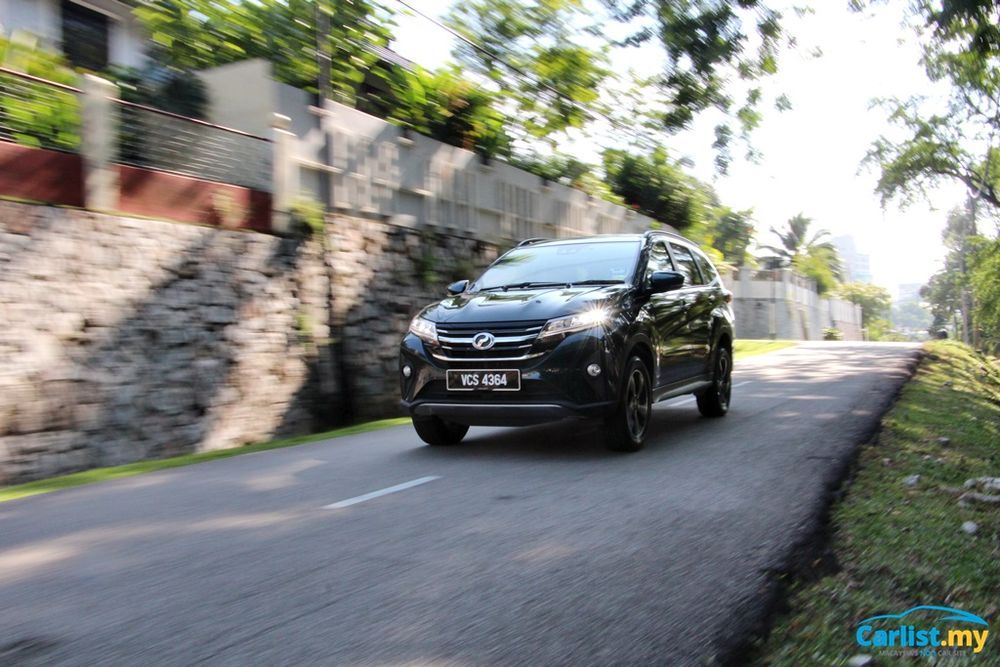 The second bugbear of mine is that fuel economy can drop substantially in the city. The Aruz consistently returned around 8.8-litres/100km on the highway, which is decent given it's a relatively small engine hauling a rather large body. However, those figures can rise to around 10.7-litres/100km when in the city, laden with passengers, which is a tad on the high side. The engine in itself is a punchy unit and the gearbox fit for purpose, serving up smooth shifts up and down the cogs.
In my opinion, the Honda BR-V is a better car to be in on the highways given it's a Unibody frame, which allows it to sit lower to the ground, aiding stability, and secondly because it offers a much more car-like driving experience which inspires more confidence on the road. The BR-V also has a more powerful 1.5-litre engine upfront.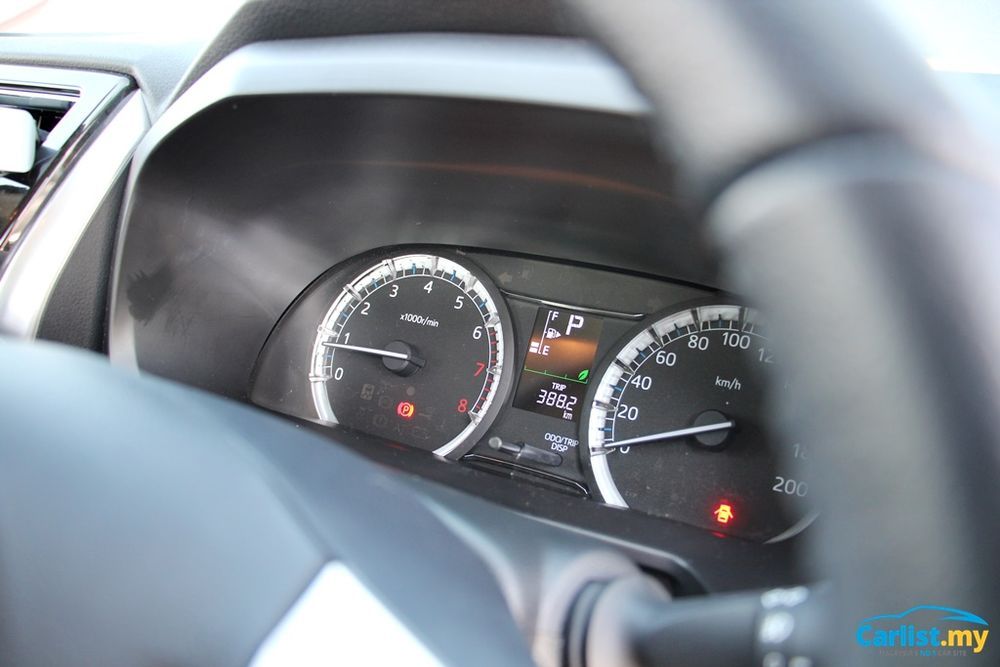 Conclusion
Despite its few shortcomings, the Aruz remains a compelling option for most growing and larger families given its unbeatable price, and comprehensive convenience feature and safety list.
In terms of being fit for purpose, it offers a roomy and versatile cabin for all occupants and manages to be very impressive in terms of comfort, practicality, and maneuverability on a daily basis.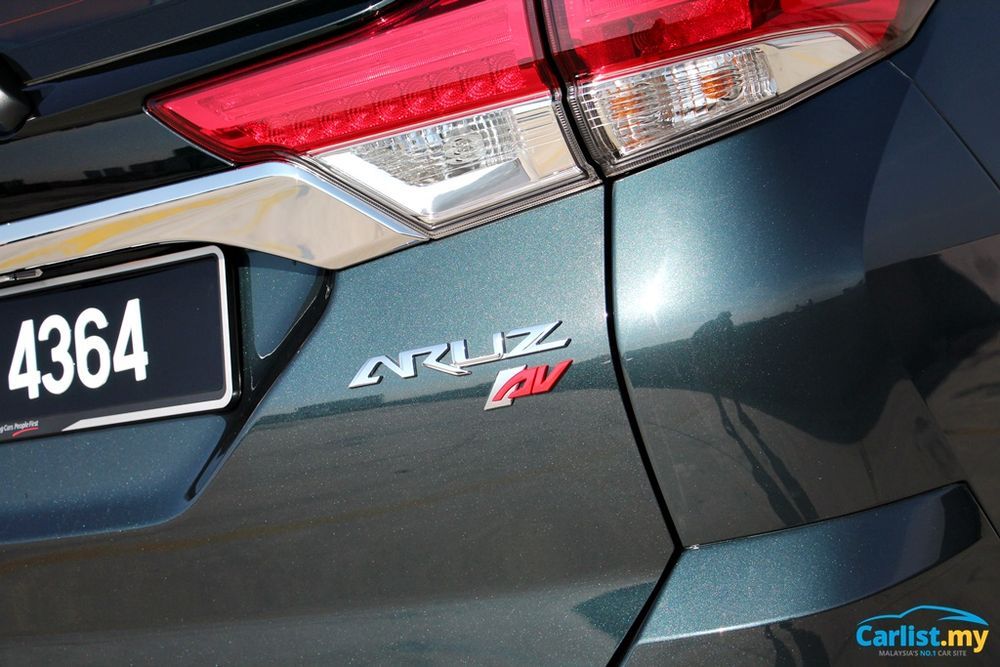 In many ways, it's possibly the biggest bang-for-your-buck vehicle on sale today, and those aspects are good enough for most buyers I suspect and allow a larger portion of entry-level buying market to access the SUV segment without blowing the bank.
In many ways, like the little Toyota Corolla that I've been thoroughly enjoying recently, the Aruz too is a reliable workhorse which will in no doubt become the mode of transport for an entirely new generation of families, and I'm sure, inspire many fond memories and be an object of endearment for those who own them.
---
---
---
---
Comments