Review: Proton Iriz 1.6 Manual – Self-Shifting Choice
Reviews Whilst much attention is currently lavished on the all-new Persona, it is worth remembering the car from which Proton's latest baby is derived – the Iriz hatchback. Touted as yet another dawn of a new era for Proton, the Iriz impresses on paper with commendable safety across the board along with the inspiring ride and handling which the homegrown brand is renowned for.
Two years from its launch, much of what we know of the Iriz stems from time behind the wheel of two out of four possible engine-drivetrain combinations Proton has to offer for its baby hatchback, the 1.3-litre engine with manual transmission, or the more powerful 1.6-litre unit with a continuously variable transmission (CVT). Recently came the chance for us to have a go in the Iriz with what we believe is its most potent setup – the 1.6 manual.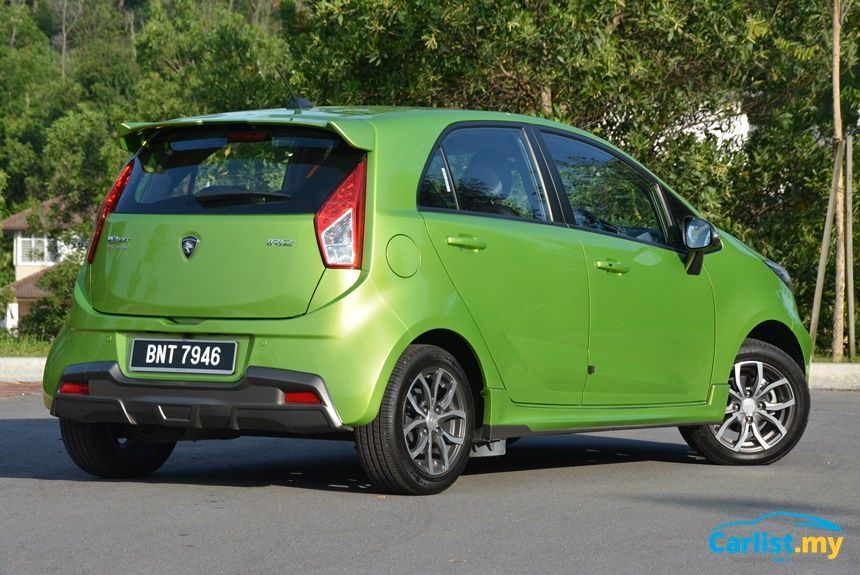 Specifications:
Price: RM59,880 OTR with insurance, metallic paint
Engine: 1.6-litre, Inline-4, Transverse, DOHC VVT
Power: 107hp @ 5,750rpm
Torque: 150Nm @ 4,000rpm
Transmission: 5-speed manual, FWD
Safety: 6 airbags, ABS, ESC, Traction Control, Hill-Hold Assist, ISOFIX (rear), reverse camera, impact-sensing door unlock
Origin: Locally-manufactured at Tanjung Malim, Perak.
Overview?
Both the 1.3- and 1.6-litre engines offered in the Iriz are available to be paired with either a 5-speed manual or CVT to put power down on the front wheels. Each engine-transmission pairing is, in turn, offered with a choice between two trim levels, presenting a total of eight variants altogether.
| | | |
| --- | --- | --- |
| | Manual | CVT |
| 1.3 Standard | RM41,520 | RM44,450 |
| 1.3 Executive | RM45,760 | RM48,680 |
| 1.6 Executive | RM53,140 | RM56,080 |
| 1.6 Premium | RM59,430 | RM62,030 |
*OTR with Insurance and Solid Paint for Individual Private Registration in Peninsular Malaysia. Add RM450 for Metallic Paint.
Pleasingly for the enthusiast, insistence on the manual transmission does not restrict one to the lesser-equipped models. As tested, our 1.6 Premium demo vehicle represents the very best in features and equipment that is available in the Iriz range. The same level of performance but lesser kit is offered in the 1.6 Executive model priced over RM6,000 cheaper.
Safety forms a big part of Proton's agenda. Uncommon for a vehicle at this price, electronic stability control is standard across the board, as are dual airbags and ISOFIX anchors. Reverse camera is found in both 1.6-litre trim levels, whilst the range-topping Premium trim levels up with side and curtain airbags. Commensurate with its efforts in this area, the Iriz's 5-star ASEAN NCAP rating comes with no caveats – it applies to all variants.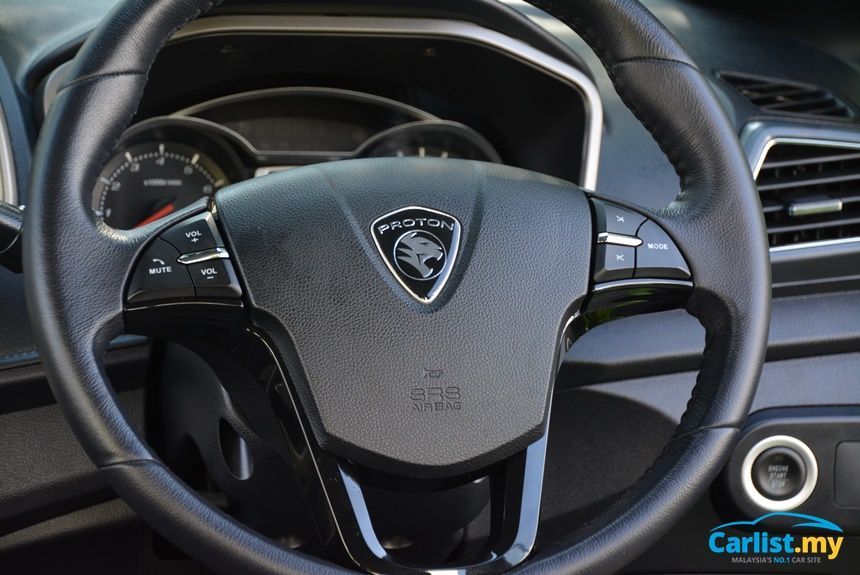 Exterior
The Iriz may not have challenged the Perodua Myvi's popularity the way Proton had hoped it would, but there are still enough numbers of it on the road that its familiar shape should require no introduction by now. Proton has yet to implement any facelifts or minor changes to the model, so its appearance is as per what was launched in 2014.
Appropriately reflecting its status as the range-topping variant, our 1.6 Premium-spec test car is easily distinguished from its lesser siblings by an expressive rear spoiler and LED daytime running lights, the latter replacing front fog lights found in the mid-range 1.6 Executive model. Both 1.6-litre trims get a dual-tone all-round bodykit and 15-inch alloy wheels.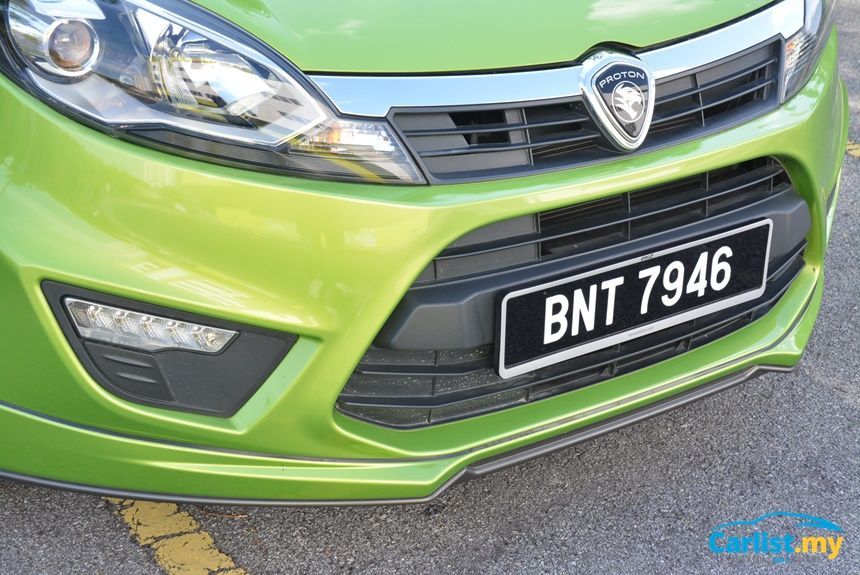 Interior
An overall glance of the Iriz's interior generates rather positive first impressions. Proton's confident use of layering and fine visual details successfully elevate the cabin's value perception above its price point. Ergonomics also appear well-sorted; controls are arranged with good usable clarity and the centre console seem well-partitioned for small item storage.
Closer inspection, however, reveals much room for improvement. For starters, buttons and knobs lack reassurance in their tactility when operated upon. It raises the question of why Proton had prioritized investing its ringgits on fake stitching instead of giving the switchgear actual substance. The cubby holes along the centre console could also do with added depth to better secure items on the move, particularly when the driver is in the mood to put the Iriz's Lotus-inspired handling prowess to the test.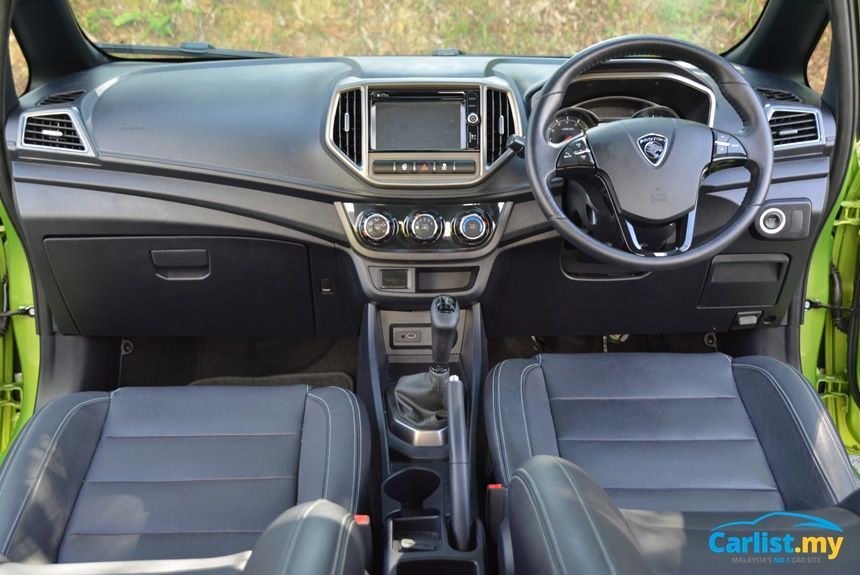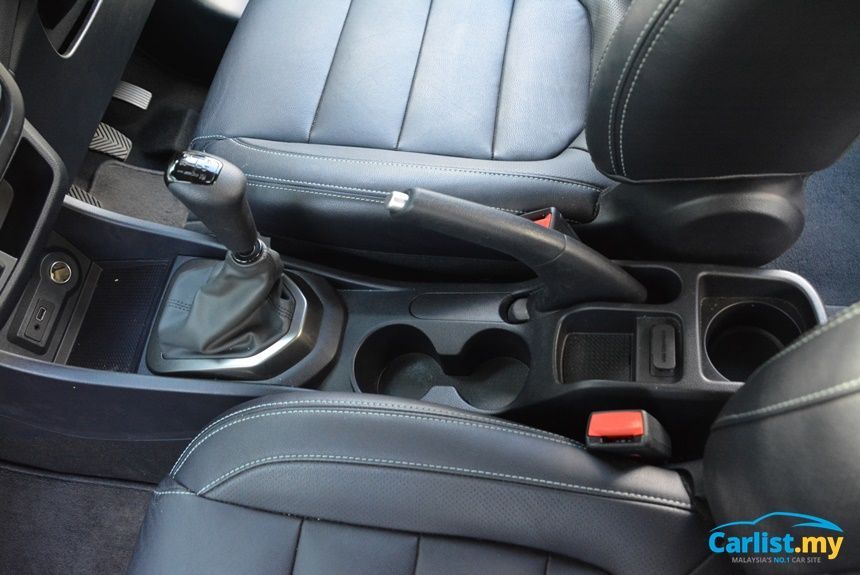 Both 1.6-litre trim levels of the Iriz come standard with a 6.2-inch touchscreen infotainment unit. The system features the commendable integration of a reverse camera, but sensitivity and responsiveness of the touchscreen could do with further improvement – it doesn't respond to inputs predictably or quickly enough for our liking.
Specific to the Premium model is the fitment of a gear-shift lock, which ties into the vehicle's push-start button. For added security, it requires the driver to put the manual transmission into reverse before leaving the vehicle; the clutch pedal then needs to be depressed to allow the vehicle to be started. Our test car had a faulty gear-shift lock which did not always auto-unlock after starting the car; it resulted in a few occasions where we had to repeatedly restart the engine until the shift lock disengaged.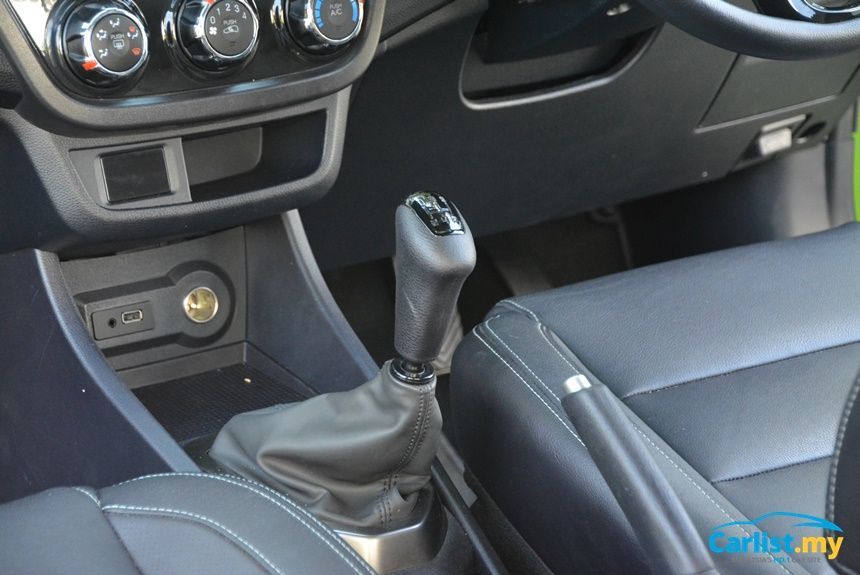 How does it drive?
Our earlier experience with the Iriz revealed a car that was reassuringly secure in its ride and handling but ultimately lacking a little punch to fully exploit the talents of its well-engineered chassis. Swapping the CVT for a manual transmission added some zestiness in terms of straight line performance, but the 1.6-litre VVT engine still needs to be worked hard to coax anything more than merely brisk progress.
Shifts on the Getrag-sourced 5-speed manual transmission are smooth and precise, albeit with rather long throws. Clutch bites high up the travel, but its weighting is light, so no reason to complain about tired legs in traffic jams.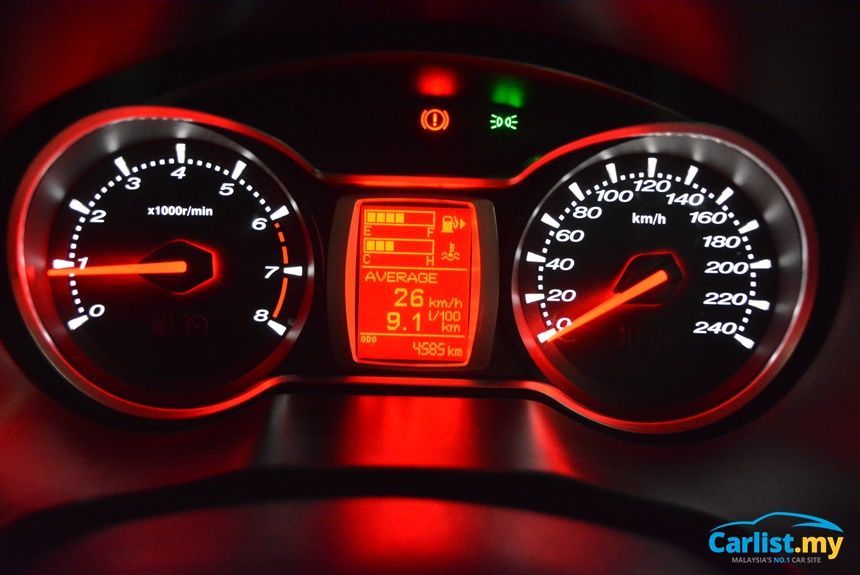 The disc/drum brake combo provides adequate stopping power for the purpose, but pedal calibration lacks linearity – the anchors really bite only towards the end of the pedal's travel. Whilst stopping is still easy enough to modulate, smooth execution of heel-and-toe downshifts proved much trickier altogether. The new Persona we tested recently on Proton's test track seemed to have addressed this though.
To sum up, this is definitely a more interesting steer than the CVT model, but not as good as what Proton is capable of. Better pedal calibration will improve the driving experience tremendously.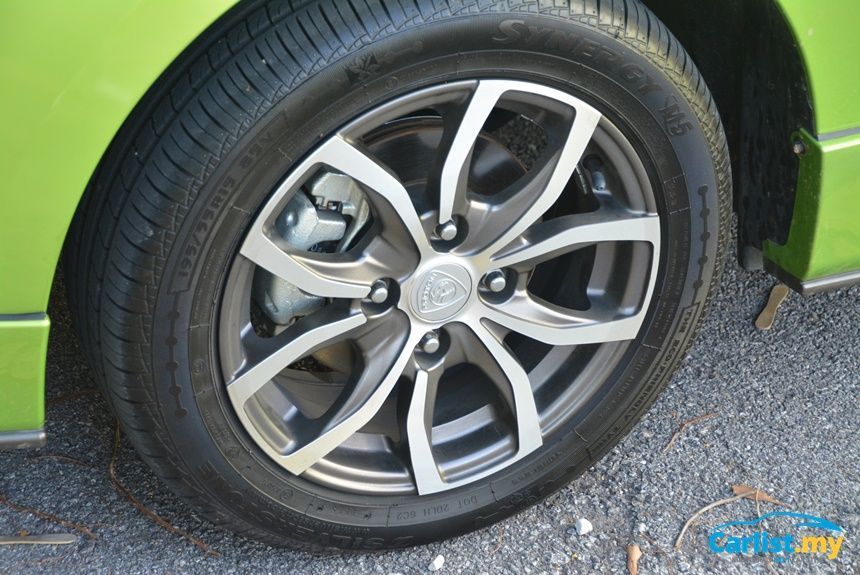 How comfortable is it?
True to form, Proton's expert chassis calibration has not resulted in any notable sacrifice of ride comfort for the Iriz's directional sharpness and stability. Thanks to its rigid chassis, the Iriz does not need overly hard springs and dampers to feel sure-footed on the move. The result is a suspension that is made pliant enough to rival the ride comfort of cars a class above.
Rolling refinement also feels improved over the CVT model, but this is primarily due to the absence of transmission whine from the manual gearbox. Suppression of external sources of noise is merely adequate rather than outstanding.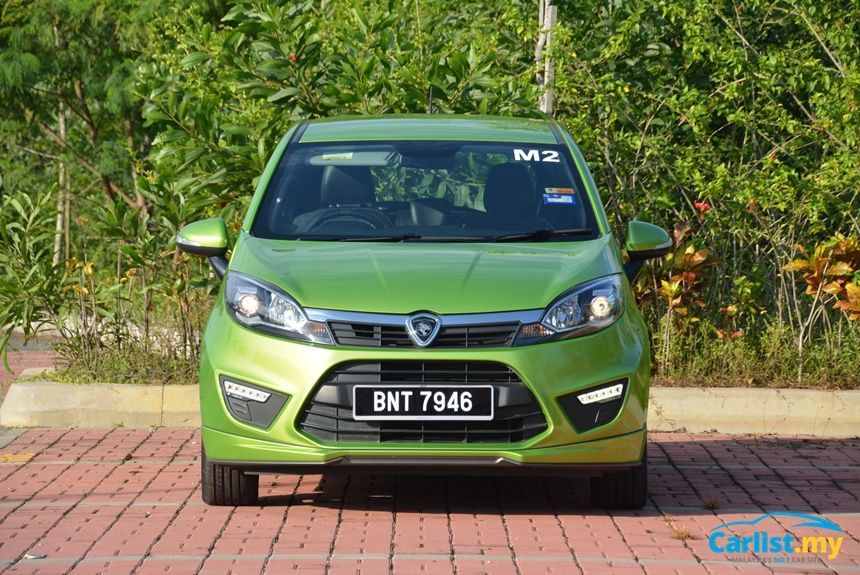 How economical is it?
Proton did not publish any claimed fuel consumption numbers for the Iriz, but our 400km test run of the car returned a trip computer reading of 8.3 litres/100km, a figure that rivals Proton's previous-generation Campro 1.3 engine and definitely improved over the Campro 1.6.
Estimated maintenance costs of the Iriz are not provided either, but intervals are set at 6-month / 10,000km intervals after a minor service at 1,000km. Labour charges are absorbed for the 1,000km, 10,000km, and 20,000km services.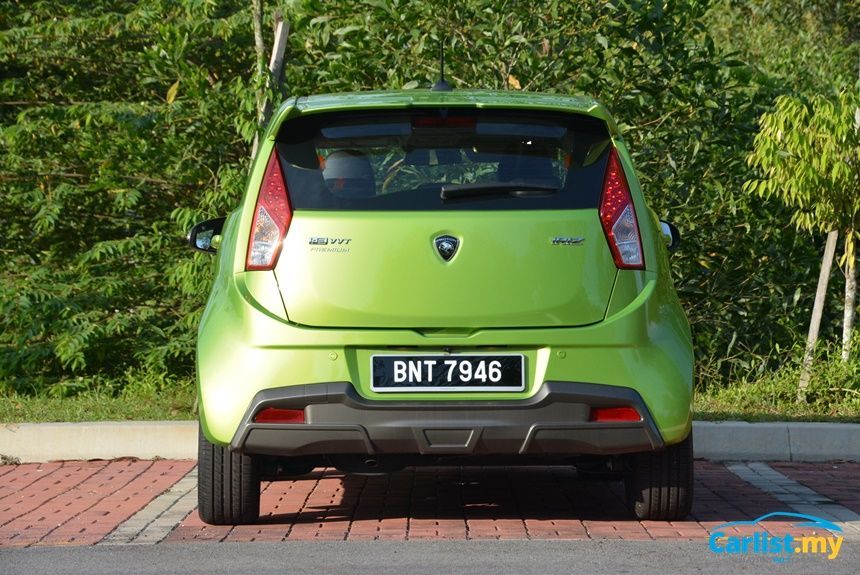 Conclusion
Proton cars may get a lot of flak from the public for suspect quality over the years, but we are great admirers of their effervescent and fun-to-drive nature. The Iriz is a car not without flaws, but if you're the type that places value on a good driving experience, this car fits that particular need on a budget.
Does putting a manual transmission make the Iriz better to drive? Definitely, but perhaps not by enough for most. Enthusiasts as we may be, we recognize that the manual transmission's appeal is exceedingly limited for today's audiences.
The less than satisfactory calibration of pedals mean that the driving experience is not as rewarding as it should be, as it could be. What Proton can do to immediately improve things is quickly duplicate the new Persona's control calibration here – that would be the making of a truly incredible to drive little hatchback.
---
---
---
---
Comments