Save Up To RM48k On A Brand-New Volkswagen This Raya: 0 Downpayment, 0 Interest
Insights Volkswagen Malaysia are making it easier than ever to own one of their cars. Whether you fancy a Polo, Jetta, Tiguan, Passat, Golf, or Polo Sedan, you'll be able to enjoy their "0 Downpayment and 0 Interest" promotion that runs until 31st July 2015.
Through the forgoing of a downpayment and interest, customers will be able to shave off up to RM48,000 on the ownership of their new Volkswagen (Tiguan).
0 downpayment: Customers can walk into a Volkswagen showroom and leave with a brand new car without having to shell out any money.
0 interest: With loan tenures of up to 7 years, the Polo and Polo Sedan can be had for just RM999 a month. The other models eligible for the promotion are offered at lower monthly payments than ever.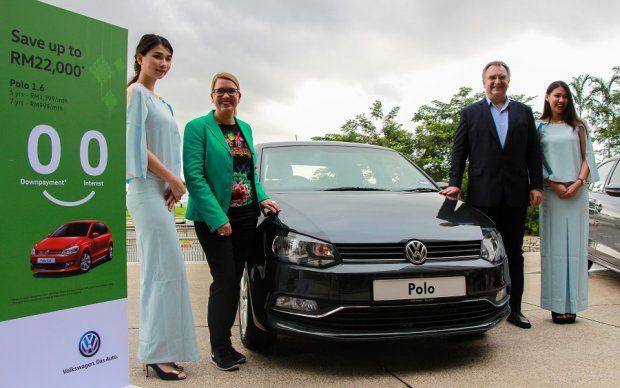 Armin Keller, Managing Director of Volkswagen Group Malaysia shared, "Raya is the most celebrated festive occasion by Muslims and Malaysian's of other faiths alike. It's when people travel home to spend time with family and friends. Our aim with this campaign is to make the brand more accessible to Malaysians who desire the performance offered by our cars. Hand in hand with Malaysians, we want to help make this meaningful journey home a great driving experience."
Customers can choose from any of the banks that are participating in the 0% Interest Campaign, they include Affin Bank, AmBank, Hong Leong Bank, Maybank, and Public Bank.
The zero downpayment, zero interest campaign is ongoing at all Volkswagen dealerships in Malaysia from 1st June to 31st July 2015. Those who sign up will also receive a RM500 petrol voucher.
Here's a look at the different models and the savings to be reaped with this promotion:
Polo
Savings up to RM22,000.
5 years – RM 1,399/month
7 years – RM999/month
Polo Sedan
Savings up to RM23,000.
5 years – RM 1,399/month
7 years – RM999/month
Jetta
Savings up to RM34,000.
5 years – RM 2,099/month
7 years – RM1,499/month
Golf
Savings up to RM42,000.
5 years – RM 2,499/month
7 years – RM1,799/month
Passat
Savings up to RM44,000.
5 years – RM 2,699/month
7 years – RM 1,899/month
Tiguan
Savings up to RM48,000.
5 years – RM 2,899/month
7 years – RM 2,099/month
---
---
---
---
Comments