Subaru To Setup CKD Operation In Thailand, Export From Malaysia To Cease In 2019
Auto News Fuji Heavy Industries Ltd. (FHI), the company that owns the Subaru brand, have announced that it will on February 2017, be forming a joint venture company with TC Manufacturing and Assembly (Thailand) Co., Ltd. (TCMA TH), a subsidiary of Tan Chong International Limited, to begin local assembly of Subaru vehicles in Thailand.
FHI did not specify what models will be assembled in Thailand, but it should be the XV and Forester, both of which are currently exported from the Tan Chong Motor Assemblies (TCMA) plant in Segambut, Malaysia.
FHI said: "With a view to enhancing Subaru's competitiveness and further growth in Southeast Asia, FHI has decided to start production in Thailand by a new and soon to be established joint venture company, Tan Chong Subaru Automotive (Thailand) Co., Ltd., 74.9% of which will be owned by TCMA TH and 25.1% by FHI. The new joint venture aims to begin production in 2019."
It should be noted that while both TCMA and TCMA TH are related to the same founding families, the two companies belong to a different holding company.
TCMA, which has two plants in Malaysia (Segambut and Serendah), is owned by the Kuala Lumpur-listed Tan Chong Motor Holdings Berhad, which also owns the distributor rights for Nissan and Renault vehicles in Malaysia.
The Serendah plant assembles Nissan vehicles while the older Segambut plant mainly does contract assembly for other non-Nissan brand vehicles, including Chinese brand Foton commercial vehicles, Mitsubishi (ASX), Renault (Fluence) and Subaru (XV and Forester).
TCMA TH is owned by the Hong Kong-listed Tan Chong International Limited (TCIL). The company also owns Motor Image, the distributor of Subaru vehicles for many countries in Asia Pacific including Taiwan, China, Hong Kong, Singapore, Malaysia, Vietnam, Indonesia, Thailand, Cambodia and Philippines.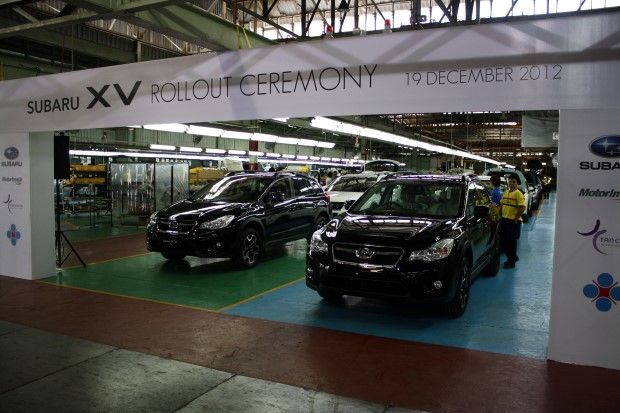 Contract assembly of Subaru vehicles at TCMA's plant in Segambut will remain, serving the Malaysian domestic market only. As such, there will be no change to the sourcing arrangement for Subaru XV and Forester models sold in Malaysia.
Export to Indonesia have since ceased, following a tax dispute between Subaru distributor Motor Image and Indonesian authorities.
---
---
---
---
Comments