Takata Airbag Crisis: Honda Ramps Up Stock of Replacement Part; Increases Capacity
Auto News Perhaps the hardest-hit manufacturer of the Takata airbag fiasco, Honda Malaysia service centres have been struggling to meet demand of vehicles returning to have their airbag inflators replaced.
In a statement released by the company today, Honda Malaysia officially apologizes to all customers affected by the recall and has assured them that all measures are being taken to ensure that replacement parts can be put into the vehicles of customers as soon as possible.
Besides securing an increase in supply of replacement parts from Takata, Honda has also called on other airbag manufacturers – Daicel, Autoliv, and TRW – to step in and provide an alternative supply of parts to alleviate the situation.
Based on latest available data, Honda vehicles account for over half of 520,000 vehicles on Malaysian roads that are being affected by this recall, widely described as being the largest ever in automotive history and having already resulted in four deaths on Malaysian roads alone. Certainly, this is a recall to be taken very seriously.
Owners of Honda, Toyota, Nissan, Mitsubishi, Mazda Subaru please read this: Takata Airbag Crisis: Frequently Asked Questions, What Should You Do?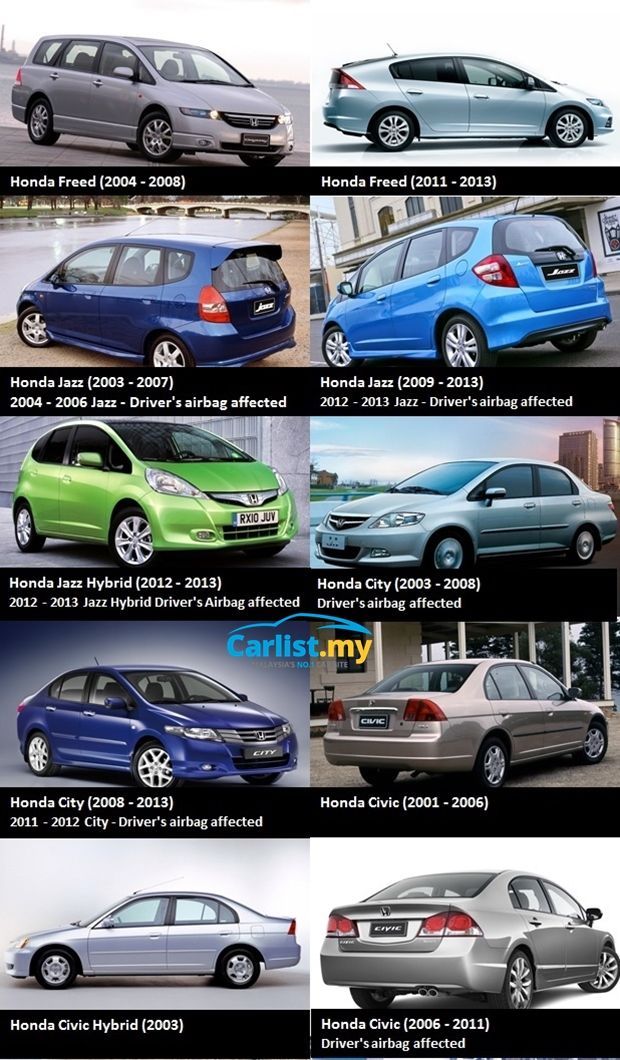 Depending on year and model, a vehicle affected by the recall can potentially have either its driver side inflator or passenger side inflator requiring replacement. In some cases, it's both. According to Honda Malaysia's internal estimates, the company expects to have the full quantity of inflators for the driver side available to all affected vehicles by the middle of August. There is no estimate for the full availability of passenger-side inflators yet.
Concurrently, Honda Malaysia has also issued a directive for dealers to prioritize replacement of defective Takata airbag inflators. Starting 20 July 2016, all Honda dealers will re-assign half the capacity of their service centres to handle replacement of the airbag inflators. Owners of vehicles that are crowded out of service centres as a result of this an unable to perform their scheduled services on time will be given extended service intervals without voiding their warranty.
Honda Malaysia is also in the process of opening three temporary Central Hubs to further increase capacity for airbag inflator replacement. These three hubs will operate 7 days a week to provide additional centres for airbag inflator replacement, helping alleviate limited dealer capacities for airbag inflator replacement activity, and also to provide storage for the required parts. The locations of the Central Hubs will be announced soon.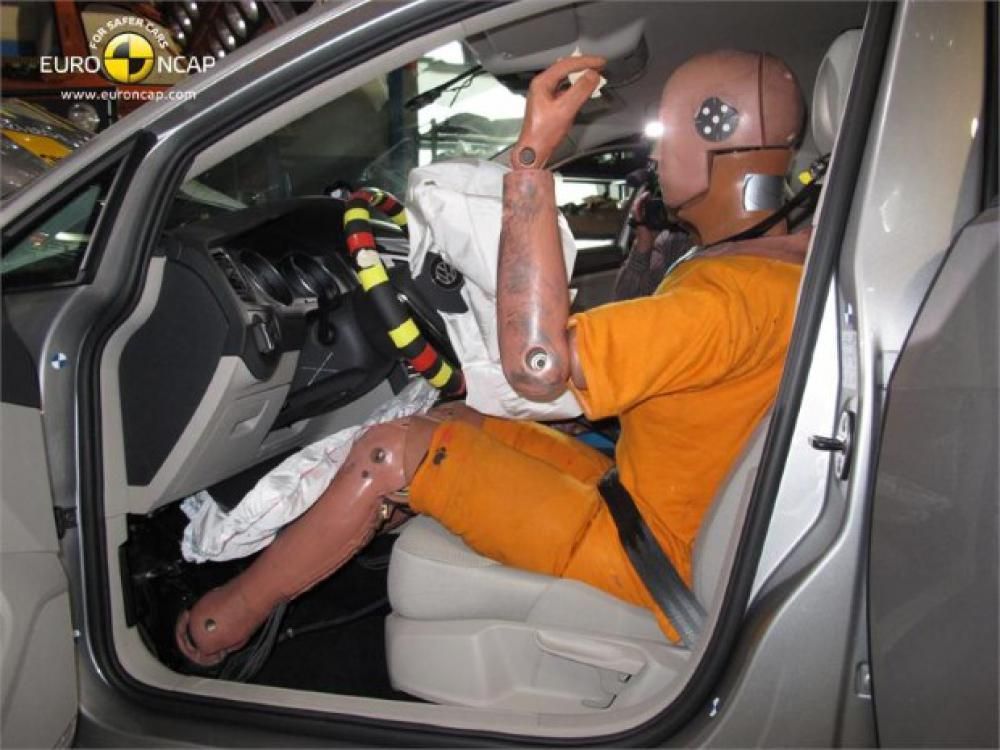 Mobile hubs will also be open nationwide to make it more convenient for customers to reach servicing venues and to ensure faster and easier airbag inflator replacement process. The locations and details of these Mobile Hubs will be announced soon.
In an effort to provide better platform for communication, Honda Malaysia has set up a special page productrecall.honda.com.my so that customers can log in to have better understanding on recall process flow.
For customers who have been notified by Honda Malaysia (click to enlarge)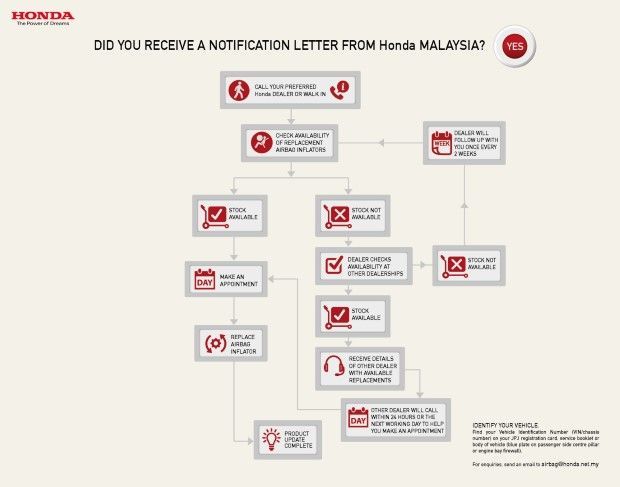 For customers who have not been notified by Honda Malaysia (click to enlarge)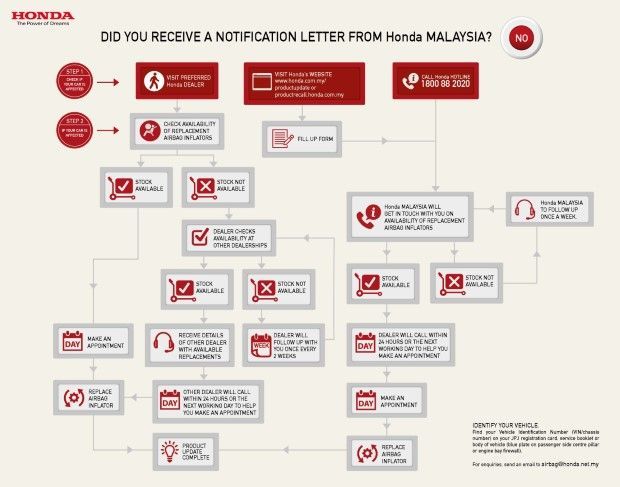 Honda Malaysia Sdn. Bhd. continues to alert and inform customers of the importance of replacing the affected vehicles' airbags. Honda Malaysia has undertaken the following measures to reach the owners of vehicles affected by the recalls, including:
Mailing more than 240,000 letters to owners.
Advertising campaign and issued press releases to notify the public.
Notice and VIN (chassis number) search of affected vehicles on the company's official website.
Outreach campaigns at all on-ground activities and roadshows.
Sending email to more than 35,000 owners.
Blasting SMS to more than 126,000 customers.
Share information about the recall in Honda's 'With Dreams' magazine.
Phone calls to customers - calls made to more than 2,000 customers.
---
---
---
Comments