Test Drive More Vehicles From 15 Brands At The Carlist.my MAA Drive Event
Auto News If you happen to be thinking of purchasing or car this year, or happen to be in the midst of looking for your next ride already, we have great news for you.
Carlist.my, in partnership with the Malaysian Automotive Association, Caltex and Public Bank, is organising the 'Carlist.my MAA Drive, Test & Buy 2017' event this 13 and 14 May, where 15 automotive brands will be present under one roof with the most exciting deals waiting for you.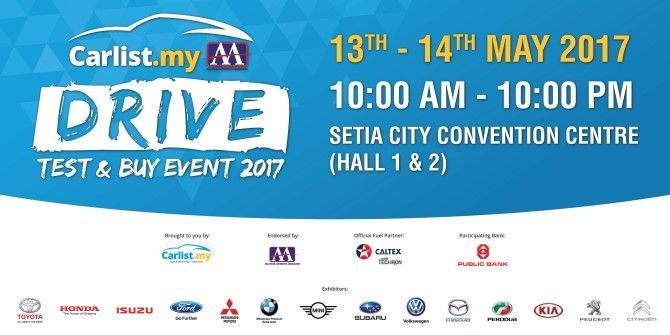 The brands that will be present during the two day event include:
Toyota
Volkswagen
Perodua
Honda
Mazda
Subaru
Kia
Isuzu
Ford
Mitsubishi
BMW
MINI
Peugeot
Citroen
DS
With all these brands at your service under one roof at the same time, visitors can test drive various vehicles in just one place in the same day, without having to visit one showroom after another.
Speaking of test driving, what you will experience at the Carlist.my Drive, Test & Buy event is nothing like a typical visit to a 3S centre, as there will be a very comprehensive testing ground which even includes a proper off-road course for those who are looking for a pickup truck.
Think about it – where else in the country can you get to test and compare pickup truck and SUV models from different brands through a proper off-road course which includes a steep slope, wheel articulation course, as well as bunkers?
Another highlight of the event is that Public Bank will be present on location to help customers who wish to make a purchase facilitate their payments, making it the ideal place to get the best finance packages; deals that will not be available anywhere else at any time.
Besides new cars, the event will also play host to Carlist.my's very own "Grand Prix Challenge" where RM30,000 worth of Caltex petrol vouchers, and a muscle car worth RM450,000 will be given away to a lucky winner who purchases a new car anytime between now and June 30 2017 using the Carlist.my website.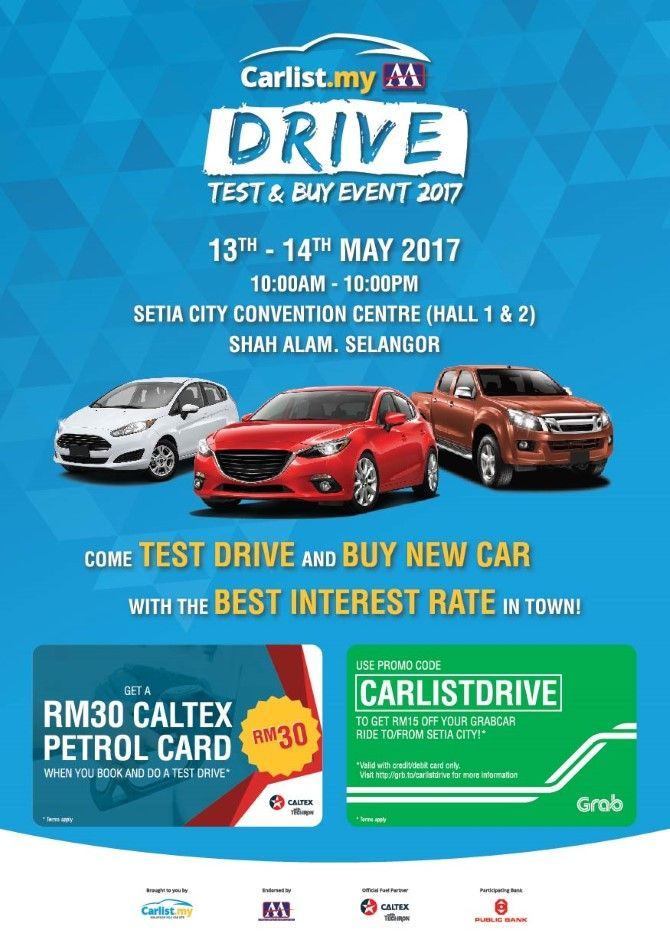 Customers who book and complete a test drive at the event will also receive a RM30 petrol card from Caltex (limited to the first 400 test drives per day).
If you are not keen to drive to Setia Alam, you might want to take advantage of our promo with Grab. Enter the promo code CARLISTDRIVE on the Grab app to get a RM15 discount on your ride to/from Setia City Convention Centre.
Open from 10.00am to 10.00pm on both days, visitors are encouraged to not only to see the different models of cars on display, but also to take as much photos and videos as they can as various competitions and mystery prizes await them.
Unlike typical car shows, the Carlist.my Drive, Test & Buy event is actually a family oriented event, where there is something for visitors of all ages such as immersive virtual reality (VR) and F1 simulators, remote control racing cars, inflatables, Kidzania activities, as well as a ladies lounge with manicure, pedicure and massage services.
Another highlight of the event is the food street parade, where a large number of renowned food trucks that comprise all of Malaysia's favorite food and drinks will be on site to fulfil the needs of the throats and bellies of everyone present.
That said, come and join the fun at the Drive by Carlist.my event where you can not only get your hands on a large selection of new cars and get best the interest rates, but also stand a chance to win a muscle car worth RM450,000!
So bring your family and friends along to the Setia City Convention Centre on 13 and 14 May to enjoy the food, activities and everything that has been arranged for you.
Not sure which car brand to buy? Here's a simple guide for you to help you start researching for your next car.
---
---
---
---
Comments