UMW Toyota Motor Confirms Plans For Second Plant In Malaysia
Auto News Following the scoop by Japan's Nikkei Asian Review last week, UMW Toyota Motor announced today that it will be investing RM2 billion into a new vehicle manufacturing plant in Bukit Raja, Selangor.
The company did not elaborate on what models the upcoming plant will be producing, other than saying it will focus on producing passenger cars that comply with the government's guidelines for Energy Efficient Vehicles (EEV).
The investment, which includes land, building, and equipment as well as fees for engineering support from Thailand's Toyota Motor Asia Pacific Engineering and Manufacturing, will be financed by UMW Toyota Motor.
Construction for the 670,000 square metre plant will begin in the second half of this year, and will be operational by 2019, with an initial capacity of 50,000 vehicles per annum. The company did not reveal the maximum production capacity of the Bukit Raja plant, but said that it will expand UMW Toyota Motor's combined production capacity to between 90,000 and 100,000 units.
Presumably, this will mean that capacity the current Shah Alam plant (67,000 units annually, without overtime or holiday shifts) will be downsized.
The company also adds that when the new Bukit Raja plant is ready in 2019, the Shah Alam plant will be retooled to focus mainly on commercial vehicles, with production of some passenger vehicles transferred to Bukit Raja.
The new plant will be operated by UMW Toyota Motor's subsidiary Assembly Services Sdn. Bhd. (ASSB).
Despite the seeming lofty production capacity, UMW Toyota Motor says there are no plans to export any vehicles produced at the Bukit Raja plant.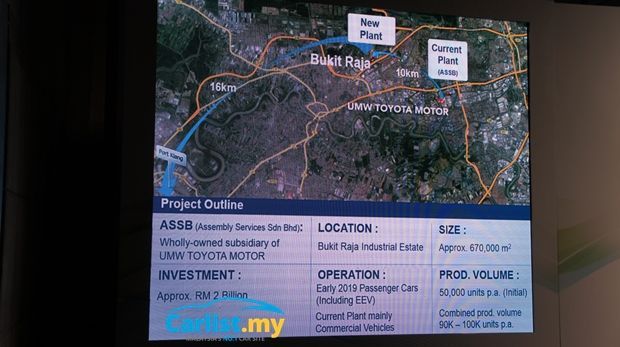 Currently, all Malaysia-assembled Toyota vehicles are built at ASSB's existing plant in Shah Alam. Built in 1968, it is the second oldest car plant in the country after the Swedish Motor Assemblies plant in Shah Alam, which has been producing and exporting Volvo cars and trucks since 1967.
The Shah Alam plant currently produces the Hilux, Fortuner, Innova, Hiace, Vios, and Camry (including Camry Hybrid). Except for the Hiace (standard wheelbase model), which is also exported to Thailand, all other ASSB-assembled model are exclusively for our domestic market.
Apart from the ASSB assembly plant, UMW Toyota Motor also has three other plants in Shah Alam – Toyota Auto Body which stamps metal body panels, Automotive Industries Sdn. Bhd. (AISB), which makes exhausts and components for instrument panels, and Toyota Boshoku which makes seat frames.
---
---
---
---
Comments