VIDEO: Meet MARTY, The Awesome Self-Driving And Self-Drifting DeLorean
Auto News Stanford University is known for fostering some great technical minds, feeding the growth of the Silicon Valley's seemingly insatiable demand for the best and brightest. This time, some students (under the direction of their Professor, Dr. Chris Gerdes) have unveiled MARTY, their fast and furious (and intelligent) DeLorean DMC-12.
Them taking the wraps off their own DeLorean now, during the throws of 'Back To The Future Day' (October 21st, 2015) is no coincidence, paying tribute to the popular 80s film series and its iconic time-travelling vehicle, not to mention naming it after its main protagonist.

The team received help from the university's Revs Program and Renovo Motors. With MARTY (short for Multiple Actuator Research Test bed for Yaw control), they have transformed the DMC-12 into a high-performance, electrically-powered research test bed to push the limits of autonomous driving.
The car was designed to go drifting. And much like in the Back To The Future movie where Doc Brown cites the DeLorean's stainless steel construction being ideal for 'flux dispersal', the this DeLorean's rear-mounted powertrain hold made it ideal for throwing the car's weight into a drift.
But the DeLorean's original V6 engine and transmission were taken out to make room for an high-powered electric motor from Renovo that delivers an insane torque output of 5423Nm, apparently. When it comes to breaking traction and spinning up those rear wheels, we suppose you can never have too much torque.
The car's steering system was also swapped out for a computer controlled circuit that could hydraulically actuate wheel angle with millisecond reaction times. But all that would mean nothing if the car's programming did not sense what steering alteration to input during a given drift angle, grip level, and motor output.
But looking at the video, it looks like they've nailed. The fist bump gives it away.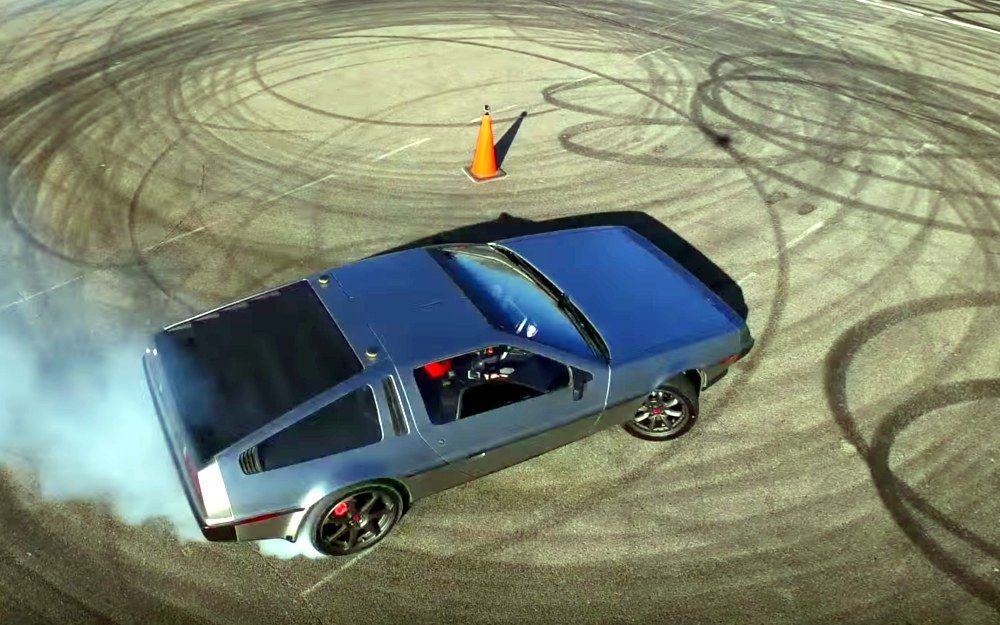 Professor Gerdes said: "The laws of physics will limit what the car can do, but we think the software should be capable of any possible maneuver within those limits. MARTY is another step in this direction thanks to the passion and hard work of our students. Stanford builds great research by building great researchers,"
MARTY has been tested for its autonomous drifting capabilities in wide open spaces but in the future the Stanford team wants to train the programming to drift around a track – won't that be an amazing thing to behold!
Gerdes hopes that the car will eventually be able to compete against human drifters in a drift tournament with the best of them. They're off to a great start so far.
Minor note: I wish they'd kept the original DeLorean's rims.
---
---
---
---
Comments