2015 Honda HR-V Full Review: It's H For Hipster With This Honda
Reviews It's been 20 years since Honda last came out with a hit global product - the Honda CR-V in the mid '90s. The CR-V was aimed at the Gen-X crowd, folks who no longer want a ubiquitous sedan like the Accord.
If the CR-V is for the Gen-X crowd, today, you have the Gen-Y Millenials, kids who were babysat by Transformers and Captain Planet. The thing about Millenials is that they, more than any other demographic group, don't want to drive the same type of cars as their parents, because "Yolo" - if you don't understand that, you are not a Millennial.
Thus explains the genesis of the HR-V. Honda says the 'H' in the HR-V refers to 'Hip,' as in Hip Runabout Vehicle. I rather call it the Hipster's Runabout Vehicle.
How Does It Drive?
I have already experienced the HR-V before but that was based on the Thailand market model, with slightly different specifications. You can read about my early impression here (page 147) and that of my colleague Gerard here.
Compared to the Thailand specifications model, ours have a different tail light cluster, grille, sans paddle shift and sunroof, and misses out on the 17-inch wheels - which as we will explain later, is actually a good thing.
Eager drivers will be pleased to know that the HR-V is engineered by a group of like-minded enthusiasts.
Take Mr. Kojiro Okabe for example, the soft spoken Assistant Large Project Leader (Honda's equivalent to assistant chief engineer) who hung out with us during the test drive session. When asked what is his favourite activity, "Toge," was his answer, referring to the Japanese word for mountain pass roads.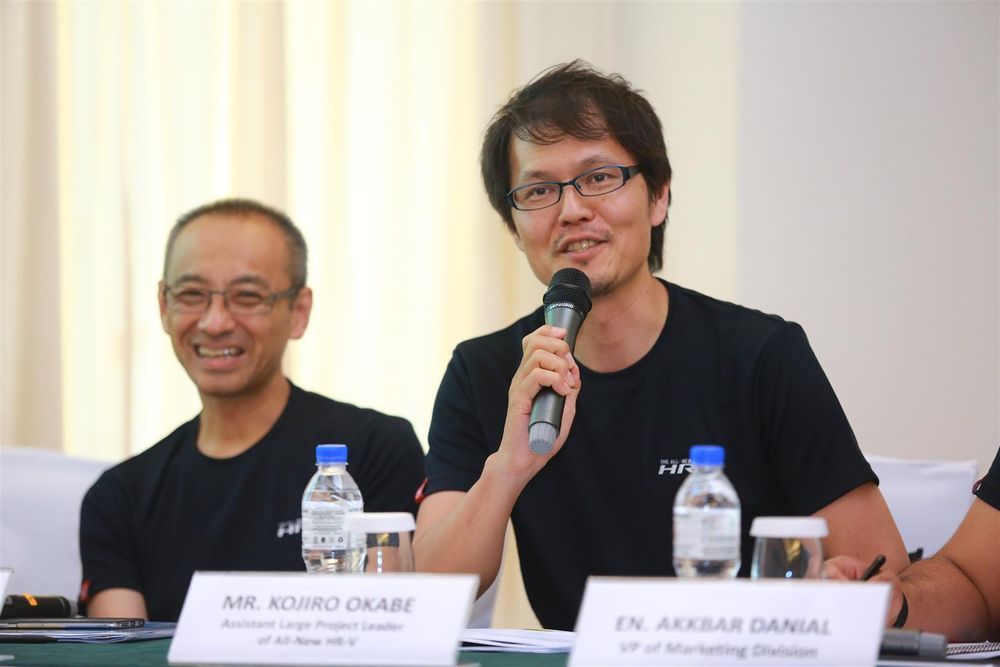 Okabe-san is a huge fan of the Honda S660. In his free time, he enjoys riding his Ducati Hypermortard on the mountainous roads in Tochigi, where his Honda R&D office is located.
With just a modest 142 PS, 1.8-litre SOHC i-VTEC engine under the hood driving the front wheels via an equally pedestrian CVT, the HR-V is far from being a performance vehicle, and it doesn't pretend to be one either, and I like that honesty.
The HR-V is best enjoyed at speeds around 120 km/h. Cabin insulation is significantly better than its peers (which we will put to the test later) but push it any harder, the power deficit becomes obvious.
Without the option of paddle shifters, overtaking on dual carriage ways have to be planned well in advance. Knocking the shift lever down to S mode doesn't make much difference, as despite the S moniker, there is no 'Sport' mode shift mapping.
Instead, S mode is meant for driving downhill, with the CVT set to hold on to a lower virtual ratio longer for engine braking.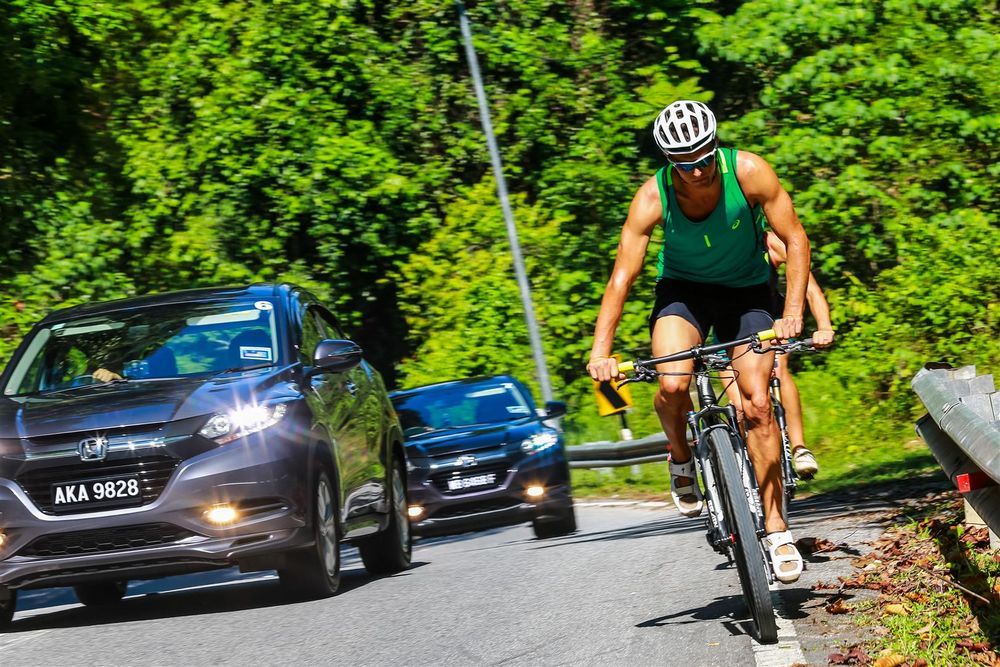 Although the engine is shared with a Civic, the HR-V's driving performance is noticeably poorer than the Civic. Standing starts are fine (Honda did not provide any 0-100 km/h figures but says it is class leading), but in-gear accelerations lack punch.
Between the Civic 1.8 and the HR-V, the latter is only 24 kg heavier so much of the duller performance is attributed to the economy-minded CVT, which on the upside, is instrumental in the HR-V's very respectable observed fuel economy of 13 km/litre, despite packing three adults on board and a lot of full throttle, hard driving on mountainous roads in the inner parts of Langkawi.
While I wished it had more power, I do love the HR-V's handling. Dive into tight switchback corners, it is easy to continuously adjust the HR-V's attitude as the rigid body hardly showed any signs of flexing, even when subjected to very high lateral forces.
Although the HR-V is only paired a humble 142 PS engine, Okabe-san confirms that the HR-V's chassis has been over-engineered to accommodate over 200 PS. So in theory, a HR-V Type-R is not impossible although he did add that its suspension will have to be heavily altered to accommodate the higher power output.
In its sister-car the City and the Jazz, the overly light steering makes it difficult to fully exploit the chassis' wide breath potential. In the HR-V, I am pleased to note that the steering feels a few notches heavier, giving the driver better feedback of what's happening at the front axles, without making it too cumbersome for urban driving.
Ride and Handling
Ride comfort is good but not as good as I expected it to be, a gentle reminder that this is still an SUV and some compromises over a sedan is to be expected.
Compared to a City, the HR-V's ride feels slightly firmer, especially for occupants in the rear. Going over rougher strips of tarmac, rear occupants can feel quite a fair bit of busyness from the rear's torsion beam suspension.
However compared to the harsh riding 17-inch wheels Thai-specs test car that I tried earlier, our local models with 16-inch wheels are a lot more pliant.
Despite the slightly firmer dampers, there's still a fair amount of body roll when you push it hard into a corner. Some may not like it, but it's ideal for me as I personally prefer positively controlled body roll, which I find crucial in helping me to gauge the limits of the car, especially for a taller riding one like the HR-V.
Conversely, a firm tall riding car with minimal body roll can be very dangerous as the driver doesn't get sufficient feedback on how close he is to the car's handling limits until it is too late.
Okabe-san also revealed there is one prototype HR-V which was setup to handle as beautifully as a go-kart, but the team concluded that its on-limit behaviour is too extreme for the HR-V's target customers.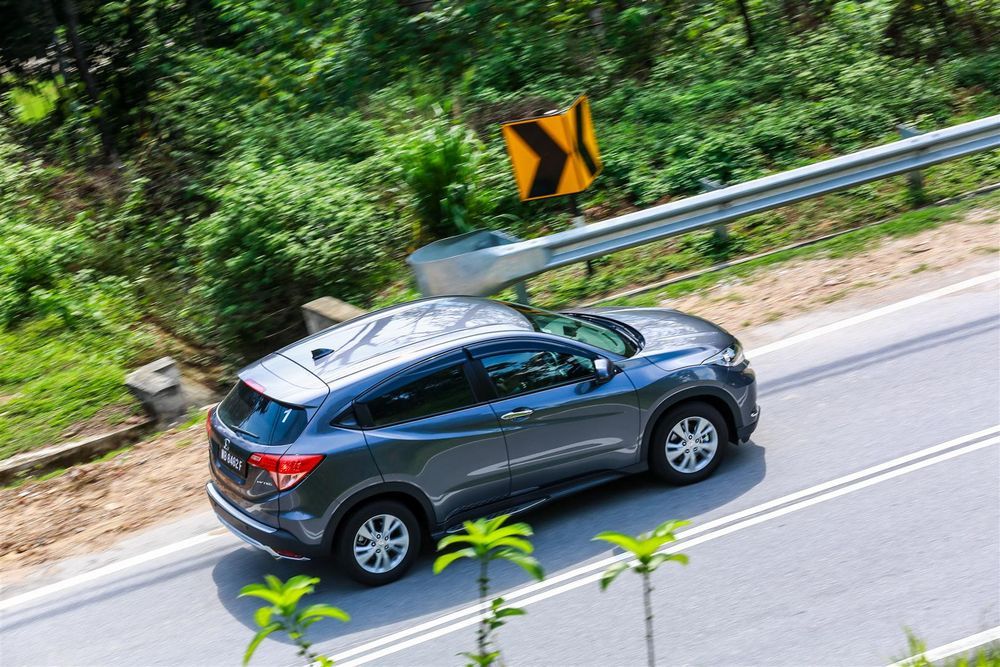 Once you get used to the HR-V's characteristics, you will soon learn to use the body roll to your advantage to adjust the car's approach towards a cambered corner, allowing you to string together a set of corners quickly and safely.
To gauge the HR-V's prowess in tackling mountainous roads, Honda also gave us the keys to several competing SUV models, including the Mitsubishi ASX, as well as several indirect competitors like the Mazda CX-5 2.0 4WD, Hyundai Tucson, and Kia Sportage.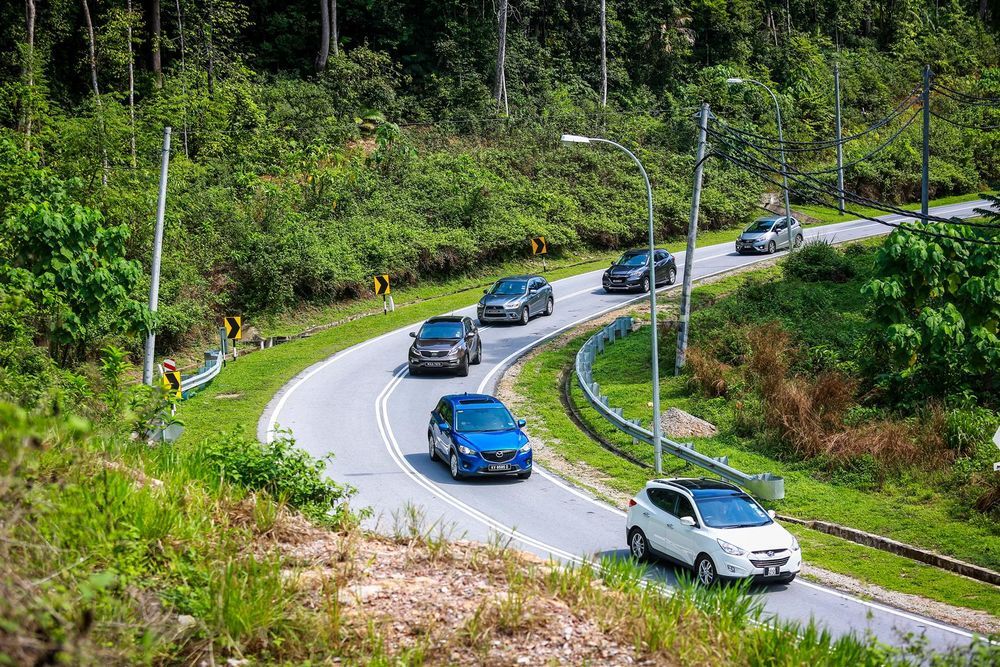 Blasting through the mountains near the Andaman, it was only the CX-5 that could keep up with the HR-V confidently, and that is also because of the CX-5's added 4WD traction.
Another test was done by driving the HR-V and same set of competing models over simulated rough roads, at 35 km/h with the air-conditioning switched off and the cabin's noise level measured using a Sound Meter app downloaded on our mobile phones. Granted, this method is not very scientific (different tyres were used) to be conclusive but it was good enough as a reference. The HR-V recorded an average of only 69 dB, 1 dB less than the Tucson, 2 dB less than the Sportage and CX-5 but 3 dB lower than the ASX.
All our test HR-Vs were running on Bridgestone Turanza 215/60 R16 tyres.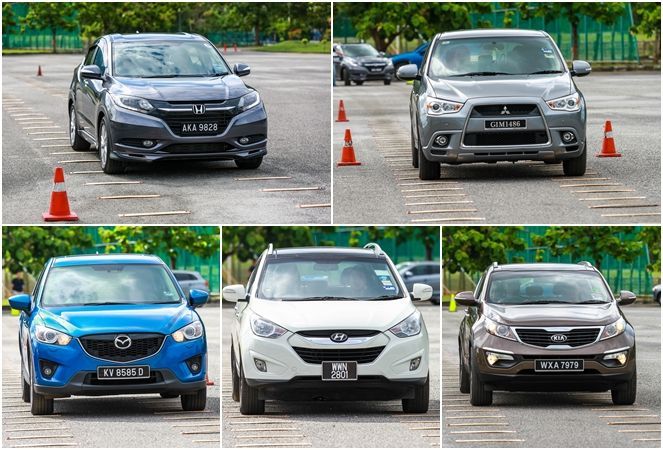 Okabe-san explained that the reason behind the HR-V's impressively quiet cabin is partly due to the use of a one-piece insulation material under the cabin's floor.
"In the past, many pieces of insulation materials are joined together like a jigsaw puzzle, but gaps are inevitable and with this one-piece material, insulation is now more effective," said Okabe. He also explained that the rubber seals along the door frame is also done much better than earlier Honda models, as the HR-V uses a one-piece door frame and thus does not require any additional spot welding between the upper and lower portion of the door frame.
Interior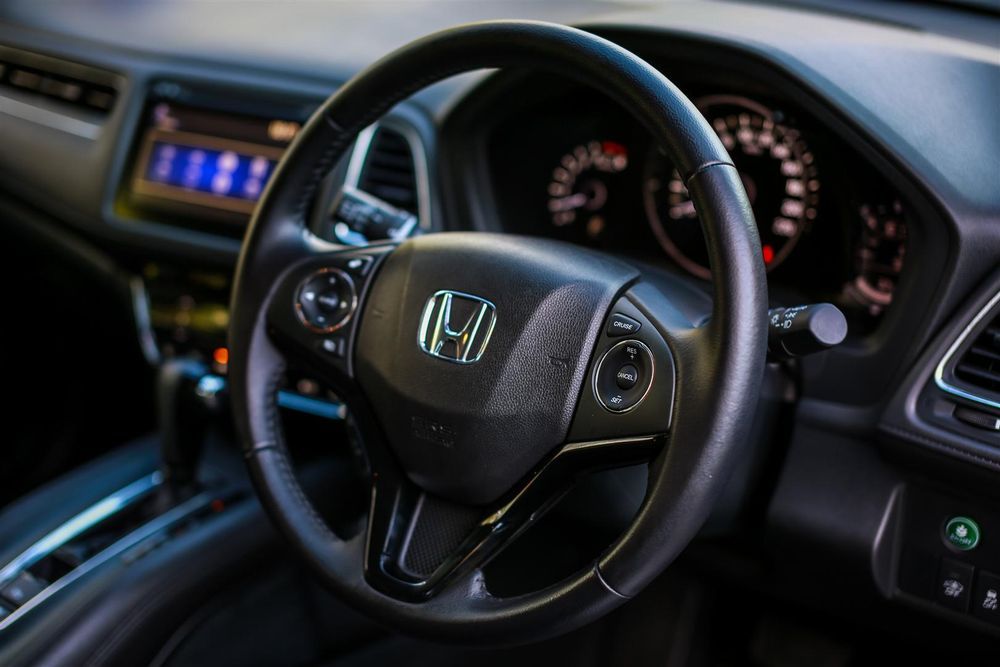 Inside, I am once again reminded of what a beautiful place the HR-V's cabin is to be in. The dashboard is lined with soft-touch material end-to-end and so are main parts of the door panels. There's a general sense of premium touches throughout (keeping in mind that this is not a premium car).
The two-tier transmission tunnel adds a touch of sportiness to the interior but the utility pocket at the lower tier is a tad too small for my liking. Okabe-san explained that this is because the gear shifter on all HR-Vs with the regular engines are still mechanically linked, and that takes up space. In the HR-V Hybrid (not available here), a more compact shift-by-wire (SBW) gear shifter is used and the utility pocket on that model is bigger.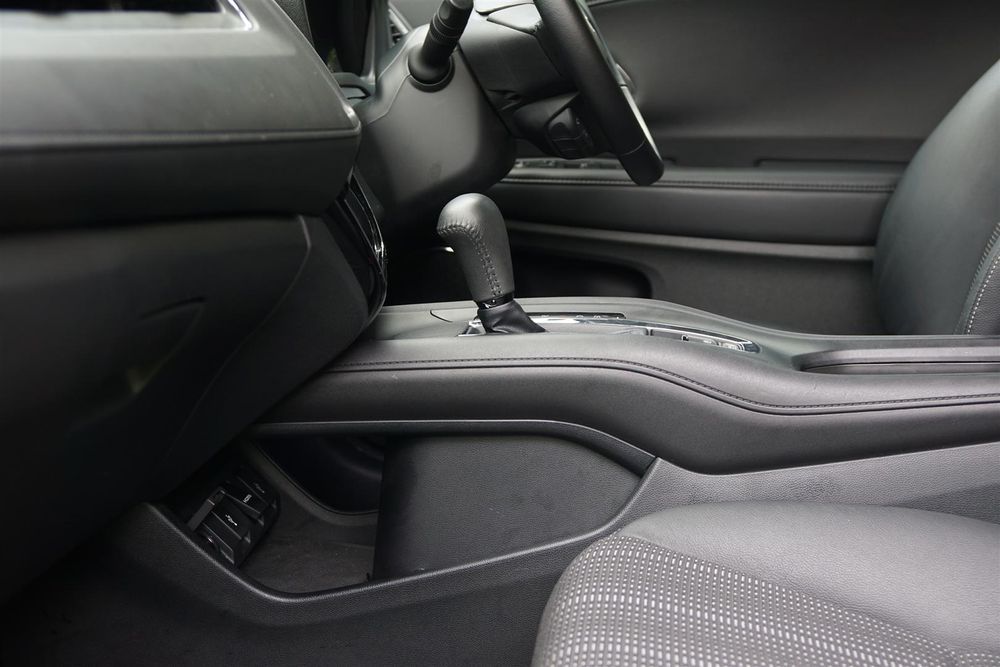 Being a Honda, interior space is guaranteed to be class-leading. Cargo volume is rated at 437-litres with the rear seats up, and as you can see from the images below, its practicality is comparable to larger SUV models from one segment above, including the Kia Sportage and Hyundai Tucson.
The tonneau cover is very user-friendly too. In most SUVs, the tonneau cover rolls up within a large, bulky bar, which you have to somehow throw inside the car if you wish to fold the seats down to carry large cargo. In the HR-V, the tonneau cover is a thin piece of fabric that can be folded away like a sunshade cover. Brilliant!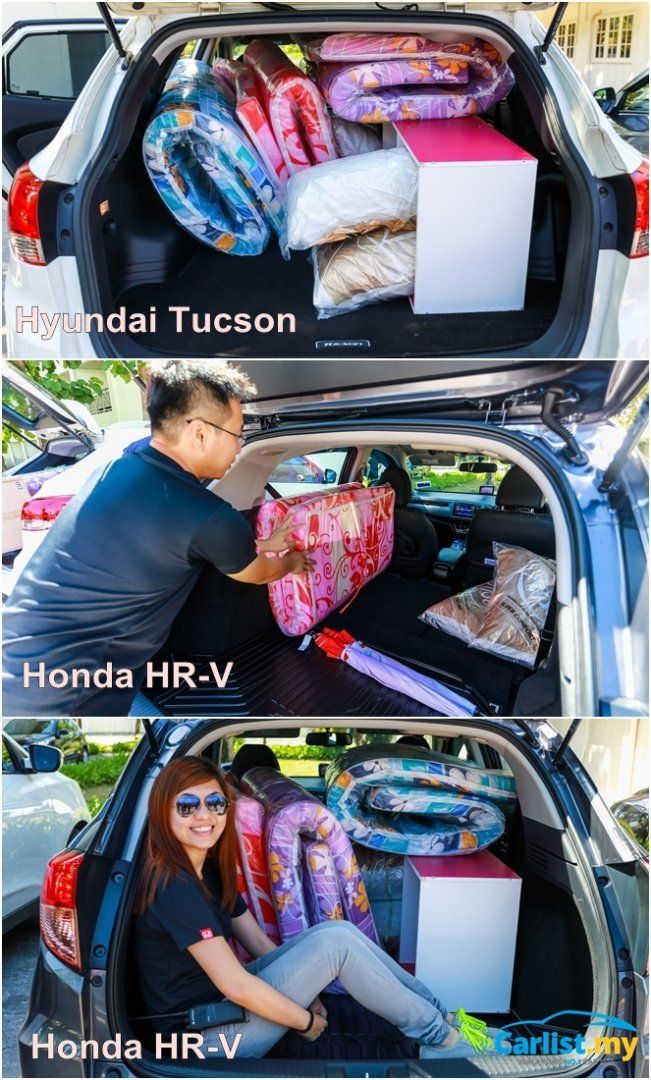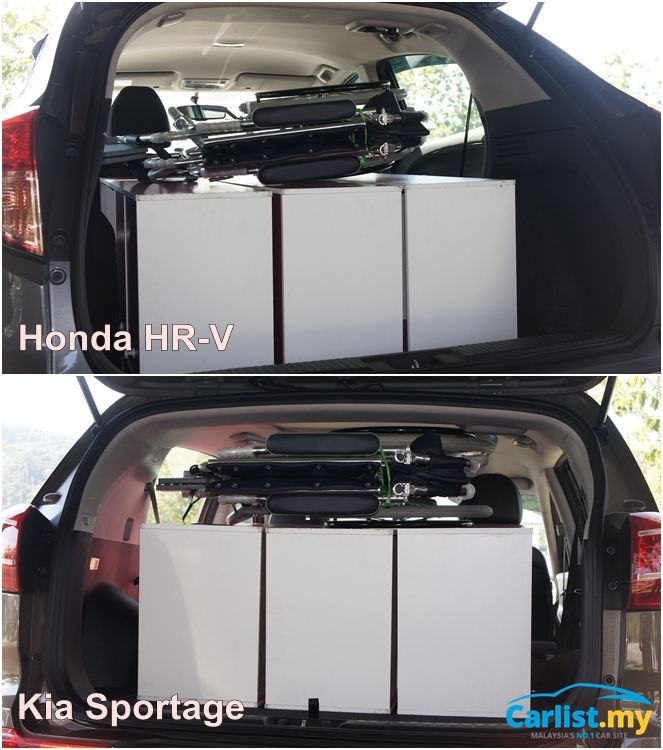 And of course, there's the centre fuel tank layout - a patented signature feature of Honda's Global Small Car platform that underpins the Jazz (and City too but the current model uses conventional rear-mounted fuel tank), HR-V and Shuttle - which endows the HR-V's seats to do a lot of 'magic tricks' as you can see below.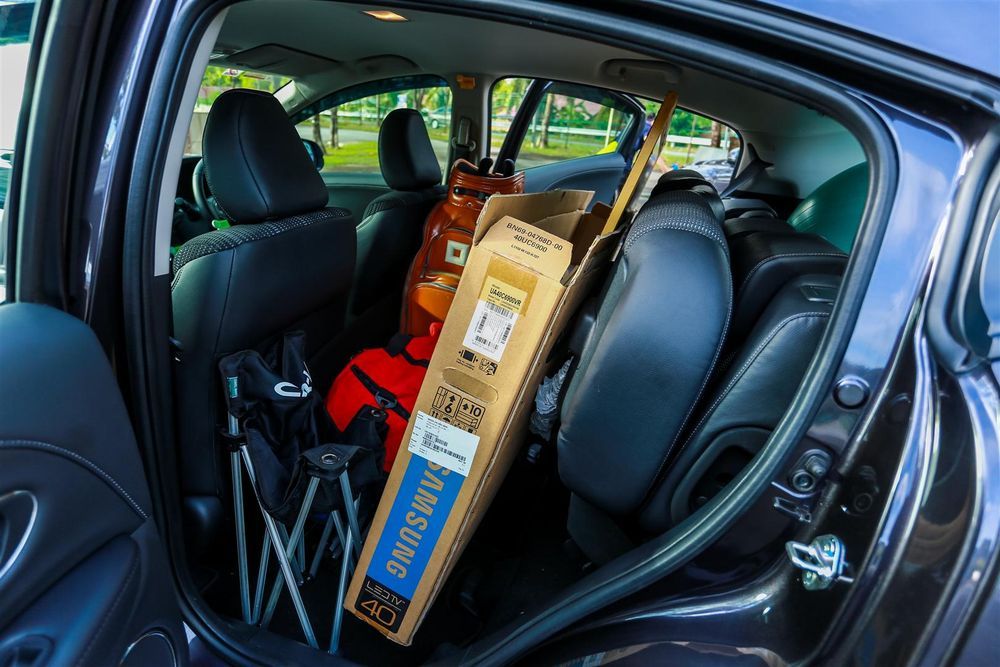 Rear legroom is excellent, and is definitely comparable to a CR-V, but of course, its shoulder room is still less than the CR-V.
The cup holders on the transmission tunnel can be flipped over to open up a deeper space that accommodates larger bottles.
The reverse camera is also unlike what's commonly found in competitor models. There's three modes to choose from - wide to check against cross traffic, normal, and top-down view which helpful when reversing near hazards like uncovered gutters, uneven ground or even high kerb.
We also like the fact that active safety features like electronic stability control (ESC) or VSA in Honda speak, is a standard feature. This is how all cars should be specified. Of course it would be great to have everything in the options list but that would only inflate a car's so cost something has to give.
ABS, ESC (or VSA) and two front airbags are the minimum standards, as recommended by FIA, and Global NCAP. Active safety features like ABS and VSA, which prevents an accident from happening in the first place, are more important than passive safety features like airbags.
A demonstration of how VSA controls understeer was simulated when the HR-V was forced to suddenly swerve to the left at 65 km/h, with the left side of the car hitting a wet heavy duty plastic strip to simulate uneven traction on either sides of the car (which can cause to car to go into an uncontrolled spin), before swerving right again. By applying appropriate braking force to the individual wheels, VSA keeps the car under control but of course, how well this works in real life is highly dependent on the available traction on your tyres, and the driver's ability to do the necessary corrective measures as VSA cannot alter the laws of physics.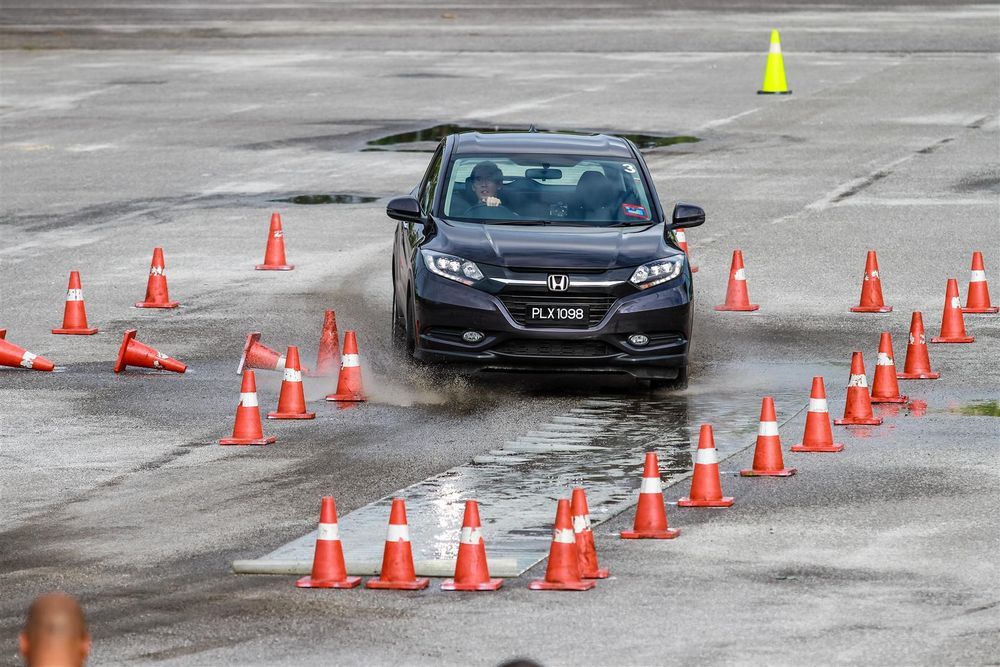 What's Not To Like?
I wish I could say that the HR-V is an over-hyped product, just for the sake of counter-balancing this overly positive review (I don't recall give so much praise to a new product, except for the very impressive Mazda 2).
I also want to believe that the upcoming Mazda CX-3 will likely be better (keeping in mind that concluding so is a bit presumptious). But while it might drive better, it is safe to say that the Mazda is not going to match, let alone trump, the HR-V's practicality, if past Mazdas are any reliable indication.
Yes, I wished the HR-V's transmission was more responsive, but it's not like the competition is offering anything better - the dual-clutch transmission in the Ford EcoSport is jerky in traffic while the Peugeot 2008's 4-speed automatic is just archaic, and the CVT in Mitsubishi ASX and Subaru XV are far noisier than the Honda's.
Everytime I find something on the HR-V to pick on, I am reminded that there's little point in doing so because it's not like the competition is offering a better alternative.
The only problem for the HR-V is not its competition, which it is already standing heads and shoulders above of.
With over 13,000 orders placed in less than three months after its launch, the HR-V is going to be a very common sight on our roads soon, which is not so good for the individuality seeking hipsters that the HR-V is aimed at.
The model is so popular worldwide that Honda's lead plants in Japan and Thailand are struggling to cope, leading to a shortage of assembly kits for the locally-assembled HR-V.
Book one today and you can only expect to get your car in six months, but Honda Malaysia's Managing Director Yoiichiro Ueno said the company is working hard to bring this down to a reasonable 3 months very soon.
For more information on the Honda HR-V's variant line-up, price and features list, go here.
---
---
---
Comments