2015 Isuzu MU-X Info Hub: Everything You Need To Know, Right Here
Buying Guides The 2015 Isuzu MU-X is here, and yours for an introductory price of RM151,944 for the 4x2 variant, and RM164,969 for the 4x4.
The seven-seater Isuzu SUV based on the robust D-Max pick-up truck has been a long time coming: from the first rumours of its arrival, to the time we spied the mammoth vehicle in Malaysia, and to its various surprise roadshow appearances throughout the Klang Valley, we've covered it all for you in full detail.
We know that only two variants of the MU-X will be made available for sale in Malaysia: a 4x2 version, and a top-spec 4x4. Both vehicles are powered by a 2.5-litre VGS turbo-diesel, which is paired with a five-speed torque converter automatic transmission. Resulting power output is a hefty 136hp and 320Nm of torque.
For a premium of RM13k, the top-spec 4x4 comes feature-packed, and includes highlights such as:
Automatic climate control
ISUZU Infotainment Audio Aystem (Blaupunkt)
Multimedia DVD Player with Mirror Link, WiFi, USB, Bluetooth connectivity
Rear DVD monitor
GPS Navigation & Reverse Camera
Cargo organizer box
Tonneau Cover
Cruise Control switches on the steering wheel
For a complete look at the all-new 2015 Isuzu MU-X prior to its big launch day, here's a compilation of every report we've put together for you from over the last few months, just in case you've missed any of it.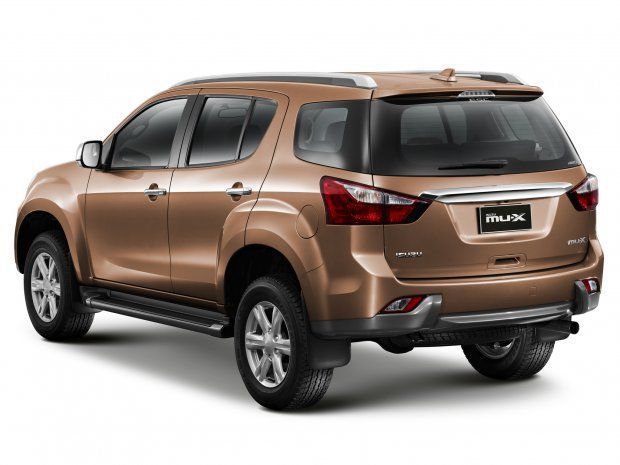 2015 Isuzu MU-X Launched In Malaysia! Get The Full Report Here
Finally! Here is the new 2015 Isuzu MU-X launched in Malaysia! Introductory prices still remain, but here's a full look at the Malaysian-spec MU-X. With two variants up for grabs, get all you need to know right here.
Catch The Isuzu MU-X @ Sunway Pyramid Between Now & 7th June
Can't wait until the official launch of the all-new MU-X? You may proceed to check the car out at its on-going road show display happening now at Sunway Pyramid's Blue Atrium area. And if you like what you see, feel free to place your bookings at the special introductory price that range from RM152k to RM165k, now.
2015 Isuzu MU-X Quick Review To Cameron Highlands
Before the Isuzu MU-X had its grand debut, we were lucky enough to get a chance to review of the SUV on a drive to Cameron Highlands and back. Through the hills and back down again, here are our thoughts.
2015 Isuzu MU-X Price Confirmed At RM152k, But You Better Hurry
While on a special media test drive arranged for us by Isuzu Malaysia, the company also decided to surprise us with a press conference that officially revealed what would be the introductory prices of the two variants on offer. From RM152k to RM165k is what we were told, and you can get full details of that and more, here.
2015 Isuzu MU-X Full Spec Sheet Revealed, Two Variants Confirmed For June
Just before setting out on an official media test drive of the MU-X – our first real taste of the vehicle on Malaysian soil – Isuzu Malaysia shared with members of the media a look at the full spec sheet of their seven-seater. The two available variants were fully detailed for the first time, showing off lots of impressive gear as standard.
2015 Isuzu MU-X Previewed At Alamanda Putrajaya Roadshow
A rather humble appearance, Isuzu Malaysia quietly rolled in their all-new MU-X into the Alamanda mall in Putrajaya, alongside its D-Max sibling, for all to see. This was the first official unveiling of the MU-X in Malaysia, and also the first time we discovered that no 3.0-litre versions were on offer. An initial and brief spec sheet was shared, but we did our best to detail the top-spec variant on display for you.
SPYSHOTS: Isuzu MU-X Spotted In TTDI – Is The D-MAX SUV Coming To Malaysia?
There's no mistaking that front grille, is there? Thanks to a Carlist.my reader who sent us these photos, this was the moment we realised that an official launch of the MU-X was closer than we had initially believed. The vehicle was wrapped in camo, but a lot was still left to be detailed.
Isuzu Malaysia Appoints Kenji Matsuoka As CEO, Confirms MU-X SUV
In conjunction with the announcement of a new CEO, Isuzu Malaysia's new chief, Kenji Matsuoka also confirmed all speculations we had before of the arrival of the MU-X to Malaysia. This was the first official moment the ball got rolling for the all-new D-Max-based SUV, that would rival the Ford Everest, Toyota Fortuner, and Mitsubishi Pajero Sport.
---
---
---
Comments