2015 Isuzu MU-X Quick Review
Reviews Many serious 4x4 enthusiasts worth their transfer cases will tell you that Isuzu is a very well respected brand. Older folks will remember that there was a period of time in Malaysia when the Isuzu name was so synonymous with the 4x4 genre, that any 4x4 vehicle, irrespective of its make, were generically referred to as a 'Trooper,' a legendary Isuzu model that anyone born before the '90s will surely remember. It's essentially a Japanese Land Rover, minus the rosy-tinted heritage tales of Maurice Wilkes doodling on the beach's sands.
The '90s, characterised by post-bubble economy Japan wasn't too kind to Isuzu's fortunes and over time, Isuzu's heritage in building robust SUVs faded into a distant memory, at least as far as Malaysia is concerned.
Up north however, Thailand remains a bright spot for the company. In fact, Thailand has long overtaken Japan to become Isuzu's largest market.
Commonly referred to in Thailand as PPVs (pick-up truck passenger vehicles), these seven-seater truck-based SUVs enjoy a lower 18 percent excise duty, versus 35 percent for a passenger car-based five-seater Honda CR-V.
The unique taxation system, introduced in early 2000s, has created a new segment of pick-up truck derived SUVs – bringing to market the Ford Everest and Isuzu MU-7, followed later by the Toyota Fortuner and Mitsubishi Pajero Sport.
Several units of the MU-7 were imported into Malaysia to be used as company cars for the management of Isuzu Malaysia and you might have seen them on our roads.
However, as the MU-7 was already at the tail-end of its model life, Isuzu Malaysia elected to wait for the next-generation MU-X that you see here.
What is it?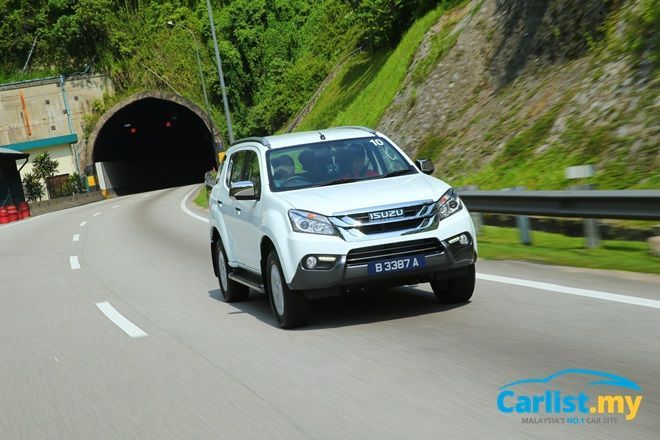 Being an SUV derivative of the D-Max pick-up truck, the MU-X's front is similar to the D-Max, differentiated only by the MU-X's two-tone lower front bumper and a different LED daytime running light.
Keen enthusiasts will have noticed that the MU-X looks very similar to the Thailand-market Chevrolet Colorado, itself an SUV version of the Chevrolet Trailblazer.
The Isuzu however, uses its own 2.5-litre variable geometry turbo system (VGS) commonrail diesel engine that's shared with the D-Max. Power output remains unchanged at 136 PS @ 3,600 rpm and 320 Nm @ 1,800 – 2,800 rpm.
While the 2.5-litre variants of the D-Max are locally-assembled at the DRB-Hicom plant in Pekan, the MU-X is imported from Thailand.
How Much?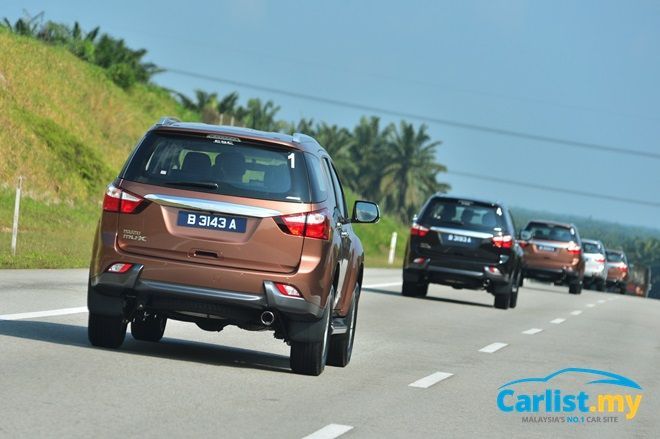 There are two variants on offer – a 4x2 and a 4x4 variant – with prices ranging from RM151,944.56 for the 4x2 Automatic, and RM164.969.84 for the 4x4 Automatic but these are introductory prices and is valid only until July 2015. Expect a slight increase in prices for orders invoiced after July 2015.
Prices quoted are on-the-road with insurance and GST.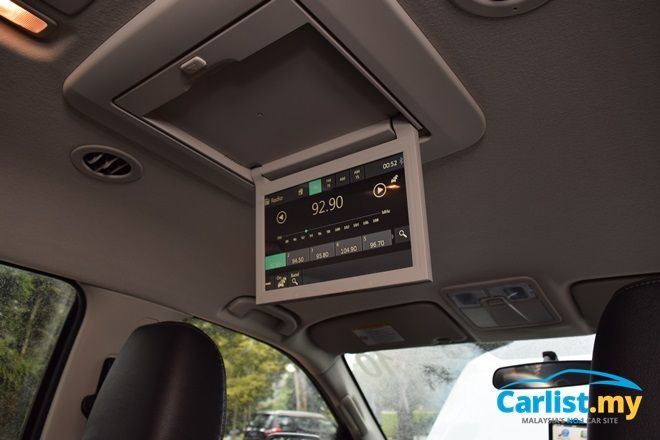 The extra RM13k buys you LED daytime running lights, cruise control, automatic air-conditioning, a Blaupunkt six-speaker touchscreen DVD infotainment system with GPS, reverse camera, and Mirror Link, as well as a roof-mounted monitor for rear passengers. The rear monitor can be set to either mirror what appears on the touchscreen in front (if you wish, the reverse camera's feed can be shown on the rear monitor as well) or to independently play movies from a DVD.
More importantly, there are no differences in active and safety features. Dual front airbags, ABS with EBD and BA, electronic stability control (ESC) and traction control (TCS), and ISOFIX child seat mounts are standard across the MU-X range.
How Does It Drive?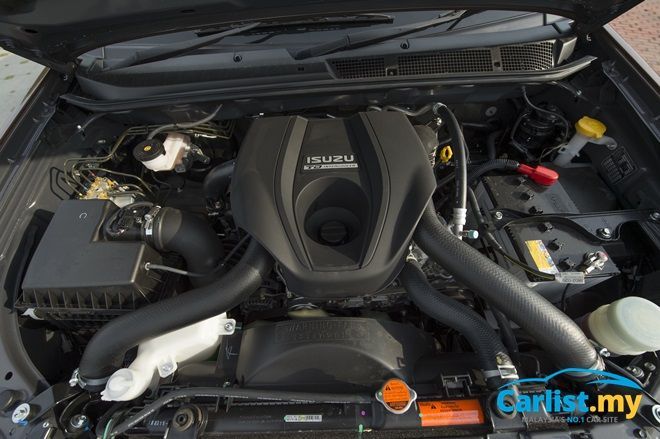 The 2.5-litre engine was fine in the D-Max, which I still hold to a very high regard, but in the significantly heavier MU-X, performance was only borderline adequate.
Typical of Isuzu, the MU-X's engine is very conservatively tuned, with a rather low peak power output.
In fact, it's surprising to see that despite being equipped with a variable geometry turbo (VGT, or as Isuzu prefers to call it – VGS), the MU-X's engine output merely matches that of a non-VGT powered Mitsubishi Pajero Sport GL.
Compared to a similar VGT-equipped Mitsubishi Pajero Sport VGT, the MU-X is down by 42 PS while the all-important torque is 30 Nm less. Its peak torque range is also quite limited, plateauing at 2,800 rpm, while the Mitsubishi still has 700 rpm more to play with.
Climbing up Cameron Highlands, I had to work the five-speed automatic transmission's manual override function often to keep the engine on the boil.
We hope the trade-off made by Isuzu in adopting a very conservative engine tuning will yield better long-term reliability, something which we cannot ascertain for now but considering the good track-record of two-generations of D-Maxes, there is little reason to doubt it.
On the upside, Isuzu engines are well known for their fuel economy. There were three adults and our gear on-board, and along the test drive, we took the liberty of breaking away from the convoy to snap some photos in rugged terrain, often having to leave the engine idling for long. As a result, we had to make up for a lot of lost time to keep to the schedule and there was a lot of full throttle driving. Despite all that, the MU-X still returned an average of 11 km/litre. That's very impressive for a seven-seater SUV.
First-time owners of truck-based SUVs might not like the 'looser' feel of the MUX's steering but this is actually a preferred setup for off-road vehicles to better negotiate deep ruts and rough terrain without sending too much kickback to the driver's fingers.
Snaking our way up Cameron Highlands, the MU-X's long travel, soft suspension did not do it any favours on these mountainous stretches. Oddly, it seemed to have poorer body control than the D-Max, which was surprisingly very comfortable to drive on-road.
As far as on-road handling is concerned, the Pajero Sport still has the upper-hand but we suspect the MU-X's soft, long-travel suspension will fare better once the road ends and the muddy trails begins.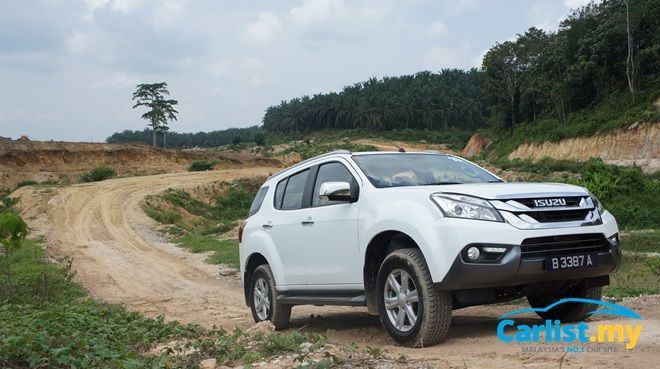 Switching from 2WD to 4WD mode is done by simply turning a Terrain Command's rotary dial on the centre console. Unlike the full-time 4WD (but thirstier on fuel) Toyota Fortuner, the part-time 4WD MU-X does not have a centre differential so owners should avoid engaging 4WD when driving on tarmac, as doing so will cause premature wear to the differentials and tyres.
How Comfortable Is It?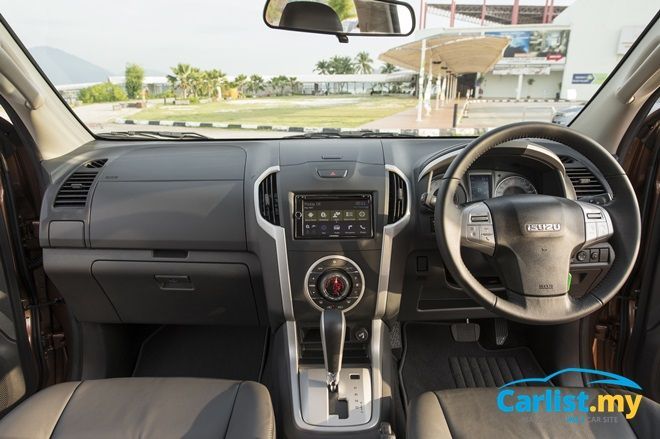 Getting off the mountainous sections and onto the flatter North South Highway, the MU-X displays a very different character, as it is able to cruise comfortably with the soft suspension riding over any imperfections.
Being a tall-riding pick-up truck-based SUV, with a large frontal section, I was expecting a lot of wind noise but the cabin was surprisingly very quiet even at speeds well above 120 km/h.
Isuzu's internal data says the MU-X has the lowest aerodynamic drag amongst its main competition – which we later learned, unofficially – refers to the Mitsubishi Pajero Sport and Toyota Fortuner.
Inside, Isuzu also said that the MU-X has the best interior space, with legroom in the third row said to be significantly more spacious than its main competitors – again implying the Pajero Sport and Fortuner as comparisons.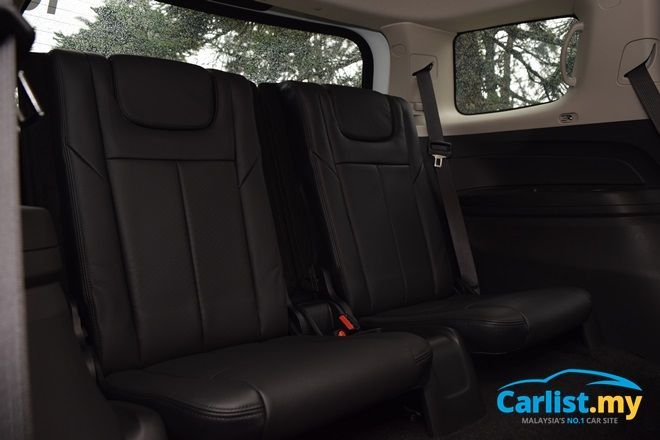 Being a newer-generation model, the MU-X benefits from the latest advancements in packaging know-how. Where the MU-X's older competition like the Pajero Sport and Fortuner uses bulky third row seats which are very difficult to stow away (you have to fold the seatback down and lift the heavy seats sideways to hang them by the side window), the newer MU-X features a cinema-like raised third row section. Simply pull a strap and the seats fold flat with the boot floor. It's so easy even a child can safely do it.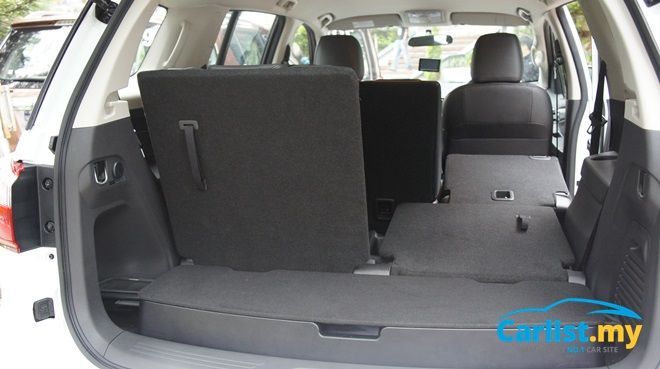 Despite using thinner cushioning materials, the third row seats are still fairly comfortable and adults can still fit in it without having to bring their knees too high.
One major challenge for large cars with spacious cabins like the MU-X is cabin cooling. While it is normal for cars in this segment to feature rear-mounted air-conditioning vents, some with separate blowers, Isuzu has gone one step further to fit a separate condenser unit for the rear. The condenser is tucked away beneath the arm rest on the right-side third row seat.
Verdict
What the Isuzu MU-X lacks in outright performance and on-road handling composure, is more than made up for it with its superior cruising comfort, quiet cabin, impressive third row legroom and excellent fuel economy. Throw in the proven durability of Isuzu vehicles – just ask the folks in rural Sabah and Sarawak, Isuzu Malaysia's stronghold – the MU-X has a lot going for it.
We also appreciate the fact that the very important safety feature ESC (second only to seatbelts in the hierarchy of importance), and three-point seatbelt for the middle second-row passenger is available as standard. Something which isn't found in any of its competitors, at least not until when the all-new Ford Everest is launched here.
Isuzu MU-X 2.5-litre 4x4 Automatic
Engine: 2.5-litre DOHC 4JK1-TCX commonrail diesel with variable geometry turbo
Power: 136 PS @ 3,400 rpm
Torque: 320 Nm @ 1,800 – 2,800 rpm
Transmission: 5-speed automatic transmission with sequential shift
Safety: Dual front airbags, ABS with EBD and BA, ESC, TC
Price: RM164.969.84 on-the-road with insurance and GST (introductory price until July 2015)
---
---
---
Comments