2015 Mazda CX-5 2.5L CKD Prices, Specs Revealed: From RM150k, Limited Units Available
Buying Guides With the 2.5-litre variants of the CX-5 only in CBU form at the moment, it looks like Bermaz Motor (official distributors of Mazda vehicles) are gearing up towards revealing their locally-assembled model for Malaysian sale.
If this spec sheet is accurate (as shared on a dealer's FB page), what we could be looking at here are prices and details of the Mazda CX-5 2.5-litre CKD (pre-facelift). Great news, but it's a bit troubling when the whole spec sheet isn't completely viewable – the top and bottom seem to have been cropped off for some reason.
*2015 Mazda MX-5 Prices, Specs Revealed For Malaysia
Prior to this, Bermaz's 2.5-litre CX-5 was offered in two variants (RM165k RM175k) – one of the reasons they had introduced a CBU 2.5-litre version so early on was because of the overwhelming demand for the SUV.
With the introduction of the locally-assembled versions, Bermaz has managed to slash up to RM16k off against their CBU (fully-imported) counterparts.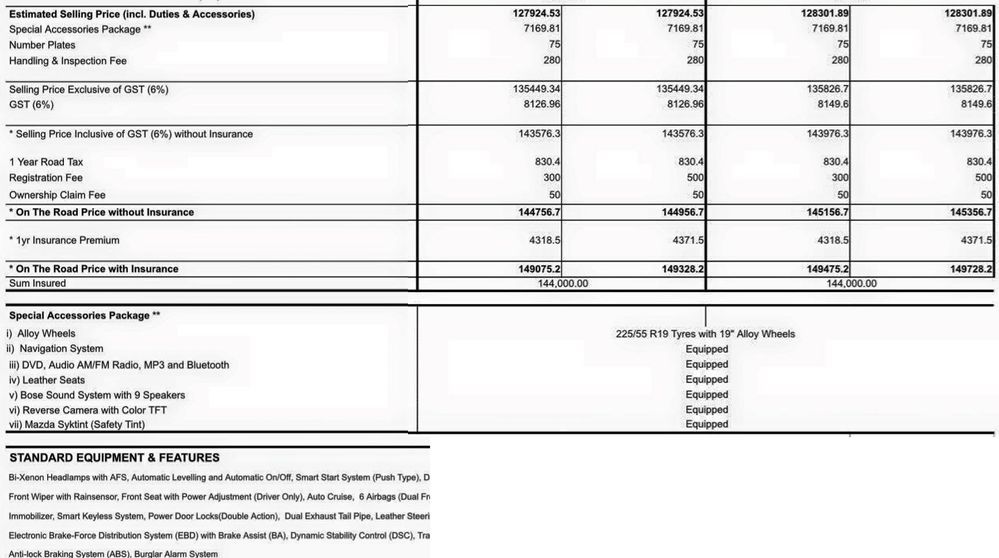 *Above image pieced together by us for your ease of viewing
For the pre-facelift model we have here, it looks like Bermaz is doing away with the 4x4, and keeping it to a pure 4x2 arrangement, and offering just one 2.5-litre CX-5 variant, with a choice of either solid or metallic paint.
Prices for the now locally-assembled 2.5-litre CX-5 4x2 (solid paint) starts from RM149,075, (OTR with insurance), while the metallic body paint version retails for RM400 more - overall, the local assembly has slashed prices up to RM16k against the fully-imported versions.
Current CBU CX-5 2.5-litre prices:
RM165,369 (4x2)
RM185,644 (4x4)
New CKD CX-5 2.5-litre prices:
RM149,075 (4x2, Solid Paint)
RM149,475 (4x2, Metallic Paint)
Speaking to a representative within Bermaz, we also understand that the pre-facelift CX-5 2.5-litre CKD here is also on a very limited run, so best hurry along to place your bookings.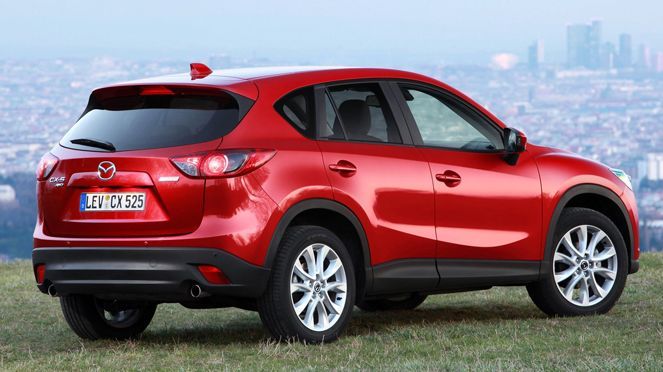 Where spec is concerned, it looks like the new range-topping, locally-assembled CX-5 variants are coming fully loaded, with the following being key highlights to look out for, listed under Bermaz's Special Accessories Package:
19-inch alloy wheels
Navigation system
DVD, Audio, AM/FM, MP3, Bluetooth
Leather seats
BOSE 9-speaker audio system
Reverse Camera with Colour TFT display screen
Mazda Skytint (safety tint)
Other standard equipment & features include (this part is again trimmed off from view):
Bi-Xenon headlamps with Adaptive Front-Lighting System
Keyless entry and Smart Start System (engine)
Leather-wrapped steering
Six-airbags, ABS, EBD, BA
Dynamic Stability Control + Traction Control
Again, do keep in mind that Bermaz is only offering a limited run of the pre-facelifted 2.5-litre CX-5 CKD, so best hurry along if you want one.
What about the facelifted CX-5?
Just months ago, however, a few selected dealerships quietly rolled in the CX-5 facelift, which again, was only offered as a CBU unit, with the 2.5-litre engine. As we understand it, those are still available for bookings, but do be prepared for the naturally higher price points: RM173k to RM183k (one a 4x2, the other a 4x4, both with equal spec).
We're still in the dark over when either 2.0-litre versions of the facelifted model may appear, or when locally-assembled begins for that. Stay tuned!
---
---
---
---
Comments