2015 Mercedes-Benz C-Class - Just Stick To Nothing But The Best
Reviews In recent times Mercedes-Benz had lost plenty of ground in the premium market, but Bobby Ang has witnessed Mercedes-Benz upping its game and is a professed believer of the three-pointed star. Strangely his moment of revelation came at a driver-training programme.
The last Mercedes-Benz I briefly drove was a year ago. It was the sleek four-door CLA 200, which I pulled up to a dealership to have a go at. As I rolled up in my Audi S4, the person who greeted me intuitively ushered me towards the beautiful CLS with a courteous, but very subtle outward spread of his firm arm. He was of course, a bit surprised when I head towards the CLA instead.
Reason? It's sleek, it's interesting. The speed with which Mercedes-Benz pulled the veils off the A, the CLA and then the GLA, and then proceed to pull off the AMG version of all three is just staggering. Not just from an engineering point of view, but the sheer confidence and audacity of it. The fact that the A and the CLA45 can accelerate faster than the CLS 63AMG is just brilliant. This is Daimler sticking a finger to VAG Group's staggered hierarchical approach to its performance cars.
But then the CLA 200 was a rather disappointing car. While many complained about its interior build, I for one have no problem towards hard plastics - in what way during daily driving do you poke your dashboard or rest your face on it? It's actually a motoring journalist conspiracy to help soft touch plastics suppliers!
Coming back, it's the seating position, the sound insulation, the suspension, the coarse engine and the slow transmission. All of which, otherwise would have been irrelevant if it were in the old boxy A-Class, which serves as the poster boy for "My first Mercedes". But for the CLA to be just an A-Class with a boot? Something's just not very right with the package as it retains its super stiff suspension, even when the product positioning is supposed to be different.
See, plenty of motoring journos are just wrong out there, throw them into an MPV, they go WRC B-road blasting and complained about body roll. Put them in a hot hatch, and they will complain about its hard suspension unsettling their dentures. But for a small sporty Ramen truck chasing, bridge jumping hatch, its sporty characteristics is a perfect fit for it, which also means it should have a certain 'attitude' in expecting you to live with its sporty-harshness.
As a sedan derivative of the A-Class, which was presented in a sleek and beautiful sexy body shell, it should have behave differently. If it doesn't, it only serves to expose the lack of depth in the overall engineering of the entire range, and marked it as a product that was rushed out as fast as the company could, just to inflate their profits.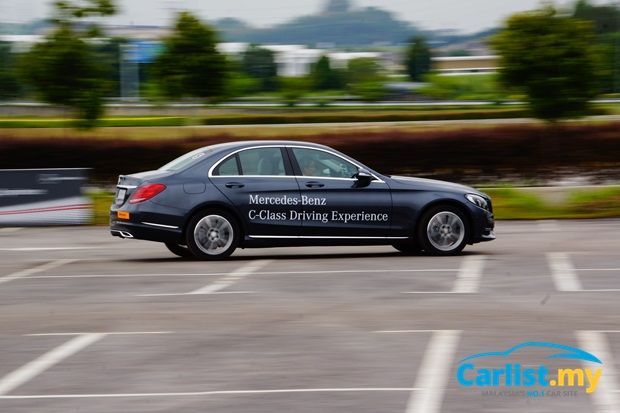 So coming back to the pictures you've glanced through, yes it is a 'C-Class Driving Experience', and compared to my previous experience in the CLA, I was really blown away with the C-Class when I first drove it late last year. Just as how the interior of new Mazda cars completely shames its competitors, the new C-Class' design revolution certainly has set new standards. Coming out from a base C200 and getting back into my S4, I felt like I had jumped into a Skoda. That's how well the new C-Class was designed and built.
So the day called for us to experience hard braking, kicking up the ABS intervention and all its safety nets just so we know how much faster it can actually come to a stop in an emergency, and continued steering our cars to avoid a crash even with the brake pedals buried in deep in the carpet. Yes, Mercedes-Benz is the pioneer for most of our modern in-car safety systems, and you can bet that they're still great at it.
To drive home the point further, my C-Class was later fitted with EasyDrift tyres that delivered a fraction of the traction of regular tyres, so there was plenty of oversteer to be had whenever my foot went near the throttle. This exercise was done to let me experience the difference Mercedes-Benz's ESP system made. With it on, the ESP safety net gave me the control to safely pilot the C-Class around in extremely low grip situations, but switching it off induced plenty of slides and fishtailing.
Put it simply, if your name has some Håkkinen sound-alike in there, then ESP is the nanny that won't let you have sliding fun when she is around. But if you're Har Kee Neng, then probably it's between life and death for you. Not only does the electronic nannies keep us safe, but there's a weird satisfaction drifting (when the ESP's off) while being cocooned in absolute comfort in the C-Class. Though I emerged from that session with a hankering to buy a set of those EasyDrift tyres.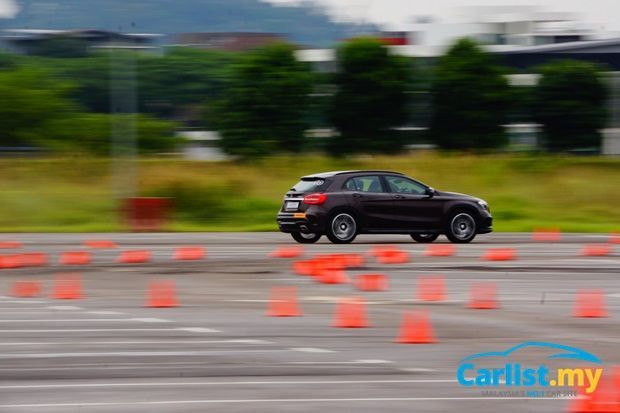 The last session of the day would be a short Gymkhana course, and I somehow ended up in the GLA250. Good gracious god this car handles like a champ, goes like stink, and rides beautifully and comfortably. And it was the surprise of the day for me as I've never driven the GLA, and my initial impressions of the A-Class derived CLA was rather lack lustre. But I emerged from that GLA with a wide and satisfied grin on my face. It's a great small little luxury car that does everything well. It has the practicality, handles brilliantly with all the immediacy the A-Class platform has to offer, but none of the harsh and coarseness of the CLA. It's just a great car, the best of Mercedes-Benz's new compact car range.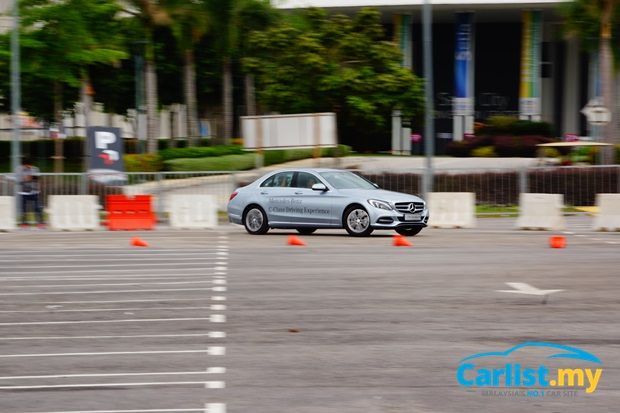 So as the day went by, cars being circled around different courses for everyone to queue up and jump into the next one, I kind of find myself going into the C-Class more often. Even if I were to end up in the passenger seat, just to look around inside the car. Anyone with the habit of observing events around them and then sinking oneself into deep thoughts would be familiar with the enjoyment solitude brings.
I looked at the beautiful centre console, the subtle lights gleaming off of it, and then how that modern design ethos is applied around the car, how the leather seats are stitched, and then imagining how it went through its design phase, the kind of thoughts and attention from the engineers and designers. Guessing what were they thinking at that very moment, and in what way they're able to come up with such brilliance.
There's actually a very telling thought process to wander through as I can imagine the kind of legacy burden they have to carry off their shoulders, entrusted to return a brand and its product to be not only class leading, but revolutionary in its outcome. It's no simple task. I can sort of feel the momentum going behind Mercedes-Benz right now, the newfound confidence, the new product onslaught, the direction that was set forth from the SLS AMG onwards, the segment leading S-Class, the E-Class that's forth coming, the hordes of new customers they've attracted from both the hot selling A and CLA Class, and the great line-ups they have with the GLC, GLE and the GLS SUV models.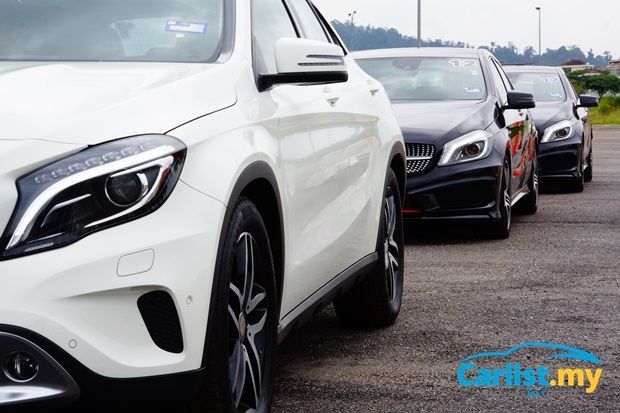 After being overtaken in sales numbers by its arch rival BMW and Audi for almost a decade, Mercedes-Benz has been working overtime, and it shows. And I believe with products like this new W205 C-Class, they should return to be the global No. 2 in the premium sector as early as the close of this year, and then charge on to return what was rightfully theirs all along, the leader in luxury cars. I strongly believe they can do it.
When you put aside all this media driving events, Jurassic Park marketing stunts, glossy newspaper ads or fancy dealership networks; at the end of day, at the very core of it, it comes down to the products. Products that blow the socks off their customers, products that are just achingly beautiful to look at and gloriously luxurious to the touch. The drastic sensation of moving your fingers from the richly padded leathers to the chilly milled aluminium switch gears towards the warmth of the matte wood panels fitted snuggly next to each other, you can't help but wonder how much better does it get.
As I sank into all these superlatives in my mind to describe the car to myself, and sitting next to me is Mercedes-Benz Malaysia's Vice-President of Sales and Marketing Mark Raine, his 33-year old laughter and the tyre screeches as he was having fun drifting the C250 went momentarily into silence. This is the scene. The scene where Mercedes-Benz is at now, with a young, energetic and dynamic leader like him, in a beautifully crafted car, greatly poised with confidence, dancing through the cones with graceful precision, in a cabin as silent and well insulated as I am with my deep appreciation of the brand, the people behind, the technology embedded, and the passion ingrained in their cars. They're definitely on a roll, and I'd like to be a witness of it, and that's entirely befitting of what Mercedes-Benz's latest tagline stands for, 'The Best, Or Nothing'.
This article first appeared in the June issue of Malaysian Evo magazine.
---
---
---
---
Comments