2015 Nissan X-Trail v 2014 Honda CR-V – Vying for the SUV Crown
Reviews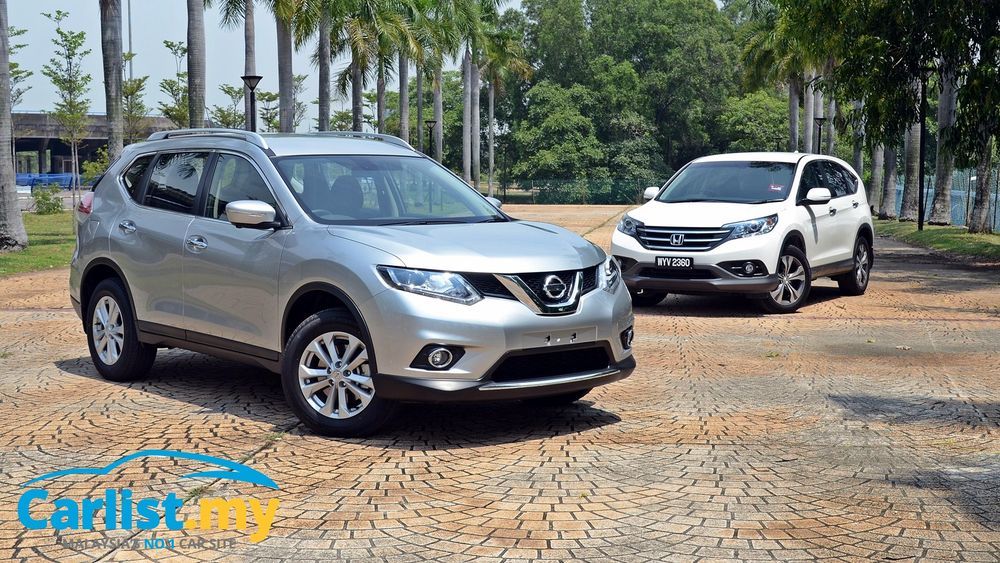 For several years the Honda CR-V has been the country's best-selling SUV. Come to think of it, ever since the demise of the Perodua Kembara, the CR-V's popularity has been pretty much unassailable here. It isn't as though the competition isn't trying to usurp its position. After all in recent years we have seen the likes of the Mazda CX-5, Ford Kuga, and Kia Sportage taking on the CR-V, all of whom promised more excitement and more equipment, and in the end, neither one really managing to successfully pose a threat to the CR-V's top-dog status.
There is however, one new entry to the field that we think, has the potential to humble the CR-V, and that is Nissan's all-new X-Trail. Not convinced? Well we can't blame you, after all the X-Trail's name has seen better days in Malaysia. While its first iteration was considered a durable and capable workhorse, many of which still can be seen running on the roads today and highly respected for its on- and off-road abilities. Its similar looking successor never quite managed to continue its predecessor's popularity. Under equipped with a rather bare cabin, rudimentary features, and a front-wheel drive only drivertrain, diminished its appeal amongst the X-Trail faithful, and didn't bring enough to the table to woo the hip new urban demographic who were readily buying into the emerging SUV fad.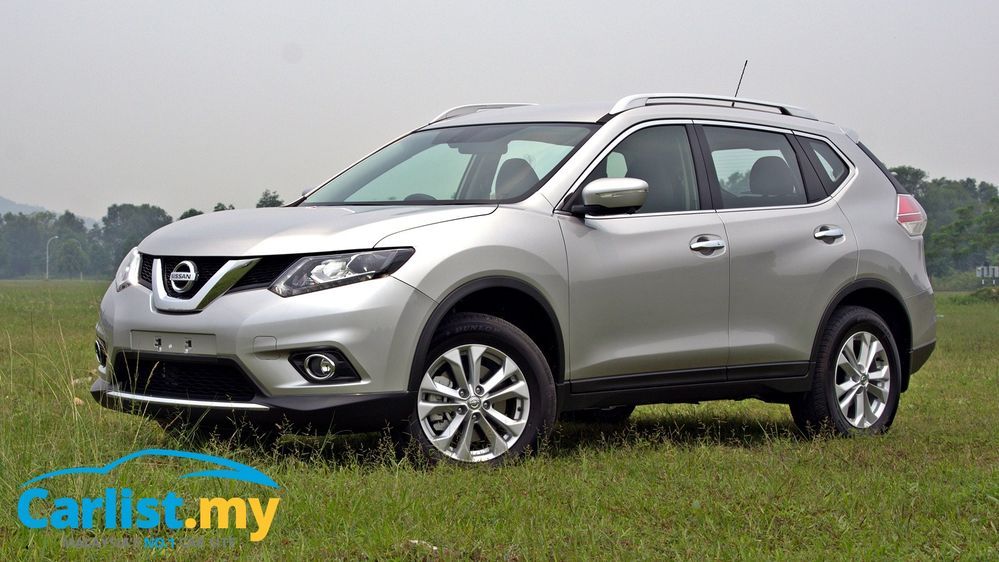 Now though, with the arrival of the new third-generation model, we feel that the X-Trail name is redeemed. So much so that we think that this might become the definitive X-Trail going forward, though upon first impressions, you wouldn't be able to draw the line between this and its descendants. It eschews from the X-Trail's traditional cubist shape to adopt sensuous curves and surfaces that, I may be so bold as to say, looks more coherent than the Murano and better executed than Infiniti's QX70.
There isn't a modest approach to its interior either. Here, it is well appointed and feels plush as how a city-slicker SUV should feel like. But is it enough to better the CR-V? For that we have brought both range-toppers of the two SUVs, the RM165,800 X-Trail 2.5 4WD to meet the RM169,800 CR-V 2.4L, but before we proceed, here is what both SUVs are packing under their bonnets.
Specifications of the 2015 Nissan X-Trail 2.5L 4WD
Engine: 2,488cc 4-cylinder DOHC Twin CVTC
Transmission: CVT, all-wheel drive
Power: 171PS @ 6,000rpm
Torque: 233Nm @ 4,000rpm
Fuel consumption: 8.3L/100km
Kerb Weight: 1,612kg
Specifications of the 2014 Honda CR-V 2.4L 4WD
Engine: 2,354cc 4-cylinder DOHC i-VTEC
Transmission: Five-speed automatic, all-wheel drive
Power: 190PS @ 7,000rpm
Torque: 222Nm @ 4,400rpm
Fuel consumption: N/A
Kerb Weight: 1,560kg
Features: The Big Deal
On-board features are the garnishing atop any car, and Nissan certainly wanted the X-Trail to make an impression at the showrooms. The 2.5L variant is back to having all four of its wheels driven and on top of that, it is switchable. Unlike the CR-V, which has a computer controlled all wheel drive system that varies the torque between the front and rear wheels automatically, the X-Trail allows you to leave it locked in 2WD to have the front wheel driven only and save a significant portion of fuel when you are pootling around in traffic in the dry, lock it in four-wheel drive permanently for any off-road excursions you fancy, or leave it up to the onboard computer in Auto 4WD intelligent all-wheel drive just like the CR-V's. The system comes with a little graphic on the instrument cluster that allows you to see the distribution of torque between the two axles.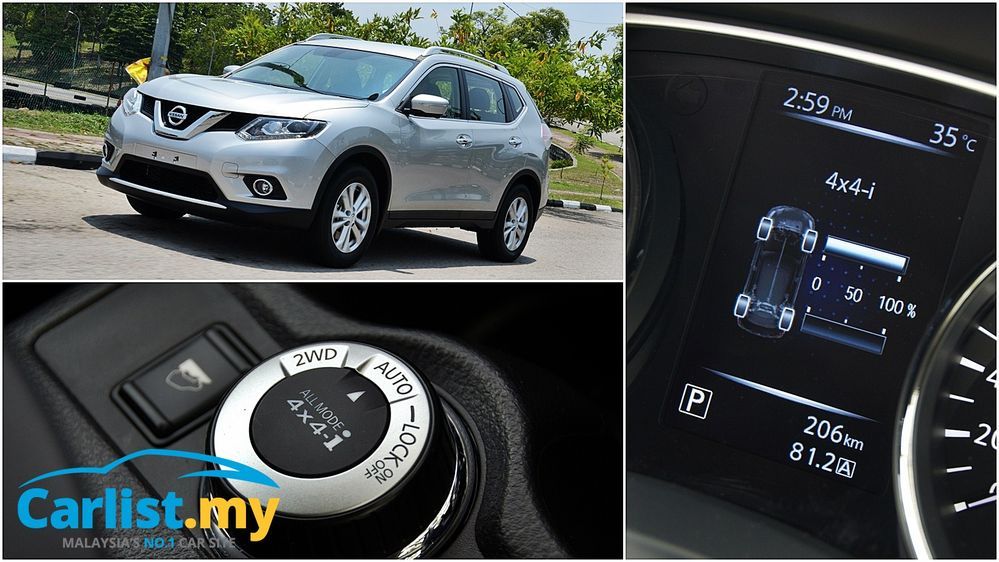 However the X-Trail's bag of tricks extends beyond the four-wheel drive system. To improve ride and handling the big Nissan employs a host of features shuffle under the Active Chassis Control feature. To prevent pitching in the car when going over rough roads, the X-Trail employs a feature known as Active Ride Control, which varies the amount of torque delivered and puts a small amount of braking to reduce body movement as it goes up and down over a bump. To tame its 1,612kg mass, the X-Trail has Active Engine Brake that uses small amounts of engine braking to assist the brakes, whereas the Active Trace Control, automatically applies braking force to individual wheels to help sharpen the X-Trail's cornering capability.
Not convinced with its underbody electronics and features, the X-Trail comes with a whole host of safety features, with dual front airbags, Active Brake Limited Slip, traction control with ESP, and even a 360-degree around-view monitor to help you keep an eye around the X-Trail's extremities. There is even a third-row of seats thrown at the back should you need an extra seating for two.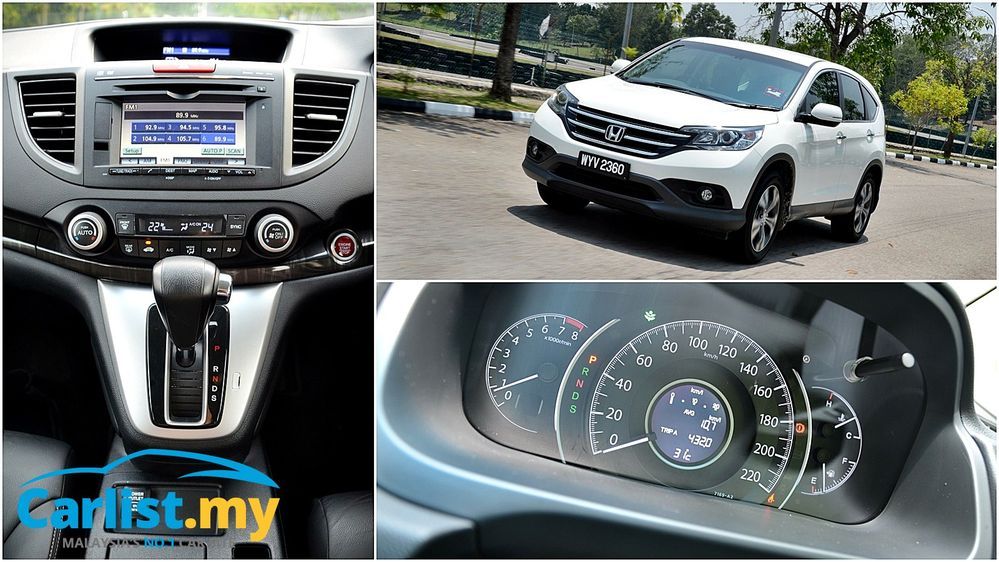 By comparison, when it comes to its list of features and equipment, the CR-V is almost bare. Other than the recent facelift (not pictured here) giving the range-topping 2.4L variant Honda's LaneWatch camera that is mounted to the left wing mirror to help drivers keep a look out of their blind spots, the CR-V doesn't come with any extra fancy gadgets inside to set it apart from the X-Trail. Aside from the usual ensemble of brake assistance with traction control and ESP, the CR-V doesn't sport any fancy array of gadgets that help alter the ride comfort or improve its responses and handling by any significant degree. It has all-wheel drive that would only send power to the rear wheels should the situation demands so, but otherwise you can't keep the rear axle locked in or disconnected from the drivetrain as how you would in the X-Trail.
That said Honda might see those features as a little unnecessary. Though the X-Trail has a third row of seats, it is so woefully cramped that only infants could fit behind, and folded down, you get the impression that it does compromise on space. Not only is the rear cargo space smaller to accommodate the fold-down seats, but it is also harder to load bulky items on board with the higher floor, as compared to the cavernous and low floor of the CR-V's rear cargo space. Furthermore the CR-V makes up with an all-encompassing fitment of six airbags, rather than the X-Trail's mere front two airbags, which seems lacking in this day and age when a small hatchback can come fitted with six airbags and an attractive price tag to boot. Despite being comparatively under-equipped in terms of gadget count here, you can't deny that Honda has their finger on the pulse of the market, and knows what exactly what Malaysian buyers need. The CR-V has everything that you need, nothing more, nothing less.
Ride and Handling: Luxury versus Sportiness
Having more toys is one thing, but does it work for the X-Trail when you put it to the litmus test on the road? Well yes, and it does pretty well at that we might add. It drives with more gusto and behaves better than its 1,612kg figure might suggest. Whether it is chassis honing or Active Trace Control at work here, the X-Trail is remarkably quite adept at going around corners with plenty of road-hugging grip. Coupled that to the X-Trail's cushy suspension and plush seats, the X-Trail feels comfortable to ride in as much as it feels comfortable being driven quickly on the road.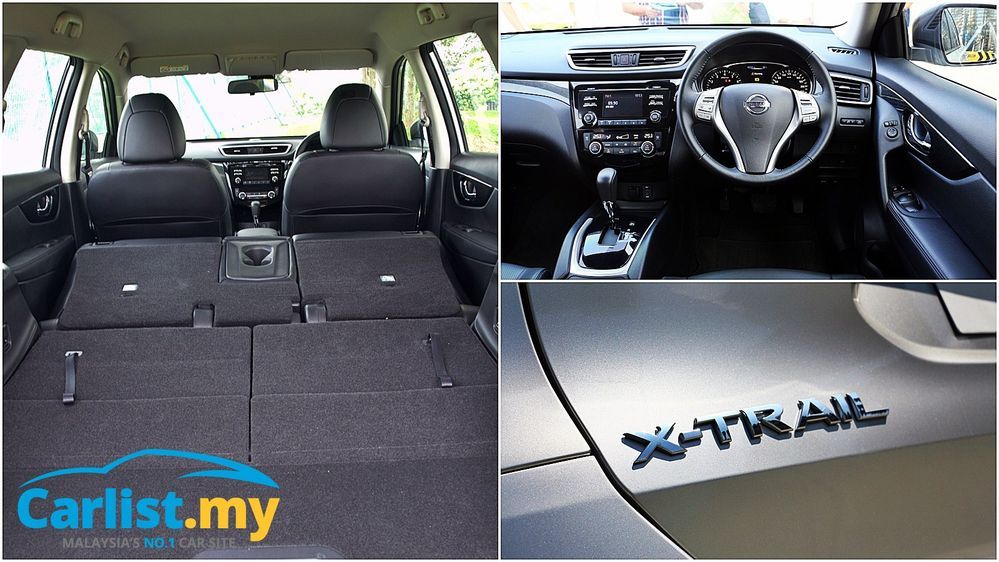 By comparison the CR-V doesn't quite boast the ride refinement nor does its chassis assure you with the grip and poise the X-Trail does. If the X-Trail were to be akin to a Teana on stilts, for its ride comfort, the CR-V is more like an inflated hatchback with its quick and sharp steering responses and comparatively stiffer ride. Its seats doesn't quite boast the generous amount of padding as the X-Trail, nor does it suspension have the same amount of travel or feel as compliant as the X-Trail's.
Even though its engine has to make do with a CVT and a 19PS deficit over the CR-V's traditional 5-speed torque converter and 190PS engine, the X-Trail feels more refined to drive with its 11Nm advantage that is served up at a lower rpm range than what is demanded of the CR-V's rather rev-happy engine. What's more with seven virtual ratios to cycle through, should you feel the need for a quick sprint, you can easily avoid the X-Trail's traditional "rubber band effect" bugbear.
In the meantime, while the CR-V has a set of five actual cogs and gears in its armoury, you can't cycle through it manually as it doesn't have a shifter override or steering mounted paddles to facilitate your own gear changes. So better practice your accelerator kick down reflex if you want to pull off a quick overtaking manoeuvre. Even though it has a lower torque output, the CR-V's engine retains that characteristic energetic rev-happiness that defines Honda engines. It is happier being kept at higher revs than the engine in the Nissan, and the torque is sufficient to propel all 1,560kg of the CR-V.
Being a big and heavy SUV however, a high-revving engine isn't a card in the CR-V's favour. Since most SUVs are driven for its comfort and general refinement, it is the X-Trail that easily bests the CR-V in this respect. But we have heard that gong being sounded before. Why yes, the last few SUVs to have come out did boast offering an edge in handling and refinement, the same SUVs that clearly didn't hold sway with the multitudes of CR-V buyers. Fun things aside then, what are both cars like to live with.
Living With It: All in the Details
From the moment you get into the X-Trail's seat you would realise that it feels like a big SUV that stands tall and mighty over its surroundings, as you do need to scale its sides to get into the driver's perch. By comparison you don't so much as climb into the CR-V as slide into its seats. Never mind its SUV-labelling, the CR-V feels very car-like, with easier access to the cabin, and acres of headroom above. Rather paradoxically the X-Trail offers the most car-like cabin of the two, with a high and chunky centre console giving drivers a cocooning feel. As for the CR-V, Honda's dogged determination in maximising interior space is clearly evident in the way of its dashboard design and low centre console. Even for front seat occupants there is more knee room and shoulder space.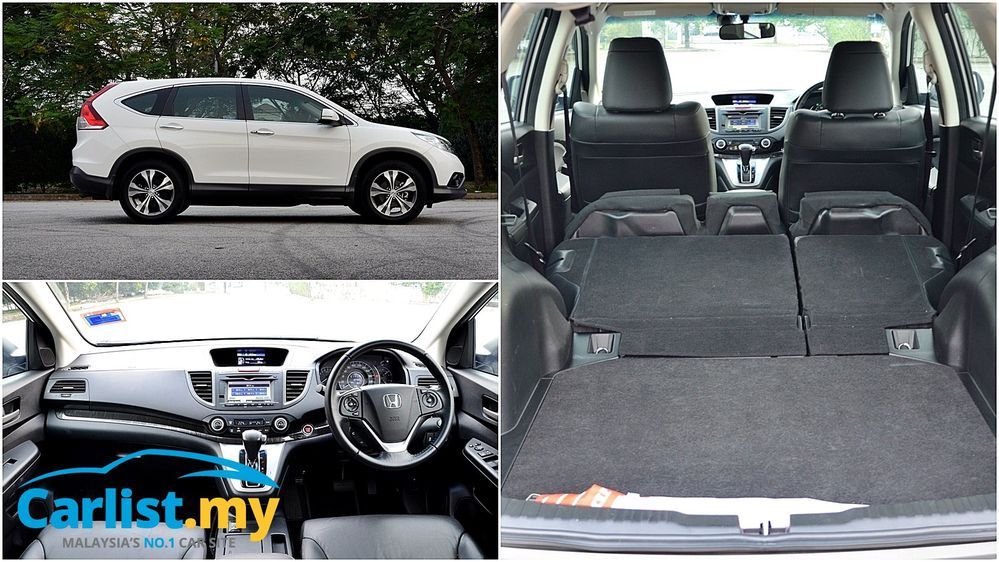 It is the same story with the rest of the CR-V. Even with the X-Trail being significantly larger than the CR-V, with an overall length and wheelbase that is longer by 50mm and 85mm respectively, there is no denying that Honda's mastery in packaging and maximising interior space has given it a more spacious cabin. And just to make that space all the more usable, the CR-V comes with a lever than folds the lower rear seat cushion forward while folding down the rear backrest in one uninterrupted movement of mechanical symphony. It makes the X-Trail's traditional method of folding the second row of seats, ergo flipping seat by seat from each side down manually, seem all the more tedious and mundane.
Even after getting the rear seats to fold down in the X-Trail, it doesn't provide a completely flat floor, unlike the CR-V. Without a doubt the third row of seats looks like an attractive proposition over the CR-V's five-only seating arrangement, but try as we did, we couldn't fit anybody comfortably behind that as more than 5ft in height or with a BMI that is teetering on the edge of malnourished. Ideally then the X-Trail is better off as a 5-seater with a rather token "+2" seats behind. Bundle the third row away and the X-Trail doesn't offer as much cargo space nor rear legroom as the CR-V, though it has to be said that its big and generously padded seats do make it a very comfy place to be.
Conclusion
On paper and on the road the X-Trail is a more superior SUV than the CR-V, it is nicer to drive, considerably better equipped, and for its money, delivers much more value to the customer sans the two airbags conundrum. Though we have banged on that gong before, after all we did heap the same type of praise on most of the CR-V's challengers only to see the stalwart Honda survive it all.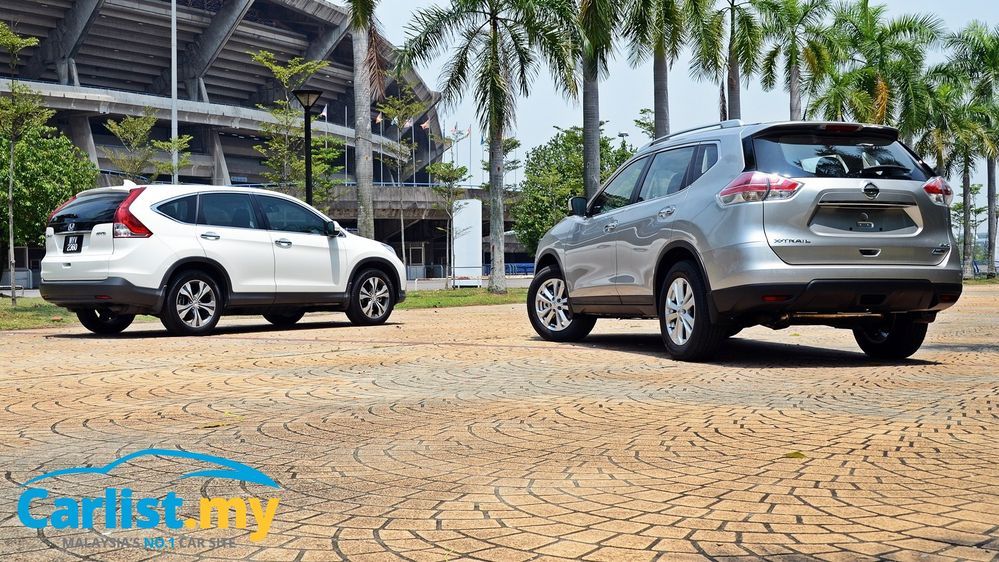 But the X-Trail has one thing the other CR-V competitors lacked, and that it is a product of one of the Japanese "Big Three". With a car's popularity often being tied to important things like after-sales service and brand reputation, Nissan has a network that is just as big and a reputation just as well-received as Honda's, which makes it easier to accept amongst Malaysia's conservative buyers. Though the CR-V comes covered with Honda's new 5-year unlimited mileage warranty, with the X-Trail having a 3-year/100,00km warranty, Nissan has thrown in a 3-year free free maintenance service package, which is rather tempting as compared to the CR-V's free labour services that are limited to six services that alternate with paid serivces up till the 100,000km mark.
Nevertheless for all its versatility and on-board features, the X-Trail is probably the best SUV in its class, but would it be able to win over the CR-V's practicality and better ensemble of safety features? Its going to be close, but the X-Trail might have a good shot at dethroning the CR-V this time around, and we can tell, because we are won over by it.
---
---
---
Comments