Nissan Introduces X-Trail Hybrid Variant For Japan
Auto News Sixteen months after the all-new Nissan X-Trail made its debut in Japan, Nissan announced today that a 2-litre hybrid variant will also join the X-Trail line-up in Japan.
The Nissan X-Trail Hybrid will go on sale in Japan on 13-May 2015 but Nissan did not elaborate any further about the model's availability in markets outside of Japan. The move comes after Toyota introduced its RAV4 Hybrid at the New York International Auto Show earlier last week.
The X-Trail Hybrid's MR20DD 2-litre engine is paired to Nissan's 'Intelligent Dual Clutch Control' hybrid drivetrain - a two-clutch, one-motor full parallel hybrid system which Nissan says produces more torque than a regular 2.5-litre petrol engine in all speed ranges.
Nissan did not provide the combine system output of its hybrid drivetrain but the 2.0-litre engine produces 147 PS at 6,000 rpm and 207 Nm at 4,400 rpm while the 'RM31' electric motor produces 41 PS and 160 Nm. It is not possible to simply sum up the output of petrol and electric motor's as they both peak at different rotational speeds although some companies like Toyota do publish a 'total system output' figure - this figure is calculated using mathematical formulas.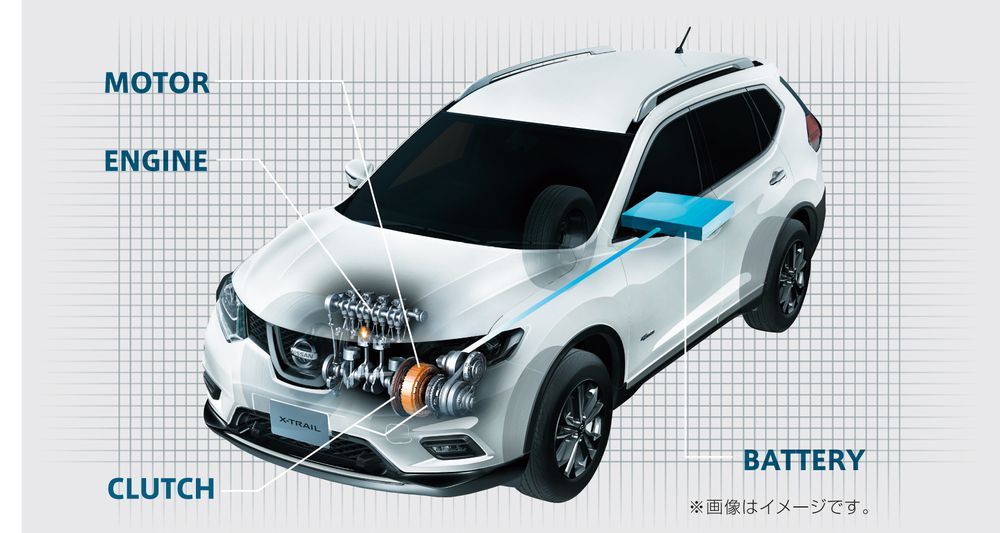 It should also be pointed out that despite carrying the world 'dual clutch,' Nissan's 'Intelligent Dual Clutch Control' does not use a dual clutch gearbox and is nothing like Honda's Intelligent Dual Clutch Drive hybrid system (which uses a dual clutch gearbox). Instead, the X-Trail Hybrid still retains a conventional XTronic CVT automatic, as is the optional All Mode 4x4 i-system.
The 'dual clutch' that is mentioned by Nissan refers to Clutch 1, which sits between the electric motor and the petrol engine, and Clutch 2, which sits between the electric motor and the CVT.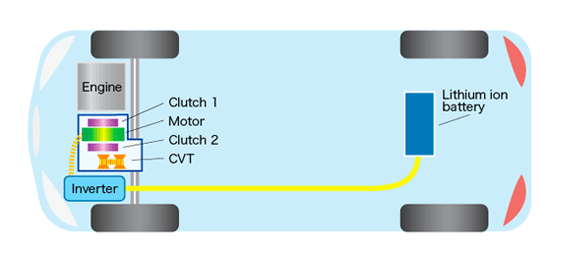 Depending on driving conditions and power requirements, the two clutches will engage/disengage to optimize the drivetrain's efficiency. Similar to Infiniti hybrid models (which uses a different hybrid drivetrain for rear wheel drive vehicles), once settled in a relaxed cruising pace, the X-Trail Hybrid is able to maintain highway speed using electric power alone.
The traction battery is mounted beneath the boot floor and is lithium-ion type. Cargo volume remains unaffected, 400-litre (Japanese market specifications).
Claimed fuel economy is 20.6 km/litre (2WD model) under the Japanese JC08 driving cycle but expect this figure to be significantly reduced when tested under the more realistic European driving cycle. In comparison, the standard Nissan X-Trail 2.0-litre 2WD petrol delivers 16.4 km/litre under the same JC08 driving cycle.
---
---
---
---
Comments