2015 Mercedes-Benz C350 e Plug-In Hybrid Review In San Francisco
Reviews Pushing on with its charge to introduce a complete range of plug-in hybrids to the world, Mercedes-Benz had us on a trip to San Francisco lately to drive the second model from its new line-up of its super-fuel-efficient vehicles, the 2015 Mercedes-Benz C-Class C350 e Plug-In Hybrid.
You could argue that not too much has changed, tech-wise, since we last drove the S 500 e Plug-in Hybrid in Sweden, and that there really isn't much to tell you about here. But, you'd be forgetting one very key bit of information: in Europe, for example, S 500 e retails for around €100,000+ euros. The C-Class doesn't – it's just about half that.
Introducing its plug-in tech to the C-Class is naturally going to be a lot more exciting for the car buyer without the means to afford the Benz flagship limo, but maintains the same demand for the sort's fuel efficiency and low carbon emissions driving. Even the new GLE-Class plug-in, the third off the brand's kind, isn't nearly as affordable.
KEY SPECS: 2015 Mercedes-Benz C-Class C350 e Plug-In Hybrid
Engine: 2.0-litre turbocharged four-cylinder petrol
Transmission: 7G-TRONIC PLUS seven-speed torque converter automatic
Power: 211 hp
Torque: 350 Nm
Electric Motor: 80 hp
Total system output: 279hp, 600Nm of torque
Electric Range: 31 km
Fuel economy: 2.1-litres/100km (claimed)
CO2 emissions: 48g/km
For some time then, the C350 e is going to be the cheapest plug-in hybrid Mercedes-Benz money can buy (at least until the tech is expanded to its FWD A-Class family of cars), and to go with that, the natural interest of every car buyer with the means and interests.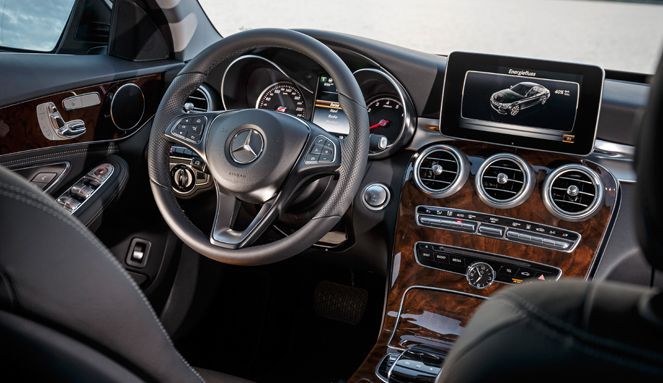 To them, they'd also be glad to know that Mercedes-Benz hasn't watered down the S500 e's unique plug-in hybrid features to work on the C350 e: on top of boasting the same madly-efficient consumption figures and super-low CO2 emissions, you still get the same GPS-based hybrid driving system, the haptic feedback pedals, the various driving modes, and an even more efficient 2.1-litres/100km claim.
Minding what taxes we endure in Malaysia, in Germany, the first plug-in hybrid launched by Mercedes-Benz was priced identically to its regularly-petrol-powered counterpart. The S500 e featured a 3.0-litre turbo V6, while the regular S 500 packed a full-on V8. Yet, performance figures weren't far off from each other – the use of a smaller engine is believed to be one of the reasons for Mercedes-Benz being able to match both vehicles' prices, and from our review, we know performances to be on par as well.
For scale, the C-Class C350 e plug-in hybrid is a little more expensive than a regular C300 (€7,000 euros more), yet keeps under the more potent C400 4 MATIC (€2,300 euros less).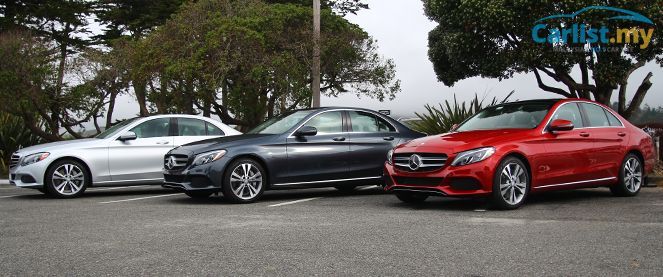 So, what is it?
Before we get on with what impressions we were left with, let's take a quick look at what we we're driving.
Under the hood of this C-Class, the same 2.0-litre turbocharged four-pot (codenamed M274) found in our Malaysian-spec C 250 resides, delivering the 211hp and 350Nm of torque. Then, there's an 80hp electric motor that's been fitted where the torque converter used to be in the transmission that delivers a further 340Nm of torque, resulting in claimed combined output figures of 279hp and 600Nm of torque.
As it stands, the C350 e plug-in hybrid even makes more torque than its C 450 AMG cousin (522Nm) – the hottest C-Class that Mercedes-Benz currently makes, that isn't a full-blown AMG model. The C450 does win the horsepower race, though, offering 88hp more than the C350 e.
What that returns on the road is a century sprint time of 5.9 seconds (for the sedan), and a top speed of 250km/h – Mercedes-Benz were keen to remind us that this even trumps the brand's legendary 190 E 2.5-16 Evolution II super sedan from the late 1980s, even displaying it alongside the C350 e at our hotel.
As with its regular petrol-powered cousins, a 7G-TRONIC PLUS transmission is specified for the C350 e, but has been tweaked to feature an additional clutch between the combustion engine and the electric motor. MB tells us that when driving in all-electric mode, the additional clutch is there to decouple the combustion engine from the drive train, and is a substitute for the torque converter.

Back to the plug-in power, and you'll find the high-voltage 6.2kWh lithium-ion traction battery that stores the vehicle's electric energy tucked just above the rear axle – you can visible see the battery's presence encroaching on boot space ever-so-slightly, offering a slight step in the cargo floor. Still, there's a remaining 335 litres of boot space left for use – if you fancy more, the maths add up to a total of 1,370 litres of space with the rear seats folded completely.

Charging the battery is convenient, and just like the S500 e we drove before, you get the option of either plugging in to a wallbox kit which MB provides, or by a 230v/16amp wall socket charge which will effectively get you from a flat battery to a full one in around two-and-a-half hours.
Likewise, if you don't fancy the time spent on the charge, you really don't have to. Mercedes-Benz plug-in hybrids are well capable of charging themselves on the fly, via various energy recuperation techniques.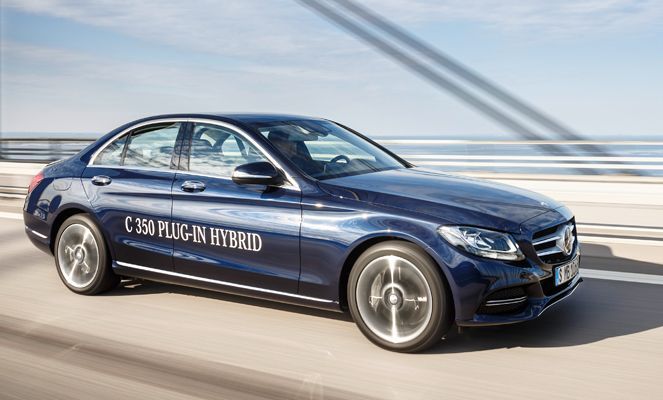 Driving a 2015 Mercedes-Benz C350 e:
The trick to driving a plug-in hybrid Mercedes-Benz is that there really is no trick about it at all. You don't have to take any extra precautions beforehand, nor do you have to charge it overnight or worry about how much charge is left in the vehicle at any point – just getting in and driving every day will suffice. Even the car's power delivery and handling are as you'd expect: here, it's a bit more lavish in the sense that an AIRMATIC air suspension system has been specified, which also adapts itself based on your preferred driving mode.
Of course, that wouldn't be maximising the full efficiency potential of the vehicle, but the point is that it's your choice to drive it like you would drive a normal C-Class, but still be set to gain from the impressive fuel efficiency.
Decide to drive it like the fuel saver the C350 e was born to be, and you're in for a treat. With a full charged traction battery, the C350 e is good for a full electric range of 31km, which for the lot of us, is more than enough to get to work – for me personally, that's theoretically enough to go to and get back home from work, all the while leaving a carbon footprint of nil.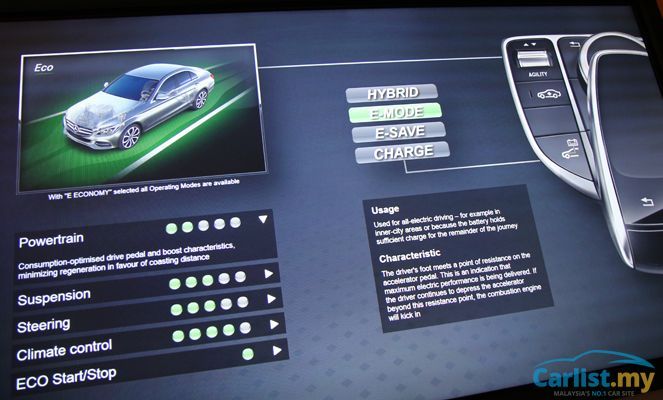 DRIVING MODES: To start you off, there are four driving modes to choose from: Hybrid, E-Mode, E-Save and Charge. Their applications are all very obvious, but it's their implications that ensure drivers have the most control over what they want their C350 e to do at any given time – of course, attempting E-Mode with a drained battery just wouldn't work.
For your unspecific and everyday routine driving, the car is best left in its Hybrid driving mode, which is also the predetermined mode every time you start the car.
Hybrid mode lets the car maximise its use of the combustion engine and the stored electric energy and motor based on what the car thinks is best. It's also the easiest mode to slip in to: drive the car in a sedate manner, and the C350 e will favour electric power; stamp the throttle, and the engine wakes up to meet your demands.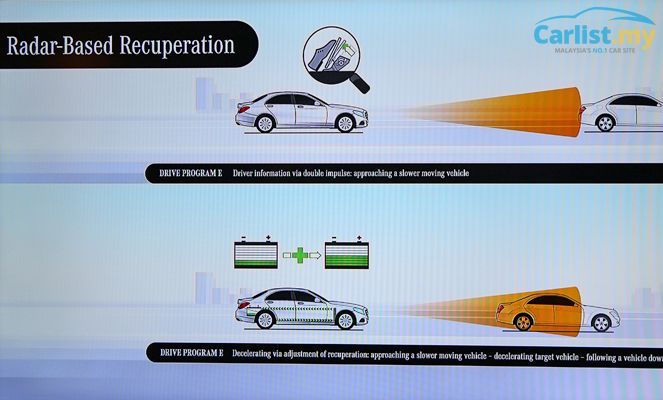 ROUTE-BASED RECUPERATION: Keep the car in its Hybrid mode, and you can utilise one other feature that automates optimum fuel efficiency for you. The C350 e is equipped with navigation system that can work out all on its own where and when to use the internal combustion engine or electric energy to optimise your fuel consumption for you.
Just as in the S500 e, set in a route on the on-board navigation, say from Subang to Ayer Keroh, and the C350 e will do its level best to keep you in full electric mode as you escape urban stop-go traffic in Subang, switch to more petrol power along the North-South Expressway (to charge up the traction battery) and then switch back to electric power in Ayer Keroh.
If your location's map has been detailed comprehensively enough for the on-board navigation system, the C350 e's route-based operating system can/ will even make terrain based decisions such as switching on the combustion engine to power your way up hills, and switching to electric mode on your way down to recharge itself.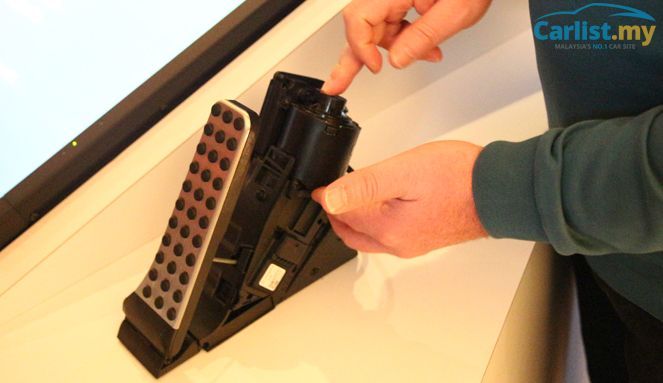 HAPTIC PEDALS: Not surprisingly, the C-Class plug-in also benefits from the clever haptic feedback foot pedals seen on the flagship S500 e. This feature makes it extremely easy to keep the vehicle in full EV mode for as long as there's electric energy available – unlike the pedal travel threshold of the E300 BlueTEC Hybrid, which requires an extreme level of concentration to keep in full EV mode.
In EV mode, the throttle pedal allows for a long enough travel before the combustion engine will kick-start to boost power. And just before it does, the haptic feedback pedal will give you a nudge to warn you first that you'd soon be stepping into petrol-burning territory.
Another function of the haptic feedback pedals is to aid you in your driving efficiency by nudging your foot with two taps to warn you that a vehicle ahead is approaching and that you should consider lifting off the throttle to begin coasting. It sounds like something an attentive driver ought to be able to determine his or herself quickly enough, doesn't it? But trust us, the double-tap will catch you off guard far sooner than you might realise.
The brake pedal doesn't feature any haptic feedback, but initial depression of the brakes has been made to use the electric motor's naturally reducing rotational forces to slow the car first (also charging it) and only when the brakes have been pressed on harder, do the four discs begin to stop the car. A great feature to save on brake pads when you only want to slow down just a little bit.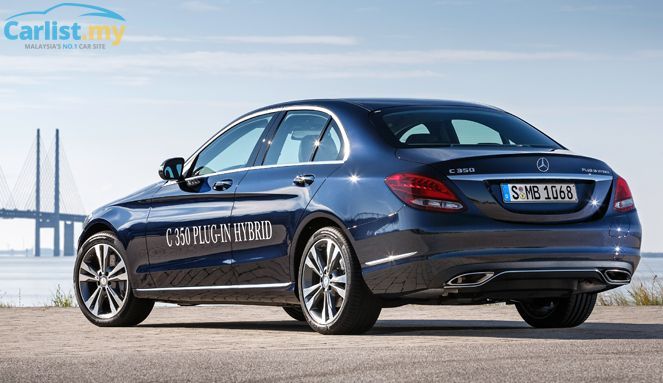 Verdict: Here's what we think...
To keep this relatively short, it's just fantastic to see Mercedes-Benz be as generous as they've been with specifying the littler C350 e plug-in hybrid with the advanced tech we've seen on the S500 e. From our first impressions, there's no short-changing anyone here – but of course, this may vary depending individual markets around the world.
Does the C350 e make relevant fuel-consumption sense on the road? Without question, it does. Its claims of being able to hit 2.1-litres/100km aren't far-fetched at all. Over the short day's drive, my co-driver and I managed bring it down to 2.3 to 2.4-litres/100km without too much discipline, and letting the car do all the thinking – of course, we did so without needing to work the air-conditioning hard, and in San Francisco roads where traffic isn't as horrid as it is here, and more like it is everywhere else in the world.
Best of all, you needn't go out of your way at all – unlike full EVs that require an overnight's charge or a regular hybrid that don't always have large enough traction batteries to show you these sort of gains. With plug-in hybrids, you don't have to plug it into a wall for a charge if you don't want to or if that's inconvenient. In the C350 e, you'll always have a high-voltage lithium-ion traction battery that's good for a claimed 31km in full EV mode, and is fully capable of being charged as you drive it normally.
Coming to Malaysia?
Unfortunately, Mercedes-Benz Malaysia has shown no signs of its plug-in hybrid models potentially coming to this part of the globe. We supposed a lot of that notion surrounds if or not the next National Automotive Policy allows for similar tax and duty incentives the current one does, which allows their E300 BlueTEC Hybrid and S400 Hybrid models to be priced as low as they are here for being locally-assembled hybrid models.
So until that's sorted and dusted, MBM's stance sounds to us like a firm, "It's not happening."
---
---
---
---
Comments