2015 Perodua Axia Standard G Full Review - Foot Soldier Of Small Fortune
Auto News Alright, the Perodua Axia has been around for a good while now since its launch in 2014. In that span it has helped the Malaysian automaker nearly blanket the country with its small cars given its place as the most affordable car in the country, a mission-continuation that Perodua has carried from the Axia's predecessor, stretching all the way back to the Kancil.
As a direct replacement for the Perodua Viva, the Axia certainly has more presence on the road and is even comparable in size to the larger Myvi when seen next to each other. There's only a few inches separating them in length and slightly more in terms of width.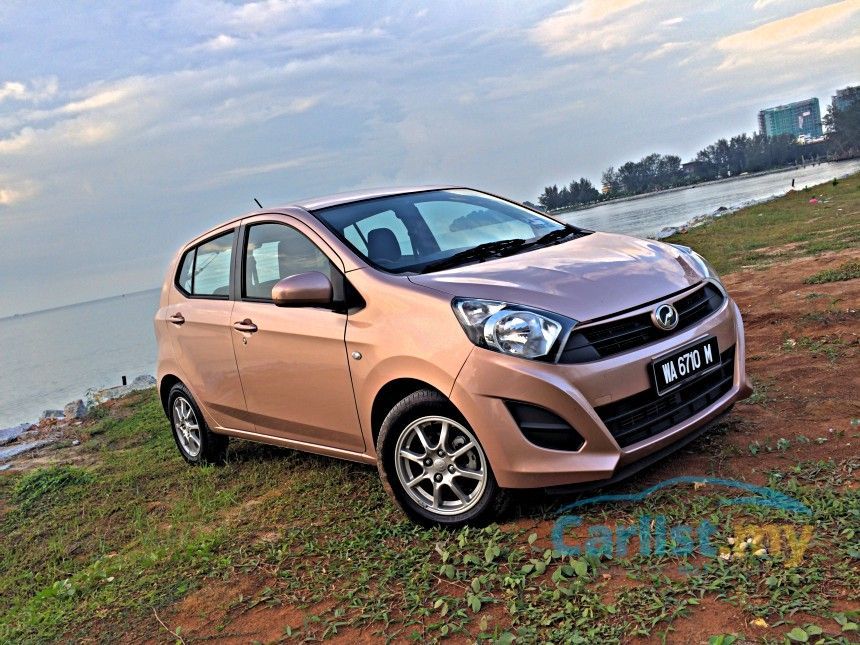 This added size gives the Axia a lot more versatility to the budget-minded buyer and is unmistakably a move by Perodua that emphasises how it has seemingly no qualms whether their cars encroach on each other's turf - if value can be added, let it be done. We are reviewing the mid-pack variant in the Axia range, the 1.0 Standard G Automatic, and as you'll find out, it has more to offer than its low price and average pecking order might suggest.
Key Specs
Price: RM35,527
Engine: 998cc 3-cylinder 1KR-DE2 DOHC
Power: 66PS @ 6,000rpm
Torque: 90Nm @ 3,600rpm
Transmission: 4-speed automatic
Fuel Tank Capacity: 33-litres
Fuel Economy: 20.1km per litre or 5.0-litres/100km (claimed)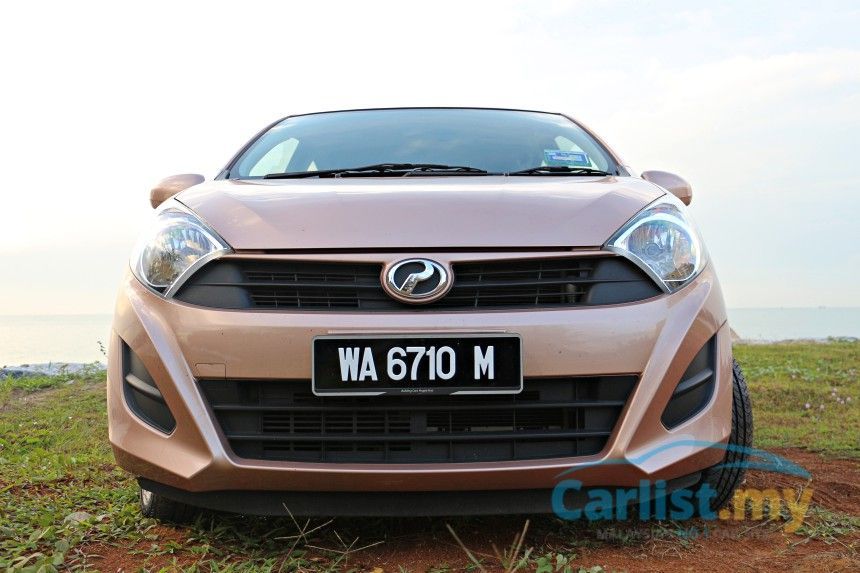 The Outside
If you're one of those who found that Perodua's previous car, the Viva, to be a little too plain from the outside, you'll be glad to know that with the Axia, they have seemed to have wanted straight lines and squared or rectangular shapes to be eschewed from this car's exterior quite deliberately. It's a big improvement in that respect.
There are definition lines running all over the Axia's front and side, and while that rhythm is toned down somewhat at the rear, it's safe to say that Perodua paid attention to consensus feedback and wanted to put forward an overall better styled car even at its most base offering.
The Axia we drove for this review was finished in what's called Cherry Blossom Metallic, and while that shade isn't the most masculine, from a more objective standpoint, this reviewer did find it showed off the car's more flattering attributes, especially against the sunlight.
Looking at the Axia from the front, it carries that angled headlamp design from the Myvi, and that diagonal motif is carried by the upper and lower front grills. It's a purposeful and not overly assertive fascia. The wheels here are, again, purposeful but not bland set of 8-spoke alloys that mesh with the car's overall design. Subtlety is what was needed for the Axia, and given how little ostentation Perodua applied even to the more expensive SE and Advance variants and kitted out with their GearUp accessories, this seems to be a shared sentiment.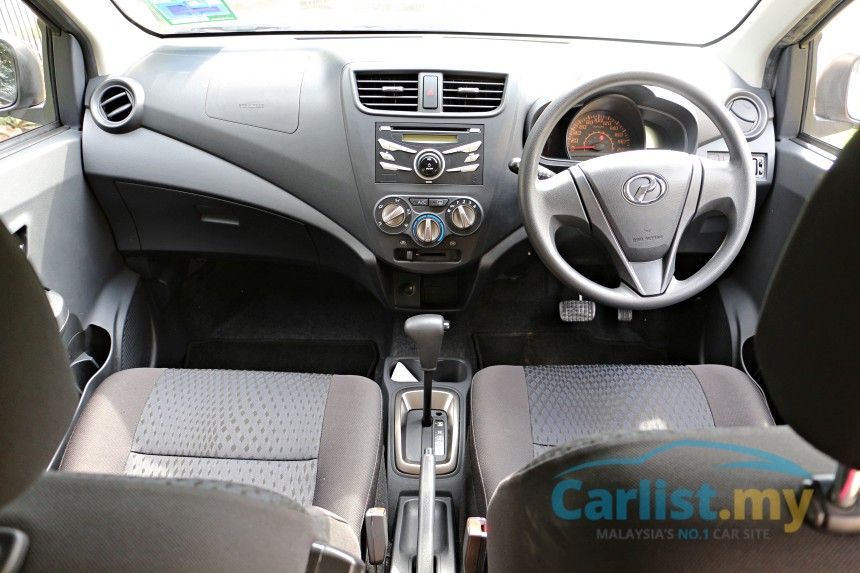 The Inside
There's an immediate sense space when you first open the door and sit inside the Axia, one that never quite leaves you fully as accepted fact. How can a car this small on the outside feel so airy inside? A mixture of clever packaging, material choices, and an omission of thick trim pieces are certainly at play here.
Facing the driver is a logically placed set of controls and dials, with the central speedometer and oddly recessed left-side tachometer being analogue while the readouts for fuel and gear selection are relegated to a digital readout on the right.
At the centre of the dashboard lies the two central air conditioning vents, below that the CD Tuner stereo that drives audio to a four-speaker system, under which the air conditioning controls are placed. Little to no learning curve is required to master any of the controls as, aside from being quite basic in function, denote their purpose clearly.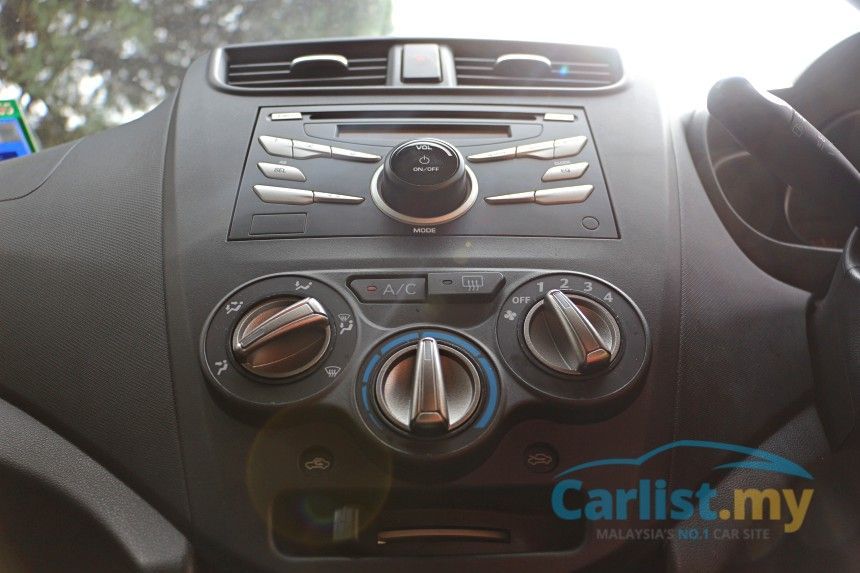 Often when it comes to the more affordable end of the market - and in this case we're at the far corner - the question of build and trim quality invariably comes up. Yes there's no getting around the fact that the plastics here are hard and it even stepping up to a Myvi brings a noticeable jump in overall plushness. Having said that, given just how cheaply this car can be owned and run, there wasn't a time when I felt that the justifications were not sound - everything is pieced together well and has a sturdy feel that's on par or even occasionally beyond its price bracket.
The dark coloured seats are fabric but comfortable with the trade off being that the minimal side padding makes for a looser and more unconfined experience while seated. Let's face it, you probably won't be taking sharp corners fast enough to require extra side bolstering anyway.
The same goes for the rear seats, there's not much recession here but just enough to visually distinguish between the left, centre, and right. They are acceptably comfortable, however, for short to intermediate-distance journeys and coupled with the very ample rear legroom allows for enough freedom of movement for skittish passengers.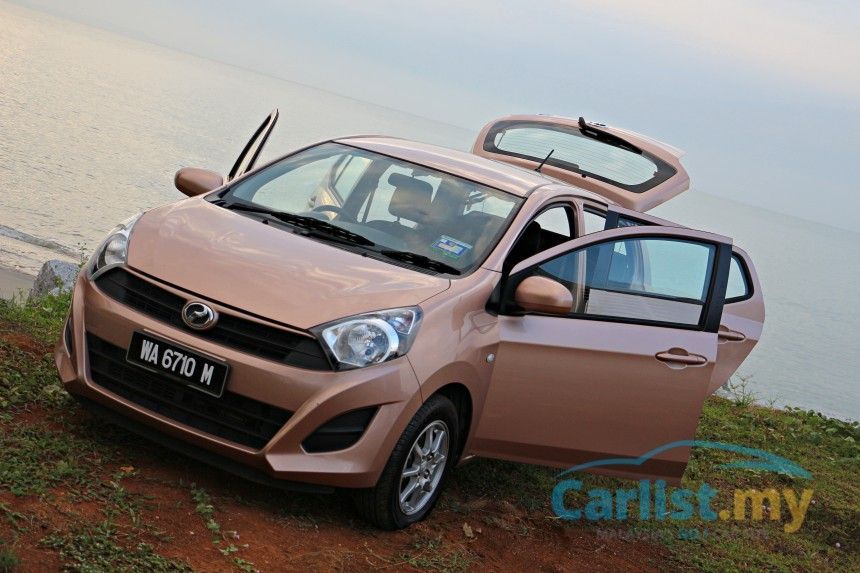 The Practicality
Have I mentioned how big it is inside? Let me reiterate, then, that the Axia is uncommonly commodious, particularly toward rear passenger space. It is also a taller car than you might first expect it to be, and that only adds to the overall airiness of the cabin. The versatility of this rear passenger area can be expanded to place groceries, or even small furniture, should the need arise.
Open the trunk lid and there is a sufficient - if not generous - amounts of luggage space. Perodua shows off four overnight travel bags fitting side by side in the Axia's promotional materials and I do not dispute that claim, although I would have to be careful to choose luggage that can make the most of the Axia boot which is deep but not far reaching. Most bags would have to rest facing up instead of on their side, I imagine. But, just fold the seats down, and a trip to IKEA in your small Axia just became a possibility.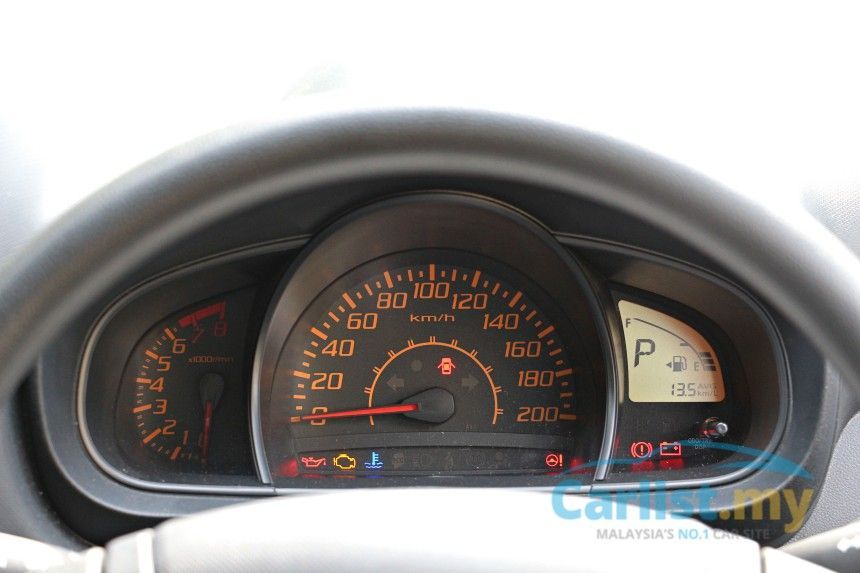 Prowess As A City Car
Think of the attributes that a city car needs to have make it an ideal runabout and the Axia seems to be made to fit those perfectly - it is small and light, but spacious inside should need to ferry the odd passenger(s) or some cargo arise.
How does it drive, though? Starting with the steering, the turning the Axia's wheel at a standstill requires more effort than you'd expect from such a petite thing, feeling almost unassisted to those of us spoiled by lighter hydraulic racks and electric power steering. But get going and chucking the Axia around becomes much easier.
Despite it being a very light car, Perodua has done an admirable job at keeping the car well insulated and devoid of much of those crashes and creaks that lead to an unreassuring impression with the car's build.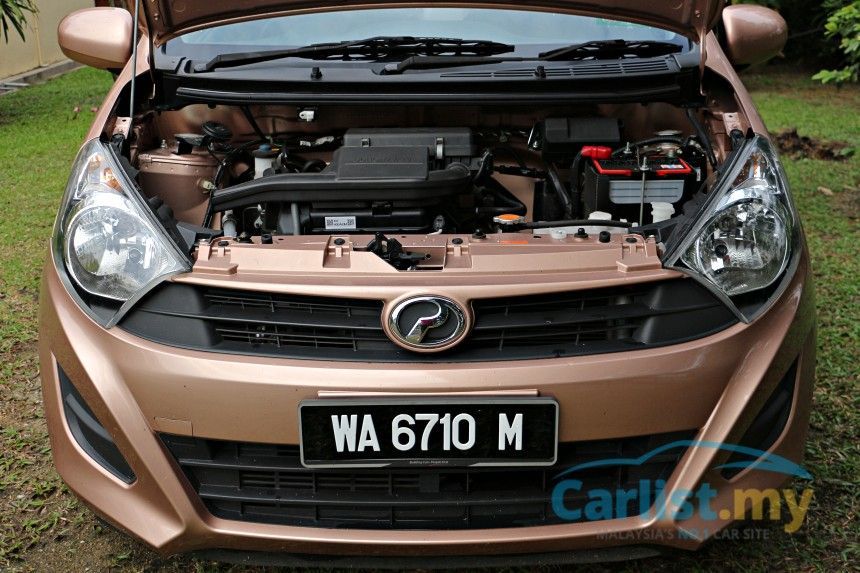 At city speeds is where the Axia comes into its own. The 1.0-litre 3-cylinder engine has enough grunt at lower revs to pull the car strongly between 30-70km/h, just what you need to thread the Axia through the Kuala Lumpur's sometimes narrow, sometimes (often?) pothole-ridden lanes.
Speaking of potholes, the bane of every driver in the greater Klang Valley (or Malaysia, for that matter), the Axia does quite well against the general unevenness of our roads. It soaks up the bumps well and doesn't get unsettled easily, say, even if you come at a speed bump a little too quickly.
When it comes to fuel economy, Perodua touts the Axia as being the one of the most fuel efficient cars available on the market, citing a claimed maximum fuel consumption figure of 20.1km for each litre of petrol - equivalent to 5-litres/100km. However, during the review period, in which the Axia was driven in the city and on highways, the lowest consumption figure I saw was closer to 7.3-litres/100km.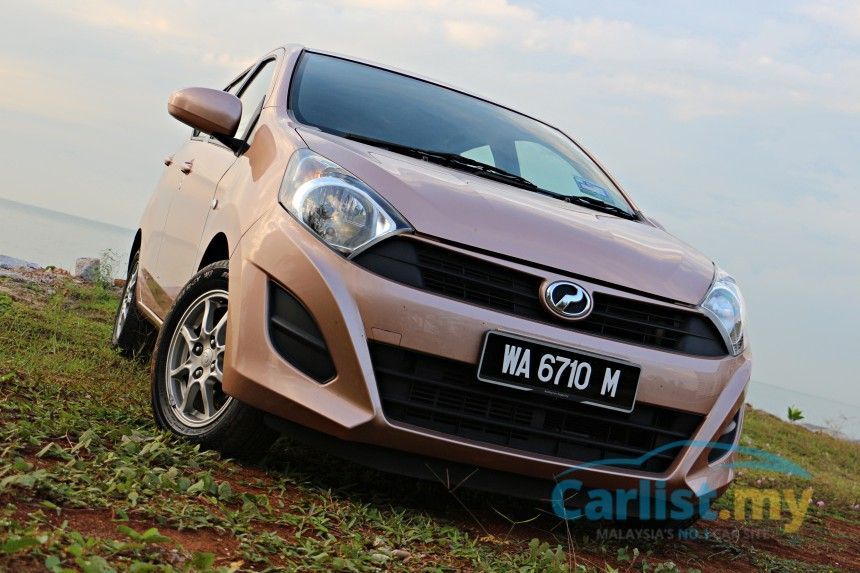 Conclusion
Perodua has over the years developed a very attuned sensibility as to what exactly the needs of the Malaysian people are, and the Axia is a class representation of that. It is an ambitious car in terms of scope: to be very economical, cheap to run, cheap to buy, easy to drive, and spacious for its size.
For all those categories it tries to get right, for the most part, it does. And that's really all there is to say about it. Because at this level of car, you want the most for your money. The most bang for your buck. The car that can wear as many hats without them all toppling over. And at an affordable price.
Now, though, particularly with the more expensive and better-equipped Advanced and SE variants of the Axia, Perodua has successfully moved their base offering up from the trenches of being a pure purchase of necessity to a car that people might actually want to own.
Even with the 'Standard' variant Axia, you'll be getting a lot of car for the cash that can handle pretty much (nearly) everything you can possibly throw at it during your typical urban or extra-urban lifestyle with the exception of blistering acceleration, smoky and slithery power slides, and off-roading.
Which, really, makes it a car that mostly any of us can live with and be perfectly happy in doing so.
---
---
---
---
Comments