Perodua Claims No Fault In Axia Steering Systems
Auto News Many of you would have come across images of a Perodua Axia which got involved in a 'steering lock' accident in Penang recently on Facebook or WhatsApp where the driver posted that that the steering of his car suddenly 'locked' and could not be turned while he was driving on the second Penang bridge in the rain, resulting in a crash.
The driver, who also said that the brakes did not function and the airbags did not deploy after the car hit the road barrier, mentioned on Facebook that he was considering taking legal action against Perodua. He also states that initial investigation results point to bald tyres being the cause of the accident.
Well, Perodua just released an official statement a couple of days ago and guess what?
A full diagnostic test was made on the vehicle (Axia E MT) after the accident and results show that the steering, braking and airbag systems were functioning normally.
The official statement from Perodua does not highlight the condition of the vehicle's tyres, but it should be noted by all motorists as a precaution that when your tyres are fully worn out, your steering and brakes are inevitably compromised.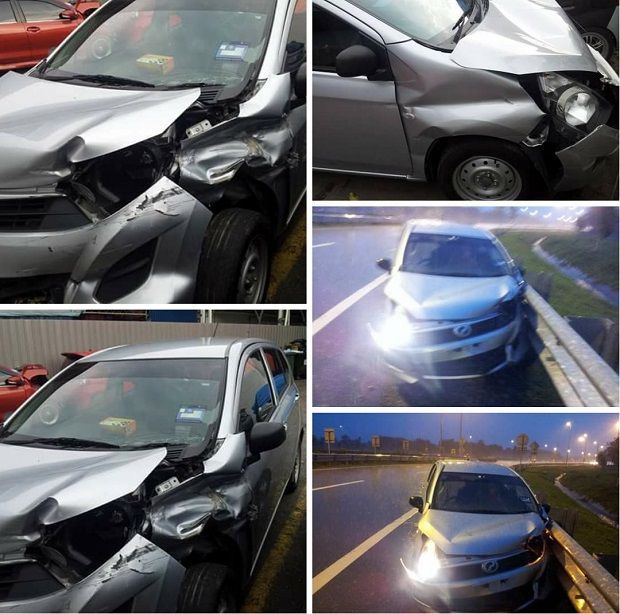 Image of damaged vehicle posted by owner on Facebook.

The company added that it has submitted the report to the driver and is co-operating with the Road Transport Department (JPJ).
Furthermore, Perodua said that it has sold more than 200,000 units of the Axia and it is yet to receive any complaint of this nature since the car was launched in September 2014.
"We wish to assure our customers that our vehicles adhere to stringent safety standards set by the authorities with most even surpassing those standards," said Dr Zahari Husin, MD of Perodua.
Perodua's official statement is reproduced below: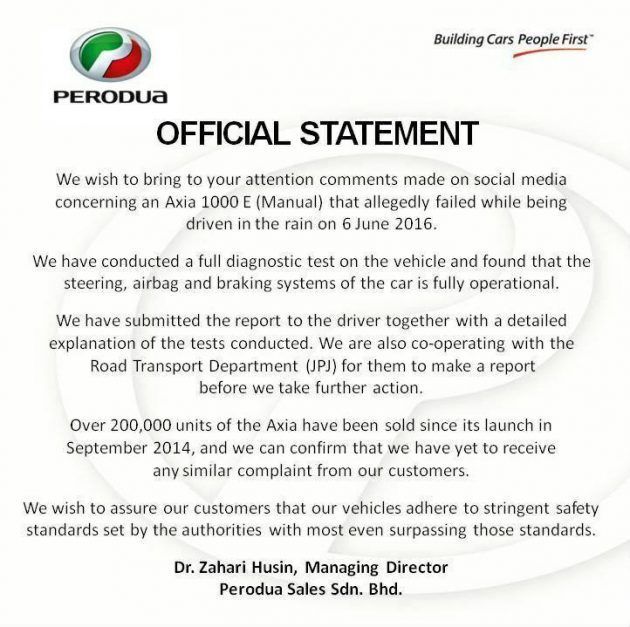 ---
---
---
---
Comments