2015 Perodua Myvi 1.5 Advance vs 2014 Proton Iriz 1.6 CVT Premium: The RM60,000 battle
Reviews It is common for us motoring journalists to have car-related questions thrown our way on a regular basis, from family members, friends, a friend of a friend, or even a reader who lives a thousand miles away, but regardless of who it is, the questions usually come from someone who intends to buy a car.
More often than not, the question which we end up facing is:
"Bro,I'm torn between car A and car B. Which one would you recommend and why ar?"
And with whatever knowledge and experience we have, we try our best to help our friends make the right decision. In fact, this has become a part and parcel of the lives of motoring journalists all over the world.
That being said, the writer found himself in a situation recently where he had to give his input to help his aunt purchase a car for her daughter. And as expected, the aunt was stressed out.
"Aiyo tambi, I want to buy my daughter a car for about RM60,000 since she is going to college soon. I really like the Proton Iriz, but uncle is saying that the Perodua Myvi is better. To make things worse, this girl doesn't know what she wants. She says she likes both. I'm so stressed I don't know what to do anymore lah…"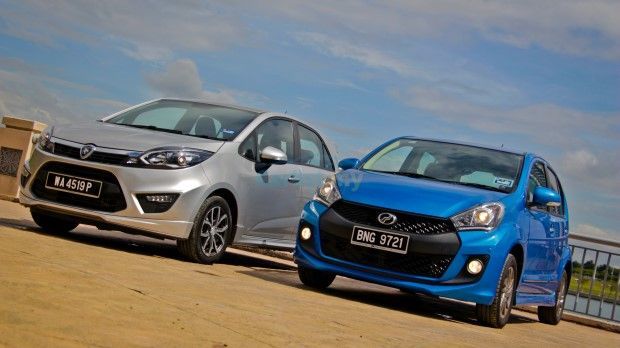 Now that the writer's aunt's problem has become his problem, there was only one way to solve this for once and for all – to put both the Perodua Myvi and the Proton Iriz side-by-side and see how they fare against one another.
So, since the budget here is RM60,000, we decided to put the range-topping variants of both models – the Myvi 1.5 Advance and the Iriz 1.6 CVT Premium to the test.
Specifications:
Proton Iriz 1.6 CVT Premium
Price: RM62,480.00
Engine: 1.6-litre, inline-4, VVT
Power: 107hp at 5,750rpm
Torque: 150Nm at 4,000rpm
Transmission: Continuously Variable Transmission (CVT)
Fuel consumption (claimed): 13.5km/l
Safety: 6 airbags, ABS, EBD, ESC, traction control, ISOFIX, Brake Assist (BA), rear view camera, electronic gear shift lock, anti-trap power window (driver only).
Origin: Made in Malaysia
Perodua Myvi 1.5 Advance
Price: RM58,368.50
Engine: 1.5-litre, inline-4, DVVT
Power: 102 hp at 6,000 rpm
Torque: 136 Nm at 4,400 rpm
Transmission: 4-speed automatic
Fuel consumption (claimed): 12.9km/l
Safety: 2 airbags, ABS, EBD, Brake Assist (BA), ISOFIX, Anti-snatch hook, seatbelt pre-tensioner
Origin: Made in Malaysia
Overview
What we have here are two cars that are ideal for beginners. They are small, affordable, economical, zippy, and are perfect for city driving. Although both cars offer great value for money, they have their shortcomings as well. These are exactly what potential buyers such as the aunty above need to know in order to make the decision on which is the car that suits them (or their children) the most.
Exterior
Design wise, there is nothing much to talk about here as both the Myvi and the Iriz are on par with one another. Although the Myvi has been around for more than a decade, Perodua has given the model a much needed facelift, comprising a redesigned front fascia, new wheel design, and new colours in an effort to keep the car fresh in the market.
The Iriz on the other hand, is much newer than the Myvi. Hence, you get more contemporary features like a couple of additional character lines, LED combination tail lights, as well as Follow-Me-Home lights.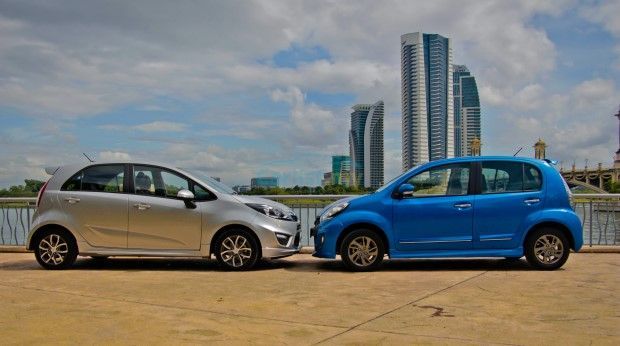 Size wise, the Myvi measures 3,685mm in length, 1,665mm in width, 1,570mm in height, and comes with a wheelbase length of 2,440mm. As for the Iriz, it is 3,920mm long, 1,722mm wide, 1,554mm tall and comes with a 2,555mm wheelbase.
The Iriz is not only bigger than the Myvi by a small margin, but also heavier. Weighing at 1,185kg (kerb weight), it is about 200kg heavier than the Myvi, which weighs only 980kg.
Another small difference is that the Myvi Advance runs on 14-inch (175/65R14) tyres and wheels, while the Iriz is fitted with 15-inchers (195/55R15).
Verdict: Both cars look just as good but Iriz wins in terms of features.
Interior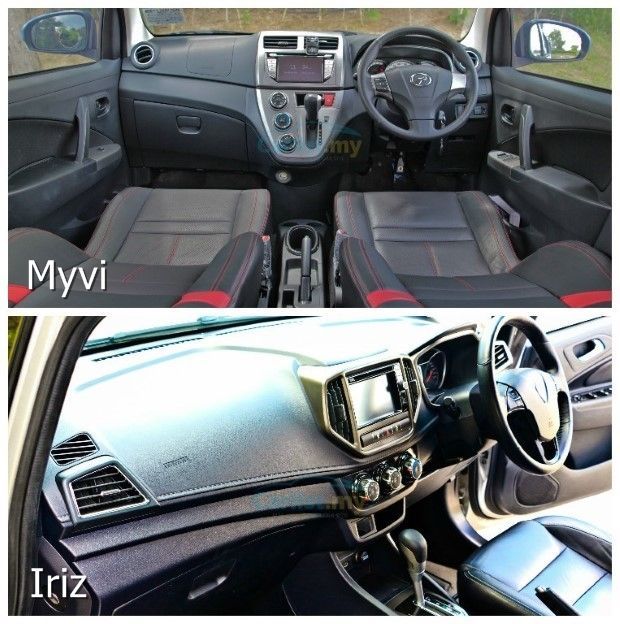 Since both variants here are range-toppers, they get all the bells and whistles the manufacturers could afford to throw in, such as leather seats, touch-screen infotainment system with DVD, USB, Bluetooth, and MP3 connectivity, as well as GPS navigation.
Besides the leather seats, it's the usual combination of hard and soft plastic material everywhere in both cars. However, the Iriz's cabin seems to look and feel a tad more premium than the Perodua.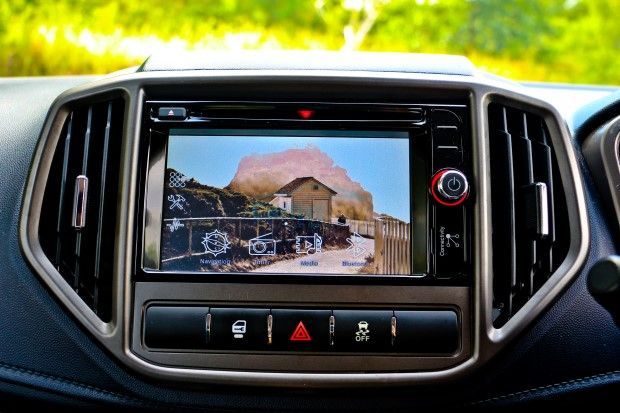 Even if we are to compare the audio system offered in both cars, the Iriz's infotainment do a better job in entertaining the occupants, as the speakers offer more bass and clarity overall.
As much as practicality and space is concerned, the Myvi has the upper hand with nine cubby holes compared to the Iriz's seven, a deeper glove compartment, and a well-packaged centre stack that translates to a very roomy interior despite being the smaller car. Even when it comes to the occupants, the Myvi has more head room and also leg room in the rear despite being the smaller car.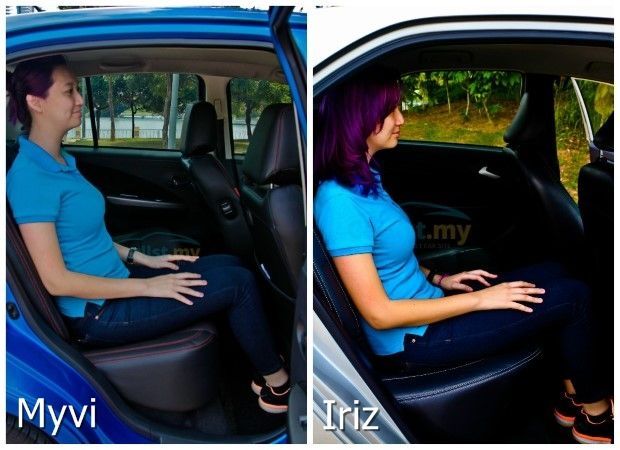 In case you're wondering which car has more luggage space, the Iriz offers 215-liters with the rear seats up, while the Myvi offers 208-liters. However, with the seats folded, it's a completely different story. Since the Myvi's seats can be folded flat, you get 595-litres with the seats down. Meanwhile, the Iriz's luggage with the seats folded into 60:40 configuration stands at only 270-litres tops.
Verdict: If you want space, go for the Myvi. If you want refinement, go for the Iriz.
Safety
Proton wins here, hands down. While the Myvi's only safety systems are its dual airbags, anti-lock brake system (ABS) with electronic brake distribution (EBD) and brake assist (BA), the Iriz Premium comes with traction control (TC), ABS with EBD and BA, electronic stability control (ESC), hill-hold assist (HHA) and six airbags.
Verdict: Proton is obviously the safer car here.
Driving impressions
Both the Perodua Myvi Advance and the Proton Iriz CVT Premium might look similar from the outside and even carry features that are pretty similar to one another, but in terms of driving characteristics, they are quite different.
After spending a couple of days with both the cars, we realised that the Myvi is more about comfort, while the Iriz is more focused towards offering an enjoyable driving experience.
The difference became apparent right from the moment we sat in the car. While the Myvi's seats provide a rather upright sitting position, the Iriz's seats are lower, and provide better support. However, due to the lower seats, getting in and out of the Iriz was not as easy as the Myvi, but the Myvi's seats are a plus point for drivers with a petite physique.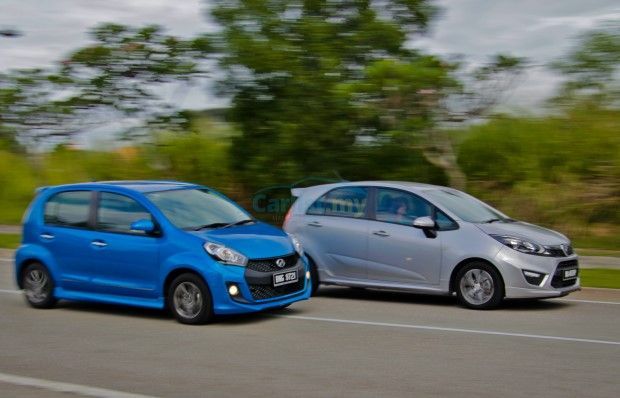 While the Perodua Myvi Advance is powered by a 1.5-litre engine which produces 102hp and 136Nm of torque, the Iriz runs on a 1.6-litre engine that is capable of kicking out 107hp and 150Nm of torque. On paper, the Iriz might sound like a more powerful car but due to the massive difference in weight, the Myvi has a better power-to-weight ratio, which translates to better acceleration and smoother power delivery. Believe it or not, the 1.5 Myvi can sprint from standstill to 100km/h in just under 10 seconds.
The Iriz on the other hand, which is the better handling car due to the lower centre of gravity and the additional weight, takes about 11.1 seconds.
Although the Myvi is the quicker car here, it lacks composure, and the last thing anyone should try to do is throw it around a corner at high speed. The Iriz, however, tackles corners in a more respectable manner, but it lacks the 'oomph' to inspire confidence and keep you going, "thanks" to the CVT transmission. In the city, however, both cars are absolute joy to drive, due to their small size and zippy nature.
Verdict: While the Myvi packs more punch, it lacks composure. The Iriz is more fun to drive, but it could use a bit more 'oomph'
Value for money
Priced at RM58,368 and RM62,480 respectively, the Myvi Advance will most likely be the choice for those who have a budget of RM60,000 and choose not to spend anything more.
However, if you are one of those who doesn't mind paying slightly more, the Iriz 1.6 CVT Premium is actually a very good alternative to the Myvi, as it is not only newer, but safer, comes with more features, and is actually more fun to drive.
The Iriz is also the more fuel efficient car here, returning 13.5 kilometers for a litre of fuel, compared to the Myvi's 12.9 kilometers per litre.
As for the servicing cost, Perodua has even calculated the servicing and maintenance costs for the Myvi done at their authorised service centres, and for the first 100,000km, the owner only has to fork out roughly RM2,722, making it an ideal choice for first-time car owners not wanting to be caught out of luck and cash when it comes time for required servicing. The service interval breakdown is as follows:
20,000km - RM353
30,000km - RM182
40,000km - RM484
50,000km - RM150
60,000km - RM384
70,000km - RM150
80,000km - RM484
90,000km - RM182
100,000km - RM353
The first three services - 1,000 km, 5,000 km and 10,000 km are free. Subsequent services are done at 10,000 km interval.
Proton on the other hand, does not provide its maintenance cost for the Iriz, but it is expected to be a bit higher than the Myvi.
Verdict: Yes, the Myvi is the cheaper choice, but the additional RM4,000 which the Iriz Premium is asking for is well justified with all the features offered (especially safety).
Conclusion
Both cars have their strengths and weaknesses. The Myvi Advance's biggest strength is that it has proven itself to be a very reliable car. In fact, it is the best-selling car in Malaysia for the past decade. Besides that, it is more affordable than the Iriz CVT Premium, and offers more space.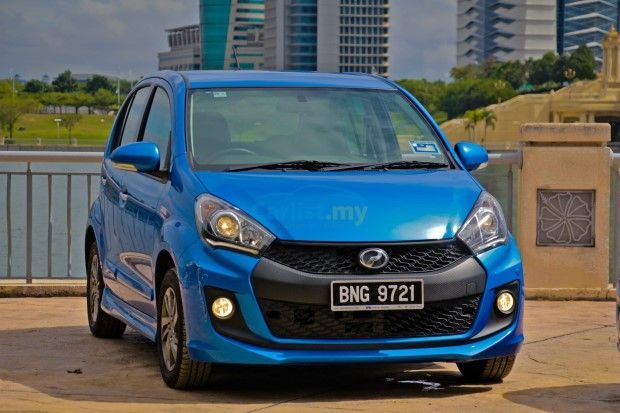 However, the fact that it is more than 10 years old has made it somehow boring. In terms of the mechanics and the appearance, only minor changes have been applied. In a nutshell, it is still the same car it was years ago, and this might send quite a few potential buyers towards fresher options like the Iriz.
Despite costing a few thousand Ringgits more, there is no doubt that the Iriz offers great value for money. It might not be as roomy or punchy as a Myvi, but it certainly feels plusher, and comes fitted with generous amount of standard equipment, including six airbags. It even offers better fuel economy than the Myvi.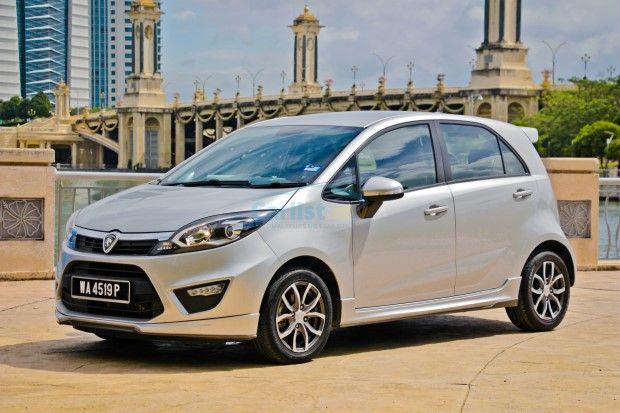 So, if you want to save some cash and play it safe, you can join the millions of the Myvi army on the road. But if you don't mind spending some additional cash for six airbags, projector headlamps, bigger wheels, and a more engaging drive, the Iriz might be the right car for you.
Looking for a Perodua Myvi or a Proton Iriz? Find one now at Carlist.my
---
---
---
---
Comments