Perodua Aims To Sell Its 1 Millionth Myvi By 2017
Auto News Nope, you did not read that wrongly: reporting to you live from a special press conference with Perodua, its president and CEO, Datuk Aminar Rashid Salled confirmed the company's big goals.
"Barring any unforeseen circumstances, we are cautiously optimistic that with the activities and promotions we have lined up until 2017, the target of one million Myvi cars (sold) is achievable."
*Check out our Perodua Myvi Info Hub
Soon celebrating its 10th anniversary in Malaysia, the Perodua Myvi has since sold 850,000 units (cumulatively over the model's life cycle, and as of end-April 2015). With a year-and-a-half left on the clock, Perodua will be pushing hard to rack up the remaining 150,000 units or so they have left to sell in order to meet their target.
*Initial Details Of The Perodua Myvi Sedan Revealed!
Defying the Odds
Malaysia's best-selling car brand was also keen to remind us of the 10 variant launches the Myvi has had since its introduction in 2005, including those of the major model update that was launched in 2011.
And we wouldn't blame you for thinking that sales of the Myvi would have naturally begun to slow down: especially with the arrival of the more affordable and more compact Perodua Axia.
Also, the Myvi, for the first time in a long time, has to fend off direct national competition in the form of the Proton Iriz.
But Malaysia's favourite vehicle is seemingly a far more resilient model than anyone could have imagined – even now.
Right after the Perodua Axia was launched and accordingly helped itself to a lion share of the Myvi's market, the dominant Myvi was refreshed, and launched in its 10th form – just as you'd find available in showrooms today.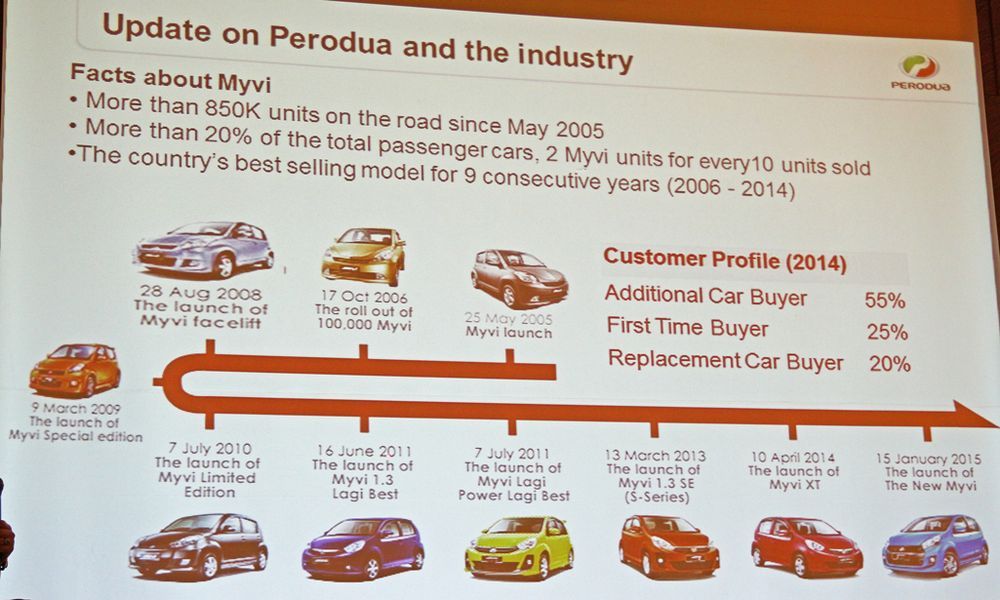 And while the latest version of the Myvi was only introduced in February, the nameplate itself has contributed to 25,500 units sold out of a total 74,700 Perodua vehicles sold in the first four months of 2015 – 34.13% of the total Perodua vehicles sold. The remaining 49,200 models comprised of the all-new Axia and popular Alza MPV.
Datuk Aminar added that, "On average, the Myvi's bookings so far this year is about 8,000 units per month." To fill up the remaining 150,000 units remaining before hitting the million mark, Perodua will have to maintain that momentum for a little over another 18 months. While that nicely lands us in 2017 (calculated from this point), can that momentum be maintained? Malaysia's no.1 selling model will have to continue to reinvent its appeal quite a bit before we get there, with lots of promotions expected.
---
---
---
---
Comments