2015 Porsche Cayenne Facelilft Debuts In Malaysia, Hot GTS Included!
Buying Guides In conjunction with the launch of its brand-new showroom in Sungai Besi, Sime Darby Auto Performance, the official distributors of Porsche vehicles in Malaysia, unveiled its 2015 Porsche Cayenne facelift.
There's lots of cool stuff to see here, like the appearance of the Porsche 918 Spyder hyper hybrid that's on show, so do treat yourselves to a visit soon.
Unfortunately, prices haven't been revealed yet, but SDAP has mentioned that bookings for all Cayenne variants are being taken at showrooms nationwide.
Back to the premium seven-seater SUV, and yes, there's lots to cover, so let's get started with where it matters most: power!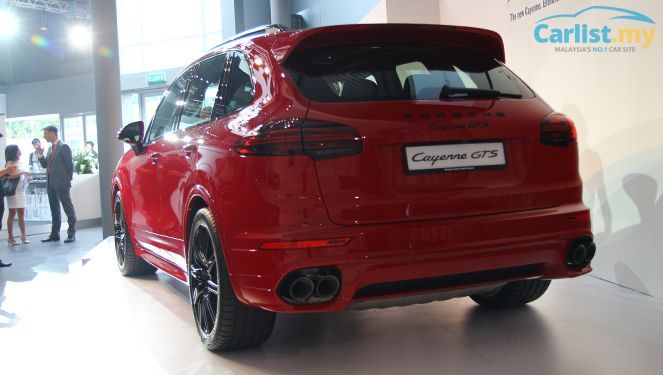 The Cayenne facelift offers two new powertrains for customers to choose from: a new 420hp 3.6-litre twin-turbo V6, and a 333hp plug-in hybrid, featuring a 3.0-litre supercharged V6 + a 96hp electric motor that resides in the Cayenne S E-Hybrid. The plug-in powertrain in the Cayenne is identical to what you'd get from the Panamera S E-Hybrid.
And yes, they're all here and ready to order (except the Turbo S monster), along with the full range of the remaining Cayenne variants. Here then, is a brief rundown of the six variants on offer: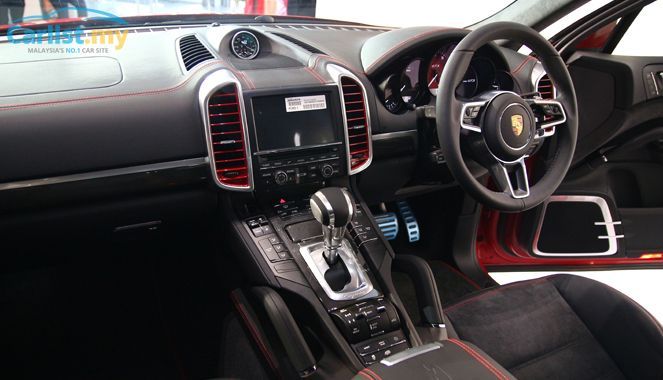 Cayenne Turbo: As the local range-topper (for now) Porsche Cayenne Turbo will carry forward its naturally-aspirated 4.8-litre V8 engine, which has now been improved for 20hp and 50Nm of torque more (all facelifted Cayenne variants get more power, and improved fuel efficiency), producing a total of 520hp and 750Nm of torque. The Turbo gets Porsche's eight-speed Tiptronic S torque converter automatic transmission with paddle shifters – the transmission option is common for all variants of the Cayenne.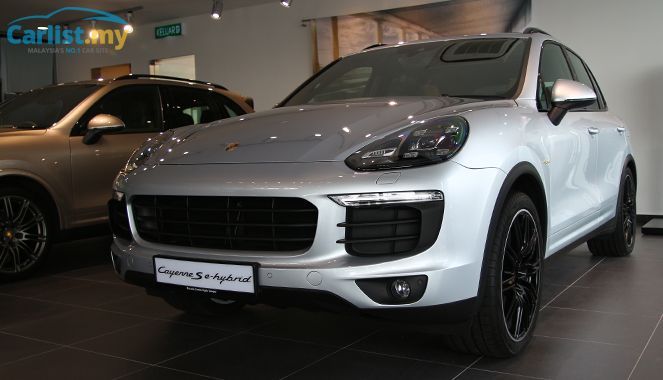 Cayenne S E-Hybrid: Sharing a common powertrain with the Panamera S E-Hybrid, the Cayenne S E-Hybrid delivers a total output of 262hp and 580Nm of torque, when it combines the output of its 416hp petrol engine, and 95hp electric motor. Top speed is 243km/h, while a century sprint is sorted in 5.9 seconds.
But that isn't of course the be all about it. Returning 3.4-litres/100km in fuel consumption, the Cayenne plug-in hybrid has a full electric driving top speed of 125km/h, and will run for a range of 36km completely emissions free. Porsche Malaysia has also told us that purchase of the Cayenne S E-Hybrid includes a charging station which owners can install at home – or anywhere else they see fit.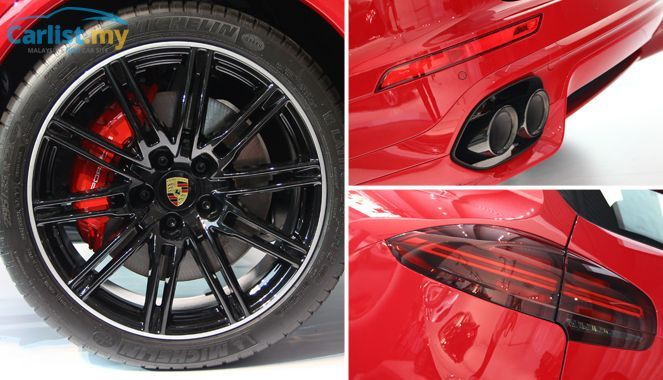 Cayenne GTS: Pictured today in a sporty red, the Cayenne GTS comes ready with the Porsche Active Suspension Management (PASM) , brakes from the range-topping Cayenne Turbo, brake calipers in red, large 20-inch wheels, darkened LED rear lights, and of course, GTS lettering all around.
There's also a sports exhaust kit equipped as standard, which provides the familiar meatly GTS roar.
Like the Cayenne S, the hot GTS variant packs the new 3.6-litre V6 bi-turbo engine, but is tuned for a higher output: 440hp and 600Nm of torque. Its top speed is 262km/h, with a 0-100km/h sorted in 5.2 seconds (5.1s if you spec the Sport Chrono package).
Cayenne S: Completely throwing out its 4.8-litre V8 heart, the new Cayenne S adopts Porsche's new 3.6-litre V6 turbocharged engine, as available on the top-spec Macan Turbo. The powerhouse develops 420hp and 550Nm of torque, and yet consumes less than 10.0-litres/100km.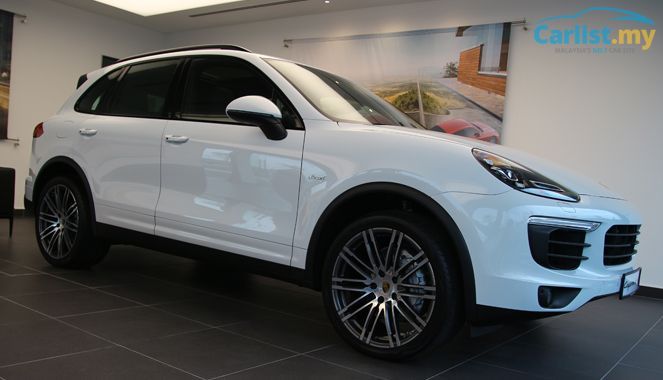 Cayenne S Diesel: Moving next to the diesel twins, the Cayenne S Diesel pushes out 385hp and a monstrous 850Nm of torque from its 4.2-litre V8 turbo-diesel engine. That's enough to burst the 2.2-tonne mammoth SUV from 0 to 100km/h in just 5.4 seconds!
Cayenne Diesel: The lowest spec diesel Cayenne available makes a humble 245hp, generates a healthy 550Nm of torque from a low 1,750rpm. An eight-speed Tiptronic S transmission is employed here, which not only gives it's a century sprint time of 7.3 seconds, but also aids fuel consumption down to a low 6.8-litres/100km (combined).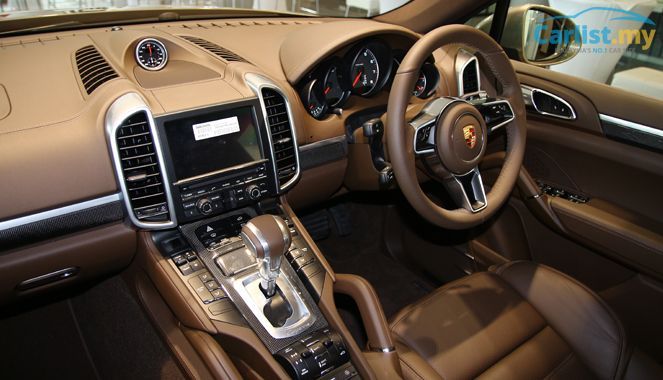 Cayenne: You'd be way off base thinking the base Cayenne was a fish out of water, because even at the very bottom of the business for the Porsche SUV, resides a turbocharged 3.6-litre V6 which makes 300hp and 400Nm of torque. If you're wondering then, 7.7 seconds is all it takes for the Cayenne to hit 100km/h, looking on to a top speed of 230km/h.
Transmission: Across all variants of the Cayenne is an eight-speed Tiptronic S transmission, which has been updated, and is largely to be thank for all variants' improved fuel efficiency. Porsche has now included a new 'coasting' function and improved the thermal management of the system, and including a new idle-stop 'Plus' feature, which can switch off the engine as soon as the car decelerates to walking pace, and not only when it comes to a dead stop.
Styling & Design:
While its silhouette largely remains the same, Porsche has gone through rather great lengths to update its Cayenne with new looks – at least to keep up with its littler, handsomer Macan. The front end has been subtly revised for sharper looks, particularly noticeable via its new front grille, bumper and headlamps. If you look closely, even the hood has been reworked.
The headlamps now feature similar four-point LED daytime running lights to the brand's latest designs, as seen on the Macan. All Cayenne variants come standard with Bi-Xenon headlights, while only the flagship Cayenne Turbo benefits from full LED tech with the Porsche Dynamic Light System (PDLS).
To the rear, and the fat, rounder taillights have been thrown out in favour of sharper and slimmer ones, and under them, you'll find new bumper and exhaust tip designs. The shape of the tailgate too has been restyled.
In Malaysia, depending on your spec/ variant of choice, there are additional bodykits and exterior styling bits available to further customise your Cayenne.
Inside the new Cayenne, all models now benefit from a new multifunction steering wheel design, said to be derived from the 918 Spyder hypercar's three-spoke wheel with shift paddles. There's also new stainless steel door sills and a tyre pressure monitoring feature included.
Buyer's Guide:
As mentioned, all variants of the 2015 Porsche Cayenne haven't had their prices shared with us yet, but you can drop by a Porsche dealership to place a booking on your preferred variant.
---
---
---
---
Comments