2016 Mercedes-AMG A 45 Facelift Revealed With 475Nm!
Auto News Benefitting from all the new goodies in store for the facelifted A-Class range that was just unveiled, Mercedes-Benz have also rolled out its new baby AMG: the A 45.
No longer a Mercedes-Benz A 45 AMG, the new A-Class hatch from Affalterbach is aptly known now as the Mercedes-AMG A 45: in-line with the Daimler company's new naming strategy for its powerhouse range of vehicles: such as Mercedes-AMG GT, Mercedes-AMG C 63, etc.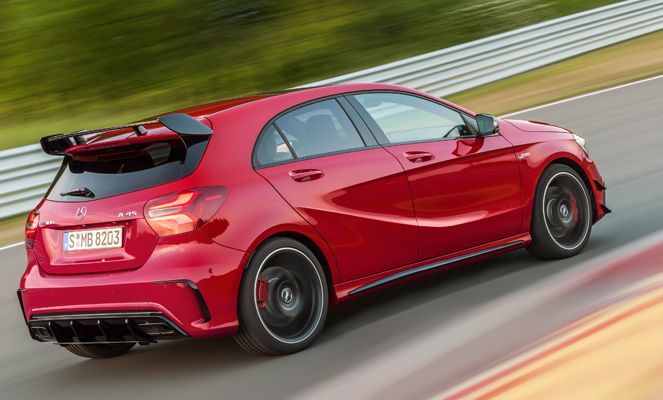 Back to the car, and the changes seen on the new facelifted A-Class are all apparent here: new front and rear bumper design, new front and rear light designs, new interior Dynamic Select option for new driving modes, you know the drill. The A 45 specifically gets a few more black aerodynamic fins all around, as well as a unique front bumper and rear diffuser.
Mind you, the car you see here is still without its Edition 1 styling kit, which we haven't heard of from Benz yet.
But what's most special about the hottest hatch of them all is its new power: yes, the world's most powerful series production 2.0-litre, four-cylinder engine (a.k.a. The Beast) has been tuned for more.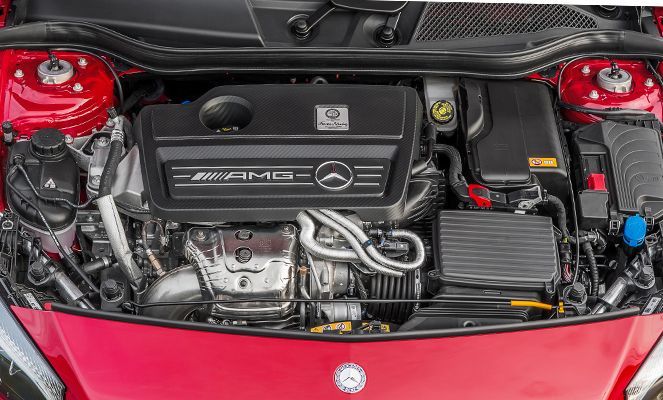 Specifically, it's 21hp and 25Nm of torque more than the previous model, which totals to 381hp @ 6,000rpm and 475Nm of torque between 2,250 and 5,000rpm from the hand-made AMG turbo engine.
On the road, that translates to a claimed 0-100km/g sprint in just 4.2 seconds! We know the pre-facelift A 45 to claim 4.6-seconds, with Mercedes-Benz Malaysia's driver trainer, Peter Hackett once telling us that they've even repeatedly hit 4.3 seconds on their runs. With the new one claiming 4.2 seconds, could trained drivers push into the sub 4-second mark? That's well into supercar territory.
"We never rest on our laurels, but constantly strive to develop our products further," says Tobias Moers, Chairman of Mercedes-AMG GmbH. "The A 45 still had so much improvement potential that we felt compelled to realise it to the full. Our brand claim simply obliges us to."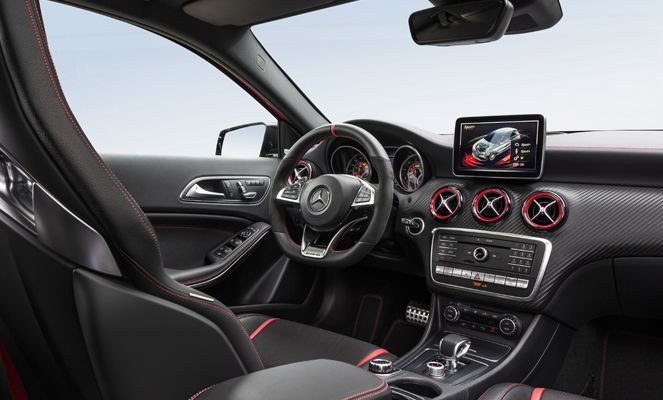 Other improvements to the A 45 include modifications to the transmission and suspension: shortening 3rd and 7th gear in the AMG SPEEDSHIFT DCT-7 dual-clutch transmission for better acceleration, and offering a new AMG Dynamic Plus package as an optional extra.
The AMG Dynamic Plus package adds a newly developed, mechanical front axle locking differential, which significantly improves traction when driving the A45 hard. The advantages show themselves during fast acceleration out of bends, where the locking differential allows maximum grip and high rates of lateral acceleration. Moreover, the A 45 is stabilised even more effectively during load changes and at high speeds.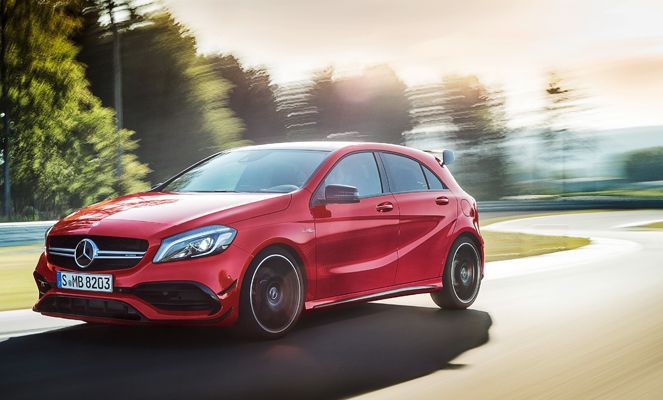 The package also includes AMG Ride Control with sports suspension: a two-stage, adaptive damping adjustment. The system operates fully automatically, adapting the damping forces for each wheel according to the driving situation and road conditions.
Drivers may also manipulate the Ride Control feature themselves via the available driving modes, that will then include an fifth "Race" mode should the Dynamic Plus package be specified.
In "Race" mode, the response characteristics of the 2.0-litre turbocharged engine and the accelerator are now even more immediate, with the exhaust system, suspension and steering remain at "Sport +" level, while 3-stage ESP® changes to "Sport Handling Mode" and allows wider drift angles – yes, the A 45 can drift now.
The transmission activates "Race" mode, which is configured to maintain an optimum engine speed in the lowest possible gear when driving at racetrack speeds. "RACE" mode is rounded off by rapid and responsive gearshifts.
---
---
---
---
Comments