2016 New Mitsubishi Triton – Now With 2.4-litre MIVEC Turbo Diesel Engine
Auto News Mitsubishi Motors Malaysia have today announced several important updates for its best-selling Triton. The previous model's 2.5-litre 4D56 cast iron block engine has now been replaced with a lighter, more powerful and more fuel efficient aluminum alloy block 4N15 2.4-litre engine that features Mitsubishi's signature MIVEC (Mitsubishi Innovative Valve timing Electronic control system) technology – a first in the pick-up truck segment.
Also added is a new flagship variant for the Triton range – the Triton VGT Adventure X 4x4 Automatic. There also some new features added to the existing Triton VGT Adventure and Triton VGT models, more on that later.
Speaking at the launch of the new Mitsubishi Triton, Mr. Yang Won-Chul, Chief Executive Officer of MMM said, "About 15 years ago, the Mitsubishi L200 was the first pick-up truck in Malaysia to be offered with an automatic transmission. In 2008, the Mitsubishi Triton raised the bar by being the first to offer a 3.2-litre engine, and in 2012 the Triton VGT became the first truck in Malaysia to use Variable Geometry Turbo."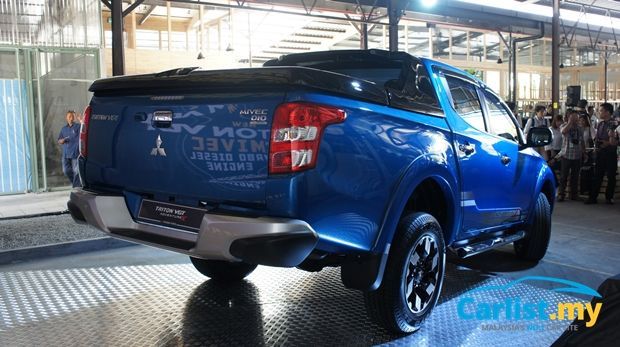 He added, "In 2015, Triton was the first pick-up truck in Malaysia to be offered with a wide array of passenger car-like features including Push Start Button, Keyless Operation, Automatic Bi-Xenon HID Headlamps with integrated LED Daytime Running Lights, Tilt and Telescopic Steering and Paddle Shifters for manual control of the automatic transmission. The vast improvements made for the new Triton marks yet another milestone for Mitsubishi Motors in Malaysia. The brand has a long heritage of providing Malaysian customers with the best pick-up truck to suit their everyday needs, be it for work or for play, or both."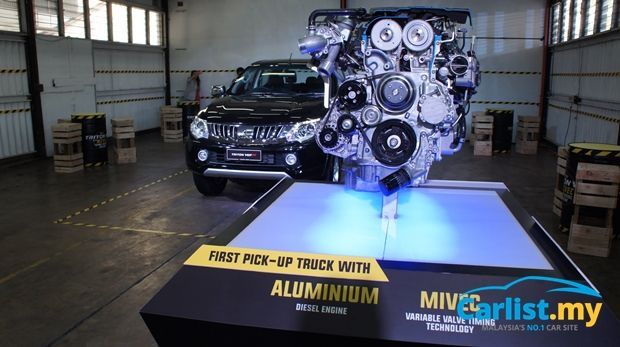 There are now six variants of the Triton on offer:
Triton VGT Adventure X 4x4 AT: RM 125,005
Triton VGT Adventure 4x4 AT: RM 118,198
Triton VGT 4x4 AT: RM 109,446
Triton VGT 4x4 MT: RM 102,619
Triton 4x4 MT: RM 88,997
Triton Quest 4x2 MT: RM: 73,438
Prices quoted are on-the-road, without insurance in Peninsular Malaysia.
What's new?
The current generation Triton was launched in 2015 with a 2.5-litre 4D56 engine that produced 178 PS of power and 400 Nm of torque. It was a tweaked version of the previous generation Triton's engine. At that time, the limited availability of Euro 5 diesel fuel ruled out the possibility of us having the latest 4N15 engine that was offered to Thai buyers.
Now, the 4N15 engine has been adapted to cope with our Euro 2M diesel (still the norm in rural areas). Mitsubishi also added that engine will still be able to produce the maximum 181 PS and 430 Nm even fueled with Euro 2M diesel. The only difference in performance is in terms of exhaust emissions, which will obviously be lower when it's running on Euro 5 diesel.
Power: 181 PS at 3,500 rpm
Torque: 430 Nm at 2,500 rpm
Transmission: 5-speed automatic (paddle shifters for VGT Adventure variants) or 6-speed manual
The new Triton's 2.4-litre MIVEC engine is the first diesel engine in the segment to feature variable valve timing technology, and this particular version developed by Mitsubishi is known as MIVEC. Previously only available in petrol engines, variable valve timing – which allows for more precise control of the intake valves – is now available in the common rail turbo diesel Triton.
Diesel engines are more fuel efficient than petrol engines, and by not requiring spark plugs, it's also more durable in off-road conditions. However diesel fuels require very high pressure to combust, thus a heavy cast iron block is required to cope with the high compression ratios.
The high pressure also creates several negative side effects including loud clattering noise, and poor NOx emissions. Of late, several companies have been able to side-step the problem of reducing the compression ratio for diesel engines. Mazda is one of them, and this Mitsubishi MIVEC turbo diesel engine is able to run with a compression ratio of just 15.5:1, almost as similar to a petrol engine.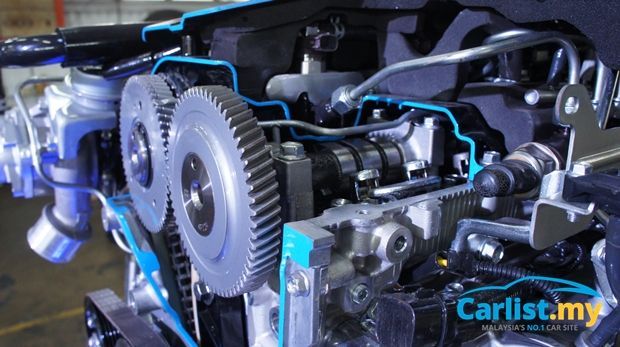 The biggest challenge in reducing the compression ratio for diesel engines is maintaining cold start performance, a problem which Mitsubishi mitigated with MIVEC to maintain precise control on the intake valves.
The lower pressure in the combustion chamber also means that it is possible to use lightweight aluminum alloy material for the engine block.
By using lightweight aluminum instead of a traditional cast iron material, the new engine is about 30kg lighter than before, while at the same time retaining the same level of reliability and robustness that all Mitsubishi 4x4s are known for.
Engine performance has also been improved, with output now rising to 181 PS of power at 3,500 rpm and 430 Nm of torque at 2,500 rpm. That's 3 PS and 30 Nm higher than before. Peak power now arrives 500 rpm earlier but peak torque is pushed up by 500 rpm.
Mitsubishi also claims that fuel consumption has been reduced by up to 15 percent, depending on driving habits. With reduced kerb weight and increased power output, Mitsubishi adds that overall acceleration and driving performance has also been improved.
Noise, Vibration and Harshness (NVH) has also been improved making the new Triton a quieter and comfortable drive. The use of timing chain also means reduced maintenance cost, and longer service lifespan.
New variant, upgraded features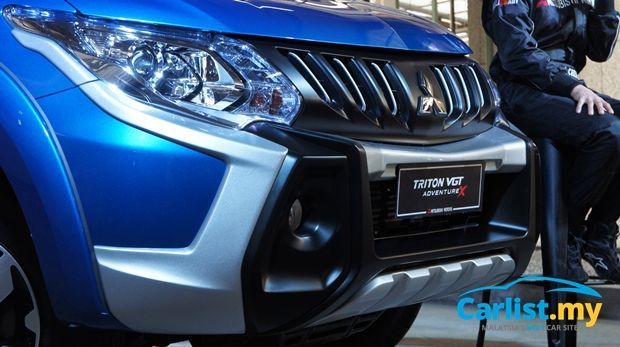 The newly added Triton VGT Adventure X variant is now flagship of the Triton range. It comes standard with rugged looking accessories like:
Shield Extender for the front bumper
Dark chrome grille
New Sports Bar with Fullbox
Dual-tone 17-inch alloy wheels
The new Triton VGT Adventure X will only be in showrooms from 23 September onwards.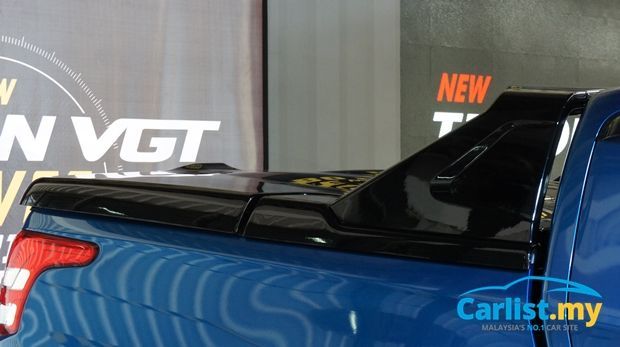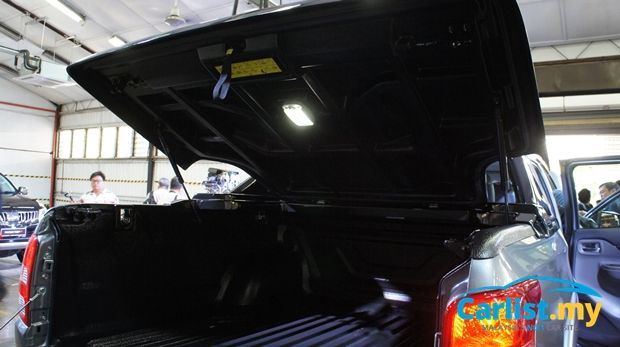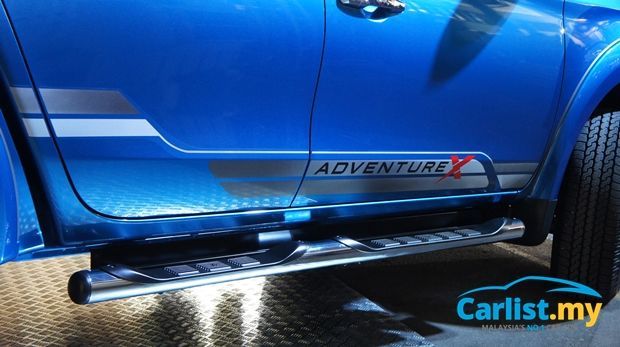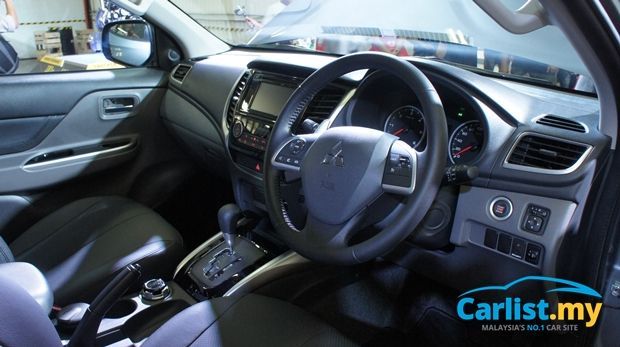 The existing Triton VGT AT & VGT MT has also been upgraded. On top of the new engine, both variants now get:
Automatic Bi-Xenon HID Headlamps with integrated LED Daytime Running Lights
Rear fog lamps.
The VGT MT model gets a new 6-speed manual transmission (automatic models retain the 5-speed automatic)
Aimed at business-owners, the Triton M/T 4x4 is powered by the proven 136 PS turbocharged intercooled turbo diesel engine now comes with side-step while the 110 PS turbo diesel Triton Quest 4x2 continues unchanged.
The new Triton retains its predecessors of best-in-class feature of 5.9 meters turning radius.
Safety features remain the same. Reverse camera is available only for the VGT Adventure variant. Dual front airbags, ABS, EBD, and ISOFIX is standard across the range.
As before, all new Triton models are imported as a Completely Built-Up (CBU) vehicle from Mitsubishi Motors' global production hub in Thailand.
The new Triton comes with 2 Years of Free Maintenance and a 3 years/ 100,000 km factory warranty, whichever comes first.
---
---
---
---
Comments