2016 Will Be The Year of SUVs And Trucks – Here's Why
Insights For competitive reasons, car companies usually stagger their launches, especially on models that their rice bowls depend on. For example, Mercedes-Benz will not launch an all-new C-Class at the same time as a BMW's 3-Series. Similarly, Toyota wouldn't introduce a new Vios so close to the launch of a new Honda City.
Doing so will not only be poorly cost effective, it confuses consumers, and will quickly degenerate a potential great model into a contest of who shouts the loudest.
Yet, within a span of 12 months, Toyota, Ford, and Mitsubishi are vying for the attention of both SUV and pick-up truck buyers. That's quite a wide net to cast.
In November, Mitsubishi debuted its all-new Triton. Several months later Ford began teasing the public with pictures of its all-new Everest 'concept,' never mind the fact this 'concept' car had working wipers, windshield washers and side mirrors.
Activities in this segment continued to intensify with spyshots of Toyota's all-new Hilux making their way to the Internet, followed by the all-new Mitsubishi Pajero Sport and all-new Toyota Fortuner.
In March 2015, Ford hosted the global debut of its all-new Everest in Thailand. Toyota followed up on the act by debuting its all-new Hilux in May 2015. The baton was then passed back to Ford, who launched its new Ford Ranger in June. In between them, the Isuzu MU-X and all-new Mitsubishi Triton was launched in Malaysia.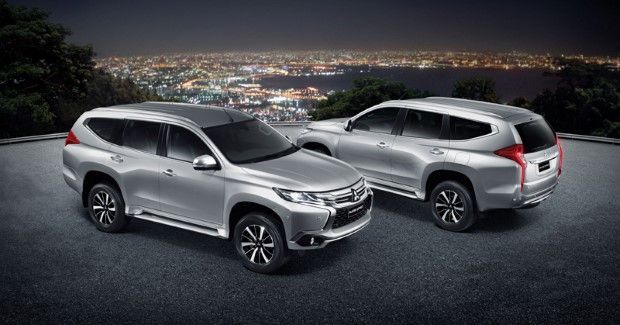 Over the weekend, Mitsubishi also introduced its all-new Pajero Sport.
What's Happening?
On 1-January 2016, Thailand will be enforcing a new carbon emissions-based excise duty structure.
Given that Thailand is the global hub for pick-up trucks and truck-based SUVs, the new duty structure has a direct influence on the launch timing of such models around the world.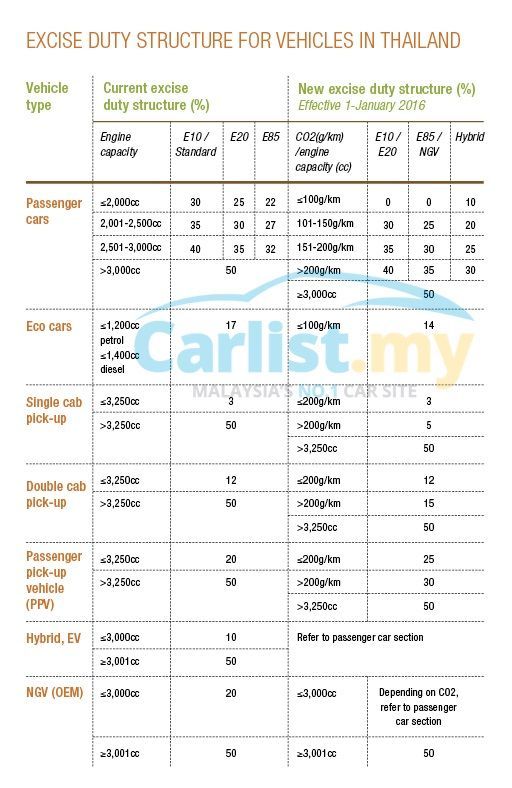 Under this new duty structure, pick-up trucks and their SUV derivatives that emit more than 200g/km of carbon dioxide will be taxed between 2 to 30 percent higher than before.
For pick-up trucks, the difference is not that big. Single-cab trucks that exceed the limit will be taxed 2 percent higher (from 3 percent to 5 percent), while double-cab trucks are taxed 3 percent more (from 12 percent to 15 percent).
Truck-based SUVs (hereon referred to as passenger pick-up vehicles or PPVs) on the other hand, will be severely affected. Irrespective of their carbon emissions, PPVs will be taxed at least 5 percent more, from 20 percent to 25 percent. Those that emit more than 200 g/km will be taxed 10 percent more.
Thus explains the big rush to launch the models in Thailand before 2016.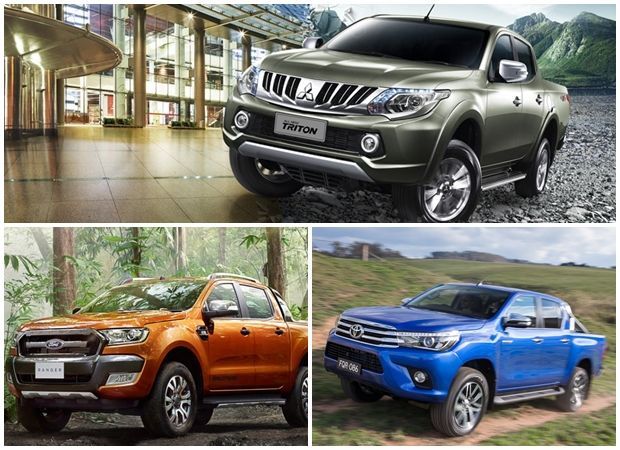 So How Will SUVs and Trucks Be Affected?
By 2016, a Ford Everest will be taxed at the same rate as a Honda CR-V, in Thailand, of course.
Currently, a Honda CR-V 2.4-litre is taxed at 27 percent, after discounts for E85 gasohol fuel compatibility. A 2.5-litre PPV is taxed at only 20 percent.
In other words starting 2016, PPV models will no longer enjoy the low excise duties that in the past, have allowed them to be priced lower than passenger car-based SUVs.
The older generation of 2.2-litre to 2.5-litre capacity diesel engines used in pick-up trucks usually emit slightly more than 200g/km of carbon dioxide. A larger 3.2-litre model will emit over 270 g/km.
This also explains why the all-new Mitsubishi Triton, Pajero Sport, Toyota Hilux and Fortuner are fitted with newer, cleaner emissions engines for Thailand.
Don't expect these engines to come to Malaysia though, at least not until the necessary Euro-5 diesel is available nationwide.
How Does This Affect Consumers In Malaysia?
The loss of price advantage for PPVs mean that prices in Thailand are going to go up, aligning them with passenger car-based SUVs.
The select group of consumers who are buying these PPVs at their new prices are going to expect a higher level of refinement. They are going to expect passenger car-like handling, safety features, and comfort.
Thus explains the massive leap in refinement seen in the all-new Fortuner, Everest and Pajero Sport.
It's amazing how a change in duty structure in Thailand will have a direct impact on improving the quality and refinement of cars that are sold here.
Over in Malaysia, our duty structure does not make any distinction between PPVs and passenger car-based SUVs.
Aside from the already on-sale Isuzu MU-X and Mitsubishi Triton, all other models mentioned here are expected to be launched in Malaysia by early 2016. The coming influx of very refined and also very durable seven-seater SUVs is expected to intensify competition in the RM160k to RM200k segment.
---
---
---
---
Comments