2017 All-New Honda CR-V: What Is Honda Sensing?
Insights In slightly over a month's time, Honda Malaysia will be introducing the all-new fifth generation 2017 Honda CR-V, and for the first time ever in this segment, it will come with ADAS (Advanced Driver-Assistance System) features, or as Honda prefers to call it - Honda Sensing.
Prior to the upcoming launch of the all-new Honda CR-V (could happen as early as next month), we were given brief test drive in the all-new CR-V. When we say brief, we meant a total driving distance of less than 1 km. The short drive was intended to focus only on Honda Sensing, as Honda has strategically held off any full test drive of the all-new CR-V until the its official launch.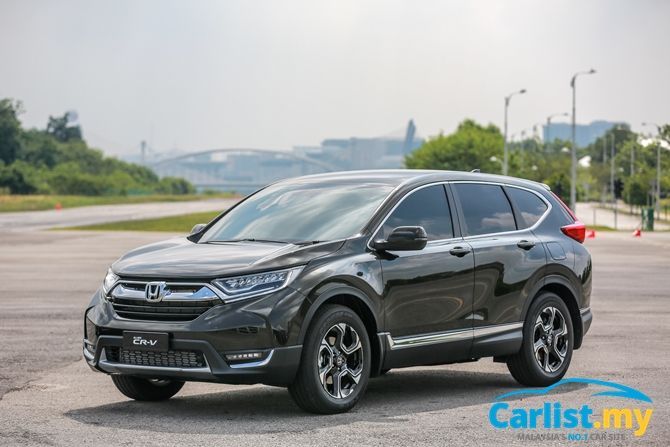 ADAS is a generic term while Honda Sensing is a marketing used by Honda vehicles. As such, we will be quite liberal in interchanging the two names.
What is ADAS?
Short for Advanced Driver-Assistance Systems, ADAS is an umbrella term for a list of related active safety systems. By 'active,' it means that the features work to try to prevent an accident from happening, as opposed to passive safety systems like airbags, which only works to minimize injuries.
The keyword here is 'try,' because technology cannot compensate for human stupidity. If you refuse to belt your child, or insist on driving recklessly, ADAS won't be of any use.
For most reasonably safe drivers, ADAS work to avoid an accident by alerting a distracted driver of potential dangers, and in extreme cases, momentarily taking over driving duties from the driver. If necessary, ADAS systems will work to automatically steer or brake the vehicle if the driver is not reacting fast enough.
The biggest challenge in designing a good ADAS system is programming the software to know when to intervene and when to stay in the background (filtering out false alarms).
Once limited only to expensive luxury cars, such functions are starting to appear outside the premium segment.
In Malaysia, Ford was the first to introduce ADAS, albeit limited to only one function, when it introduced autonomous emergency braking (AEB), marketed by Ford as Active City Stop, in the Ford Focus.
Late last year, Hyundai threw a curve ball to its competitors by introducing the Hyundai Ioniq, which at just RM114,008 for the HEV Plus variant, offers a full suite of ADAS features including AEB, Lane Keeping Assist System (LKAS), Lane Departure Warning (LDW), and adaptive cruise control (Hyundai calls it Smart Cruise Control, SCC).
The all-new Honda CR-V with Honda Sensing is next in line to democratize ADAS.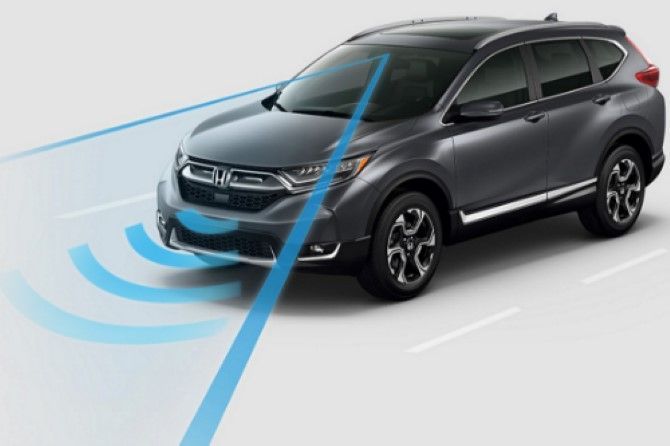 What Is Honda Sensing?
It is Honda's marketing name for ADAS features. Honda Sensing works by relying on two key components – a monocular camera mounted behind the rear-view mirror and a millimeter wave radar mounted beneath grille on the front bumper. Together, the two components work to keep the driver out of harm's way.
Radars are very good at calculating speed and distance but are poor at identifying finer details of an object, which is crucial in filtering out false alarms.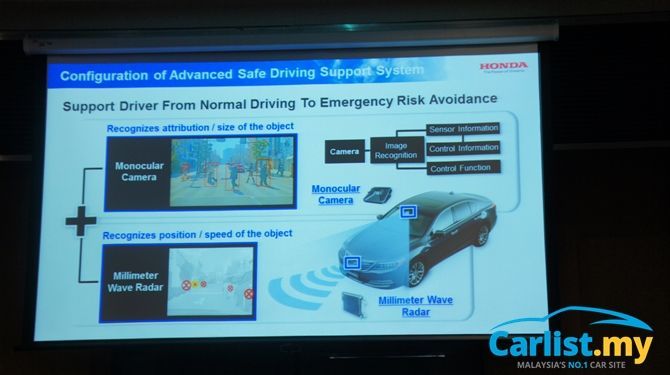 For example, a radar can't tell if the object in front is a harmless cone or a child. Cameras are good doing that and when combined with sophisticated image recognition software, it can make very good judgement.
So far, Malaysia is the only country in the ASEAN region where the all-new CR-V is equipped with Honda Sensing.
Honda Malaysia has decided to choose Honda Sensing over the third row seat option that our friends in Thailand and Indonesia have selected. Yes, contrary to earlier reports, the upcoming all-new CR-V for Malaysia will remain only as a five-seater.
The features within Honda Sensing include: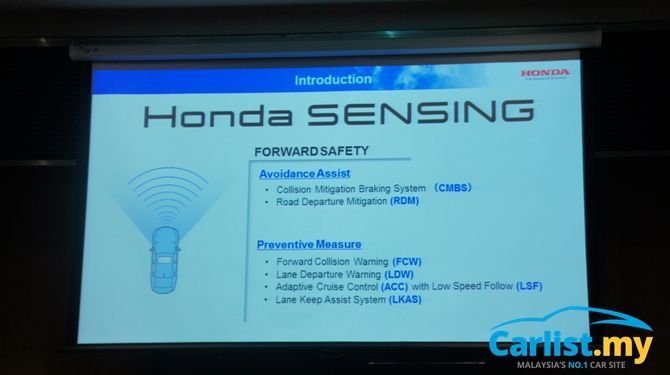 Collision Mitigation Braking System (CMBS) and Forward Collision Warning (FCW)
Honda's marketing name for Autonomous Emergency Braking (AEB), CMBS works in conjunction with FCW avoid a frontal collision.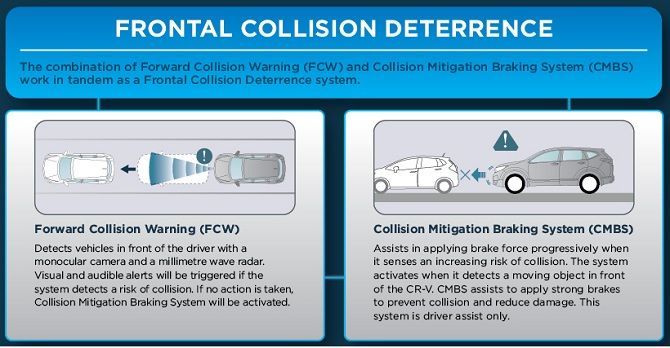 Operating at speeds between 15 km/h and 100 km/h, FCW constantly scans 100 metres ahead for any risk of collision. If there is a risk of a collision, FCW will either give out a warning sound or activate CMBS, which in turn will either apply partial braking while waiting for the driver to react, or apply maximum braking force (while tightening the safety belts) to bring the car to complete stop.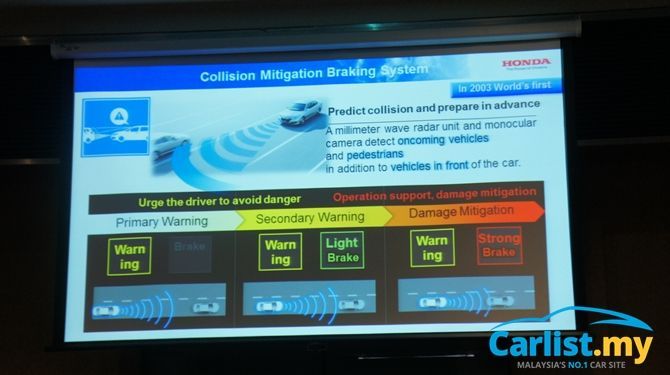 The current generation of CMBS is able to detect not just motor vehicles but also pedestrians. It can also detect children but Honda doesn't want to include that in its claims because to be specific, CMBS can only detect human figures above 1 metre. In comparison, Volvo's Enhanced City Safety in the XC60 is capable of detecting human figures above 0.8 metre.
As CMBS rely on both a radar and a camera, any dirt or even severe weather conditions obstructing the camera's vision will affect the system's function. In such cases, a message will appear on the instrument panel to alert the driver that CMBS is not available.
CMBS and FCW are always active by default. You can manually disable but it will turn back on at the next engine start up.
CMBS works to save you from getting into situations like this.
And yes, if you have to know, CMBS can be overridden by the driver when he continues to apply full throttle despite the system's intervention – useful if you have to ram your way out of a potential carjacking or kidnap situation.
Lane Departure Warning (LDW)
Despite its name, LDW in Honda Sensing does more than just warning the driver but also initiate corrective steering.
This function steps in when the driver strays out of his/her lane without signaling. The system works at speeds between 72 km/h and 180 km/h.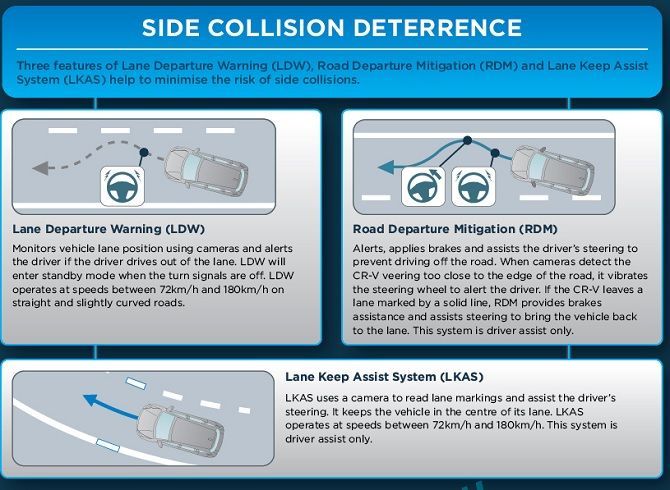 We had a chance to briefly sample Honda Sensing's LDW and one obvious difference that we notice is how seamless Honda's system works in comparison to the one fitted in the Hyundai Ioniq.
Honda's LDW is better at judging when your steering inputs are intentional and when they aren't. In our experience with the Hyundai Ioniq, such features are only good for highway driving and are not practical for Malaysian urban road conditions, where we often have to swerve or move slightly out of our lanes to avoid motorcycles or potholes – situations where the we had to 'fight' against the system's corrective measures. We ended up turning off the Ioniq's LKAS most of the time.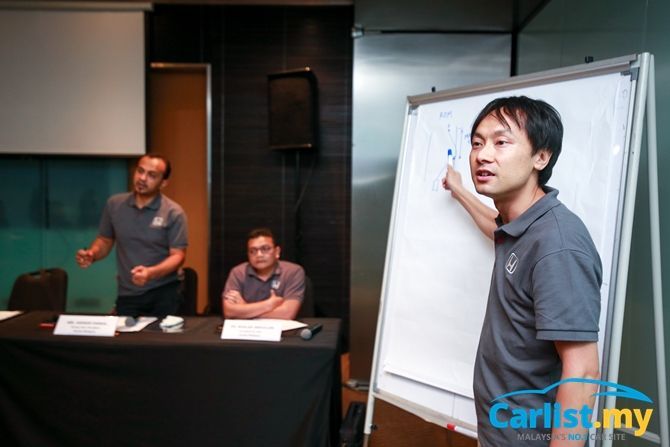 This was exactly what Daisuke Hanzawa, the engineer at Honda R&D responsible for Honda Sensing, wanted to avoid.
"We didn't want develop a system where the driver will end up turning it off most of the time," he said.
In preparing for the all-new CR-V's launch in Malaysia, Naoto and his team had drove a lot of distance in Malaysian traffic conditions to understand our local driving conditions before fine tuning Honda Sensing for our local roads. The tests were conducted last year using Japanese market Honda Odyssey and Legend models equipped with Honda Sensing.
Even in our short test drive in a controlled environment, it was quite hard to trigger LDW from intervening. You can't just turn the steering wheel slightly to go off your lane to test LDW because LDW knows that you are making an intentional move and won't interfere. To trigger it, you have to work hard to pretend that you are either falling asleep or distracted.
When it does kick in, marvel at LDW turning steering wheel to bring the car back into the centre of the lane, hands free (do not try this on public roads).
LDW works to avoid fatal accidents like this recent case.
LDW can be permanently disabled by pressing a switch.
Lane Keeping Assist System (LKAS)
Also operating at speeds between 72 km/h and 180 km/h, LKAS works to reduce driver fatigue in long distance drive by helping the driver to keep the car to the centre of the lane.
By relying on the monocular camera detecting painted white lines on the road, LKAS constantly adjusts the steering wheel angle.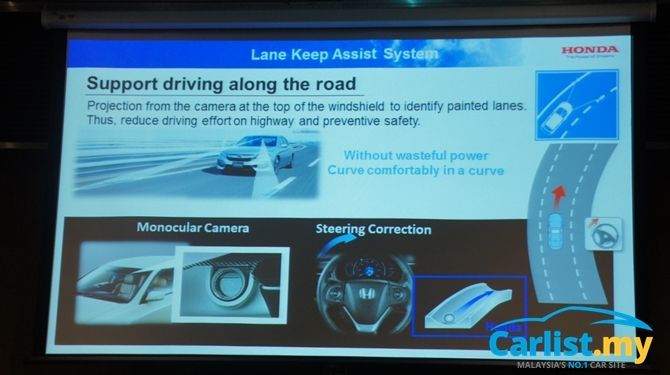 The hardware is largely similar to semi-autonomous driving features available in the Volvo XC90, V90 and S90 as well as BMW's 7 Series, but Honda is careful to not market their LKAS as a semi-autonomous driving feature.
Honda believes that the driver must always remain in control and as such, Honda's LKAS is designed to cut out if it detects that the driver is not holding onto the steering wheel for more than 15 seconds. The system can tell if the driver's hands are on the steering wheel by the presence of additional torque, which is always present when we apply even the slightest touch to the steering wheel while driving.
Like LDW, LKAS can be permanently disabled.
Road Departure Mitigation (RDM)
An extension of LDW, RDM works to detect solid white lines (indicating edge of the road) on the left-side of the road rather than broken white lines on the right. If it detects that the vehicle is veering dangerously close to the edge of the road, it will apply corrective steering, and if necessary, it will apply the brakes as well.
Like CMBS, RDM will always remain active in the background by default.
Adaptive Cruise Control (ACC)
By using a milimetre wave radar mounted on the lower side of the front bumper, the system automatically reduces the vehicle's preset cruise control speed when it detects slowing traffic ahead.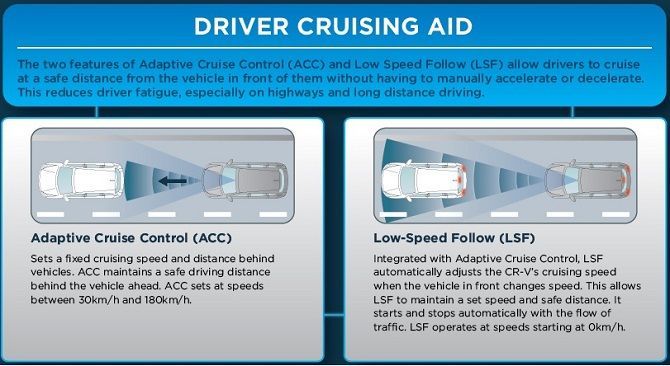 ACC can be set from 30 km/h up to 180 km/h.
Low Speed Follow (LSF)
A sub-function of ACC, LSF is useful for stop-go traffic. Preset the maximum speed and distance, LSF will simply follow the vehicle in front, accelerating and braking automatically in tandem with the vehicle in front (steering input still required from the driver). If necessary, LSF is able to brake the CR-V to a complete stop.
Of course, we don't think the feature is very practical in our aggressive cut and thrust city traffic. Maybe it works in Japan or Germany, where drivers a lot more disciplined, but not here.
LSF operates from 0-100 km/h.
Like ACC, LSF is off by default.
On top of these features, the CR-V will also retain the outgoing model's Lane Watch blind spot monitoring system (passenger-side only).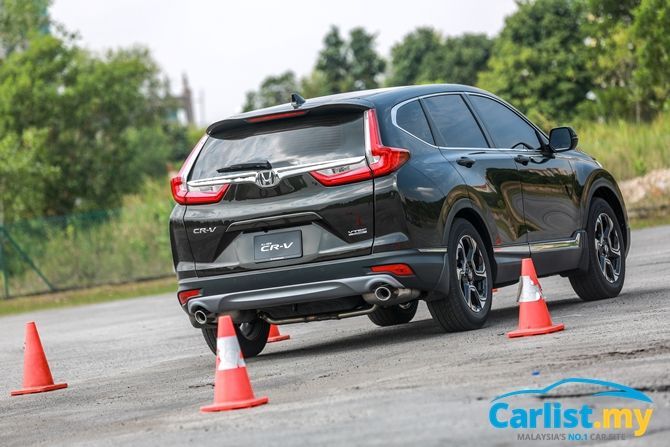 More information on other aspects of the all-new fifth generation 2017 Honda CR-V will be revealed when we get closer to its launch date, possibly next month.
Related:
2017 All-New Honda C-RV: 1.5-litre VTEC Turbo, Underpowered?
2017 All-New Honda CR-V: No Seven Seats, But Maybe That's A Good Thing?
---
---
---
Comments