40 Countries Agree That Autonomous Emergency Braking Is Important
Auto News Ah, active safety systems. In the last decade we've seen the proliferation of these systems in a number of cars, and nowadays you can even get them in entry level models like the Perodua Myvi. Perhaps the most important of these - and the most promoted - is autonomous emergency braking, or AEB for short. You've seen countless videos where a distracted driver doesn't notice an obstacle, and the car manages to stop just short of hitting it - all autonomously.
There are various approaches to AEB systems, but they all have the same end goal: reduce damage in the event of an accident, or avoid them entirely. Studies by Euro NCAP and Australasian NCAP have found that the systems lead to a 38% reduction in real-world rear-end crashes at low speeds. By the estimation of the UNECE, this could lead to over 1,000 lives saved every year within the European Union alone.
With a draft bill on its way, there will be newer, tighter, stricter international UN regulations for AEB systems. The regulation will have a set of testing requirements for systems to work from between 0 and 60 km/h, which is heavily geared to urban scenarios. Light commercial vehicles will also need these systems, and many existing systems will need to be updated to meet these regulations.
Beyond this set of requirements, there is also work being done to improve pedestrian and cyclist detection for these AEB systems as to this day, some systems have difficulty recognizing odd shaped objects that don't look like regular pedestrians. It's a fairly difficult task to execute as even autonomous cars have trouble discerning between obstacles and cyclists due to their complex shape, but given that AEB was a figment of our imaginations just a decade ago, it won't be surprising if they figure it out in the next half decade or so.
---
---
---
Related News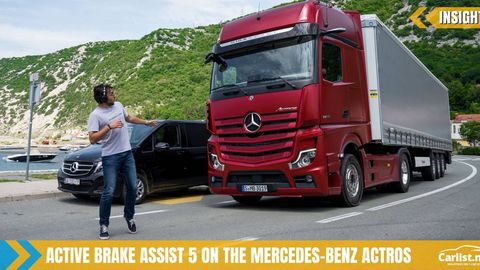 Insights
The Mercedes-Benz Actros is one of those workhorses that proves itself time and time again. It's responsible for a sizable chunk of the world's ...
---
Comments