5 Things You Need To Know About The Mercedes-Benz MobilityPlus Replacement Car Program
Insights In an effort to provide customers with unparalleled level of convenience and peace-of-mind with comprehensive and innovative financing solutions, Mercedes-Benz Malaysia recently introduced the MobilityPlus Replacement Car Program.
The MobilityPlus program, which falls under Mercedes-Benz Financial, a brand under Mercedes-Benz Services Malaysia Sdn. Bhd, basically allows Mercedes-Benz passenger car owners to enjoy a replacement car when their vehicles are sent for routine servicing (including warranty claims) that require 48-hours or more.
The MobilityPlus coverage is on the first two year period for FinanceCare and Agility solutions and up to four year period for leasing solution depending on the lease tenure.
Now, in case you're wondering how convenient Mercedes-Benz MobilityPlus is, just remember these 5 core values of the program:

1) 20 days
A 20-day per year entitlement period is offered for the replacement car at no extra cost to the customer.
2) 24 hours
The replacement vehicle will be made available to eligible customers within just 24-hours of notification by the Authorized Mercedes-Benz Service Centre.
3) Preferred Location
For added convenience, customers will even be able to select their preferred pick-up and drop off points of the replacement car.
4) Nationwide Coverage
As long as your Mercedes-Benz was purchased under Mercedes-Benz Malaysia's own financing program like the Agility Financing, or the Young Star Agility Financing for pre-owned cars, the MobilityPlus program will cover you wherever you are in Malaysia, including Langkawi and Labuan.
5) Mercedes-Benz Only
If your car is sent for service or warranty claims that take more than 48 hours, you will not just be given any replacement car, as the MobilityPlus program will ensure that the replacement car is a current generation Mercedes-Benz which is not more than 4-years old.
That being said, the Mercedes-Benz MobilityPlus program comes as a standard feature in all of the brand's in-house financial programs such as the Agility Financing, Lease@Ease, as well as FinanceCare.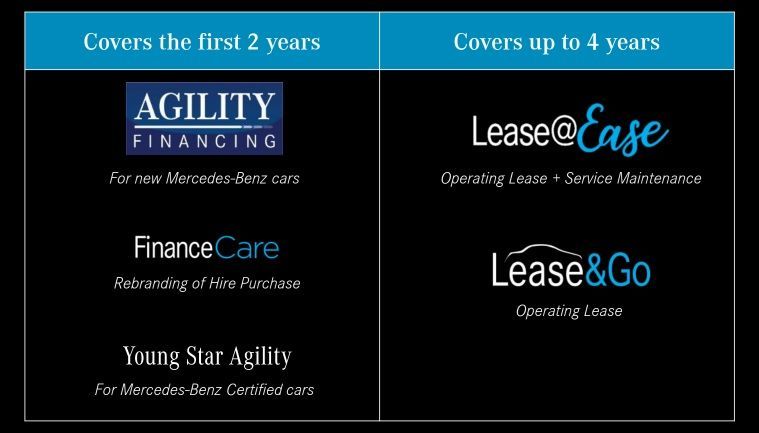 For more information on MobilityPlus, visit www.mercedes-benz.com.my/mobilityplus or call Mercedes-Benz Customer Care line at 1-800-88-1133 from 8.30am to 5.30pm, Monday - Friday, excluding public holidays or speak to a Finance and Insurance Personnel at your nearest Mercedes-Benz Autohaus.
Mercedes-Benz Malaysia is also offering financing with interest from as low 1.88%, and 4 years free maintenance services among others. Find out more here.
---
---
---
---
Comments