A Closer Look At The Mazda RX-Vision Concept - Previews A Successor To The RX-7/RX-8
Insights For a brand that made its name on the back of Dr. Felix Wankel's rotary engine, the lack of rotary engine-powered models within Mazda's global model line-up is a contradiction to the brand's marketing message – that it was the only manufacturer to be able to make the novel piston-less engines work.
To a certain extent Mazda's argument is still valid. Audi tried it and gave up with the NSU Ro 80, Mercedes-Benz tested it in the C111 Concept but quickly learned that the engine was too difficult to work with.
For nearly three decades, Mazda was the only Asian manufacturer to ever win the prestigious Le Mans 24 Hours (Toyota won the title earlier this year), and it did that with the legendary rotary-powered Mazda 787B.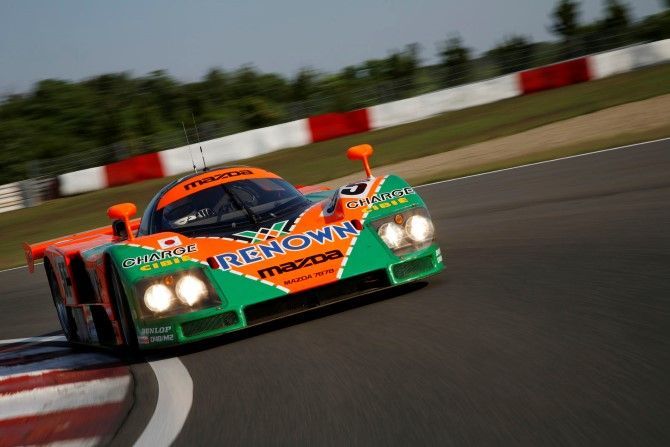 While later models of Mazda's rotary-powered RX series cars have proven to be reliable, problems with later generation cars were mostly due to lack of expertise among mechanics trained in conventional piston engines; Mazda can't change the fact that while rotary engines are compact and powerful, they are inherently poor in efficiency and emissions.
The last rotary engine-powered Mazda was the RX-8 Spirit-R, which bowed out in 2012 as it was getting too costly to clean up the engine's emissions enough to clear tightening regulations worldwide.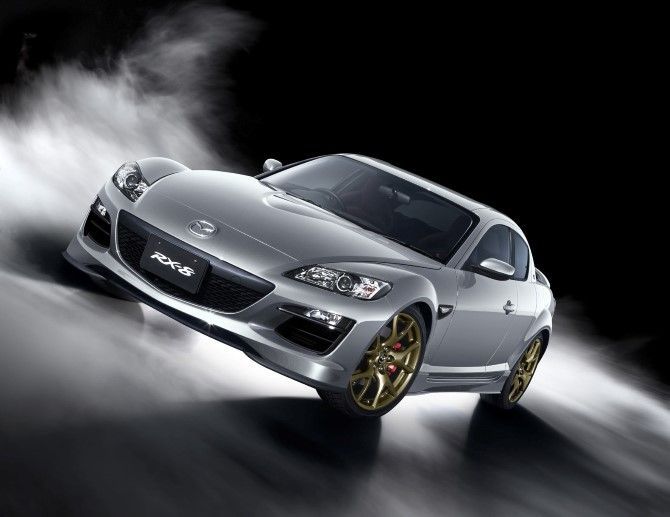 Since then, Mazda has put its RX-series replacement on the shelf but the company had always insisted that it has not given up on rotary engines. They just need to figure out a way to make it cleaner. In the meantime, rolling out SkyActiv piston engines took a greater priority.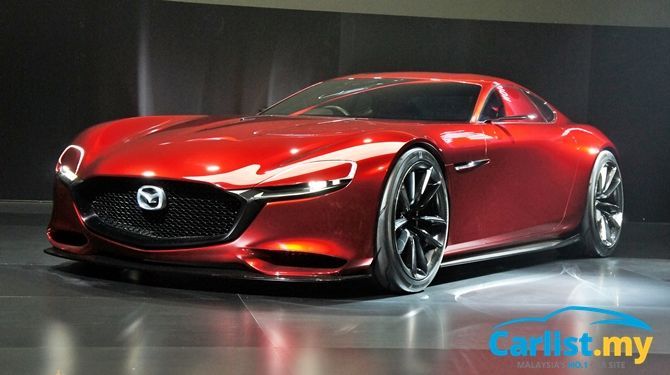 Seen here is the Mazda RX-Vision Concept, first shown at last year's Tokyo Motor Show and as the name suggests, it hints towards the continuation of Mazda's rotary-powered sports cars' lineage.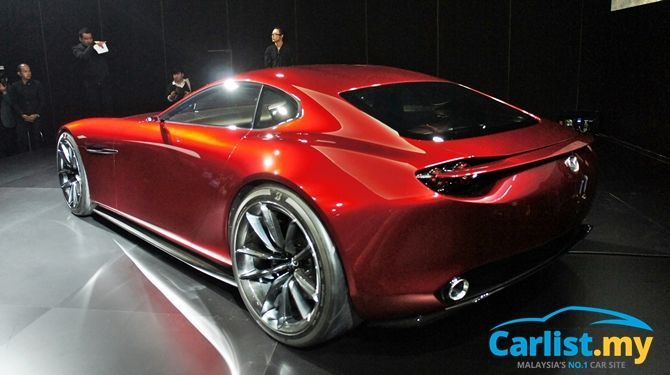 Earlier this month, this sleek two-seater made its regional debut at the Mazda ASEAN Design Forum in Bangkok alongside the Vision Coupe concept, the latter previews an upcoming rear-wheel drive full-size Mazda sedan.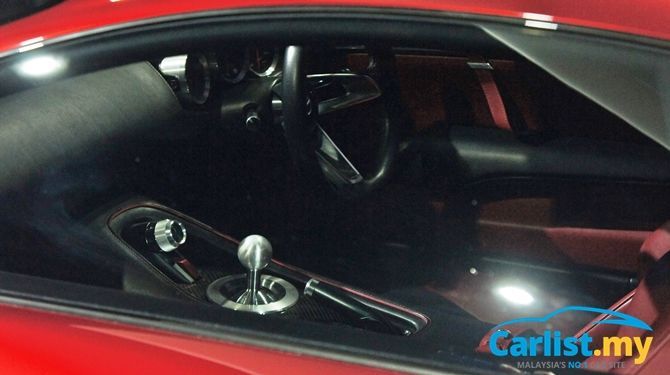 Examining the car up close, the car looks bigger than the pictures suggest. The side blades on the front fenders also carry a pair of SkyActiv-R badges, the suffix R of course, refers to rotary.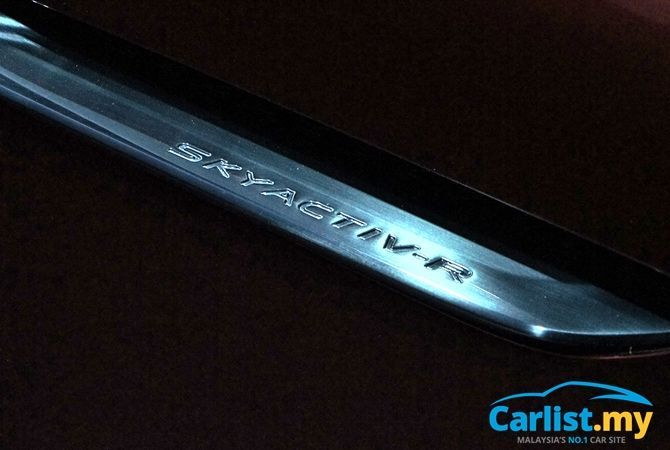 So far, Mazda have yet to reveal any details regarding the powertrain other than that it will address the three main issues surrounding rotary engines: fuel economy, emissions performance, and reliability.
The concept car's bonnet is long but unusually low, even when judged by the standards of a concept car or a rotary engine's compact packaging. Such profiles are usually reserved only for mid- or rear-engine cars, but we know the RX-Vision isn't one.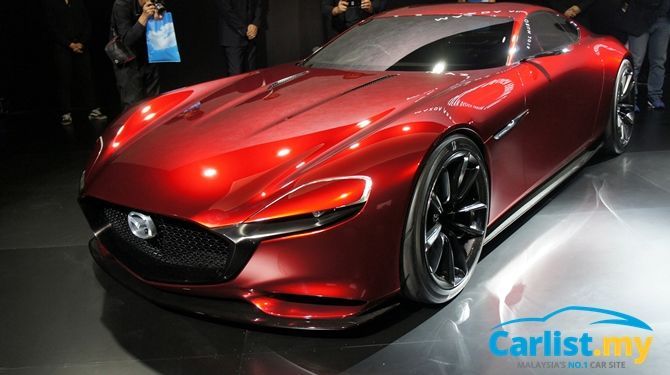 Peeking under the body, the RX-Vision has an electric car-like fully-covered and flat underbody complete with carbon fibre panels, with no visible exhaust or mechanical bits. The wheels are made from carbon fibre – an unusual, almost Formula E approach.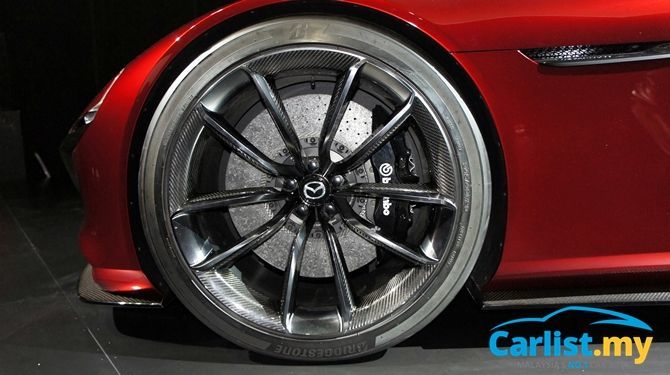 All of which leads us to suspect that the RX Vision is a preview to an electric sports car rather than a rotary-powered one.
Mazda has on several occasions, laid several hints that a rotary engine's strengths are in compact dimensions, mechanically simplicity, and smoother operation which makes it ideal for a range extender – basically a tiny petrol engine that works as a back-up generator to recharge an electric car's batteries.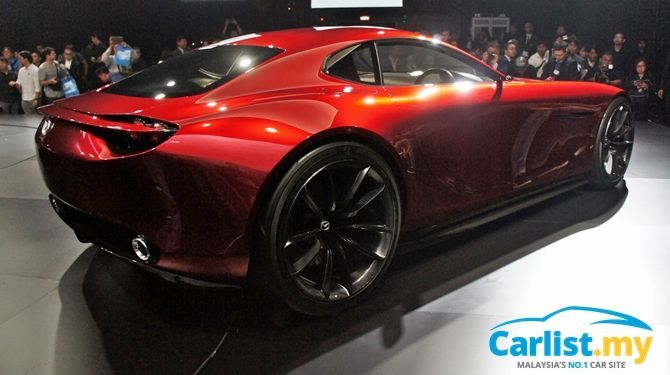 Mazda has also made it very clear that between now and 2021, Mazda's powertrain strategy will focus on increasing electrification, with the first Battery Electric Vehicle (BEV) model to be launched in 2019.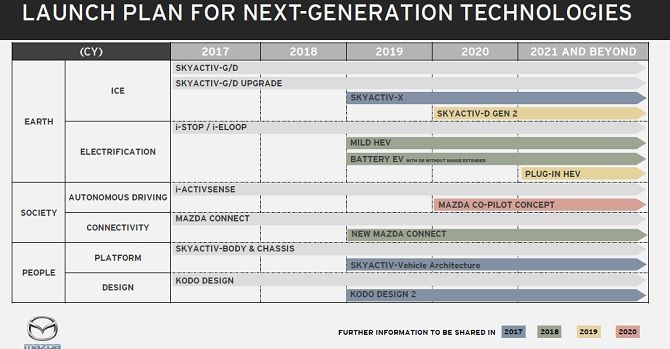 Next year will also see Mazda pushing out the next evolution of its signature Kodo design language – Kodo 2.0, which emphasizes not just length and depth, but incorporates very specific angles and curves to manipulate light and shadow – effects that cannot be simulated on a computer but can only be achieved after years of trial and error by an expert clay modeler finely adjusting every curve in natural light. It's a design which cannot be easily copied by others.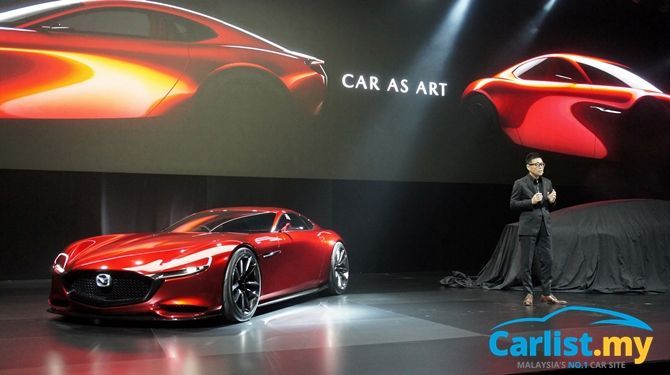 The complex play of light and shadow is Mazda's way of paying respect to the innate creative abilities of master craftsmens. Even in this highly digitized era, some things are still only achievable by an expert human.
---
---
---
---
Comments