AD: Top 8 Reasons Why The Mazda CX-8 Is A Next-Level SUV
Insights The Mazda CX-8 isn't your typical SUV. The super spacious SUV is both fun to drive and feels like a car more premium than its price tag suggests. Offered in both 6- or 7-seat configurations, it delivers impressive versatility to suit numerous types of needs for both driver and occupants while bringing together unique features unmatched by the competition.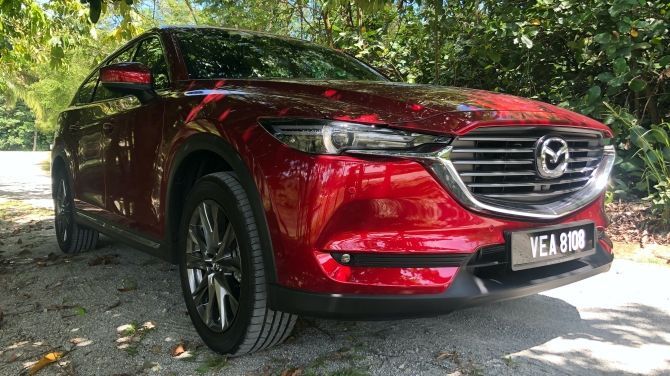 Those Good Looks
Mazda is known for putting in extra effort with its design, and their Kodo Soul of Motion philosophy carries over into their CX-8. The CX-8 is one of the most striking SUVs on the road today, especially in Soul Red Metallic, and its increased wheelbase and overall length have been cleverly masked by the flowing design.
Many cues have been borrowed from the CX-9, including the front end grille and deep-set headlight cluster, both making the CX-8 a stand-out in both the suburbs and high streets thanks to the presence it exudes: that of a flagship SUV.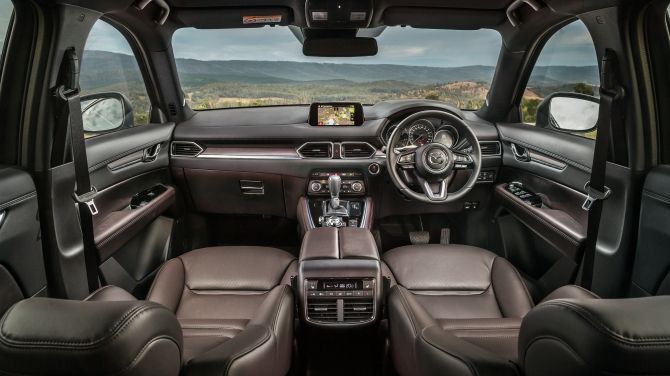 Premium Interior Quality
In the High variant, the Nappa leather seats feel extremely plush and lend an air of very high luxury to the CX-8, cementing the impression that this is a class above its competitors.
In Mazda's typical fashion, the build quality and material choices are exceptional too, feeling solid and are pleasing to the eye. The control weights are nicely tuned for ease of operation and the ergonomics themselves are the result of equally careful thought and consideration while everything seems to be layered with a sense of Japanese attention to detail.
Like all their cars spawned from the SkyActiv generation, the CX-8 pushes the envelope and makes us rethink what we continue to define as 'premium', blurring those lines in the process.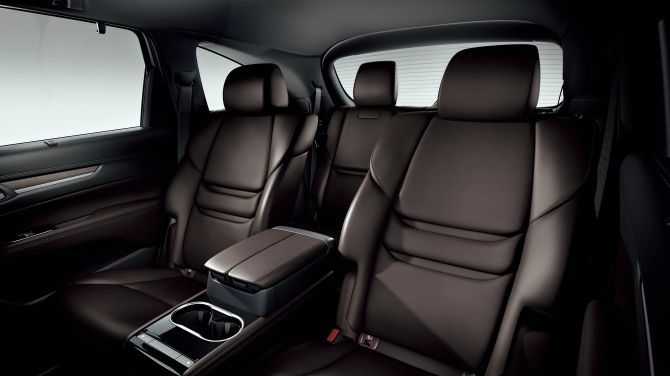 Captains Chair 2nd-Row Seats
Most configurations of the CX-8 have the 2nd row seats as as two full size 'Captain's Chairs', separated by a chunky central armrest, giving the impression of being seated in a luxury airliner rather than an SUV.
These are even wider and more padded than the front seats (especially with the Nappa leather) and will definitely give whoever is sat in them the proper VIP treatment. This is a feature that no other class competitor can offer.
This plush experience is reinforced by the refined ride quality and well insulated cabin, allowing occupants to truly relax and unwind, even if you happen to be in the driver's seat.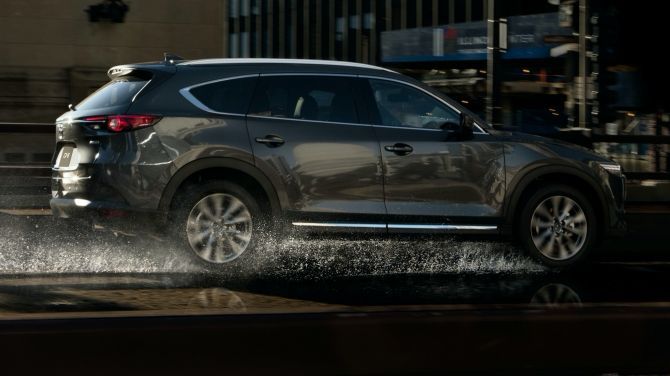 G-Vectoring Control Plus
Adding even more to the calmness within the cabin are the sensations while on the move, rather the CX-8's lack of it. The minute adjustments made to the suspension, power delivery, and brakes by the advanced G-Vectoring Control Plus system all work in concert to minimise lateral forces acting upon the occupants. This reduces fatigue, improves vehicle controllability, and even potentially eliminates motion sickness.
The additional weight of a larger vehicle as well as the third row seats does often make itself known while cornering. However, with G-Vectoring Control Plus, the CX-8 feels more nimble and light on its feet than you would otherwise expect while, as mentioned previously, also ensuring less fatigue and lateral stress on occupants for a more comfortable experience.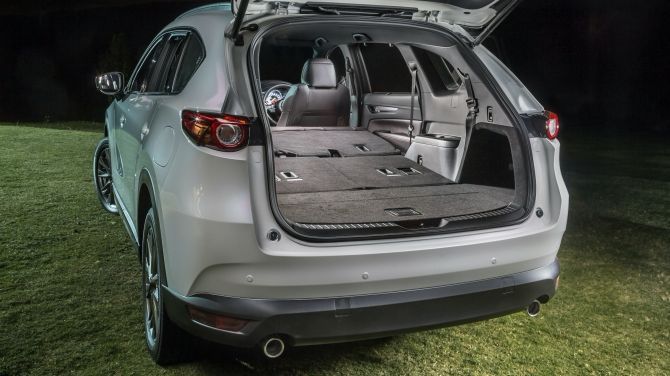 Extra Space For Improved Versatility
The CX-8 offers extra capacity for cargo and passengers. With all seats upright, there is a respectable 210-litres of boot space and an additional 33-litres in a hidden floor compartment. With the third row folded, however, a massive 742-litres of room becomes available. Even the standalone 2nd row seats are able to fold flat for even more roominess, where handy loading and unloading of long items are easily tackled.
No matter what life throws at you, be it cargo or passengers, the CX-8 ensures that you'll have the space and versatility to cope and adapt seamlessly.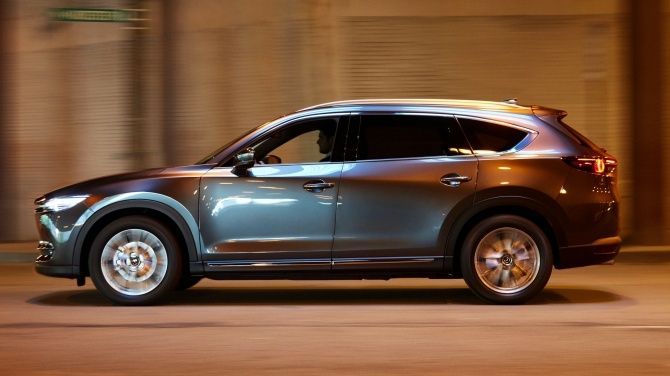 Sharp Handling
No, there isn't any getting around the fact that this is an SUV, and a rather large one. However, the CX-8 is quite talented in the handling department, with a surprisingly pointy front end and plenty of grip at the nose, instilling tonnes of confidence - be it a 2WD or AWD variant.
Naturally, more grip and all-weather ability is a given with all wheels being able to receive drive, but Mazda's blend of priorities ensures that driver involvement and manoeuvrability are always in the forefront with both their smaller and larger vehicles.
The sporty steering wheel and cocooned driving position are reinforced by a surprisingly eager chassis that responds quickly and predictably to steering inputs. That said, it's no surprise that Mazda is a leader in this aspect.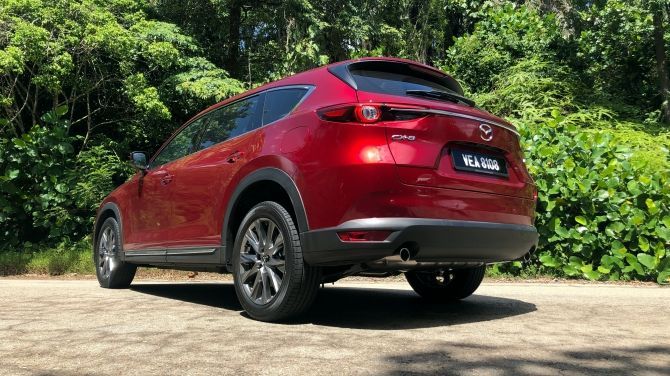 Ride and Refinement Of A Flagship
In combination with GVC Plus, the CX-8's suspension absorbs road imperfections with aplomb while still feeling more connected to the road than a typical SUV. The cabin is also well insulated from outside noises and free from distracting creaks and taps, a testament to the CX-8's structural integrity, construction methods, and premium materials.
It's definitely a step above the CX-5 and feels like a flagship SUV, very comparable indeed to the CX-9 that sits directly above it. We dare say that, to find a rival that can offer the same sense of luxury, solidity, and refinement, you would quickly find yourself in the company of cars from a much higher price bracket.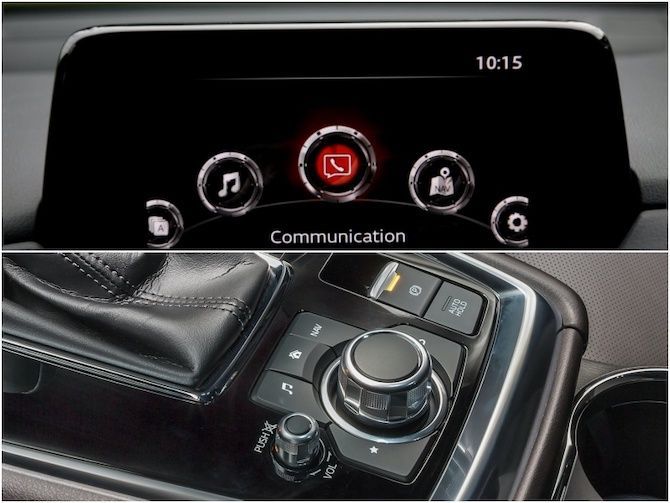 Advanced Infotainment System
Very few cars in the class can boast of an infotainment system as versatile as in the CX-8. It's interface is quick and intuitive and features support for Apple CarPlay and Android Auto.
Best of all, everything can be operated from the central rotary knob (a staple of the MZD Connect system), a control input method that is much more conducive to easy operation while driving, requiring much less movement and/or attention from the driver, greatly improving safety.
In anecdotal testing, Mazda's infotainment system is one of the best OEM solutions available today, and has remained so for some time. The screens used are clear and sufficiently high resolution, the interface itself is responsive and easily navigated, Bluetooth connections are strong and easily established, and most importantly, it can be learned to the point of such familiarity that a driver might not need to divert his or her attention from the road at all to perform many tasks.
---
---
---
---
Comments